Sweeping out the CageyFilms workshop the other day, as it were, among the gathering dust bunnies I came across a surprising number of Blu-rays I haven't yet mentioned watching. Some of these go back quite a long time and a few of them, I confess, I barely remember. But the obsessive in me at least wants to acknowledge them, so I'll make some brief comments here so that I can file them away with a clear conscience.
Indicator
Indicator, one of my favourite labels – which Gary Tooze at DVDBeaver has dubbed the best in the world – releases a wide range of titles in multiple genres, unearthing obscure movies from around the world, major and minor Hollywood classics, and both high and low end exploitation … but this box set surprised me: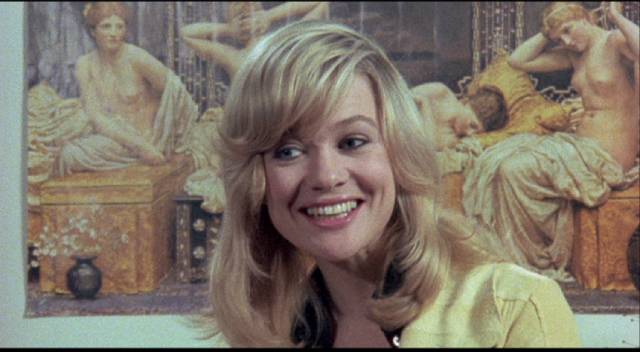 Stanley Long's Adventures (Stanley Long, 1976-78)
My only excuse for buying this three disk set of British sex comedies – Adventures of a Taxi Driver (1976), … of a Private Eye (1977), … of a Plumber's Mate (1978) – from Indicator is that I buy almost everything they release. No matter the intrinsic quality of the movies themselves, the company is guaranteed to provide a wealth of supplementary material which illuminates the context in which even throwaways like these were made and marketed. Although more technically polished than the hugely successful Carry On movies of the '60s, the Adventures trilogy relies on the same kind of low-brow farce rife with painful double entendres and an extra dose of nudity. Like the Carry On movies, they have casts packed with well-known character actors and comedians. The first of the three reunites Barry Evans and Judy Geeson, who co-starred in Clive Donner's earlier sex comedy Here We Go Round the Mulberry Bush (1968), but for the following two movies, Evans was replaced with the less-well-known Christopher Neil, who manages to play the dumb hero without Evans' smugness. None of the movies is particularly funny, nor in the least erotic, and the episodic scripts offer little more than strings of predictable situations. Needless to say, picture quality is excellent and there are plentiful extras, including a four-and-a-half hour audio interview with Long, an interview with Long's biographer and friend Simon Sheridan, and others with cameraman Peter Sinclair and actress Prudence Drage, a couple of short-film homages to Long by Jan Manthey, a super-8 home viewing version of Adventures of a Private Eye, and the utterly redundant The Best of Adventures (1981) which strings together episodes from all three movies for the nascent home video market.
*
Shameless
I've accumulated a few releases from Shameless in recent years, but many of their disks repeat titles I've already got from other labels.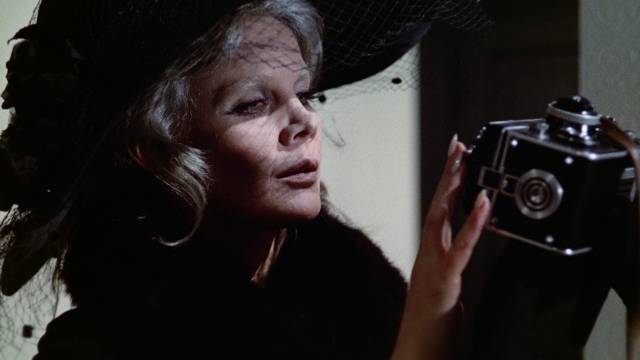 Baba Yaga (Corrado Farina, 1973)
Corrado Farina's Baba Yaga (1973), adapted from a fetishistic comic by Guido Crepax, provided Carroll Baker with one of her kinkiest roles immediately after her last film with Umberto Lenzi (Knife of Ice, 1972). In the title role, Baker plays a possibly supernatural figure who becomes obsessed with and pursues a glamorous photographer (Isabelle De Funes). A dreamy, almost formless mood piece loaded with sex, S&M, and pop art visuals, Shameless' 2020 Blu-ray (an upgrade from an earlier Blue Underground release) reconstructs Farina's original cut using deleted scenes from an inferior tape source. Less commercial, perhaps, than other Euro comic book adaptations of the time – Roger Vadim's Barbarella and Mario Bava's Danger: Diabolik (both 1968) – Baba Yaga is very much of its era and interesting for its glimpse of a kind of pop culture which has all but disappeared. The disk includes an interview with Farina, a couple of brief featurettes about Crepax, and a commentary from Kat Ellinger.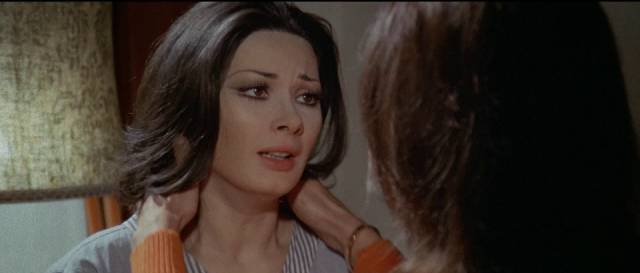 The Case of the Bloody Iris (Giuliano Carnimeo, 1972)
The Case of the Bloody Iris (1972) was the sole giallo directed by Giuliano Carnimeo, better known for spaghetti westerns and sex comedies (and Ratman, 1988, also available from Shameless). Someone is killing the residents of an apartment complex, most of whom are glamorous models or fetishistic nightclub performers. After two women are murdered, Jennifer (Edwige Fenech) and Marilyn (Paola Quattrini) move in and begin to suspect they may be targeted by the killer. All style and little narrative sense, Carnimeo's movie distills the giallo to its atmospheric visual essence, ably supported by Fenech and co-star George Hilton, Fenech's partner in a number of other gialli. The excellent transfer is accompanied by interviews with Hilton and Quattrini.
*
Eureka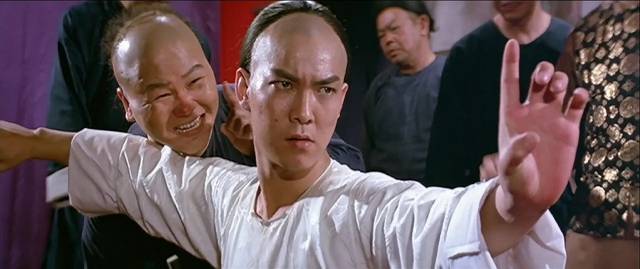 Warriors Two/The Prodigal Son (Sammo Hung, 1978-81)
Eureka seem to be on a mission to confirm Sammo Hung's stature as one of the all-time greats of Hong Kong action filmmaking, both as a performer with remarkable charm and screen presence and as a director and fight choreographer whose technical skills were almost unequalled. I haven't got to the Sammo-starring Skinny Tiger and Fatty Dragon (1990) or Odd Couple (1979) yet, nor the Sammo-directed (and starring) Knockabout (also 1979), but I did watch the two-disk set of Warriors Two (1978) and The Prodigal Son (1981), which display the rapid evolution of his skills as a director. Warriors Two, his third feature as director, has a lowly character training under a martial arts master in order to take on the forces of a corrupt businessman who controls the town. While the fight scenes display Sammo's skill, he's not yet in full control of tone, undercutting the dramatic action with awkward comedy. The Prodigal Son, four films later, and coming on the heels of the hugely influential Encounter of the Spooky Kind (1980), roots both action and comedy in character. That character is Leung Tsan (Yuen Biao) – who, as an older man, was the master who trained the hero of Warriors Two – the spoiled son of a wealthy family who believes that he's a great martial artist because his father bribes people to lose fights with him. When he discovers the truth, he sets out to become a genuine master. Once again, Sammo's fight choreography is spectacular, but here it's fully integrated with the rest of the film. Each film gets a pair of commentaries, plus several interviews and featurettes.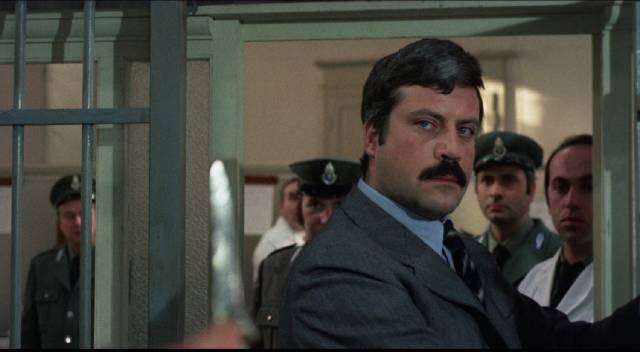 Revolver (Sergio Sollima, 1973)
Sergio Sollima followed three politically inflected spaghetti westerns in the late '60s with a pair of equally political poliziotteschi in the early '70s, Violent City (1970) and Revolver (1973), the latter just out from Eureka in a 2K restoration. More serious in tone than many of its genre companions, it stars Oliver Reed and Fabio Testi as an ill-matched pair who find themselves caught up in a murky political plot which takes them from a prison in Milan to Paris. Reed is the prison warden and Testi a petty criminal; when the warden's wife is kidnapped, he's forced to help the thief escape in order to get her back. Neither knows what's behind the plot – it turns out to be a misunderstanding on a powerful criminal's part about how much Testi knows about a recent assassination. Although the uneasy alliance between the pair does evolve into a kind of tentative friendship, circumstances lead inexorably towards a surprisingly bleak conclusion. Sollima's focus on narrative and character give the film a slower pace, punctuated by moments of action and violence, with Reed and Testi well-matched – the former brooding and angry, the latter lighter and more easy-going despite traumas of his own. The English dub features Reed's own voice, but for some reason he uses a distracting faux American accent. The image quality is excellent, and there's a commentary by Kim Newman and Barry Forshaw, interviews with Stephen Thrower and actress Paola Pitagora, and an archival interview with Testi.
*
Kino Lorber
I'm still way behind on my Kino Lorber backlog, but I did recently watch a handful of thrillers from the label.
Sweeney (David Wickes, 1977) / Sweeney 2 (Tom Clegg, 1978)
The Sweeney (1974-78), created by Ian Kennedy Martin, was a ground-breaking British series which replaced the plodding, kindly Bobby (Dixon of Dock Green) with tough and frequently violent cops who used criminals' own methods against them, butting heads with their bureaucratic bosses as they fought crime with guns and fast cars. Although popular, some frowned on the introduction of American-style story-telling to British television. Towards the end of the series' run, production company Euston Films released two theatrical features; paradoxically, the larger scale, which led to more action, more sex and more violence, made these movies seem less original than the series. The characters are even more cynical, but less engaging. Although everything looks similar to the TV show, it doesn't seem the same; the gritty realism seems more contrived and less authentic. Each film gets a commentary.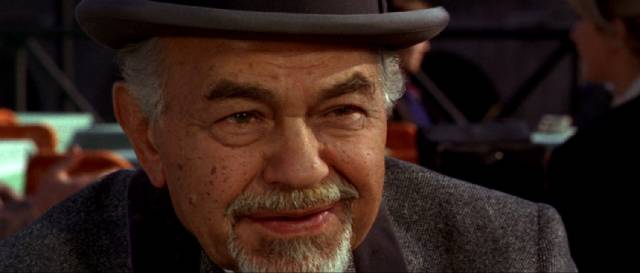 Grand Slam (Giuliano Montaldo, 1967)
Giuliano Montaldo's Grand Slam (1967) is a classic heist movie with a cynical modern twist in its tail. Retired teacher James Anders (Edward G. Robinson, still going strong in his mid-70s) sets about recruiting a team of experts to pull off a diamond robbery in Brazil from an office across the street from the classroom where he had taught for years. The crew, which includes Jean-Paul Audry, Klaus Kinski, Riccardo Cucciola and George Rigaud, bicker with one another as they carry out Anders' meticulous plan to crack a huge safe during Rio's carnival, and things almost go wrong numerous times before coming to a seemingly catastrophic ending … which is revealed in the final stretch to have been part of the plan all along. The final double ironic twist is de rigueur for heist movies of the time, but the cast (which also includes Janet Leigh) is excellent and the staging of the heist is terrific.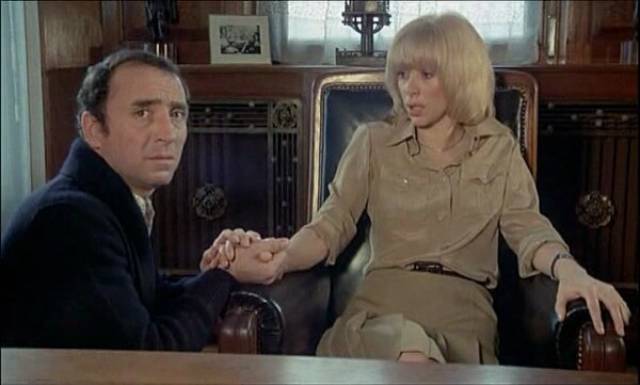 Icy Breasts (Georges Lautner, 1974)
Before becoming famous for his science fiction and horror novels and stories, Richard Matheson began with some noir novels influenced by the likes of James M. Cain. His first published novel, in fact, is so rife with noir tropes that it borders on pastiche. Published in 1953, Someone Is Bleeding has a writer getting mixed up with a woman who has a complicated relationship with a lawyer deeply involved with criminals. As would any hapless noir hero, the writer falls in love and wants to rescue the woman … and inevitably things get messy, bodies pile up and police suspicion falls on the writer. In 1974, French filmmaker Georges Lautner adapted the novel into a movie with the unsettling title Icy Breasts. He followed the novel quite closely, but naturally the French setting and characters aren't quite the same as those in the book, where southern California and people on the fringes of Hollywood are so natural to the genre. In fact, Claude Brasseur seems more irritating than doomed as the writer (he pursues the woman like a creepy stalker), which shifts interest to Alain Delon as the lawyer and Mireille Darc as the woman who may be a genuine victim, though it's just as likely she's a duplicitous femme fatale. In Icy Breasts, Lautner follows in the footsteps of other French filmmakers who were drawn to American noir fiction, like Francois Truffaut, who adapted David Goodis' 1956 novel Down There as Shoot the Piano Player (1960) and Cornell Woolrich's 1940 novel The Bride Wore Black (1968), and Alain Corneau, who filmed Jim Thompson's 1954 A Hell of a Woman as Serie Noir (1979).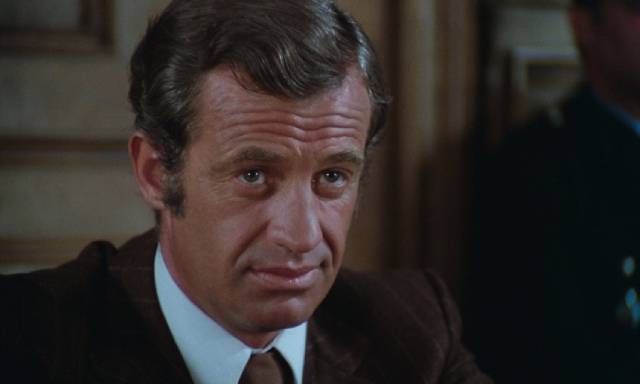 The Body of My Enemy (Henri Verneuil, 1976)
Henri Verneuil and Jean-Paul Belmondo made quite a few movies together, mostly in the crime genre (The Sicilian Clan [1969] is a classic mob/heist movie). The Body of My Enemy (1976) is one of the most interesting, a murder story which is also a critique of class and economic inequality in France. The narrative runs on two tracks, shifting back and forth between present and past. In the present, Francois Leclerc (Belmondo) returns to his provincial town after being away in prison for seven years, convicted of a double murder. Since one of the victims was a star football player who died on the eve of a big match, local sentiment is heavily against Leclerc. In the past, we see him as the son of a working class family who by sheer force of will works his way up the social ladder to marry the daughter of one of the town's most prominent families. As he searches for the truth behind the murders for which he was framed, he uncovers layers of corruption which ultimately lead back to his own bourgeois industrialist father-in-law. Belmondo, as always, is a powerful presence, brashly charming in his younger days, coolly dogged in the present as he searches for answers about why he was set up by his "betters". The melodrama of class is reminiscent of Sirk, with Verneuil weaving the thematic threads together into a tight narrative of a wronged man seeking the truth rather than simple revenge.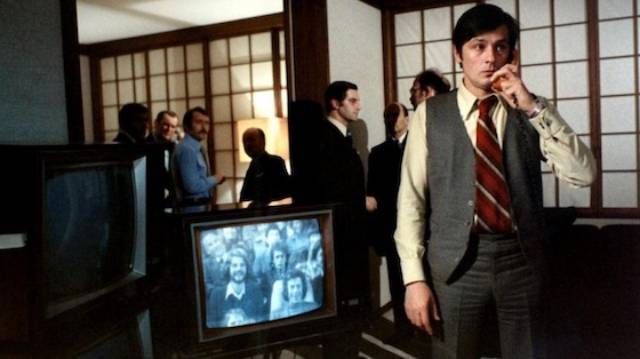 Armageddon (Alain Jessua, 1977)
Alain Jessua, far less prolific than Verneuil, also examined issues of class in thrillers as varied as Shock Treatment (1973) and The Dogs (1979). Armageddon (1977) is no exception. Based on a novel by American writer David Lippincott, the story centres on working class Louis Carrier (Jean Yanne), a repair man who suddenly comes into money when his brother dies and he finds himself the beneficiary of a large insurance policy. Freed from the relentless grind of wage slavery, Carrier embarks on a plan to act out his fantasies of resentful violence, taking along his simple-minded co-worker Albert (Renato Salvatori) as an unwitting accomplice. Easing into his campaign of terror, Carrier has Albert photograph him as he gets close to prominent politicians and businessmen, sending the pictures and ominous recordings to the police with warnings that he may strike anywhere at any time. The authorities call in prominent psychiatrist Dr. Michel Ambrose (Alain Delon, who also produced) to draw up a profile of the terrorist. The film becomes an increasingly tense cat-and-mouse contest between the pair played out via the media which paradoxically escalates the threat posed by Carrier as he becomes a prominent, if nonetheless still anonymous, "star".
All four movies include commentaries by Howard S. Berger, Steve Mitchell and Nathaniel Thompson.
*
Well Go USA
Well Go USA continues to be one of the main go-tos for contemporary Asian action movies.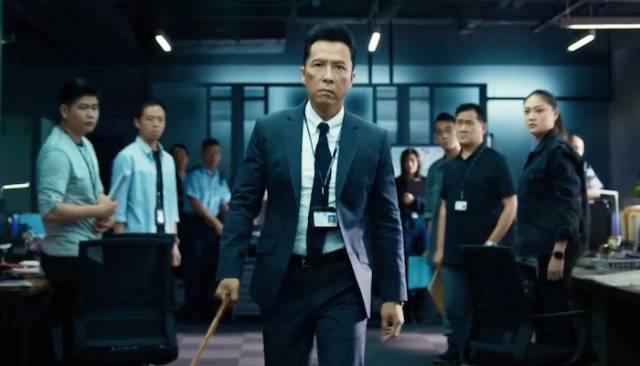 Raging Fire (Benny Chan, 2021)
Raging Fire (2021) was the final film of Benny Chan, who died during post-production. Although he dabbled in various genres, including martial arts, he was best-known for his contemporary thrillers about cops and criminals. In this case, the line between the two is blurred as Inspector Cheung Sung-bong (Donnie Yen) finds himself in conflict with his bosses when a big drug bust goes terribly wrong; a gang in masks raid the raid, slaughtering cops and gangsters indiscriminately, making off with the money and the drugs. Bong gradually realizes that the deadly gang are actually a group of cops who were sent to prison by his testimony at their trial for beating a suspect to death – something which they claimed they did under orders from their superior. As the war between cops and ex-cops escalates, Bong has to come to terms with the fact that he had betrayed his former friend Yau Kong-ngo (Nicholas Tse) because he hadn't fully understood the situation – and now, their personal conflict is wreaking havoc in the city and resulting in a lot more deaths. This situation is reminiscent of John Woo's classic narratives of brotherhood and betrayal like The Killer (1989) and Hard-Boiled (1992), though Chan lacks Woo's operatic style; nonetheless, Raging Fire is a solid action movie which pays some attention to character.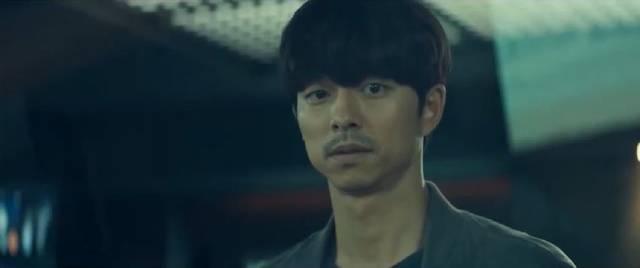 Seobok: Project Clone (Lee Yong Zoo, 2020)
Ki Heon (Gong Yoo), an embittered ex-security agent haunted by his betrayal of a partner, is pressured by his old boss Chief Ahn (Jo Woo-jin) into taking on an assignment; he's to move the first human clone from the lab where he was born and raised to a new secure location. Seobok (Park Bo-gum) is actually more than a mere clone – his "mother" Dr. Im Se-eun (Jang Young-nam) manipulated his genetic code to create something entirely new, an immortal whose body contains the means to cure disease and prolong human life. As a side effect, he also has telekinetic powers. During the move, the convoy is attacked by a mercenary force and Ki finds himself on the run with Seobok, uncertain now who can be trusted as there are multiple factions who want to take possession of the clone, either to exploit or destroy as his mere existence threatens the stability of society. During their flight, a bond develops between the pair which unites them against the various factions, leading to an apocalyptic finale at the centre of which they both have to make difficult moral choices. Lee Yong Zoo directs Seobok: Project Clone (2020) with a fine eye for action set-pieces, but anchors that action in an emotionally resonant character study.
*
Severin
I have a fairly large backlog of Severin titles to get to, particularly since I just received my order from their mid-year sale.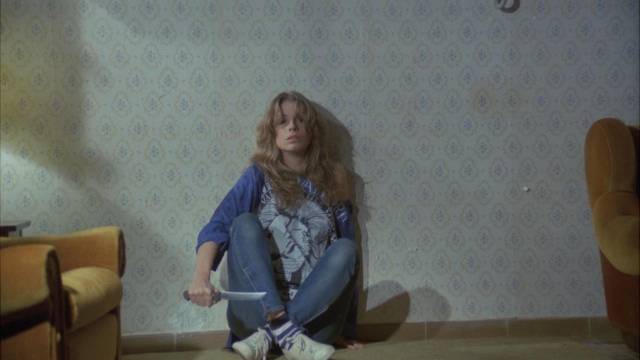 Bloody Moon (Jess Franco, 1981)
Perhaps the biggest surprise about Jess Franco's Bloody Moon (1981) is that it sticks so closely to the rules of the early '80s slasher movie. There are perverse touches (incest) and more gratuitous nudity than you get in equivalent American releases, but it hits most of the familiar beats, beginning with the prologue murder which sets things in motion – at a pool party in Spain, one of the young women heads for the bedroom with what she believes is her boyfriend in a Mickey Mouse mask. When the mask comes off at the climactic moment and she discovers it's actually the badly scarred Miguel (Alexander Waechter), she's horrified and, rejected, he kills her with a lair of scissors. Some years later, the property has become an international language school whose students are mostly young women who like to spend their time playing tennis or lounging topless by the pool. As term begins, Miguel returns from the psych hospital in the care of his sister Manuela (Nadja Gerganoff). Needless to say, bad things begin to happen, though only one student seems to notice; Angela (Olivia Pascal) is concerned about the disappearance of fellow students, but others dismiss her worries because she "reads too many detective stories". The violence is fairly graphic (the big scene involves a woman being beheaded by a huge circular saw) and the plot murky, but Franco keeps it fairly tight, paying more attention than usual at that point in his career to the mechanics of the genre, putting Bloody Moon somewhere in the range of Juan Piquer Simon's Pieces (1982)
The Return of Captain Invincible (Philippe Mora, 1982)
Philippe Mora's career has been all over the place, from his masterpiece Mad Dog Morgan (1976) to the absurdity of Howling III: The Marsupials (1987). I hadn't even heard of The Return of Captain Invincible (1982) until Severin announced their three-disk special edition which includes two different cuts (theatrical and director's) plus a soundtrack CD, though it seems to have had some positive reviews and certainly stars some prominent actors. It also has a premise similar to Peter Berg's Hancock (2008); a once-revered superhero, Captain Invincible (Alan Arkin) has retreated from the world into embittered alcoholism – in this case because, having been instrumental in defeating the Axis in World War Two, he was attacked by the House Un-American Activities Committee for being a Communist. Now, as super-villain Mr. Midnight (Christopher Lee) is moving to take over the world, U.S. intelligence comes looking for him in the Australian outback to ask him to save humanity. Why should he bother? Patty (Kate Fitzpatrick), assigned to nurse him back to sobriety and help him rediscover his superpowers, has faith in his goodness as well as the value of saving an ungrateful world. All pretty straightforward – but then part way through, inexplicably, characters at a meeting of high-level political and military figures abruptly burst into song and begin dancing. With no warning, it turns into a musical. There doesn't seem to be any reason for this and the scattered musical numbers seem pretty random and not particularly catchy. Despite the performances of Arkin, Lee and a large cast of American and Australian character actors, it's easy to see why the movie didn't catch on with audiences and kind of vanished until this revival, which not only has the two different cuts, but also extensive interviews with actors and crew members, plus a commentary on the director's cut with Mora and Not Quite Hollywood director Mark Hartley.
The Female Executioner (Michel Caputo, 1985)
Brigitte Lahaie became familiar to me through her appearances in a number of Jean Rollin's movies, in which she had a striking screen presence and at times gave very strong performances. It was only later that I learned she was one of France's biggest porn stars. During a long career, still going after more than fifty years, she moved back and forth between porn and more legitimate exploitation movies, even appearing in Henri Verneuil's I … for Icarus (1979), Jean-Jacques Beineix's Diva (1981) and Philip Kaufman's Henry & June (1990). The Female Executioner (L'exécutrice, 1985) is a policier directed by Michel Caputo, who generally made porn, and the movie shows traces of his and Lahaie's work in that world while trying to be more mainstream. Lahaie plays Martine, a tough cop determined to bring down pornographers and sex traffickers. Her sometime partner Valmont (Pierre Oudrey) rubs her the wrong way both with his attempts to have an affair and with his brutal methods, preferring to shoot suspects rather than arrest them. When Martine sets her sights on Madame Wenders (Dominique Erlanger), who's behind both unsavoury porn production and the kidnapping and selling of young girls, she finds herself meeting resistance from her boss the Commissioner (Michel Modo), whom she doesn't realize has a long-standing relationship with Wenders and is protecting her from prosecution. Wenders, irritated by Martine's pursuit, kidnaps her younger sister Joelle, initially planning to sell her, but eventually doing something more terminal. With the police story occasionally interrupted for overlong softcore sequences, the movie is unevenly paced and has a fairly sleazy tone (which is appropriate given the nature of the criminal activity), but Lahaie manages to hold it together by taking her role seriously. The excellent transfer is supplemented with an interview featurette with Caputo and Lahaie, a brief visit to the location where a hair-raising fire stunt was shot, and a lengthy short film starring Lahaie called Les Volets Bleus (1987), directed by Haydee Caillot.
The Shadowed Mind (Cedric Sundstrom, 1988)
A filmmaker new to me, South African Cedric Sundstrom was involved with Cannon Films in the late '80s and '90s – among other things, he directed American Ninja 3 and 4 (1989-90) – having started out making short films in the '70s and working on some big productions as an assistant director (Zulu Dawn [1979], King Solomon's Mines [1985] and its sequel Allan Quatermain and the Lost City of Gold [1986]). His second feature, The Shadowed Mind (1988), seems promising but never really comes together. Among the producers were Australian David Hannay and Israeli Avi Lerner, both of whom had extensive experience in exploitation as well as larger mainstream productions. Visually, the movie prompts associations with the giallo and various post-apocalyptic movies of the '70s and '80s. It begins with Stephanie (Adrienne Pearce) arriving by taxi at what looks like an abandoned factory. She's greeted by a vaguely creepy guy and shown into the office of Dr. Dieter Hildesheimer (Towje Kleiner), who's running an experimental clinic for people with sexual problems. Stephanie has been sent by her concerned father because, among other things, she has an irresistible urge to expose her breasts to any- and everyone. As she's put through group sessions and engages in sex with fellow patients, a series if brutal murders occurs, and it appears that the whole clinic is just a scam as the doctor and his assistant Nurse Helen (Trish Downing) hide the bodies until after the visit of a potential financial backer. With strange sets – part industrial installation, part bunker – shot with stylized colour obviously influenced by Mario Bava and Dario Argento, the movie has a lot of atmosphere, but the narrative remains vague and the nature of Hildesheimer's supposed therapy is never clarified, so a lot of what happens seems random and unmotivated. The 2K scan from Sundstrom's personal print looks pretty good; there's a commentary and a forty-minute interview with the director, plus four early short films totalling ninety-six minutes.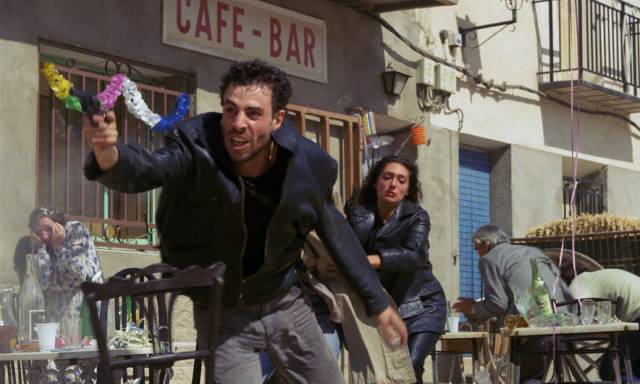 Night of Rage aka Blood Hunt (Javier Elorrieta, 1985)
Yet another previously unknown filmmaker … Spanish director Javier Elorrieta doesn't have a lot of credits and to be honest, from what I can glean from IMDb, little in his filmography piques my interest. But his third feature, given a 2K scan from the original negative, is an interesting, grim thriller with an excellent cast and fine technical qualities. If it reminds me of other things – The Most Dangerous Game, Straw Dogs, even Bacurau – it nonetheless works on its own terms. Dr. Alejandro Liema (Patxi Andion), fleeing a broken marriage and alcoholism, takes a position as doctor in a remote mountain village. Even before he gets off the train, he senses something ominous, a feeling confirmed when he receives a hostile welcome from the local men, all of whom walk around at all times with rifles or shotguns in hand. The warmest welcome comes from sixteen-year-old Ana (Yolanda Ventura) who has been cleaning the house the local big shot has provided for him. Ana's sister Marta (Beatriz Elorrieta, the director's sister) is more reserved, not least because she knows this place is dangerous for Liema. Nonetheless there's a mutual attraction, though she's in an abusive relationship with Don Gonzalo (Agustín González), the menacing leader of the community. What Liema gradually realizes is that the "patients" at a local drug clinic are actually addicts kidnapped from the city whom the village men hunt in the local woods. This ritual began some years ago when a gang of addicts arrived in the village during a festival and tried to rob the local bar – it turned into a bloodbath, with eleven villagers killed, and under Don Gonzalo's influence the community's trauma is transformed into this yearly slaughter of addicts. By the time Liema, Ana and Marta join the pathetic addicts to resist the fate intended for them, the movie resembles nothing so much as a western, with settlers holed up in the fort as the heavily armed gang of villagers lays siege. Elorrieta allows things to build slowly, gradually revealing the dynamics of the situation and building inexorably to the senselessly violent explosion, which even many of the villagers are repelled by. The disk's one supplement is a twenty-minute interview with Elorrieta about the political atmosphere in Spain at the time he made the film.
*
InterVision
Severin's sub-label InterVision is a haven for weird low budget oddities, a niche populated by small movies which sometimes exceed the limitations of their available resources – like Henrik Moller's Feed the Light (2014) – and sometimes proudly display their do-it-yourself aesthetic … like Jeff Beltzner's Masked Mutilator (1994/2019).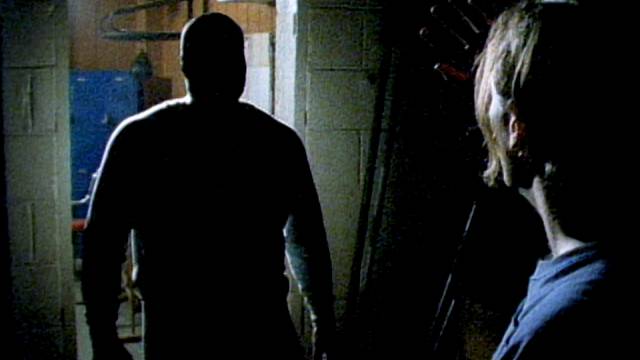 Masked Mutilator (Jeff Beltzner, 1994/2019)
It's not surprising that Beltzner's sole directorial credit has a cobbled-together incoherence: it began shooting on 16mm in 1994, but was abandoned, only to be taken up again in 2019, when new scenes were shot on video to tie the original material together. The frame has true-crime podcasters digging up an old case involving a series of murders in a group home for troubled kids (played by over-age actors). Supervising the home is a former wrestler whom we first see savagely killing an opponent in the ring in the prologue. Why someone with that in his past is set to supervise kids is just one of the movie's mysteries. As the kids hassle each other, a new assistant arrives bearing a college degree and ideas about better ways to run the home. Simultaneously, someone wearing the supervisor's old wrestling mask starts knocking off the kids in inventive ways. There are no real surprises (the killer's identity is easy to guess), but this crude movie has an odd can-do charm; maybe the involvement of a number of professional wrestlers from Pennsylvania (including director/co-star Beltzner) has something to do with that – they know how to put on a show. The disk includes a cast-and-crew commentary plus several interviews with people who worked on it, filling in the odd production history.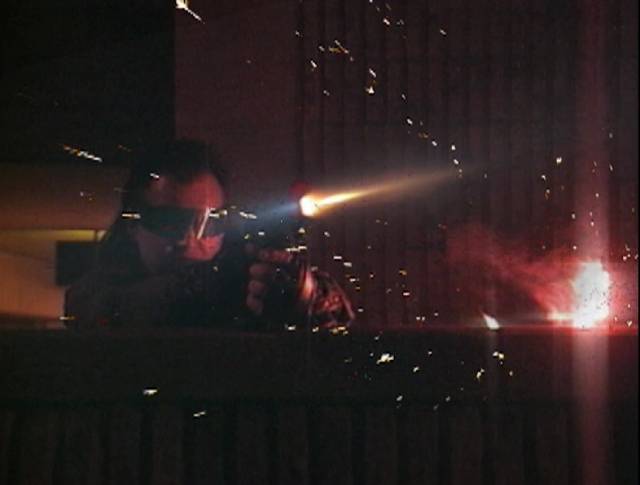 Phobe: The Xenophobic Experiments
(Erica Benedikty, 1994)
They don't get more do-it-yourself than Erica Benedikty's Phobe: The Xenophobic Experiments (1994), a sci-fi tale shot on video using the resources of a local cable access station in Niagara, Ontario. On some far away planet a military experiment has unleashed a genetically engineered super-soldier which lands in Canada and wreaks havoc – a high school girl gets involved with an alien agent sent to retrieve the menace, and there are ray guns, laser blasts and light sabres as the pair fight to save Earth from destruction. Not as weird as Andrew Jordan's Things (1989), the ultimate in Canadian shot-on-video movie-making, Phobe does its best to resemble an actual commercial movie and in its way is quite admirable. The disk includes a commentary with Benedikty in conversation with Paul Corupe and Peter Kuplowsky; her first film, the one-hour Back in Black (1993) about two comic-book fans who discover a portal between dimensions; a 22-minute making-of; a post-screening cast-and-crew Q&A from 2016; a reel of outtakes; and some original FX shots (some of the effects in the movie itself have been digitally upgraded).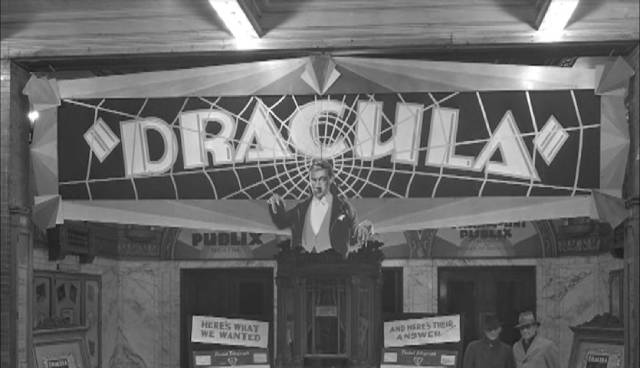 The Trail of Dracula
(David Mitchell & Jamie Lockhart, 2016)
This breezy survey of Dracula in literature, history and the movies, combining talking head interviews with movie clips, can't get into any real depth in just sixty-three minutes, but it can whet your appetite for exploring the myth and its pop culture reach. It gives the impression that it may have been intended as a disk extra, perhaps for Severin's 2015 release of Jess Franco's Count Dracula (1970), and seems a bit odd as a stand-alone title. But what makes the disk really worthwhile is ninety-plus minutes of trailers for Dracula/vampire movies, including acknowledged classics, foreign-language versions, comedies and, of course, porn. There are also brief interviews with Werner Herzog, Klaus Kinski, Christopher Lee and Francis Lederer.
To be continued…