I'll try to keep the next batch of brief comments actually brief, though once I start writing I often find myself having more to say than I originally thought. First up, revisiting a few films by an old favourite…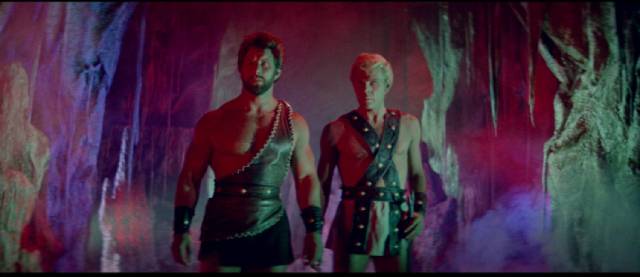 Mario Bava
When I go back to someone like Mario Bava, I'm not looking for new discoveries, but rather the comfortable pleasure of something I already know quite well and like for its particular qualities – in Bava's case, his visual invention and rich Gothic atmosphere. That atmosphere shows up in his gialli as much as his period horrors, and most definitely makes Hercules in the Haunted World (1961) one of the most enjoyable of all Italian peplums. Beginning with a light comic tone (reminiscent of Kevin Sorbo's TV Hercules), the film becomes much darker as the hero (Reg Park) descends into the underworld to do battle with evil sorcerer Lico (Christopher Lee), who raises a zombie army to wage war on mankind. Once underground, Bava (who also photographed the movie) goes all out with the surreally colourful lighting which would become his trademark. Kino's two-disk Blu-ray set includes no less than three different cuts – the U.S., the U.K. and the European, all of which vary from one another, the U.S. version most significantly. (Commentary from Tim Lucas, interview with supporting actor George Ardisson)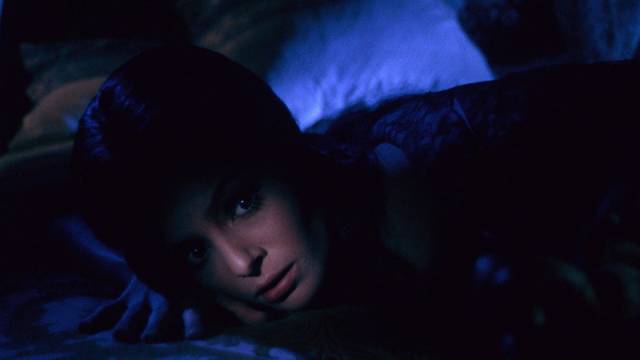 The Whip and the Body (1963) is one of Bava's finest Gothic horrors, in form perhaps reminiscent of Roger Corman's Poe movies, but considerably more perverse. When black sheep Kurt returns to the family castle, no one is pleased to see him – no one, that is, but his brother's wife Nevenka (Daliah Lavi), with whom he once shared a sadomasochistic relationship which he now wants to resume. But someone kills Kurt and his spirit haunts Nevenka, drawing her ever deeper into madness. Gothic horror, ghost story and twisted psycho-sexual case study, the atmosphere of perversion and madness is almost stifling. (Commentary by Tim Lucas)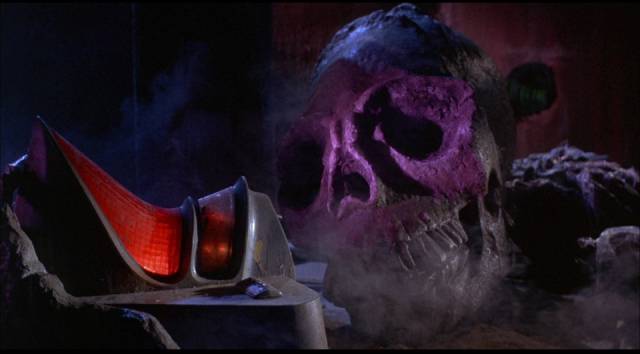 Bava applied his Gothic skills to science fiction with Planet of the Vampires (1965), a movie whose influence belies its threadbare budget. With just an empty stage, a few Styrofoam rocks, and plenty of fog machines, Bava conjures the surface of a planet where an alien force systematically kills off the members of a spaceship's crew and reanimates them as zombies which it wants to use as a means to escape the planet. This is a classic example of design as substance, some of that design and atmosphere finding its way most famously into Ridley Scott's Alien fourteen years later. (The inevitable informative Tim Lucas commentary)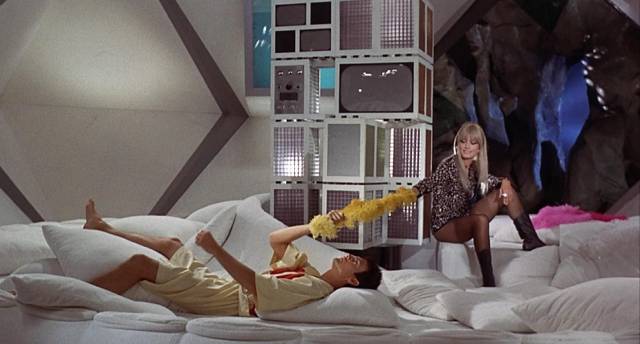 Danger: Diabolik (1968) proved Bava's facility with any genre a producer might throw at him. The '60s were littered with superheroes and supervillains in the wake of James Bond, quickly leaning into comic book exaggeration and camp. Diabolik is the best of these, a fast, amoral romp in which ineffectual authorities attempt to foil the schemes of a stylish thief who has his own "batcave" packed with high-tech devices which enable him to pull off audacious heists no matter how elaborately the police try to protect his targets. John Phillip Law and Marisa Mell make the criminal life extremely attractive and Bava fills the frame with eye candy, much of which he conjures using the simplest classical in-camera techniques – foreground miniatures, glass mattes – which give the movie a sense of scale far beyond its budget (legend has it that producer Dino De Laurentiis gave Bava a $2-million budget and he delivered the film for $600,000). Shout! Factory's Blu-ray isn't the spectacular restoration we might have hoped for, but Bava's eye-popping visuals nonetheless come through with sufficient power to make it a satisfying experience. (Commentary by Lucas and Law, new commentary by Nathaniel Thompson and Troy Howarth, featurette about the adaptation from the comic, Beastie Boys music video)
*
Miscellaneous Horror
Here's where I abandon specific categories – distributors and filmmakers – for a grab bag of random horror movies.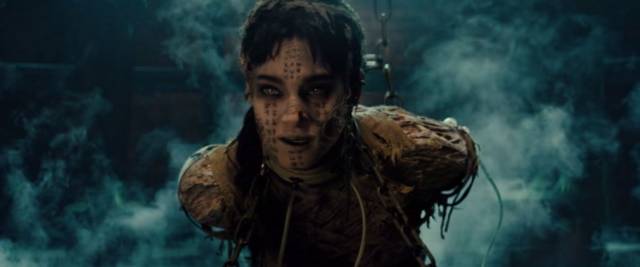 The Mummy (Alex Kurtzman, 2017)
I avoided Universal's abortive attempt to create a franchise out of the studio's classic horror properties because the reviews of the initial product were so bad and the box office failure so dire that plans for the Dark Universe died on the table before some cinematic Frankenstein could administer a life-giving lightning bolt. Apart from the whole project being ill-conceived – trying to gather all those disparate characters and creatures into the equivalent of Marvel's superhero pantheon or the Justice League – the studio ditched horror in favour of action-adventure. Alex Kurtzman's The Mummy (2017) emulates Stephen Sommers' 1999 version rather than the poetic horror of Karl Freund's 1932 original … trouble is, it lacks both the goofy charm of Sommers' movie and its powerful villain. Tom Cruise's "hero" is a jerk, an Indiana Jones wannabe who carelessly trashes antiquities while crassly looking for gold, silver and jewels. Squeezing in Russell Crowe as Dr. Jekyll, having trouble keeping a lid on Mr. Hyde as he tries to run a kind of League of Extraordinary Gentlemen-type secret organization, merely distracts by signalling the larger aims of the franchise-which-was-not-to-be. So why did I bother? Mild curiosity spurred by a cheap copy of the Blu-ray found at the local Shoppers Drug Mart. (Commentary, deleted scenes, multiple featurettes)
*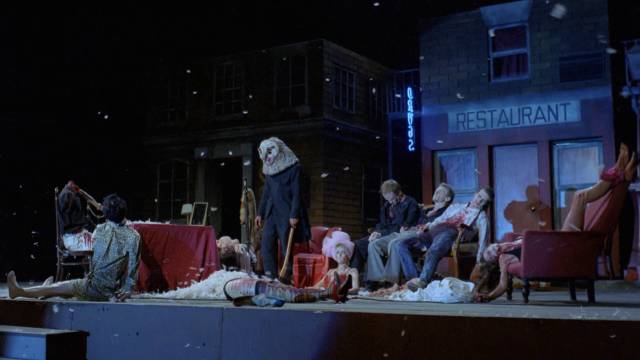 Stagefright (Michele Soavi, 1987)
A few months ago I watched Michele Soavi's The Church, The Sect and Dellamorte Dellamore, so being an obsessive completist I had no choice but to order a copy of his first horror movie (and first feature), Stagefright (1987). More cliched than the subsequent movies, it draws on the slasher genre for a familiar story of a group of bickering actors rehearsing a new musical, which involves on-stage killings which become all too real as the night drags on, thanks to an escaped maniac who takes advantage of the spooky owl-headed costume used in the play. But a string of elaborate set-piece murders can't quite overcome the feeling of familiarity and Soavi is unable to generate a pace that might make you forget that you've seen quite a few stories like this before. Still, it looks very good on Blue Underground's Blu-ray. (Multiple interview featurettes with Soavi and members of the cast and crew)
*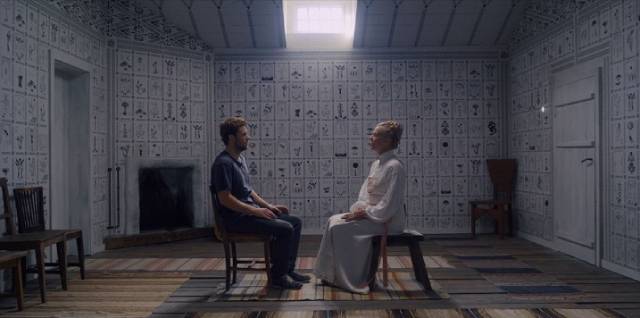 Midsommar (Ari Aster, 2019)
What to make of Ari Aster's follow-up to Hereditary (2018)? That film divided audiences and critics – horror as serious drama or pretentious posturing? Midsommar (2019) inspired a similarly divided response. Critics leaned heavily on the influence of Robin Hardy's The Wicker Man (1973), but the similarities – a clash between modern and ancient pagan beliefs – seemed somewhat superficial to me. My problem with Midsommar had more to do with the ancient culture never quite coming into satisfactory focus … perhaps a deliberate choice since we see everything through the eyes of the naive Americans who visit the remote community and are destroyed without ever quite understanding what it is they've gotten themselves into. But as with Hereditary, Aster creates a dense, ominous atmosphere and builds individual scenes with dramatic and emotional weight. Also, as with Hereditary, I was left with a feeling of disappointment at the end – after all the portentous drama we've been put through, is this really where we end up, with genre cliches? I bought the Region B Entertainment-in-Video Blu-ray because it includes both the 147-minute theatrical and 170-minute director's cuts on separate disks; I watched the long cut first and was fairly engrossed though ultimately a little irritated. The shorter cut, rather than tightening and focusing the narrative just seemed to rush through certain parts, leaving me with a better appreciation of the director's cut despite my dissatisfaction. Aster has very obvious skills, particularly with building characters and developing psychological states, but as good as many scenes are, he has yet to bring everything together into a satisfying dramatic whole … but, heck, these are just his first and second features and I (and others) should surely cut him a little slack! (25-minute making-of)
*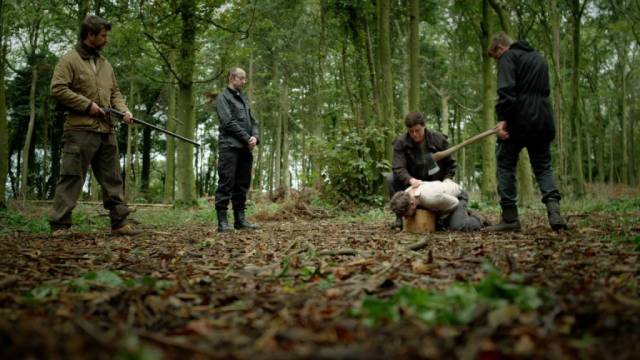 The ABCs of Death 1 & 2 (Various, 2013/14)
Short films, like short stories, can pack a more effective punch than a long-form narrative because they focus tightly on a single element, undiluted by all the machinery that's necessary to make a long movie or a novel work. Just compare David F. Sandberg's original, perfectly formed Lights Out short (2013) with the over-elaborated, watered-down feature he made three years later – the latter is a forgettably familiar horror movie like so many others, while the short remains a completely unsettling piece that remains lodged in your brain years after you first saw it. Aiming for that kind of impact, while inevitably diluting the effect through sheer quantity, the producers of the ABCs of Death anthologies (2013, 2014) commissioned multiple filmmakers for each film (twenty-seven for volume one, thirty-one for the follow-up) to create mini horror movies running an average of three to five minutes each. As you'd expect, these little movies vary widely in tone, though many lean towards irony and outright comedy as well as gross-outs effects. Watching them beginning-to-end gets exhausting and the more effective episodes tend to get lost in the flow, but there are enough imaginative moments to keep you engaged and waiting for the next satisfying short. (Magnet Blu-rays loaded with commentaries, behind-the-scenes featurettes, deleted scenes)
*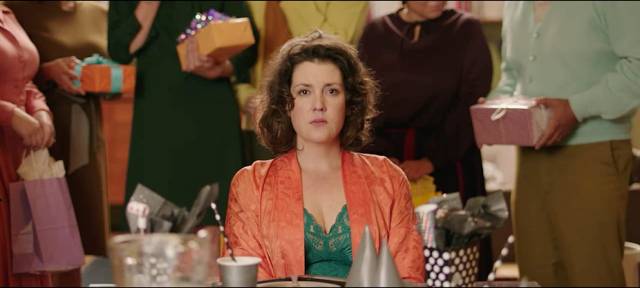 XX (Various, 2016)
Four women filmmakers were given more room to breathe in XX (2016), an anthology of longer stories, each running fifteen to twenty minutes, loosely tied together with creepy animated segments by Sofia Carrillo reminiscent of the Brothers Quay. As expected, the four films vary in tone and style, with the first two – Jovanka Vuckovic's The Box, adapted from a Jack Ketchum short story, and the darkly comedic The Birthday Party, the first film by Annie Clark, aka musician St. Vincent – the most original and effective. In the former, a young boy asks a man on the subway what's in the box on his lap, and when the man shows him (but not us) the boy is changed, refusing to eat, and dragging his family into a nightmare. In the latter, an uptight middle-class wife and mother (Melanie Lynskey) obsesses over her daughter's upcoming birthday party, trying to create a memorable day as things go progressively, bizarrely wrong. The last two stories are more conventional, with Roxanne Benjamin's Don't Fall pitting four friends hiking in the desert against an ancient, malevolent supernatural entity, while in Karyn Kusama's Her Only Son a single mother discovers that her troubled teenager was actually spawned by the Devil. (Magnet Blu-ray with multiple interviews and behind-the-scenes featurettes)
*
JeruZalem (Yoaz & Doron Paz, 2015)
I can't help it – for some reason, I'm drawn to found-footage horror even though so many such movies are disappointing and even outright irritating. But at their best, with horror embedded in the mundane reality of unexceptional people's lives, they can be really effective in ways that straightforward narratives seldom are – the original Paranormal Activity (Oren Peli 2007), The Last Exorcism (Daniel Stamm, 2010), Jean-Teddy Filippe's Les Documents Interdits (1989)… Yoaz and Doron Paz's Israeli-made JeruZalem (2015) is a middling example of the genre, getting around some of the perennial technical issues (why do people keep filming when they're running for their lives?) by equipping American tourist Rachel (Yael Grobglas) with Google Glass eyewear (how did that idea not take hold?), which not only records everything she sees, but provides on-screen information from GPS data to emails and video messaging and even Internet searches for crucial details about what's going on. And what's going on is Armageddon, as angels and demons wage the final war for human souls. As in many found-footage movies, JeruZalem courts tedium in the early stages with the sheer mundanity of tourist experience – chance encounters, looking for hotels, fear of being cheated by strangers, getting drunk in bars – gradually feeding seemingly insignificant little details and incidents into the mix before suddenly erupting into apocalyptic chaos. Not great, perhaps, but delivering sufficient goods to satisfy my found-footage cravings. (Unobstructed View Blu-ray with commentary, deleted scenes and several making-of featurettes)
*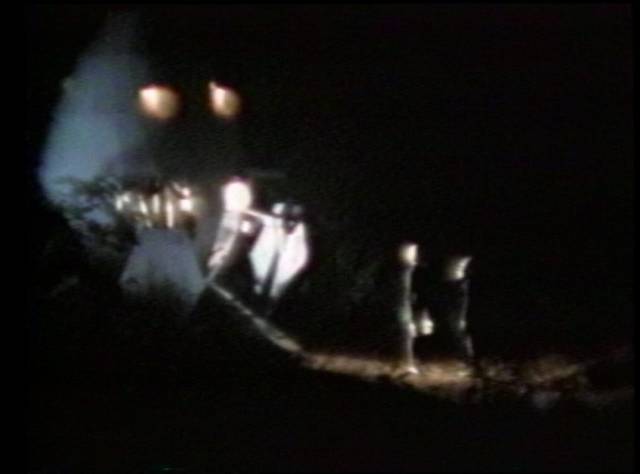 The McPherson Tape (Dean Alioto, 1989)
Speaking of found-footage … I'd never heard of Dean Alioto's The McPherson Tape aka Alien Abduction (1989), which some consider the first full found-footage horror movie (after all, only half of Ruggero Deodato's Cannibal Holocaust is found-footage), made a decade before The Blair Witch Project established it as a viable commercial genre. In almost every respect, Alioto's short feature (it runs only sixty-three minutes) is a perfect example. In 1983, a family is celebrating a child's fifth birthday in a remote house and the youngest son has just acquired a VHS camcorder (actually shot with a Hi8 stereo camcorder). Eager to try it out, he's recording everything – all the banter around the dinner table, the family in-jokes and petty irritations. He's intrusive and annoying as he points it at everyone. Then the lights go out and he and his brothers go to check on the fuses … and they see a flash of light in the distance and go to investigate. The woods are dark and it's hard to see anything in the light of the single lantern being carried by one brother. Then on a rise they spot a metallic structure and see several figures which, even at this distance, look just like the small big-eyed aliens familiar from UFO folklore. Back at the house in a panic, the brothers trigger rising hysteria … an alien is shot and laid out in a back bedroom; several people seem to fall under hypnotic influence … the dead alien vanishes and then, with the camera laid on a table but still running, we see three aliens sneak in just before the tape runs out…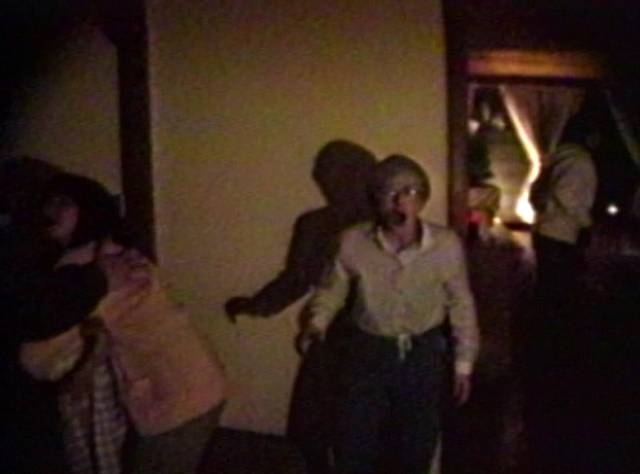 Made for a few thousand dollars, with the found-footage approach the result of a decision to find a way to accommodate the limited budget, the film is remarkably convincing thanks to Alioto's camerawork, which is authentically amateurish and always justified. Most of the cast apparently had improv experience and their interactions feel like those of a real family, banal chatter often barely intelligible because people speak over one another, the sound caught on a small built-in microphone. It all seems very natural, the least convincing thing being the cliched archetypal aliens which are only glimpsed a few times. And yet, some people in the UFO community seem to have believed the film was genuine, passing copies around shorn of credits as the most convincing proof that aliens are real. To amp up the conspiracy minded fantasies of these people, Alioto remade the film in the late '90s for a cable channel, dressing it up with fake documentary material, interviews with "experts", so much less convincing that those who believed in the reality of the original smelled a government attempt to cover up the truth by making it look unbelievable…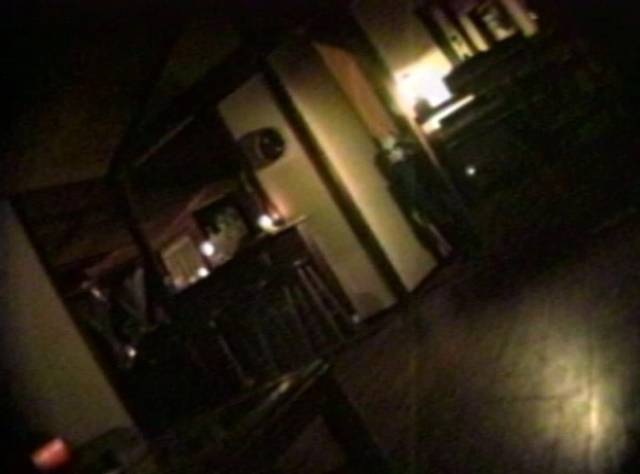 There are two transfers on the American Genre Film Archive Blu-ray – one VHS quality, the other taken from a one-inch tape master with newly generated hi-def credits. Needless to say, from a found-footage point of view the former works better, with its darker, grainier image which has the genuine air of old home movies. The latter "director's cut" is identical in editorial content but has a brighter, cleaner image (and a couple of small CG tweaks) which makes it feel more like a staged movie. There's a commentary track (an interesting account of both the making – to a large extent it was shot as a long, uninterrupted take, which had to be recorded twice for technical reasons, with some hidden editing to tighten things up – and its distribution and reception), a director's introduction from 1989 (2:32), a Q&A from the 2019 Fantastic Fest (39:13), and a brief clip from an episode of a TV show called Encounters (6:07) in which a former Air Force officer turned UFO expert declares that the intense emotions of the characters are far too convincing for them to be actors because, you know, actors are unable to fake emotion … so it really must be proof that aliens are among us.
*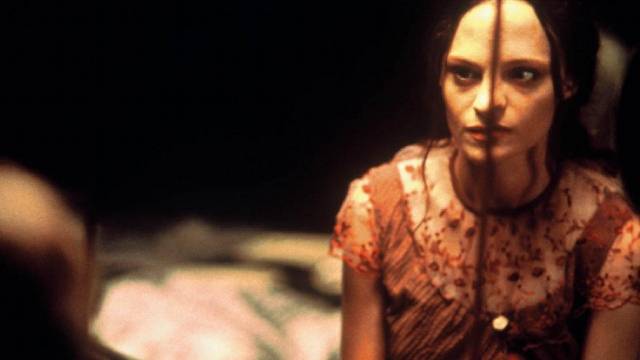 May (Lucky McKee, 2002)
After recently watching the cannibal trilogy based on books by Jack Ketchum, the centrepiece of which is Lucky McKee's The Woman (2011), I thought it was time to see McKee's debut feature May (2002), which I'd been vaguely aware of but had never previously come across, so I ordered a copy of the German NSM Records Blu-ray on eBay. I only had a vague idea of what it was about and didn't really know what to expect, which is always the best way to experience a new movie. What I got was an incredibly intense depiction of social awkwardness which had me squirming in my seat. Angela Bettis, the oppressed wife in The Woman, gives a remarkable performance as a young woman with absolutely no social skills, having been an outsider since childhood. Her only companion is a doll made by her mother, in whom she confides.
She works at a veterinary clinic, where she enjoys the more gruesome aspects of the job and is obviously an object of attraction for her lesbian coworker (Anna Faris). She becomes obsessed with a young man (Jeremy Sisto), whose hands she sees as perfect. After he shows her a student film he made in which a couple on a picnic end up eating each other, they make out and she bites him, drawing blood, because she got the impression cannibalism is a turn-on for him. He begins avoiding her and she acquiesces to her coworker's advances … but then discovers that the coworker has a girlfriend. Feeling betrayed on all sides, she recalls her doll-making mother's advice – "If you can't find a friend, make one" – and using the surgical skills she's developed at the clinic, she starts killing people and sewing their parts together to create the perfect friend.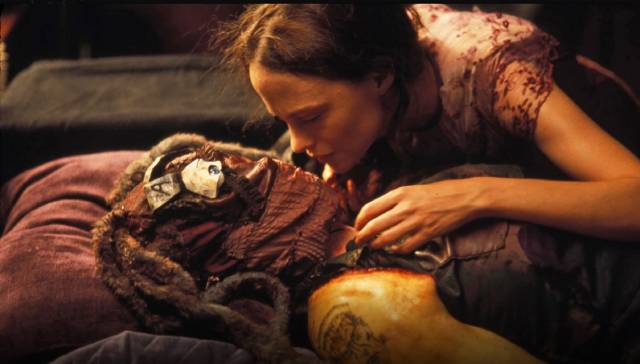 Interestingly, the film's real horror resides in the socially awkward torment May suffers in the first two-thirds and it actually comes as a relief when she snaps and begins killing people, finally finding a way to take control and assert herself. It's a neat trick on McKee's part, but what really puts it over is Bettis' painfully raw performance; not knowing how one should behave, but trying so hard to establish some kind of connection, she sees herself reflected back as a nightmarish embarrassment – she has to silence others' opinion of her and tries to create an ideal person who will see her as she wants to be seen. (Two group commentaries with McKee and various cast and crew members)
*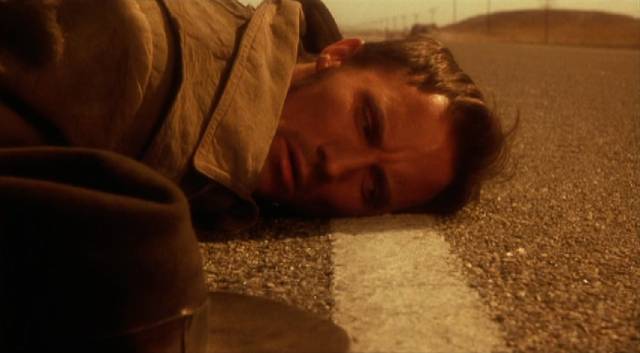 Dust Devil (Richard Stanley, 1992)
Having recently acquired Roninflix' excellent Blu-ray of Richard Stanley's Hardware (1990), I figured it was time to upgrade his second feature, Dust Devil (1992), as well. Again, not so easy, because like Hardware, this remains something of a niche film whose distribution has been erratic and troubled since it was made. As with Hardware, Miramax was involved in the financing and, typical of the company, they butchered it before release, cutting almost half-an-hour from Stanley's workprint edit, and it now exists in multiple versions. In 2006, Subversive Cinema released a five-disk edition which included the workprint along with what was designated "the final cut", a newly polished edit created by Stanley for that release, trimming the original 115 minutes to 108. (The set also included Stanley's documentaries and a soundtrack CD.)
The only Blu-ray which seems to have been released comes from Koch Films in Germany, originally a five-disk edition which duplicated the contents of the Subversive set on supplementary DVDs. I missed out on that one as it was already out of print before I went looking. However, I did find Koch's pared down three-disk set (stripped of the documentaries and CD). This includes both the workprint and the final cut, but also throws in the original 87-minute theatrical cut. The Blu-ray image looks wonderful and the film remains a haunting, dreamlike experience (not to everyone's taste, apparently, as many seem to find it slow and frustrating).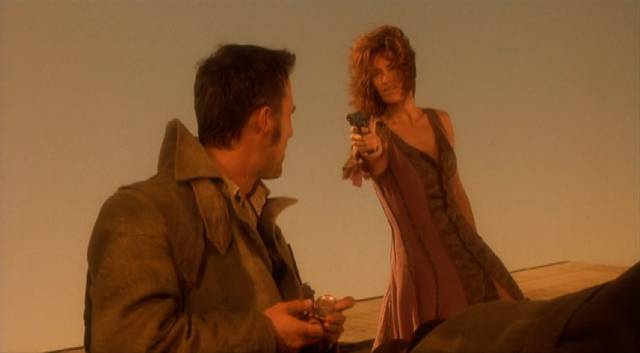 Essentially a mystical serial killer story in which a demonic figure (Robert Burke) drifts through the backroads of the Namibian desert finding people who have lost the will to live and ritualistically killing them. He encounters a woman named Wendy (Chelsea Field) who is escaping from an unhappy marriage in Johannesburg, while a policeman named Mukurob (Zakes Mokae) investigates the latest killing. With Wendy's husband tracking her, and Mukurob guided by a shaman, everyone converges on an abandoned town being reclaimed by the desert, and Wendy finally confronts the Dust Devil and recovers her will to live. A blend of horror and folktale, Dust Devil, like so much of Stanley's work, is more concerned with mystical inner states than with conventional narrative, its meanings embodied in evocative imagery as much as in story and character. Needless to say, the theatrical version misses that point, trying to trim the evocative elements while straining to create a faster linear narrative which loses the distinctive rhythm of the film.
In addition to the three versions of the feature, there's a commentary from Stanley, a 34-minute interview with him, another interview with actress Marianne Sägebrecht who plays the coroner, plus some behind-the-scenes material.