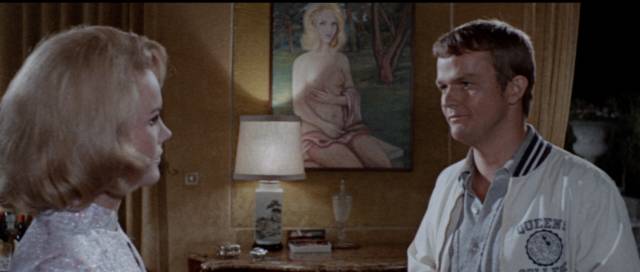 I've mentioned before that my initial opinion of Umberto Lenzi was pretty low. That was based on my first encounter with his work being Nightmare City (1980) almost twenty years ago. I'm more forgiving of that crude zombie movie now, having seen a lot more of his work. And yet there's still a little resistance in me, an unwillingness to put him on the same footing as, say, Sergio Martino, Lucio Fulci or Dario Argento. Despite having seen quite a bit of good work from him by now, the residue of that first impression lingers. Maybe because Lenzi seemed indiscriminate in his choices and never quite developed a distinct directorial personality like some of those others. And yet that was typical of someone like Martino as well, who also put his hand to every imaginable genre. Perhaps it's as simple as that Lenzi wasn't a real stylist; he could get the job done, but much of his work is merely functional. At his best, though, he could craft superb genre entertainments, and never better than in the poliziotteschi, the genre he excelled at during the 1970s, producing pulp masterpieces like Almost Human (1974) and Violent Naples (1976).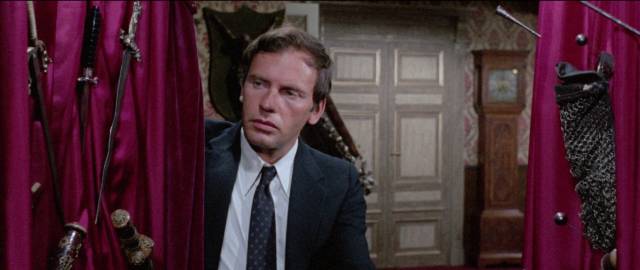 Before that, like so many Italian commercial filmmakers, Lenzi had dabbled in pretty much every genre the industry found profitable – sword-and-sandal epics, swashbucklers, war films, comedies, westerns, post-Bond spy pastiche. I haven't seen any of that early work from the decade spanning his start in 1958 to 1968. But thanks to Severin, I've now discovered what appears to have been a key transitional period in his career – four features he made between 1969 and 1972 with the American actress Carroll Baker. Although Mario Bava had laid the groundwork for the giallo with The Girl Who Knew Too Much (1963) and Blood and Black Lace (1964), that genre only really took off with Dario Argento's The Bird with the Crystal Plumage in 1970. But in the late '60s, a number of filmmakers were edging towards the giallo by pushing the limits of more traditional mysteries, and the four Lenzi/Baker movies were part of that process, made at the same time Lucio Fulci was directing the comparable One on Top of the Other (1969), A Lizard in a Woman's Skin (1971) and Don't Torture a Duckling (1972) – although Fulci's films highlight Lenzi's limitations as a stylist, the work of the latter appearing somewhat more conventional and old-fashioned by comparison.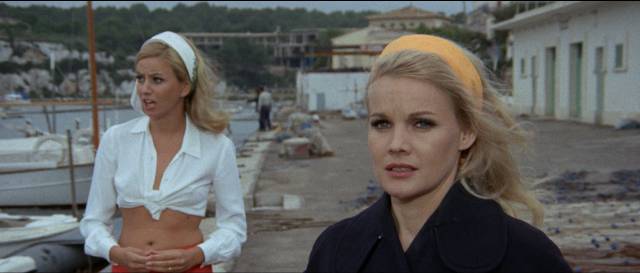 In fact, the Lenzi/Baker films hearken back to the women-in-peril melodramas Hollywood was so fond of in the 1940s and '50s, updated with explicit sexuality and a surprising amount of nudity. Like those older movies, each story centres on a neurotic woman who gradually seems to lose her grip on reality, becoming entangled in dangerous relationships which lead to murder. Perhaps the biggest difference is that Baker's characters are a long way from being innocent victims. Although she had had a few supporting roles on television and in movies in the early '50s, Baker's breakthrough came in 1956 with the title role in Tennessee Williams and Elia Kazan's controversial Baby Doll in which she played the barely legal and intensely erotic young wife of a middle-aged Southern businessman (Karl Malden), whom she provokes by fooling around with his business rival (Eli Wallach). Although she was twenty-five at the time, the film has an unwholesome Lolita-like vibe, with Baker's seemingly underage sexuality provoking the Production Code office and moral guardians across the nation.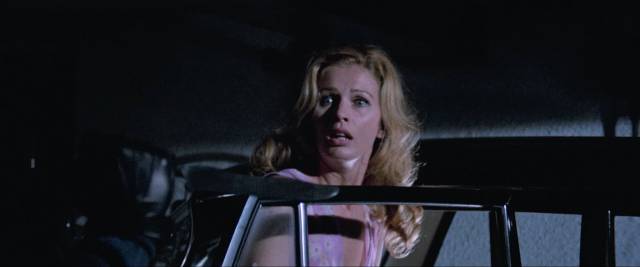 Her performance landed her an Oscar nomination, but her subsequent career was a mix of westerns, trashy entertainments like The Carpetbaggers (1964), and other things intended to cash in on her sex symbol image – though she never achieved the level of a Mansfield or a Monroe. Often saddled with uninspired directors like Gordon Douglas, the brightest spot from an acting point of view came in 1961 with her role as a rape victim in Something Wild, directed by her then-husband Jack Garfein. Following the failure of her highly publicized starring role in Harlow (Gordon Douglas, 1965), and dissatisfied with the handling of her career by Paramount and producer Joseph E. Levine, Baker moved to Italy in 1966 to distance herself from her American contracts.
Her first Italian film was Romolo Guerrieri's The Sweet Body of Deborah (1968), which set the template Lenzi would follow in his collaborations with Baker – troubled marriages, mysterious threats, dark secrets, murders and suicides, all making life difficult for a woman trying to maintain her grip on reality. Oh, and nudity and sex for extra box office appeal. Baker followed this up with three features by Lenzi, took a break from him in 1971 (making three films with other directors), then rejoined him in 1972 for their fourth and final movie, which strangely took a step back towards something even more old-fashioned despite him having otherwise started to move towards the more extreme content of full-fledged gialli and cannibal movies.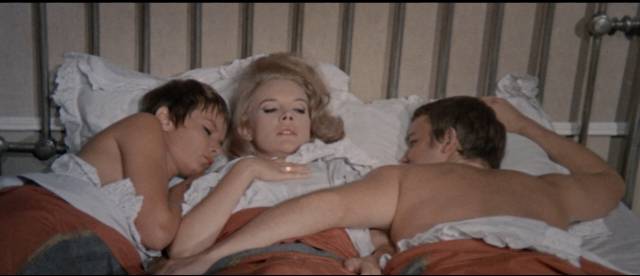 In their first collaboration, Orgasmo (1969), Baker plays Kathryn West, recently widowed by the death of her husband in a car crash which leaves her with a vast fortune. While solicitous family lawyer and friend Brian Sanders (Tino Carraro) wraps up the estate, Kathryn retreats to an isolated villa in Italy to grieve. Her life is quickly upturned by the intrusion of a young man named Peter Donovan (Lou Castel). There's obviously something a bit shady about him, but Kathryn is quickly seduced, beginning a sexual relationship which both appeals to her and makes her nervous. Soon Peter's sister Eva (Paulette Descombes) shows up and the pair all but take over the villa. At first Kathryn enjoys the stimulation – like Peter, Eva seduces her – but by the time it becomes clear that they're taking over her life, getting rid of the servants and keeping her drunk and drugged all the time, it's too late. Her induced helplessness keeps her a prisoner as their "games" become more dangerous.
The film's climax comes as a rapid series of twists on top of twists, Kathryn's fate very different from that of the heroine in a typical Hollywood woman-in-peril movie, reflecting a more cynical attitude. That cynicism permeates the movies which followed, filled with duplicitous motives, betrayals, and plans which twist back to bite schemers whose motives are generally rooted in greed and bad faith.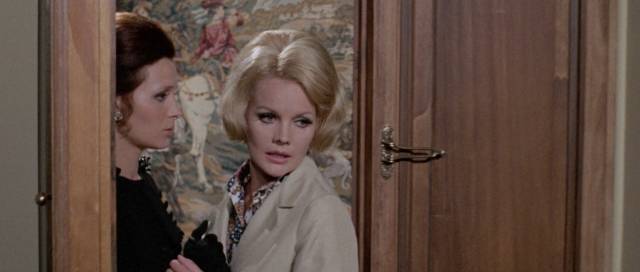 In So Sweet … So Perverse (also 1969), Baker is Nicole, a woman who moves into the flat above Jean Reynaud (Jean-Louis Trintignant), a wealthy businessman stuck in an unhappy marriage to Danielle (Erika Blanc). Hearing Nicole being violently abused by her boyfriend Klaus (Horst Frank), Jean finds himself increasingly attracted to her and compelled to try and save her, all in plain view of Danielle. Needless to say Nicole isn't quite what she seems and there's an elaborate murder plot unfolding, although the feelings and motives of those involved change, complicating things for more elaborate twists towards the end.
There are some echoes of Henri-Georges Clouzot's classic Les Diaboliques (1955) in Ernesto Gastaldi's screenplay; those echoes become far more overt in the third film, A Quiet Place to Kill (aka Paranoia, 1970), with Baker once again a damaged character drawn into a murder plot which goes wrong. Here she's Helene, a race-car driver who is injured in a bad crash. As she recovers, she receives a telegram from her ex-husband Maurice (Jean Sorel, with whom Baker had co-starred in The Sweet Body of Deborah) inviting her to recuperate at his villa by the sea. When she arrives, she's disconcerted to be greeted by Maurice's new wife Constance (Anna Proclemer). She's even more disconcerted to learn that it was actually Constance who sent the invitation. As Helene fends off Maurice who seems interested in reigniting their former relationship, it becomes clear that Constance wants to enlist her help in a plan to kill him.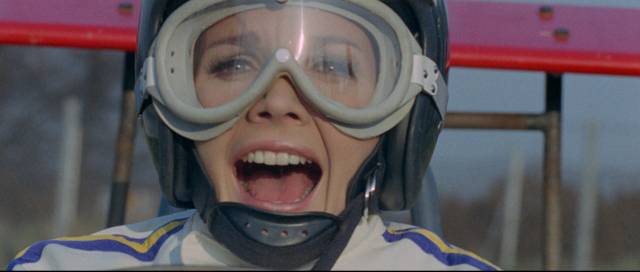 It all goes wrong. Helene's feelings for Maurice do begin to smoulder once more, the wrong person dies, and fate steps in to mete out a fitting punishment for those who have acted very badly.
There are obvious similarities among these first three films – the sordid, immoral behaviour of the wealthy, the volatility of emotional attachments, betrayal rooted in avarice, promiscuous sexuality, plentiful unselfconscious nudity of a kind an actress of Baker's stature certainly would not have gotten away with in American productions at that time, and quite a few scenes in discos, facilitating the use of pop songs on the soundtrack … not to mention the soundtracks themselves, which are filled with the great romantic lounge themes and light jazz characteristic of Italian movies of the time (by Piero Umiliani, Riz Ortolani and Gregorio Garcia Seguro) and catchy pop songs which get a lot of repeat play, particularly in Orgasmo where "Just Tell Me" by Wess and the Airedales becomes an instrument of torture used by Peter and Eva to push Kathryn over the edge.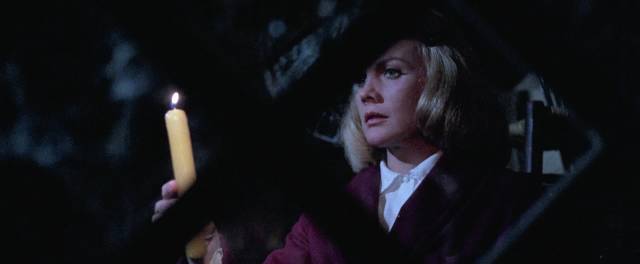 After a one year break, Lenzi wasn't interested in simply repeating the previous formula when he teamed up with Baker for the last time. Gone are the sex and nudity. Knife of Ice (1972) is quite blatantly modelled on Robert Siodmak's The Spiral Staircase (1946), with Baker's Martha Caldwell a mute who may be in danger from a serial killer operating in the neighbourhood. Martha hasn't spoken since witnessing the horrific death of her parents in a train wreck as a child. Her doctor, Dr. Laurent (Alan Scott), insists that her inability to speak is purely psychological so it's reasonable to assume that at a climactic moment, under threat of death, she'll probably recover … while that does indeed happen, it comes with an unexpected revelation.
This movie is stacked to the rafters with red herrings, particularly the chauffeur (Eduardo Fajardo) who is so surly and sinister that despite all his looming up at tense moments you know he can't really be the killer; then there's the hippy devil worshipper hanging around the neighbourhood leaving various signs of black magic and sinister rites. The fact that Martha lives with her uncle Ralph (George Rigaud) who has an interest in the occult points towards an element of horror, which itself ends up being one more misdirection. Apart from a young woman found dead beside a road, the victims are all connected to Martha – her cousin Jenny (Evelyn Stewart), her maid (Silvia Monelli), a kitten, and a young girl (Rosa M. Rodriguez) – and Lenzi and Baker play on her vulnerability to maintain suspense, though the film seems very restrained in comparison to the ones which preceded it. However, that restraint does add a genuine kick to the twist at the end.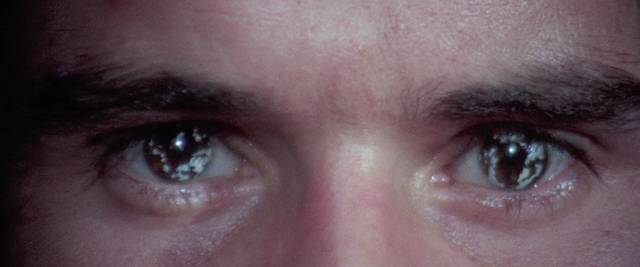 Perhaps Lenzi had himself become a bit bored with the formal elements of these thrillers rooted in classical mysteries – not quite as staid as Agatha Christie, perhaps, but already feeling somewhat dated. Between A Quiet Place to Kill and Knife of Ice, Lenzi experimented with different forms in An Ideal Place to Kill (1971), a title apparently determined to cause confusion, which begins as a counter-culture riff on Orgasmo, but is more sympathetic to its pair of kids roaming Europe and invading an older woman's home, and Seven Blood-Stained Orchids (1972), whose title signals its status as a full-on giallo involving bizarre clues and a woman being stalked by a black-gloved killer who commits a series of graphic murders.
After Knife of Ice, Lenzi split his time between poliziotteschi and extreme gialli like Spasmo (1974) and Eyeball (1975). As for Baker, she made a few more European movies before returning to the States and starring in the last of Andy Warhol's Factory productions, Bad (1977), directed by Jed Johnson, who had previously edited Paul Morrissey's Warhol-sponsored L'Amour, Heat (both 1972), Flesh for Frankenstein (1973) and Blood for Dracula (1974). She continued to work steadily, mostly in supporting roles, until the early 2000s, but apparently has never spoken much about her years in Italy.
*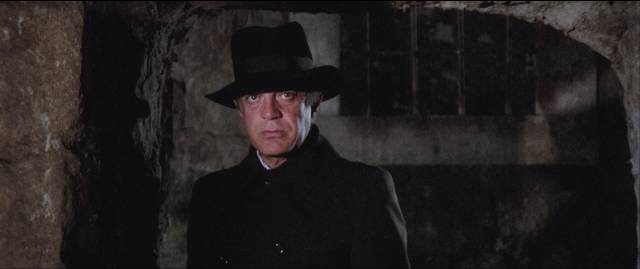 Severin's box set adds to Lenzi's stature, with four romantic/erotic thrillers which provide yet another bridge between classic mysteries and the more extreme gialli which would follow Argento's debut. The director was a talented journeyman who often delivered the necessary genre thrills and would occasionally transcend those limitations. The presence of Carroll Baker obviously inspired him to do very good work in this quartet and it's nice to have all four titles together in a showcase collection.
Each movie gets its own Blu-ray disk with a choice of English or Italian mono soundtracks. I sampled the English dubs, but the quality of the voices was pretty irritating, so I ended up watching all four movies in Italian with subtitles. I got the impression that Baker hadn't done her own dubbing on the English tracks, so it didn't seem like a loss. Even dubbed in Italian, her performances come across as effective.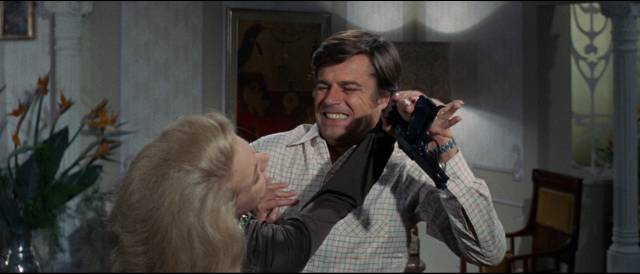 The transfers were sourced from original negatives, except Orgasmo which came from an internegative resulting in a slightly softer image than the other three. There's some notable print damage during the title sequence of So Sweet … So Perverse, but otherwise the transfers are all excellent.
Orgasmo is offered in both the full-length Italian cut and the slightly shorter U.S. X-rated version, the former with a commentary from Alexandra Heller-Nicholas, the latter with one from Nathaniel Thompson and Troy Howarth. There's also an interview with Lenzi.
So Sweet … So Perverse gets a commentary from Kat Ellinger, an interview with Lenzi from the 1999 Nocturno Film Festival, and an interview with writer Gastaldi.
A Quiet Place to Kill has a commentary from Samm Deighan, an interview with Lenzi, and a brief alternate clothed scene.
Knife of Ice doesn't get a commentary, but there's an interview with Stephen Thrower about the Lenzi/Baker partnership, plus another interview with Lenzi.