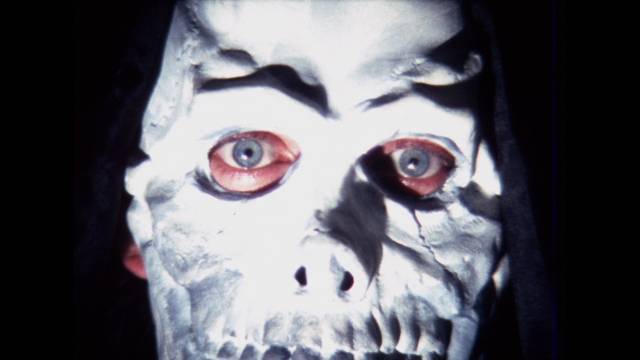 As always, it's hard to keep up as new disks arrive in the mail. Which partly explains my long silence regarding Indicator's massive ten-disk box set of everything that survives from the fifty-year career of English "amateur filmmaker" Michael J. Murphy. I use the scare quotes because the term amateur is misleading in some ways; although its original meaning meant a passionate enthusiast who pursues a personal interest for other than professional or monetary reasons, it has come to imply something less admirable – someone who struggles to accomplish something in a field in which they perhaps lack the necessary talent or ability to succeed as a professional.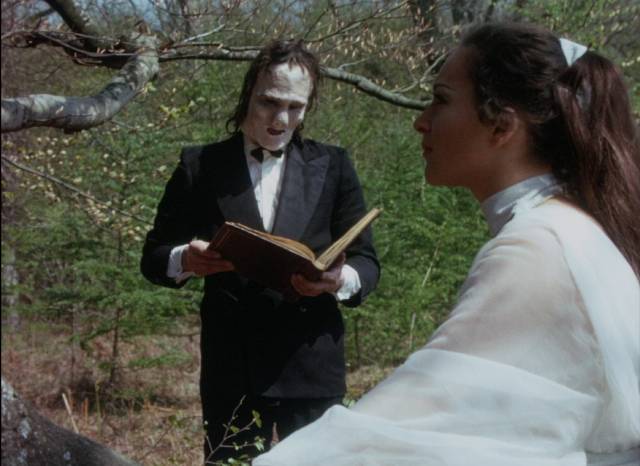 Murphy comes closer to the original meaning; he made movies – a lot of them – with a group of friends because he loved the act of creation for its own sake. He occasionally made attempts to move into the industry, but like so many before and since found it difficult to get in through the door, particularly in the creative role he aspired to. But rather than giving up and moving on to other things, he just made his own movies, undiscouraged by the difficulty of finding distribution – even when home video became a viable alternative, he didn't have a lot of luck as he tried to release his own tapes or hooked up with small companies which more often than not didn't pass on any of the meagre profits. He dealt with that experience – and the video nasty panic – in a feature called Bloodstream, made in 1985 but never released in any form until this set.
Working on proverbial shoestring budgets, many of Murphy's works are surprisingly ambitious. He had an obvious ability to make the best use of what he could afford, taking advantage of locations which added production value, particularly a Greek island where he shot features a number of times while on holiday. What is perhaps most interesting about Murphy is that he didn't seem to be constrained by his limited resources – he didn't scale down to suit his (lack of) budget, but tackled a range of genres from historical fantasy to psychological thrillers and contemporary horror to science fiction and post-apocalyptic action. It's not surprising that the success of his achievements varies depending on how hard he tried to stretch those resources on individual projects.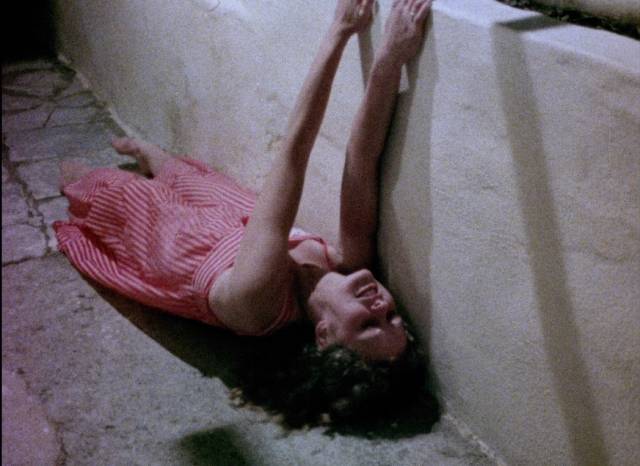 Murphy began making movies in his mid-teens, shooting on 8mm. His earliest projects are lost or only survive in a few fragments, some never completed – but it's clear that his earliest interest was in classical mythology and ancient history (Atlantis, Theseus, Hercules, Queen Boadicea). His first contemporary film was abandoned before he finished shooting (in super-8), and he returned to the past for what is the earliest surviving feature (which, however, hasn't survived in a complete form). This was the first of three attempts to tell the story of Tristan and Iseult, made in 1970 when he was eighteen (what remains runs fifty-seven minutes), followed in 1986 by Tristan (aka Legend of a Hero) and again as Tristan in 1999. This story obviously held some significance for Murphy and there's a touching sincerity in his treatment of the chivalrous romance – but those budgetary limitations work against the grandeur he was pursuing. While colourful, the threadbare sets, homemade costumes and sincere performances have a distinctive air of community theatre.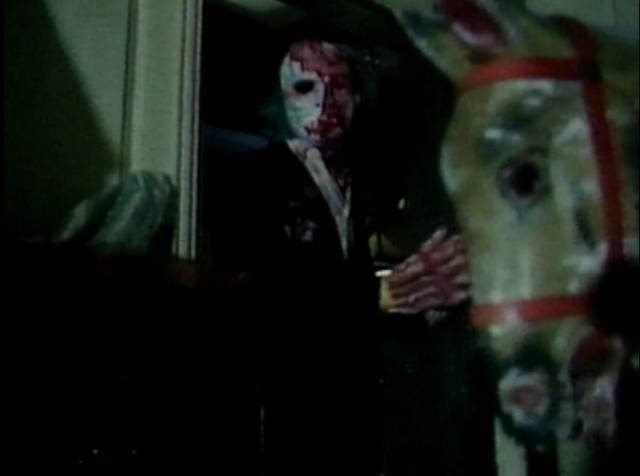 Made in his early twenties, Happy Ever After (1974) seems transitional. This is the first of the films shot on that Greek island, amusingly focused on a British film crew shooting a movie, who are encountered by a woman named Helen (Helena Zeffert) who is running away from her unhappy life in England. She spends her evenings with the cast and crew who booze, hook up and reveal their personal neuroses. The island has a mystical quality and Helen finds herself transported to a mythical, idyllic other world where she encounters a monster who essentially turns out to be the tormented romantic beast to her beauty.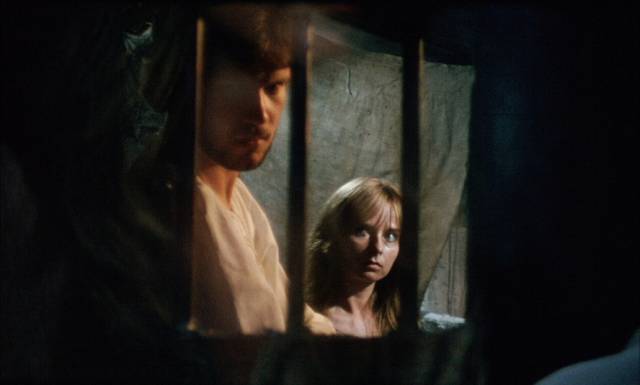 After the first of two abortive attempts to make an apocalyptic sci-fi movie called Seventh Day, Murphy returned to the Greek island for the first of his psychological thrillers, perhaps the first of his fully realized projects. Secrets (1977) is an effective little thriller with a nasty streak that manages to overcome the usual limitations of the resources with which Murphy was working. Vicki (Caroline MacDowell, working under the name Aylward, in the first of many collaborations with Murphy in front of and behind the camera) cares for a bitter, demanding aunt in a villa overlooking the island's harbour. Fed up, she lets the old lady's wheelchair roll down the hill, inherits the estate, and quickly marries her boyfriend Steve (Michael Cattle). But it turns out he's just after her inheritance and his real girlfriend Liz (Carol Aston) arrives from England and rents a room in the villa. It's not long before Vicki is tormented by the apparent ghost of her aunt and takes a long fall out of a window. But she doesn't die – like her aunt, she's crippled and becomes a burden to Steve and "helper" Liz. Realizing that the couple are trying to kill her, Vicki fights back, playing on the stresses of the situation to sow distrust between them.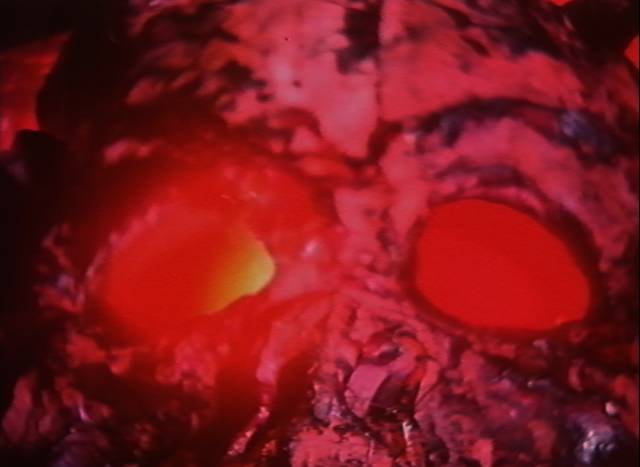 While dialogue and acting might lack the polish of a similar studio movie, if Secrets had been made within the industry, Murphy might have been acknowledged as a viable talent. But without the necessary connections, he continued to work as an outsider, following up what might have been his breakthrough with another contemporary thriller. Almost a Movie! (1979) isn't as successful, partly because Murphy here is playing a more complicated game of misdirection, hiding motivations under more layers of deception. Terry (Tim Morris) is a wannabe writer whose movie-producer father has finally married his long-time mistress Alexandra (Carol Aston again). Terry arrives at the family villa to meet his new step-mom and, with his father's arrival inexplicably delayed, he seems to be playing a psychological game with her; has his father been murdered? Is he planning to kill her? Is it all just the plot of the novel he's writing?
And that's just the first disk of the set. Disk two includes a short called The Cell (1980), a period piece about an encounter between a condemned prisoner (Russell Hall) and a prostitute (Aston again) sent to his cell on the night before his execution to whom he tells his story, claiming innocence while she admits her own guilt for a crime no one knows she has committed. This is followed by four short features, all under an hour, displaying Murphy's penchant for both perverse family psychodramas and overt horror.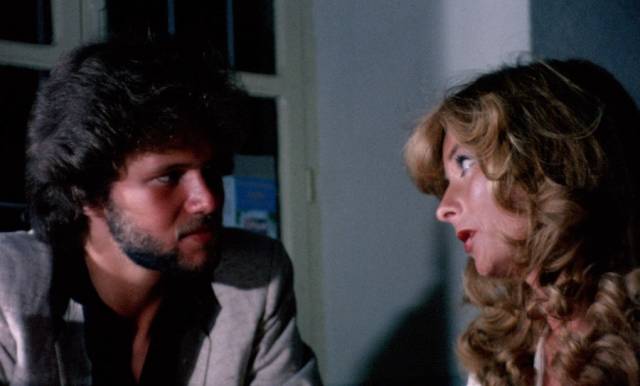 Stay (1980), also shot in Greece, is a chamber drama about a woman and the man she rents a room to, who harbours a secret which casts a shadow over the relationship which begins to develop between them. Still in Greece, Death in the Family (1981) plunges into levels of Andy Milligan-esque perversity as members of a family gather for a reunion five years after the mother's death in a car crash. The father's new wife arrives while adult son Oliver (Hall) and daughter (MacDowell, again under the name Aylward) resume an incestuous relationship and everyone becomes embroiled in dark secrets, betrayals and acts of violence.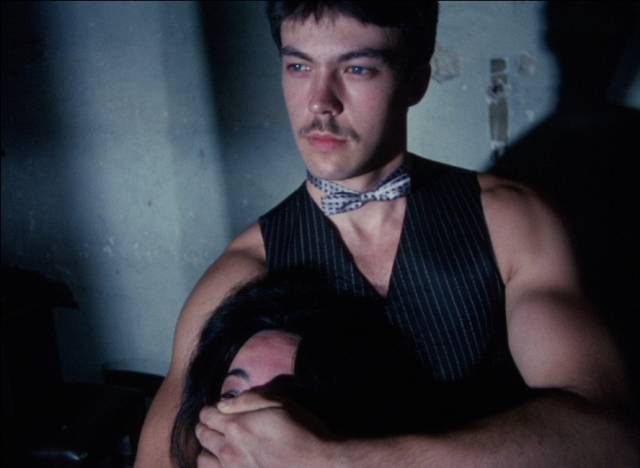 Conceived to be paired on video, each running about forty-five minutes, Invitation to Hell and The Last Night (both 1982) draw on burgeoning slasher tropes, with the former also incorporating some demonic horror. If some of the earlier films aim for a bit of psychological depth and complexity, these two go for the visceral thrills of violent spectacle. In Invitation to Hell, Jacky (Becky Simpson) is invited to a weekend party in the country. Everyone is in costume and there's a weird vibe; as the evening progresses, she blacks out and wakes with no memory of what has happened, only to discover that she can't leave. It gradually becomes apparent that she has been used in some ancient occult ceremony and demonic forces are at work killing anyone who interferes with whatever purposes Jacky has been brought here for.
The Last Night is more conventional, with echoes of Pete Walker's The Flesh and Blood Show (1972) and Michele Soavi's Stagefright (1987). On the final night of a play which is a kind of Agatha Christie country house murder story a pair of violent criminals who have escaped from a psychiatric facility hide out in the theatre and begin to bump off actors and staff. Murphy maintains an amusing balance between the creaky on-stage drama and the off-stage violence which is quite graphic and occasionally inventive.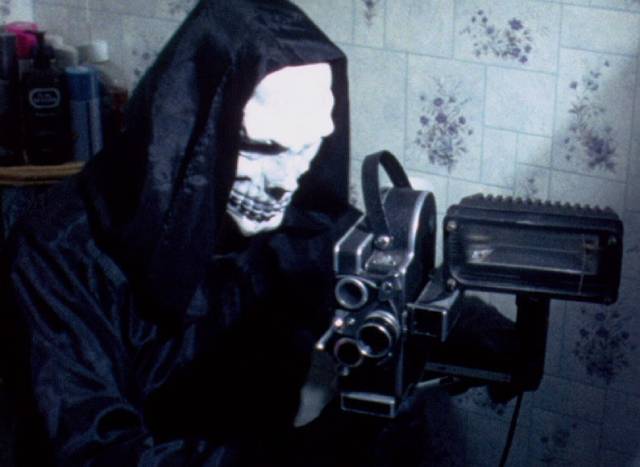 For someone making largely self-financed movies, Murphy was maintaining a remarkable pace and he barely slowed down through the '80s. With Quälen aka The Hereafter (1983), he notably recycles elements of Secrets, but with a change of setting he keeps things fresh. Like Vicki in Secrets, Neville (Stephen Longhurst) lives under the thumb of his bitter, wheelchair-bound father, though here on a gloomy English country estate – and like Vicki he reaches the limits of tolerance and one day out on the grounds dad's wheelchair rolls down a hill and into the lake. Neville's rather common girlfriend Vicky (Caroline MacDowell again, complete with her Secrets character name, though here working as Catherine Rowlands) moves in, but things aren't quite what they were hoping for – dad's will stipulates that Neville must continue to live in the old house or the estate will be broken up and split among distant relatives. Haunted by his own childhood and apparently supernatural manifestations rooted in the estate's dark history (echoes of Hammer's Hound of the Baskervilles and Curse of the Werewolf), Neville is pushed towards his doom by Vicky and her actual lover, groundskeeper Patrick (David Slater), all the threads coming together in a reprise of the conclusion of Secrets.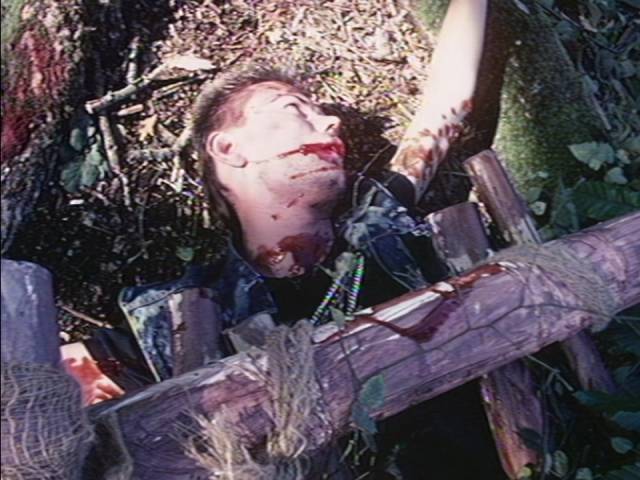 This effective slice of Gothic horror was followed by the self-referential Bloodstream (1985), perhaps the closest Murphy ever came to expressing some bitterness about being unable to break out of his "amateur" status (I can't say for sure because I haven't watched the entire set yet). Having been burned by shady home video distributors, Murphy conjures up the story of a filmmaker striving to bring depth to commercial horror, only to be told by distributor William King (Mark Wells) that it's unsellable rubbish. Retreating to his home, where he drinks and obsessively watches video nasties, Alistair (Patrick Olliver) begins to fall apart when Nikki (Jacqueline Logan), the distributor's secretary, tells him that he's been cheated, that King will be making a lot of money off the film after using a dodgy contract to cut Alistair out of the profits. So Alistair sets out to remake his arty slasher by filming the real murders of everyone who has betrayed him. Murphy himself apparently decided not to put Bloodstream out into the world, despite its exploitable qualities, partly because he wasn't happy with a return to super-8 after a series of 16mm features, but also perhaps because he felt it might offend the people he continued to try to make deals with. Whatever the reason, the movie was seen only on gray-market bootlegs until this 2K scan from the original super-8 elements.
Retreating from the present, Murphy followed Bloodstream with his second, and much more ambitious, try at putting Tristan and Iseult on screen. Legend of a Hero (1986) was obviously influenced by the success of John Boorman's Excalibur (1981) and the flood of sword-and-sorcery movies which followed over the next few years. Once again, Murphy pushes the limits of a minuscule budget and his command of the material has improved since that first teen effort in 1970, but inadequate resources are still working against him, although you can't help but admire him for trying and the film does have a kind of goofy charm.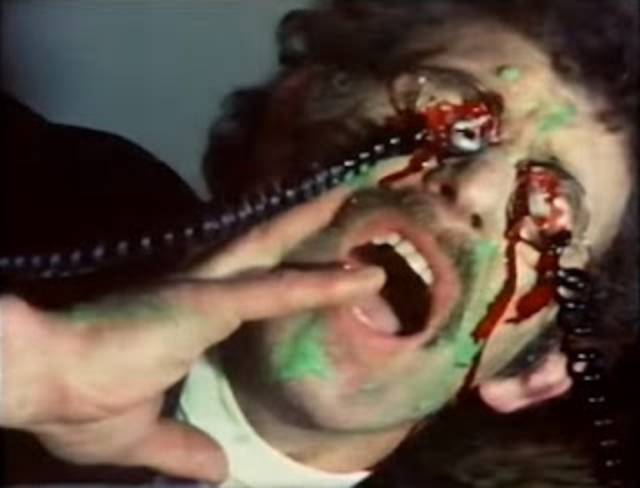 Budgetary limitations are also apparent in his next feature, in which the pendulum swings from a fantasy past to a post-apocalyptic future. Death Run (1987) is Murphy's contribution to the Mad Max-inspired genre, though this is closer to the Italian knock-offs than the Aussie original. A young couple, Paul (Rob Bartlett) and Barbara (Debbi Stevens), were placed in suspended animation by a scientist as nuclear war loomed and they are thawed out twenty-five years later, after the environment has more or less returned to normal. But when they emerge from the underground bunker they discover a world overrun by gangs and mutants, with a side-order of cannibals, ruled over by a Fascist warlord known as Messiah (Patrick Olliver) who promises freedom to anyone who can survive the death run, a violent gauntlet through the woods. Paul, naive and inexperienced, must rise to the occasion and lead a revolt against Messiah. While the junkyard location provides some visual atmosphere, it's not surprising that the vehicular action is rather limited. Nonetheless, Death Run is as good as many of its Italian contemporaries.
And that's the end of disk four, which is as far as I've got in the set. There are six more disks, with thirteen more features, and I'm inclined to continue taking my time, rather than bingeing, because I find myself appreciating the films more when I see each one in isolation. Technical quality is obviously variable given the limitations of the source material – many of the original elements were lost long ago and quite a few of the films survive only on SD tape, many of these literally shot by Murphy with a camcorder as the original prints were projected on a screen. All things considered, the quality even in these cases is at least watchable, though audio may be somewhat muffled.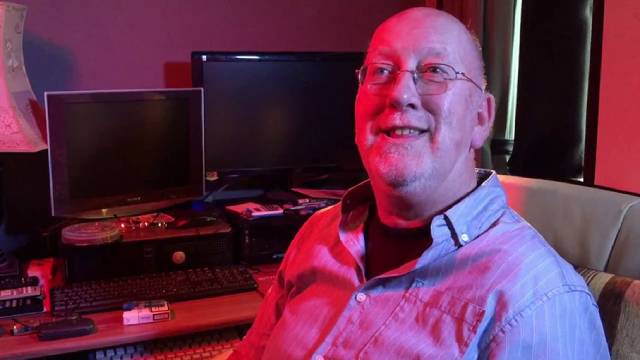 Indicator fills out the disks with an assortment of extras – any remaining fragments of lost and unfinished films, some brief making-ofs, occasional commentaries, and a range of interviews with Murphy himself and many of his collaborators. The filmmaker comes across as likeable and modest about his passion, and those who worked with him obviously have a great deal of affection for their late friend, who died in 2015 having continued to make movies right to the end.
Given the pressure exerted by technical developments in video, from Blu-ray to 4K, Indicator may seem perversely contrarian in devoting so much effort and loving care to all this scrappy material, none of which is going to impress devoted technophiles, but Magic, Myth & Mutilation: The Micro-Budget Cinema of Michael J. Murphy 1967-2015 is a remarkably generous set and a fitting tribute to the passion of someone who spent his life doing the thing he loved regardless of obstacles and the lack of any wider recognition for his work.