This week marks the thirteenth anniversary of the blog – the first post went up on October 22, 2010. Hard to believe it's been going this long, with almost 900 posts and over 3200 reviews so far. I don't think I've ever stuck with anything this faithfully in my entire life! Thanks for reading!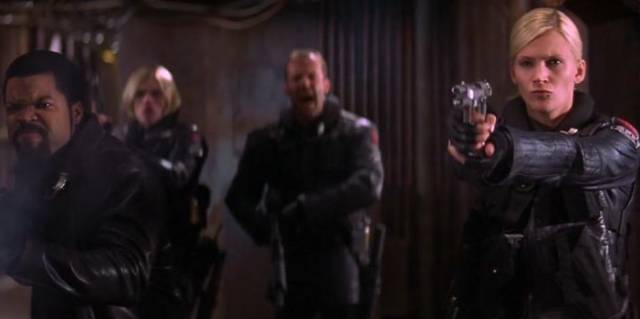 ClassicFlix
While much of my movie-watching depends on a number of familiar companies whose releases align with my own interests, my restless browsing continues to turn up other small labels working various niches. ClassicFlix has actually been around for almost a decade and I'd regularly see announcements on the Screen Archives website (where for years I regularly bought new Twilight Time releases). Focused on golden age Hollywood and '50s and '60s television, they occasionally tempted me, but the bare-bones nature of most of their releases and relatively high prices dissuaded me. But a recent sale on Screen Archives coincided with the release of the company's first two 4K titles, both of which included a number of special features, so I browsed the catalogue and ended up ordering four other disks along with the two dual-format releases.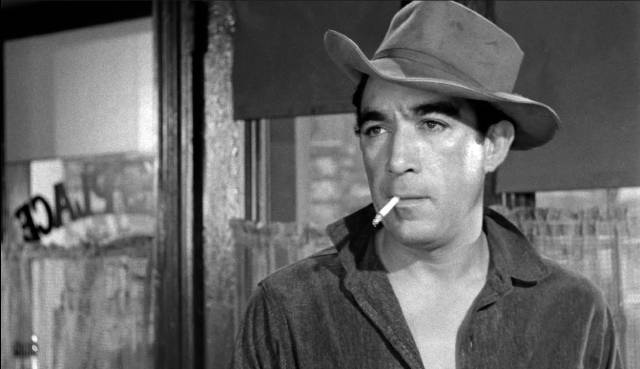 The Long Wait (Victor Saville, 1954)
I've already written about the 3D edition of I, the Jury (1953), one of the 4K releases. The other is also a Mickey Spillane adaptation, though based on a non-Mike Hammer novel. Victor Saville's The Long Wait (1954) is a solid film noir with a good cast. Anthony Quinn plays Johnny McBride, first seen hitching a ride from a truck on a lonely road at night. When the truck crashes, killing the driver, McBride emerges with a serious case of amnesia. He settles in a small town where people like him, but one day a year or so later a man shows up with a clue to his identity and he heads for another town to try to uncover his past. Unfortunately, he finds out that he's wanted for the murder of a DA and with the cops breathing over his shoulder, he has to figure out what happened and clear his name; accused not only of murder, but also of robbing the bank where he worked, his investigation leads to corruption at the highest levels of the town's business and politics. Things are complicated when McBride learns that his old girlfriend ran off to get plastic surgery and no one knows who she is now – yes, there's amnesia and plastic surgery, two hoary old plot gimmicks which are actually well-handled here. As he works to expose the people at the top, McBride also needs to figure out which of a number of women is the girlfriend he's unable to remember, but who may be crucial to clearing his name. In addition to Quinn, the cast includes some fine character actors: Gene Evans, Charles Coburn, Barry Kelley, Bruno VeSota and Jay Adler, while the four women in the case are played by Dolores Donlon, Shirley Patterson, Mary Ellen Kay and Peggie Castle, who the previous year had appeared as the duplicitous psychologist in I, the Jury. The restoration looks good and there's a commentary by Max Allan Collins.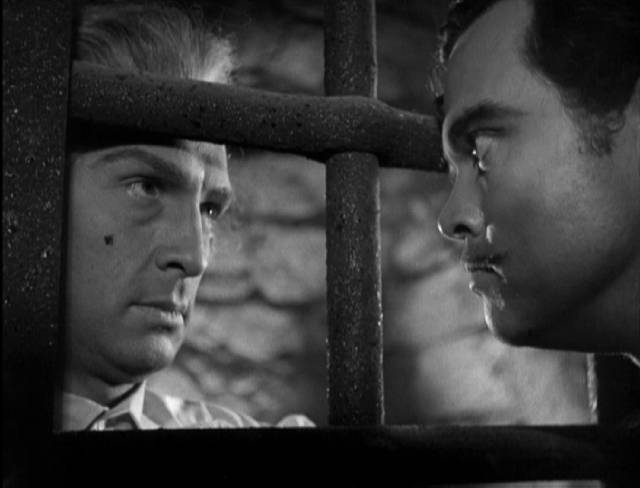 Black Magic (Gregory Ratoff, 1949)
Gregory Ratoff's Black Magic (1949), adapted from an Alexandre Dumas novel, is a fairly lush costume drama set in 18th Century France and full of court intrigue, but it wouldn't be of much interest if not for the casting of Orson Welles as Cagliostro, an adventurer who used "occult powers" to insinuate himself into the highest levels of European society. In this telling, Cagliostro is a boy raised by Gypsies who sees his parents murdered by a French nobleman and, having acquired skills in hypnosis and deception, sets out to destroy the French ruling class. Despite a rambling script and uneven performances, Welles carries the movie with his obvious pleasure in playing a real life conman who justifies some thickly sliced ham. Made in Italy, where a lavish production could be mounted on a discount budget, taking advantage of excellent technicians and craftsmen, Black Magic provided a bridge for Welles from Hollywood to his European exile; he had just made Macbeth for Republic Pictures back in the U.S. and would follow Ratoff's movie with his portrayal of Harry Lime in Carol Reed's The Third Man (1949) before embarking on production of Othello (1951). Although he continued to take roles in American-financed productions, he wouldn't return to Hollywood until 1958 for the frustrating experience of Touch of Evil. The Blu-ray features a gorgeous transfer, but no extras.
ClassicFlix has a subsidiary line dubbed the Silver Series devoted to "lesser known titles". My order included a couple of these, which may be a bit less robust than the other releases, but are nonetheless more than acceptable – similar to Network's The British Film line.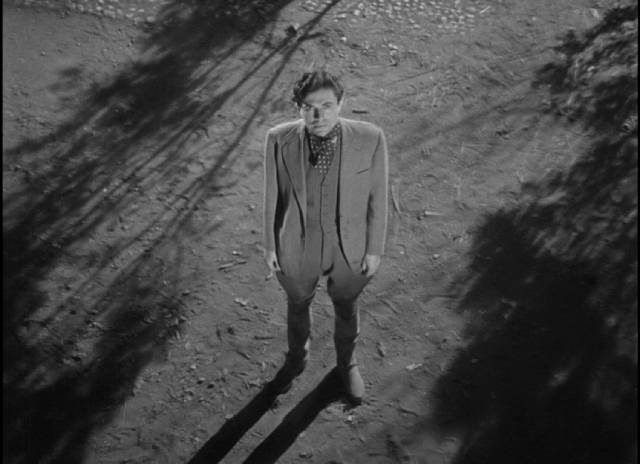 The Night Has Eyes (Leslie Arliss, 1942)
The Night Has Eyes (1942) is reminiscent of the kind of romantic films Gainsborough was making around the same time – not surprising since it was directed by Leslie Arliss and stars James Mason, who would immediately work together again on Gainsborough's The Man in Grey (1943) and a couple of years later on The Wicked Lady (1945). A year after one of their colleagues vanished on the Yorkshire Moors, a couple of teachers at a girls' school intend to spend their summer break investigating. One is a shy introvert, the other a brash extrovert, but it's no surprise which one becomes romantically involved when a storm catches them on the moors and they seek shelter in an isolated cottage inhabited by a brooding man. Traumatized by his experiences in the Spanish Civil War, he's not happy to have visitors and the two friends begin to suspect he may have been responsible for the other teacher's disappearance. Steeped in atmospheric gloom (hard to believe anyone would live in Yorkshire with all that bad weather), the movie rests firmly on Mason's presence as the brooding Bronte-esque object of the heroine's desire and it's little surprise to discover in the end that rather than being a killer he's the victim of others' nefarious schemes.
International Lady (Tim Whelan, 1941)
Lighter, with a comedic edge, Tim Whelan's International Lady (1941) was made as war bogged down in Europe before the U.S. joined in. Given the dire situation, it's surprising that Hollywood was making breezy entertainments like this. FBI agent Hanley (George Brent) and Scotland Yard detective Oliver (Basil Rathbone) team up (with a bit of friction) to track down and defeat a German espionage ring which is causing havoc with the supply of U.S. arms to England. The information is being conveyed to the Reich via radio broadcasts of concert performances by beautiful opera singer Carla Nillson (Ilona Massey) – the code is in the music, a device perhaps borrowed from Hitchcock's The Lady Vanishes (1938). Hanley very much wants Nillson not to be involved because he's fallen for her. Given the essential silliness of the enemy agents' methods, it's surprising that the film opens with Hanley meeting Nillson during an air raid, a circumstance handled with a kind of weary forbearance, the characters obviously used to this now-routine danger; it doesn't take long for a more comic tone to settle in with the introduction of Rathbone, who seems to enjoy sending up his familiar image as Sherlock Holmes. Tim Whelan was a journeyman who preceded this with back-to-back work on The Thief of Bagdad (co-directed with Michael Powell and Ludwig Berger) and The Mad Doctor (both 1940), which also starred Basil Rathbone, though in a villain role. Once again the cast is filled with fine character actors: Gene Lockhart, George Zucco, Martin Kosleck, even a young Clayton Moore years before becoming indelibly associated with The Lone Ranger (1949-1957).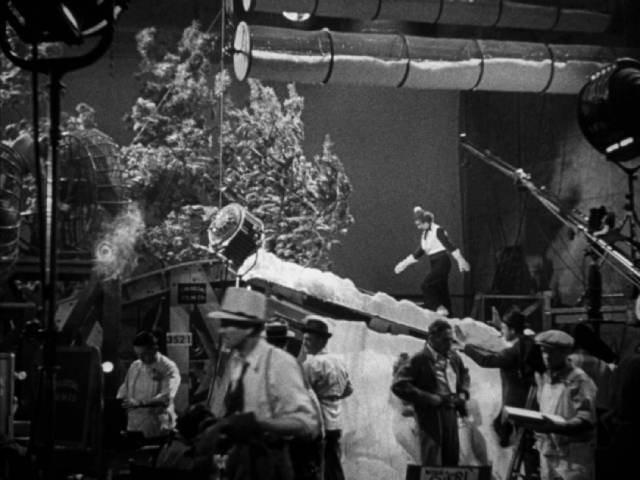 Stand-In (Tay Garnett, 1937)
The final item on my order is one I've liked since I found it on DVD twenty years ago, which for some reason seems to get little love (at least judging from all the snippy reviews on-line). Tay Garnett's Stand-In (1937) is a behind-the-scenes-of-Hollywood screwball comedy with an excellent cast and a lot of (for me at least) very funny comic business. Complaints tend towards "it's too exaggerated" and "not funny enough" and "a bit silly", which makes me wonder whether I'm seeing the same movie as everyone else. I think it has a lot of charm and, as much as Hollywood was ever able to turn a critical eye on itself, makes some points about the absurdity of the movie business.
A naive number-cruncher named Atterbury Dodd (Leslie Howard) is sent by head office in New York to look into a failing movie studio which his boss wants to sell quickly to cut losses. In L.A. he meets a brash woman named Lester Plum (Joan Blondell), who works on the fringes of the business as a stand-in for a temperamental star. Lester takes him under her wing and gives him a crash course in the unorthodox ways of studio production. He's not used to such chaos – studio head Douglas Quintain (Humphrey Bogart) is an alcoholic who has pretty much given up in the face of the power of lead actress (and former girlfriend) Thelma Cheri (Marla Shelton), who's currently starring in a disastrous, and expensive, movie directed by pretentious European emigre Koslofski (Alan Mowbray). Underneath the chaos is a scheme by a corrupt businessman who works to bankrupt studios so he can buy them cheap, but Dodd sees the potential to turn things around by having Quintain take over and supervise re-shoots to save the picture.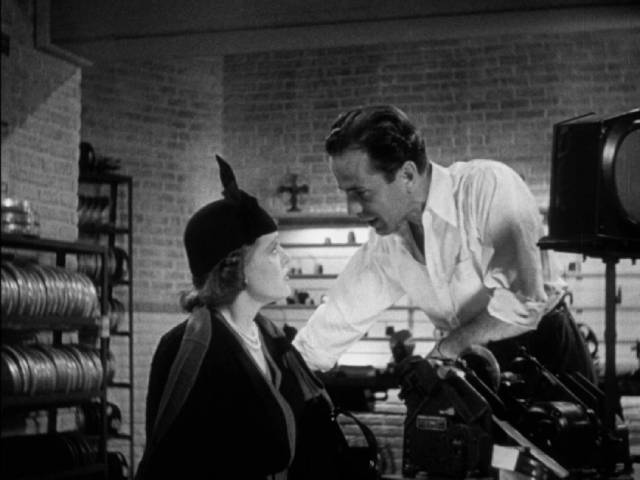 By the end, Dodd is smitten by both the business and Lester, managing to save the studio and prevent the sale by forging a mutual bond between management and labour. Being made at the height of the New Deal, the movie is typically a bit wobbly about the politics and economics, enlisting workers in danger of losing their jobs to prop up owners who, thanks to Dodd, will become better and more generous employers – it would be unreasonable to expect a worker take-over of the business, but the resolution is as positive as a studio production was able to go at the time.
With touches of wit mixed into the screwball mechanics, the script by Gene Towne and C. Graham Baker, based on a novel by Clarence Budington Kelland, gives the excellent cast some good material to work with. (In the same year, Baker and Towns had also collaborated on Fritz Lang's You Only Live Once and Frank Borzage's History Is Made At Night.) It's amusing to see Bogart and Howard together again, in a very different context, just a year after The Petrified Forest (1936). Third-billed Bogart had been building a solid body of work, but still wasn't yet a full-blown star – that would come in a few more years with a string of gangster and noir pictures which cemented his now-familiar screen persona. But the film's high-point is Joan Blondell's sassy and charming Lester Plum, a fine addition to screwball's roster of no-nonsense dames who sort out the messes bumbling men create for themselves.
Despite its rocky reputation, I love Stand-In and it's nice to see it in as good condition as possible on ClassicFlix's Blu-ray. The only extra is a restoration comparison which shows how much work it took to get it to this point – the source material was in very poor shape, but the clean-up and stabilization of the image have made it more than presentable. It's a pity there's no commentary, but I'm happy to have it just as it is.
*
Indicator
I'm still well behind in watching all the Indicator releases I've been accumulating between ordering most of their monthly bundles and stocking up on catalogue titles during their occasional sales. I haven't got around yet to their deluxe editions of a number of Jean Rollin movies (four already in hand, two more due at the end of October), and haven't finished the Michael J. Murphy box set. Volume 2 of their Universal Noir series is also due this month, with a hefty set devoted to eight movies starring Tod Slaughter scheduled for November.
The newer releases I've watched are Renato Polselli's Black Magic Rites (1973) and Ernst Lubitsch's Bluebeard's Eighth Wife (1938), which is about as eclectic as you can get.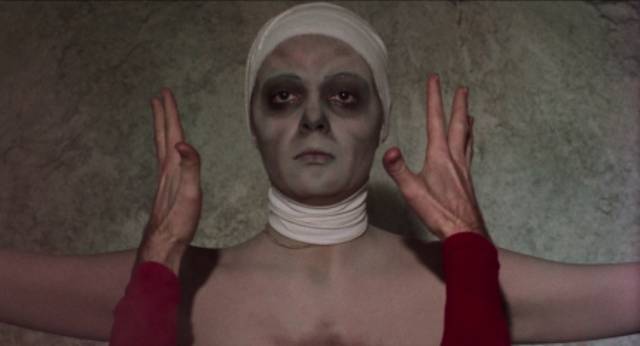 Black Magic Rites (Renato Polselli, 1973)
I haven't seen much of Polselli's work, but there was apparently a big change in his style at the end of the '60s. His The Monster of the Opera (1964) – included in Severin's Danza Macabre box set – is a fairly straightforward Italian Gothic with a few nice visual touches, but Black Magic Rites and Delirium (1972) are feverish, fetishistic explosions of visual excess which all but obliterate narrative sense, though both are rooted in fairly familiar genre tropes. In Black Magic Rites, a witch is burned a few centuries back and in the present a cult of vampires work to resurrect her, a process involving black masses and virgin sacrifice. Typical of the genre, most of the present-day characters are descendants/doppelgängers of the people who killed the witch. But Polselli isn't so much interested in the plot mechanics as he is in creating a mood steeped in hot-house sexuality. As in Delirium, Mickey Hargitay and Rita Calderoni anchor the cast; there's nudity and blood and a lot of colour gels and the overall effect is more Kenneth Anger than Mario Bava.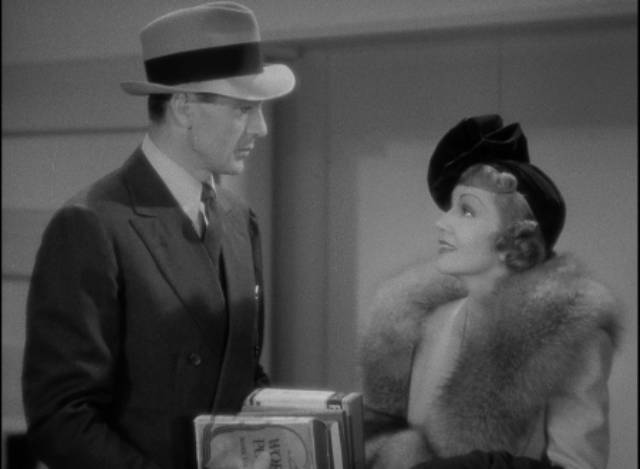 Bluebeard's Eighth Wife (Ernst Lubitsch, 1938)
Ernst Lubitsch had already established his sophisticated approach to romantic comedy by 1938, with both Trouble in Paradise (1932) and Design for Living (1933) earlier in the decade, but Bluebeard's Eighth Wife was significant as the first scriptwriting collaboration of Charles Brackett and Billy Wilder. The combination of Lubitsch, Brackett and Wilder struck gold the following year with the classic Ninotchka (1939), but this first joint effort feels a bit rocky as if not all the elements quite gel – and there are a couple of moments when the sexual politics get a little uncomfortable (a husband physically disciplining his wife with slaps and spankings doesn't play well as comedy these days). But the touch is still in evidence, from the meet-cute in a Paris department store where finicky American businessman Michael Brandon (Gary Cooper) just wants to buy some pyjama tops – a request which works its way up to the head of the company – who is ultimately helped by a woman who offers to buy the bottoms. She's Nicole De Loiselle (Claudette Colbert), daughter of an impoverished Marquis (Edward Everett Horton), who wants to interest Brandon in a sure-fire business deal.
The movie hinges on the clash between American pragmatism and European decadent gentility. Nicole agrees to marry Brandon in order to help her father financially, only to discover just before the ceremony that he's been married seven times before. Obviously not a good bet, she negotiates an advantageous financial deal, but once married avoids any romantic interactions – she's all business, which quickly undermines Brandon's pragmatism. What follows is the process of negotiation in which the balance between romance and economics has to be worked out to the satisfaction of both.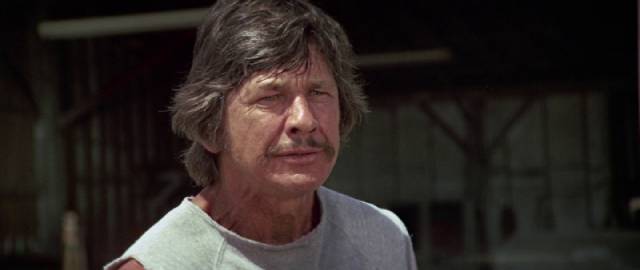 Breakout (Tom Gries, 1975)
Of the back catalogue titles, I've watched Tom Gries's Breakout (1975), loosely based on an actual story about a man hired to bust an American out of a Mexican prison. The prisoner (Robert Duvall) has been set up by his father-in-law because of business differences and framed for murder; his wife (Jill Ireland) hires a disreputable pilot (Charles Bronson) to rescue her husband, but without telling him the full circumstances. Several attempts go wrong, but the pilot sticks with it because he's attracted to the wife, eventually landing a helicopter in the prison yard. Bronson has his usual laid-back on-screen appeal, Duvall is an unappreciative jerk, Gries stages some effective action, but the whole thing has a throwaway quality which makes it less interesting (and entertaining) than the grimmer movies Bronson was making with other directors around the same time.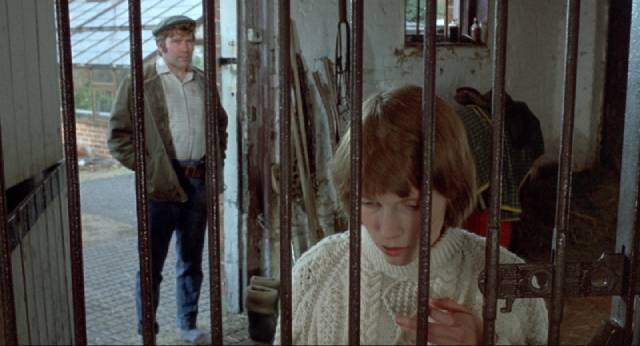 See No Evil (Richard Fleischer, 1971)
1971 stands out as a bit of an odd year for Richard Fleischer. Following the previous year's Tora! Tora! Tora!, he made three movies outside the U.S., two in England and one in Spain. The first, 10 Rillington Place, is one of his finest films;, the second, The Last Run (which I haven't seen), was apparently seriously compromised – Fleischer replaced John Huston part way through production after Huston and star George C. Scott clashed. The third, See No Evil, suffers somewhat because it feels more like an episode of the long-running British Thriller TV series (1973-76). This isn't surprising since the movie was written by veteran television, and occasional feature, writer Brian Clemens, who would go on to write all 43 episodes of Thriller.
Having been blinded in a riding accident, Sarah (Mia Farrow) returns from hospital to live with relatives in the country. Everyone is nervous about her new disability, but she's determined to remain independent and live as normally as possible, an intention aided by a neighbouring friend who gives her a new horse, which she rides confidently despite being unable to see where she's going. Her readjustment is complicated when a maniac begins stalking her, killing everyone else in the house. Something like a retread of Terence Young's Wait Until Dark (1967), in which Audrey Hepburn is a recently blinded woman who has to deal with three vicious thugs looking for a stash of drugs in her apartment, See No Evil fares less well, partly because it doesn't quite know how to make effective dramatic use of Sarah's blindness; in Young's movie (an obvious model for Don't Breathe [2016]) the action is mostly contained in the woman's home, where her familiarity with the space gives her an advantage, but much of See No Evil sprawls across the English countryside, imposing a helplessness on Sarah which plays too much into Farrow's trademark neurotic jitters. Instead of finding reserves of resourceful strength, too much of the time she's helpless and in need of rescuing by her friend.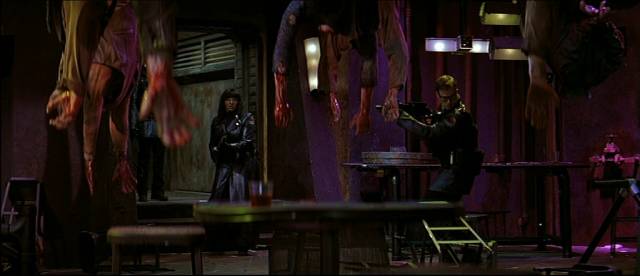 Ghosts of Mars (John Carpenter, 2001)
John Carpenter's later movies don't get as much respect as his early work and it's undeniable that across his career his output has been uneven. Some of his most ambitious movies were initially poorly received, though they eventually have undergone some re-evaluation – most notably his masterpiece, The Thing (1982). Following the critical and commercial failure of that, many of his releases were more heavily criticized, but seen in the overall context of his career, they fare better – after all, his initial success was as a low-budget genre filmmaker and many of the post-Thing movies fit nicely into that category: Prince of Darkness (1987), They Live (1988), In the Mouth of Madness (1994), Vampires (1998). Despite various shortcomings, these are all movies I enjoy as a fan of sci-fi and horror.
Ghosts of Mars (2001) fits nicely into this category, offering a compendium of Carpenter's preoccupations. Despite the contentious experience of Halloween III: Season of the Witch (1982), for which he commissioned a screenplay from Nigel Kneale, a writer he greatly admired, only to fall out with Kneale and have director Tommy Lee Wallace rewrite the script, Carpenter repeatedly evokes Kneale in his later work – most notably using the pseudonym Martin Quatermass on the script of Prince of Darkness – and Ghosts of Mars is an obvious reworking of Kneale's Quatermass and the Pit (BBC 1958-59; Hammer 1967) blended with echoes of Carpenter's first professional feature, Assault on Precinct 13 (1976).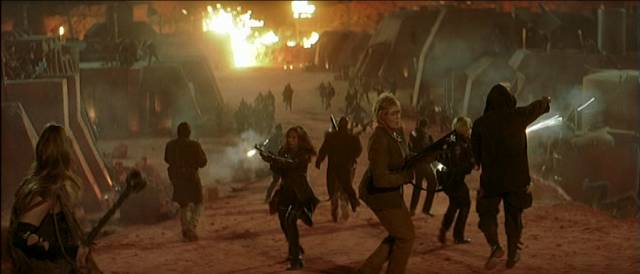 Colonists on Mars inadvertently release an archaic malevolent force which apparently embodies the destructive nature of the planet's long-extinct inhabitants; as the infection spreads, the settlers become crazed monsters, torturing and killing those who resist (their self-mutilation and savagery are an obvious precursor to the Reavers of Joss Whedon's Serenity [2005]). While the production's scale is relatively small, Carpenter builds an effective apocalyptic tone, though his non-linear narrative at times seems unnecessarily complicated. Security officer Melanie Ballard (Natasha Henstridge) is brought before a tribunal to explain what happened at a remote mining site when she and her team were sent to collect a wanted criminal. We get bits and pieces as she relates her own experience, repeatedly backs up to explain other people's experiences as she heard them, layering the account with second- and third-hand details. But the core story of a small group dealing with internal conflicts as they face a large, besieging force of deadly fanatics is handled with a pleasing pulp energy, effective design, and a cast which commits to the material.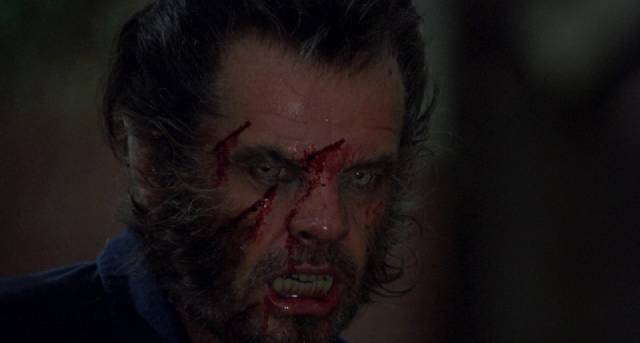 Wolf (Mike Nichols, 1994)
While Carpenter is an unabashed genre specialist, Mike Nichols was a serious mainstream filmmaker, so it was surprising when on rare occasions he dipped a toe in genre waters. People were puzzled when he followed Carnal Knowledge (1971) with The Day of the Dolphin (1973), a political thriller about talking dolphins (which has always been one of my favourite Nichols films). Two decades later, more surprisingly, he tried his hand at a werewolf movie. Wolf (1994), co-written by novelist Jim Harrison and screenwriter Wesley Strick, never quite finds the right balance between romance, satire and horror, but the first half or so is quite entertaining, making good use of Jack Nicholson's screen persona as his aging editor Will Randall gains feral energy after being bitten by a werewolf and uses it to gain mastery in a cut-throat corporate environment. The best scenes are those in which he outmanoeuvres his boss (Christopher Plummer) and the duplicitous upstart who is determined to replace him (James Spader). Less engaging are his marital problems and his budding romance with the boss's rebellious daughter; Kate Nelligan and Michelle Pfeiffer are given thankless roles as, respectively, wife and lover in a context which very much privileges testosterone. When the story requires a plunge into full-blown werewolf action, everyone just seems to be going through the motions as corporate alpha male rivals literally grow hair and fangs.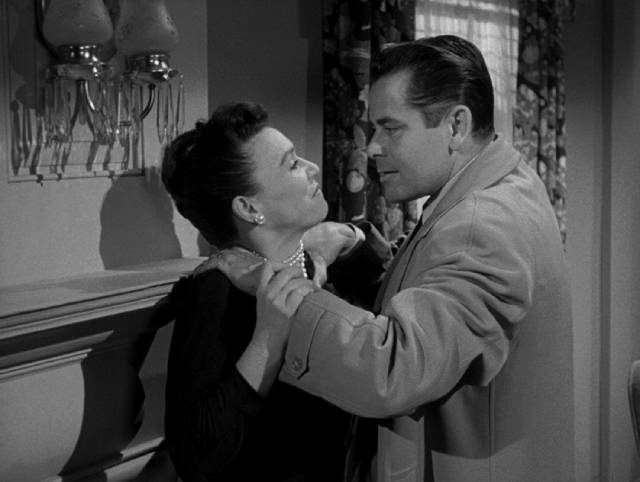 The Big Heat (Fritz Lang, 1953)
Fritz Lang was at the height of his twenty-year exile in Hollywood when he made The Big Heat (1953), a film noir which plays with the form in some interesting ways. Rather than focusing on an outsider, the story is centred on a big city cop, homicide detective Dave Bannion (Glenn Ford). When a fellow cop commits suicide, Bannion finds himself drawn into a rabbit hole of crime and corruption. Ostensibly a decent man, with a loving wife and a good record, with corruption everywhere, both in society at large and in the police department, Bannion's commitment to the law and justice essentially drives him mad. Upending the usual formula of a flawed man destroyed by a femme fatale, he becomes an homme fatale, his relentless battle with gangsters and his superiors resulting in the deaths of no less than four women. Although the ending seems to set the world back in balance, the damage done along the way leaves the impression of a world irredeemably damned.
Along with Ford, at his best here, making good use of his image as a decent everyman as he wreaks havoc on everyone around him, the cast is loaded with fine actors – particularly Gloria Grahame as a gangster's damaged moll, Lee Marvin as her sadistic partner, Jeanette Nolan as the dead cop's widow determined to cash in on his suicide, and Jocelyne Brando as Bannion's wife who's killed by a car bomb intended for him. Lang, with the able help of cinematographer Charles Lang (no relation), keeps things brisk and unsentimental. Although Lang made four more movies in Hollywood, after The Big Heat he seemed to be winding down before he went back to Germany for a return to his roots with The Tiger of Eschnapur/The Indian Tomb (1959) and The Thousand Eyes of Dr. Mabuse (1960).
Still to come: Second Sight, Severin and other odds and ends…