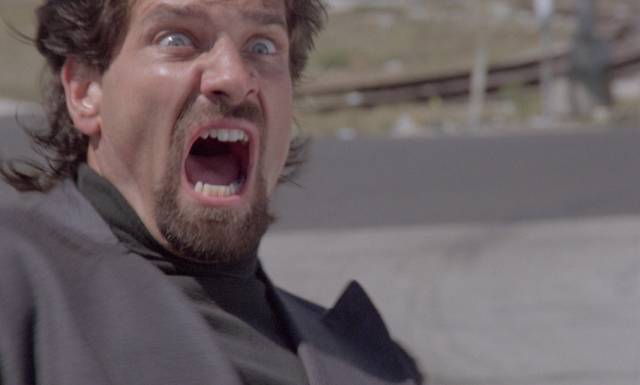 A new label was just launched in the States. Cauldron, like companies such as Severin and Blue Underground, has a mission to resurrect and restore genre and exploitation movies, and its two inaugural releases are a retro giallo by two Argentinian brothers and a bizarre genre hybrid by one of the masters of the authentic giallo. Both get exemplary presentations on Blu-ray, one of them with extensive extras, the other a little light.
*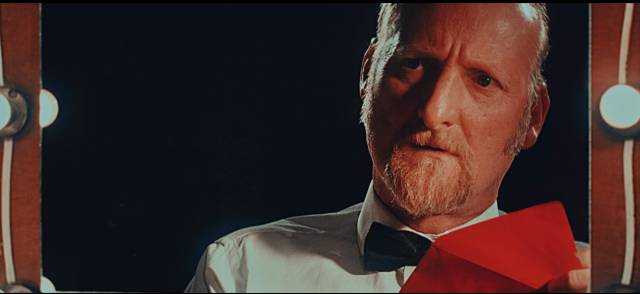 Abrakadabra (The Onetti Brothers, 2018)
I hadn't come across Argentinian brothers Luciano and Nicolas Onetti before, but Abrakadabra (2018) is the third in a series of giallo pastiches, following Sonno Profundo (2013) and Francesca (2015), the first two produced by Nicolas and directed by Luciano. This one was co-directed by the pair. Pastiche is always tricky and with a genre often noted for narrative incoherence and visual excess, the pitfalls are obvious. Look at Astron-6's The Editor (2014) to see how not to do it – that movie tries to be funny by mocking the conventions without acknowledging the pleasures of its models, which seldom have anything to do with the the surface narrative itself. Then look at Peter Strickland's Berberian Sound Studios (2012) for something much more successful, acknowledging the pleasures of the genre while simultaneously deconstructing them.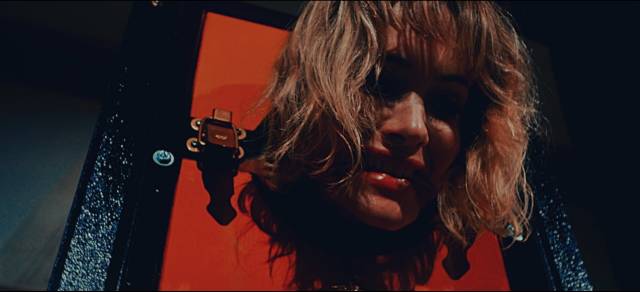 While not plumbing the depths like Berberian, Abrakadabra pays minutely detailed attention to giallo style without making fun of it. If this remains close to the surface, it nonetheless tries to play an honest game with an audience familiar with the rules. Starting with a prologue in which a stage magician dies during a performance when a trick goes wrong, it jumps ahead thirty years to the eve of the magician's son's debut. He arrives at the theatre to find that a woman has been murdered on stage using one of his props.
Other murders follow and the debut performance is a total failure; the magician drinks more and more, loses a huge pile of money in a poker game when he's caught using his sleight of hand to cheat, and rapidly falls apart until a climactic series of reveals which tie recent events back to his father's death. All of this is played more or less straight as a psychological mystery; but where the Onettis put much of their creative energy is into a recreation of the visual experience of the giallo – not the experience as it would have been back in the 1970s and '80s, but rather as a movie from that period might be seen today.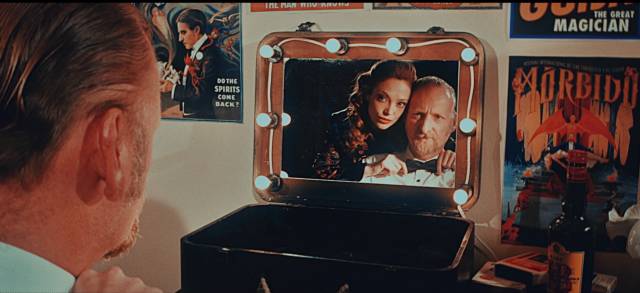 The image has been carefully distressed to simulate a somewhat faded print unearthed after decades of improper storage. Colours are exaggerated as in a Mario Bava or Dario Argento movie, but they have faded and shifted towards red, with contrast pushed so that image detail is occasionally slightly obscured. Perhaps the one thing that's annoying is the impression that the image has been too tightly cropped to get to a wide 2.35:1 aspect ratio, with heads occasionally cut in half … while this might be an authentic representation of a not-unknown technical problem of rushed low-budget productions of the time, it's an annoying affectation here.
Other signifiers of "authenticity" are Luciano Onetti's music, which often captures the feel of Stelvio Cipriani's giallo and poliziotteschi scores, and the dubbing – on a first pass, I watched with the English track, which at times doesn't make much effort to play in sync. As in many of the film's models, this makes the performances a little hard to judge, though the cast certainly look right.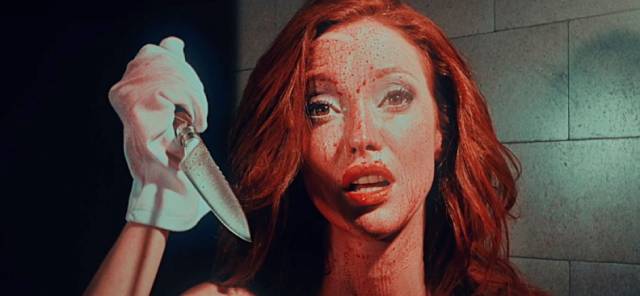 As always with this kind of pastiche, I was left to wonder what the Onettis' point was. They obviously have a genuine affection for the genre and have gone to great pains to simulate it as accurately as they can … but beyond that act of mimicry I didn't see any attempt to build an analysis or critique of the genre (a la Strickland). But at least they avoid the irritatingly self-indulgent show-offery of Helene Cattet and Bruno Forzani.
Given the deliberate image degradation, the film looks fine on the disk. There's a brief collection of behind-the-scenes material and a bonus CD of Luciano Onetti's score.
*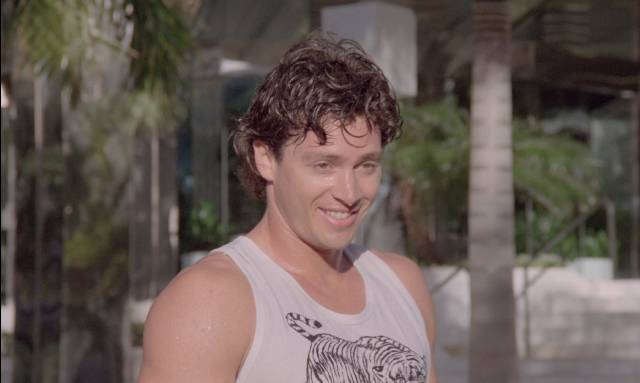 American Rickshaw (Sergio Martino, 1989)
Sergio Martino was a quintessentially versatile Italian exploitation director, turning out movies in every genre which cropped up from 1970 to the 2000s. Unlike some of his contemporaries, he was equally successful whatever he turned his hand to, and although he lacked the kind of discernible directorial personality of an Argento, being more like a classic studio journeyman than an auteur, he produced classic representatives of several genres – giallo (The Strange Vice of Mrs. Wardh [1971] and All the Colors of the Dark [1972] among others); poliziotteschi (The Violent Professionals [1973]); the spaghetti western (Mannaja [1977]); cannibal adventure (Mountain of the Cannibal God [1978]); monster movies (the wacky Mysterious Island/Dr. Moreau-esque Island of the Fishmen [1979]); and dystopian sci-fi (the Terminator-influenced action movie Hands of Steel [1986]) – but even given that track record, American Rickshaw (1989) offers a genuinely unexpected experience.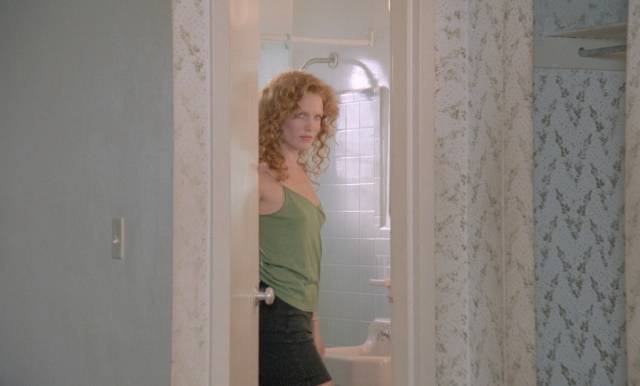 Like Umberto Lenzi's Nightmare Beach, made the same year, American Rickshaw is one of a number of Italian movies shot in the States as the Italian exploitation business was in decline. But unlike the Lenzi film, which disappoints by not following through on the narrative promises it makes, Rickshaw not only follows through … it goes in directions you never even imagined. There's the giallo foundation with a naive young protagonist who finds himself suspected of murder; there's a sleazy blackmail scheme operated by the son of a powerful mega-church preacher; there's a secret religious cult behind the preacher; and there's an ancient Chinese figurine stolen from an elderly woman who turns out to be the supernatural guardian of a vessel containing the essence of pure evil…
Who would have expected an Italian company, producing a thriller in the US, to blend a giallo/poliziotteschi hybrid with a Shaw Brothers supernatural horror movie and set it in sun-drenched Miami? And who would have thought it would end up the way this movie does in a jaw-dropping spectacle in a mega-church where evil is finally exposed through some no-holds-barred acting by Donald Pleasence and some graphic special effects which blend horror and comedy in a way which provides an attentive audience with an experience of unadulterated exploitation delight.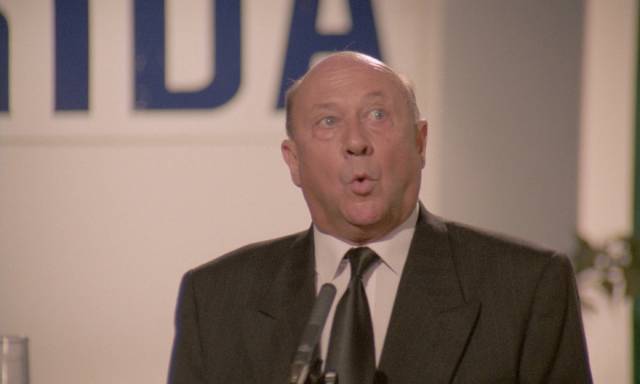 Pleasence is at his most eccentric here, with a bizarre pseudo-Southern accent and an impressive willingness to go all the way in that final sequence – which, according to Martino in an accompanying interview, had to be improvised on the fly when the planned climactic scene had to be scrapped because the wind machines ordered by the production proved too large to fit into the building. We can only be grateful to some crew member's incompetence, because that mistake ended up giving us one of the finest moments in Pleasence's career.
Supporting performers are mostly pretty good, with Miami native Daniel Greene (who was also in Hands of Steel) an impressively menacing henchman. The weakest link, unfortunately, is former Olympic gymnast Mitchell Gaylord as hero Scott Edwards, a University student and part-time Coconut Grove rickshaw puller who, it turns out, has been destined for this supernatural showdown since birth. It's hard to tell whether the character is meant to be naive to the point of dumbness, or if it's just Gaylord's very limited talent, but Scott is pretty irritating and too often ineffectual as a protagonist. It's not surprising to see that his post-Olympic acting career didn't go anywhere.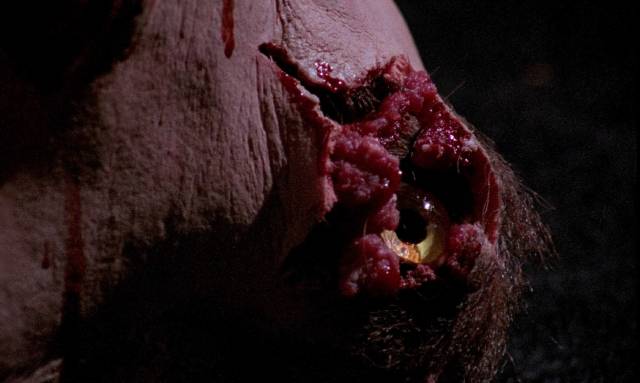 Still, despite this weak centre, American Rickshaw is so unexpectedly inventive that it deserves its own cult. Creating that cult appears to be a mission for extras-contributor Kat Ellinger, who turns up on the disk in a commentary with Samm Deighan and also in an episode of the Projection Booth podcast, where she enthusiastically extols the "bonkers" pleasures of the movie. There's also an 18-minute interview featurette with Martino and production designer Massimo Antonello Geleng.
*
Cauldron have launched themselves into the competitive genre/exploitation disk market with a colossal bang. These two disks show the company to be in the hands of knowledgeable and technically skilled fans who instinctively know what their fellow fans want to see. Even the packaging is excellent, with each Blu-ray having reversible sleeves and housed in an attractively designed slipcase. Let's hope the enterprise is a success and that there will be many more releases of this quality in the not-too-distant future.