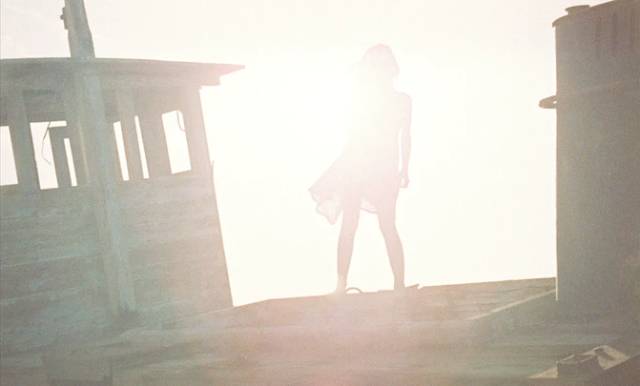 Vinegar Syndrome distributes disks for a number of smaller labels, dubbed partners, and I've been ordering some of those along with all the recent VS releases. There are almost a dozen of these labels, each with a different focus, but so far I've only sampled four of them – ones which focus on genres that appeal to me: Fun City Editions, American Genre Film Archive (AGFA), Gunpowder & Sky and Subkultur USA.
Fun City Editions
Fun City Editions so far has a catalogue of only six titles on Blu-ray, with at this point no discernible trajectory other than quirky movies from the 1970s and '80s. I've bought four, but as yet have only watched two. Still in the to-do list are Arthur Barron's teen romance Jeremy (1973), which I haven't seen since its theatrical release, though I do remember having a huge crush on Glynnis O'Connor; and David Greene's I Start Counting! (1970), which has been joined on the shelf by a subsequent BFI edition with more extensive extras.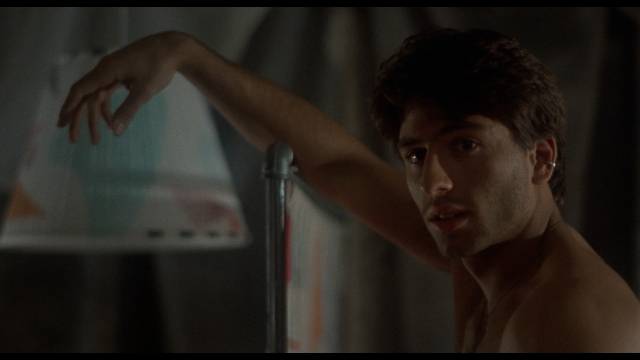 Alphabet City (Amos Poe, 1984)
In 1976, Amos Poe co-directed The Blank Generation, a documentary about the dawn of punk and the new wave at CBGB's. By 1984, the rough do-it-yourself aesthetic had disappeared, to be replaced by the hyperreal saturated colours of the proto-Michael Mann thriller Alphabet City. Over the duration of a single night, small-time hood and drug-dealer Johnny (Vincent Spano) has to come to a moral reckoning with his life choices. He makes a lot of money working for the mob, supporting his girlfriend (Kate Vernon) and their baby and keeping an eye on his tough-as-nails mother (Zohra Lampert), who despises what he does, and younger sister (Jami Gertz), whom he can see heading in the wrong direction. When his bosses order him to torch the tenement his mother and sister live in, he decides to change course and the night becomes increasingly dangerous as it heads towards an explosion of violence. Poe and cinematographer Oliver Wood have visual style to spare and the cast is very good. The colour gels transform the gritty New York locations into a fairyland which strips the film of the kind of stakes you find in a movie like Mean Streets, but it zips along with enough drama to keep your attention, with extra energy pumped in via Nile Rogers' score. The Fun City Editions Blu-ray has a commentary from Poe, an interview with Spano and a brief featurette on the locations.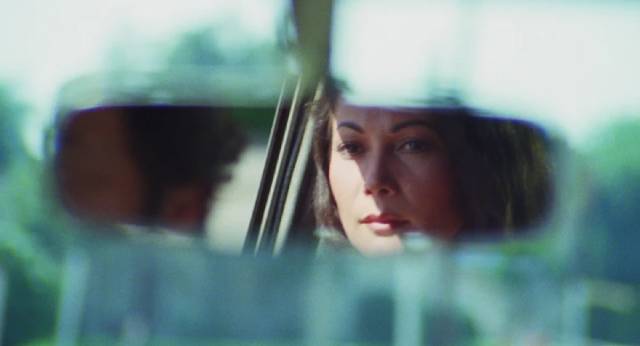 Walking the Edge (Norbert Meisel, 1983)
I've never seen anything else by Norbert Meisel, who appears to have been a minor exploitation filmmaker and actor (mostly in television shows in the '60s and '70s). At some point he married actress Nancy Kwan and they made several movies together, beginning with Walking the Edge (FCE gives a 1983 release date, but IMDb and Wikipedia both put it at 1985). With Robert Forster co-starring after his role in William Lustig's Vigilante (1982), this seems firmly situated in familiar genre territory, related to that film as well as Martin Scorsese's Taxi Driver (1975) and a whole raft of '80s vigilante movies like Charles E. Sellier Jr.'s The Annihilators (1985). But as it develops, Walking the Edge becomes as much a quirky character study as an ode to outside-the-law violence.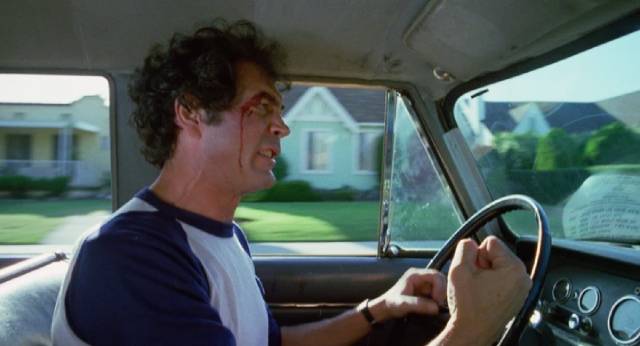 In an opening scene reminiscent of Carl Franklin's One False Move (1992), a woman and her son are terrorized in their suburban home by several sadistic thugs. When the woman's husband returns – unknown to her, he's been involved in drug dealing – violence erupts, with husband and son both killed. The woman manages to escape only to have a nervous breakdown. A year or so later, once recovered, she hires a cab to drive her around town; at the first stop, she goes into an office and shoots a businessman who, she now knows, was her dead husband's drug connection. At the next stop, a car repair outfit whose employees were the gang who killed her family, things get messy and the cab driver suddenly finds himself involved in the woman's plans for revenge.
The woman is played by Nancy Kwan, whose innate grace and elegance add a distinctive flavour to her murderous activities, while the cab driver, who also makes money as a numbers runner for the mob, is Robert Forster, approaching middle-age and world-weary. He doesn't particularly like the life he's living, leaning on people who owe his bosses money and driving unsavoury people around the shabbier parts of Los Angeles. And yet he makes the fateful decision to shelter the woman when the hoods start to hunt her, a task complicated by connections between the gang and his own bosses.
There are enough tense and occasionally violent incidents to fulfill the movie's exploitation aims, but the focus is on the relationship (not romantic) which develops between the two as their mutual survival depends on him joining her mission to destroy the gang which destroyed her former life. Meisel isn't exactly a stylist, but he stages things efficiently, grounding these characters in a well-observed reality photographed in gritty detail by cinematographer Ernie Poulos, whose only credit this appears to be. The by-gone locations in less glamorous areas of Los Angeles are as much a character as the odd-couple protagonists.
The Fun City disk has been mastered from a 4K transfer from the original camera negative and it looks really nice in a very unpolished way. There's a commentary with Meisel, Forster and Kwan from Anchor Bay's 2000 DVD edition, plus a new commentary by Chris Poggiali and Matt Verboys. Featurettes include score composer Jay Chattaway on the music; real-life detective and sometime actor Randy Jurgensen talking about Robert Forster and supporting actor Joe Spinell; and a video essay by Chris O'Neill about Forster, his character and its connections to film noir.
*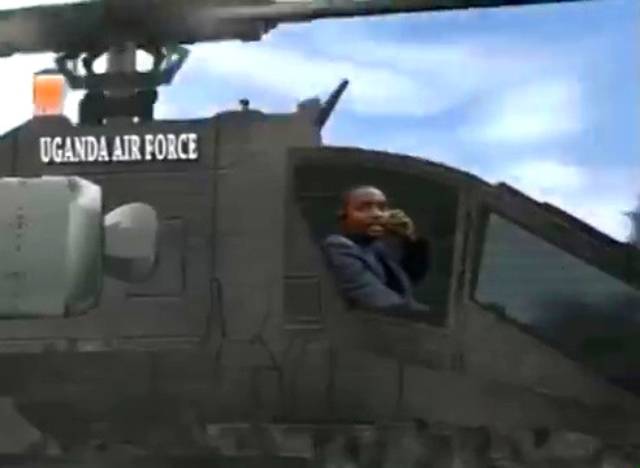 American Genre Film Archive
The American Genre Film Archive (AGFA), with links to Something Weird, leans towards sleazier material and obscure titles far from the well-worn path. I've mentioned a couple of their releases before – Dean Alioto's found-footage alien encounter movie The McPherson Tape (1989/2017) and Thomas Casey's eccentric cross-dressing crime story Sometimes Aunt Martha Does Dreadful Things (1971). I also have their two-disk edition of The Scare Film Archives Volume 1: Drug Stories, containing almost five hours of dire warnings to kids and their parents about the horrors of recreational drugs, which I occasionally dip into; and Sidney J. Furie's The Leather Boys (1964), which I really need to find time for. I just received my copy of their new Blu-ray edition of Byron Mabe's She Freak (1967). But I didn't get around to writing about their edition of Barry J. Gillis's Wicked World (1991) – or for that matter its predecessor Things (1989, which is available on DVD from Severin's Intervision label) – when I watched them last year and I'll have to watch them again before offering an opinion on their truly mind-bending qualities. I did recently watch a couple of other AGFA disks, though.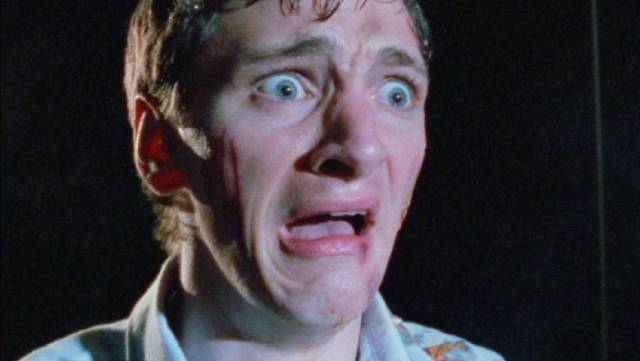 Scary Movie (Daniel Erickson, 1991)
Not to be confused with the Wayans Brothers franchise, Daniel Erickson's Scary Movie (1991) is one of those regional oddities which draws on genre tropes but doesn't play them in the most familiar way. Made in Texas, it seems influenced at least in part by George Ratliff's 2001 documentary Hell House about the annual Halloween display put on by a church in a Dallas suburb, designed to scare sinners into embracing Christian fundamentalism. In Erickson's movie, the religious element is discarded, but the elaborate horrors on display aren't that different – eager patrons pay for their tickets to see scenes of graphic torture, dismemberment and murder.
Among the evening's visitors are Warren (future Oscar-nominee John Hawkes), his buddy Brad (Jason R. Waller) and a couple of girls. Warren is a socially clumsy nerd who unfortunately overhears a couple of cops talking about a homicidal maniac who has escaped and may be heading this way. Inside the horror house, he begins to confuse the gory displays with the real thing and eventually starts to "fight back", becoming an unhinged killer himself. Slasher fans may be disappointed as the pacing is leisurely (to put it mildly) and the tone more comedic than horrific, but the movie has regional charm and gives the impression of a group of friends enjoying themselves as they stage scenes of parodic violence.
Shot mostly at night on 16mm, the image has a lot of grain but colours are richly saturated, while the soundtrack is quite rough at times. There's a commentary in which Erickson discusses the production in the context of the burgeoning Austin film scene of the time and the lack of distribution until this disk release. There are also a couple of shorts by Erickson, who only has one subsequent feature credit, Eve's Necklace (2010), a suburban noir performed entirely by mannequins.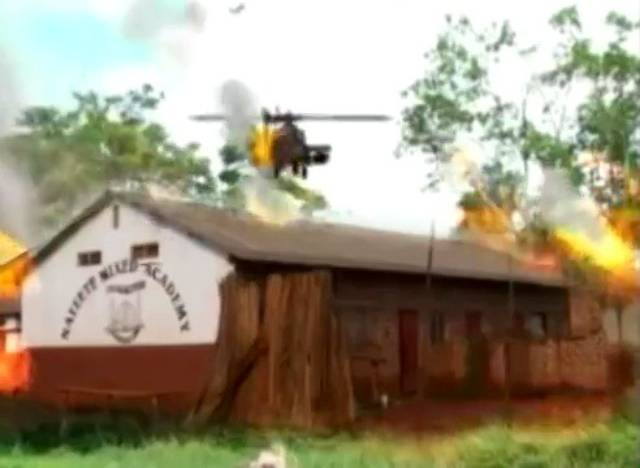 Wakaliwood Supa Action Volume 1 (Nabawana I.G.G., 2010/2016)
Whatever its quirks, a feature like Scary Movie clearly belongs to a recognizable cinematic universe. The films of Nabawana I.G.G. (aka Isaac Godfrey Geoffrey Nabawana) are something else again. Nabawana and his collaborators in Uganda, equipped with little more than enthusiasm, established Wakaliwood, a local village studio, and set about making wildly ambitious action films on budgets reputed to be around US $200. These movies have car chases, gun battles, martial arts fights and helicopters (in a manner of speaking). The obvious pleasure the filmmakers had making these movies overcomes all shortcomings – erratic acting, nonsensical narratives, home-made effects, ear-challenging sound mixes … none of it matters because these movies are wildly entertaining in a way that suggests the Movies are being invented all over again in front of our eyes.
Who Killed Captain Alex? (2010) has the Uganda People's Defence Force facing off against the Tiger Mafia, with Captain Alex the bad guys' chief nemesis … until they finally manage to assassinate him (no spoiler, given the title!) and his vengeful, martial arts expert brother steps in to mop up. If events are frequently difficult to follow, the non-stop flow of action – sometimes awkward, sometimes impressively ambitious – doesn't give you much time to wonder what's going on.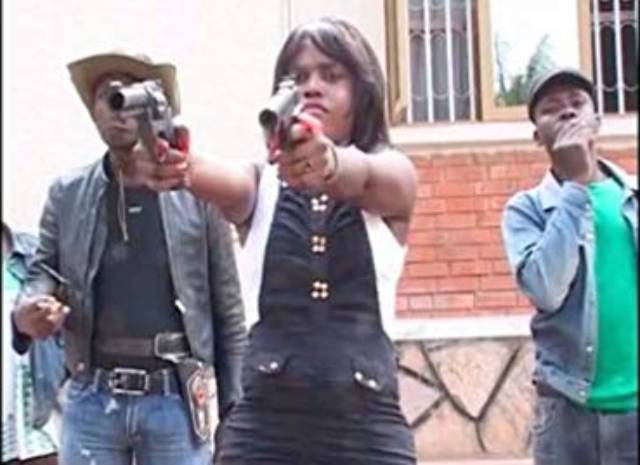 Bad Black (2016) isn't any clearer, but it has more polish and possesses a more engaging main character. Bad Black (Natwanga Gloria) is a tough woman surviving in a criminal environment. She draws volunteer American doctor Ssali (co-writer/co-producer Alan Hofmanis) into some murky situations which seem to involve her desire to get revenge for past wrongs – the story seems to shift back and forth in time, suggesting long-standing connections among the characters. Ssali gets some useful martial arts training from a village kid named Wesley Snipes(!).
And if the crazy action and convoluted narratives weren't enough, a whole other layer is added by local celebrity VJ ("Video Joker") Emmie, a dementedly enthusiastic narrator who riffs over the action, sometimes with pertinent commentary, sometimes with meta references to the fact that we're watching a movie, sometimes just to pump energy into what we're watching ("Movie! Movie! Movie! Movie! Movie!"). This is apparently a thing in Uganda where someone will do a kind of live MST3K running commentary during screenings. It's remarkably exhilarating.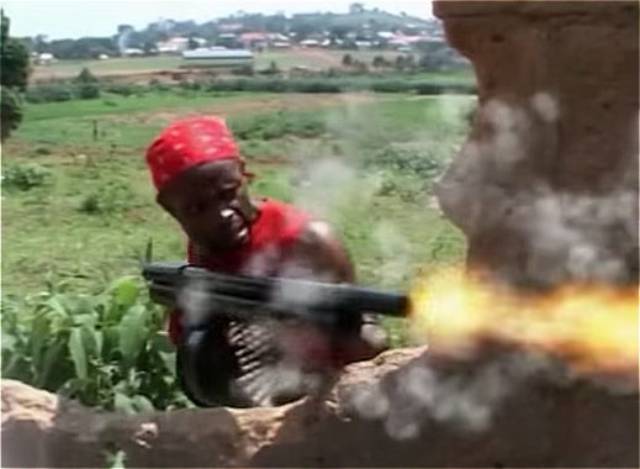 Needless to say, the technical quality of these movies is pretty rough. Captain Alex has been mastered from a standard-definition tape since Nabawana had long since deleted the original files from his computer because it never occurred to him that anyone beyond his village would ever see it. And that might well have been true if not for the Internet, where people began to discover the trailer which eventually racked up millions of views. These movies are a fascinating example of how essentially home-made projects can find an audience thanks to a radically altered media environment. Picked up by AGFA, Who Killed Captain Alex? and Bad Black, made by friends for their friends and neighbours, now have fans around the world … fans who "talk back" to the movies by making their own fan films in reference to them, almost two dozen of which are included on the Blu-ray along with numerous other pieces of ephemera – trailers, brief welcome videos shot to screen at festivals, TV items featuring the filmmakers, Q&As, on-set footage, trailers… Oh, and each movie gets a director's commentary. It's a dizzying amount of material which reflects VJ Emmie's enthusiastic assertion that "It is a love story … LOVE OF ACTION!"
*
Gunpowder & Sky
I was unfamiliar with Gunpowder & Sky until I came across one of their features on the Vinegar Syndrome website. The company has been around since 2016 and seems to be extremely prolific in music and documentary production, with various product streams across multiple platforms.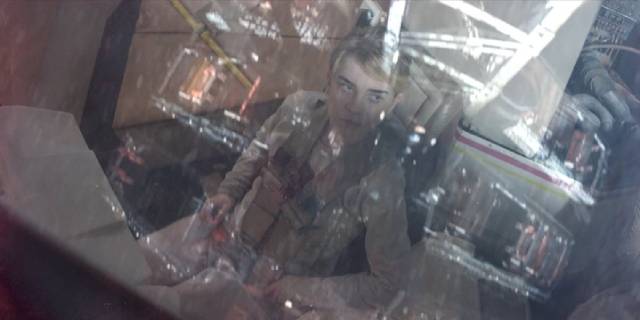 Prospect (Zeek Earl & Chris Caldwell, 2018)
I ordered Prospect (2018) because I'm always hoping to come across small, old-school science fiction movies unconnected with the bloated franchises which have choked the genre in the past few decades. For every dozen Star Wars releases, you might find a Moon (Duncan Jones, 2009), an Ex Machina (Alex Garland, 2014), an Aniara (Pella Kågerman & Hugo Lilja, 2018) or an Ad Astra (James Gray, 2019) – though the latter edges towards big studio imperatives with Brad Pitt as star and some large-scale action. Prospect, so far the only feature by Chris Caldwell and Zeek Earl, fits the bill very nicely. Back in the day when I read a lot of science fiction, I was a fan of Robert A. Heinlein's "juveniles", what we'd now call young adult novels, like Starman Jones (1953), which are essentially coming-of-age adventure stories, so any movie which reminds me of them has immediate appeal (yes, that's why I'm partial to M. Night Shyamalan's After Earth [2013]).
Prospect is centred on teenager Cee (Sophie Thatcher), the more mature daughter of irresponsible Damon (Jay Duplass) who continually puts her at risk as he pursues his dream of striking it rich. They travel in a small ship which piggy-backs on a larger ferry making its final run to a remote moon where prospectors search for valuable gems which are formed inside toxic lifeforms. Extracting these crystals is a delicate art and Damon has made a deal with some mercenaries who are supposedly sitting on the mother lode. When their ship makes a rough landing far from the target area, Cee and Damon have to set off through a lush but deadly forest, already behind schedule.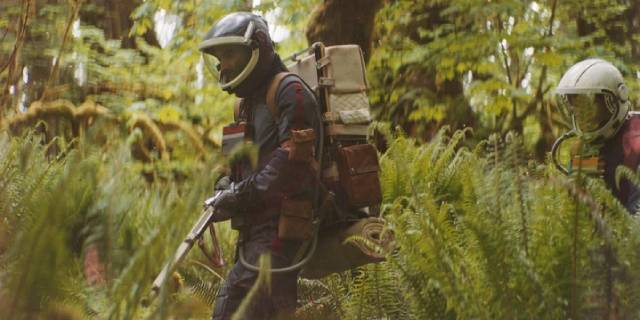 Wearing cumbersome suits because the air is full of toxic spores, their trek is exhausting. When along the way they encounter a couple of other wanderers, Damon tells Cee to hide while he goes out to meet them. They try to rob him, but Cee steps out with her weapon and they back off. Instead of just parting ways, Damon decides to steal the men's own stash of gems … shots are fired, one of the strangers and Damon end up dead, and Cee runs back to the ship but is unable to lift off. The other stranger follows her and, for the sake of survival, they end up making an uneasy pact, this man Ezra (Pedro Pascal) having to pass as her father when they eventually arrive at the mercenary camp.
But things happen along the way, including an encounter with a group of religious fanatics who want to buy Cee from Ezra because their "breeder" has died. These events pose challenges for Cee, but what's most important is her growing ability to read situations and people, to learn how to see the complexity of the world without losing her innate curiosity and imagination. Most important is developing a sense of trust, and to instill a sense of trust in Ezra. In this dangerous place, they have to rely on each other in order to survive and that means overcoming the wariness created by their first violent encounter.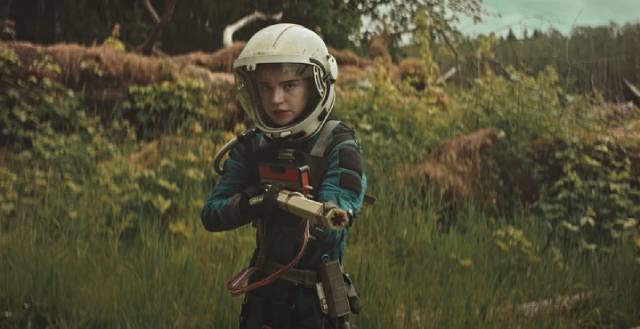 The essential simplicity of this character-based narrative is given weight not only by the excellent performances of Thatcher and Pascal (and Duplass while he's still around), but by Earl and Caldwell's attention to detail, from the design of the spacecraft and environmental suits to the use of spectacular locations in the Pacific Northwest to the beautifully integrated digital effects which enhance the setting – the air in the forest is alive with drifting spores and as night approaches other moons and planets hang in the sky above the horizon like ethereal reminders of how remote this place is and how important it is to make the rendezvous with the transport ship as it slingshots back the way it came.
As in all great science fiction it's these details, these imaginative textures, which provide a convincing base for the narrative, to give reality to the characters. Even the intricate and complicated procedure for extracting the valuable gems has been carefully worked out; the slightest error destroys the crystal and Ezra, masquerading as Damon, has injured his hand along the way making it all-but impossible to do what he has to do to serve the mercenaries who are quite prepared to kill him and Cee if he fails.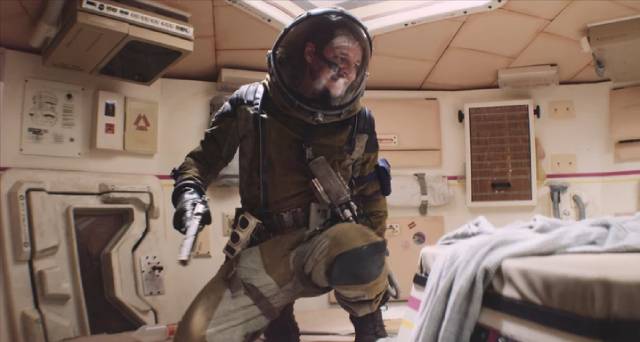 Shot on digital video and layered with additional CG effects, Prospect looks gorgeous on the Blu-ray (which comes in a dual-format edition including a 4K UHD disk I'm not equipped to watch). In addition to a director commentary, there's the original 2014 short film Earl and Caldwell made as a kind of proof of concept in order to raise funding for the feature; this establishes the film's world quite well in just fourteen minutes, but needless to say the feature is much richer in character and detail. There are a couple of short deleted scenes and a handful of short featurettes focused on design and effects.
I don't know whether Caldwell and Earl were influenced at all by Firefly, but Prospect could be set in that universe and much of the dialogue has a Joss Whedon quality which combines slang with an oddly formal cadence. If it's not clear by now, I loved the movie.
*
Subkultur USA
Vinegar Syndrome recently signed up another label, this one from Germany. Apparently Subkultur specializes in genre releases and if the first title made available through VS is anything to go by, I'll be on the lookout for future releases.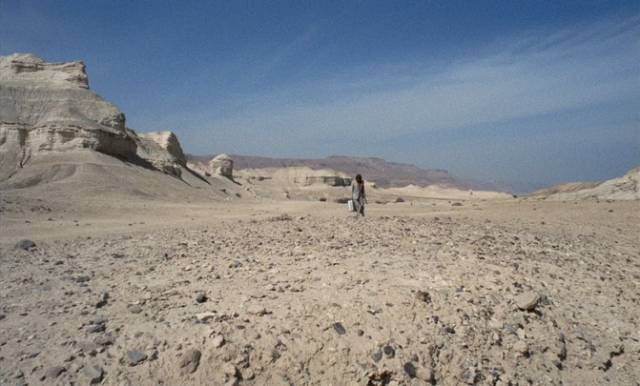 Deadlock (Roland Klick, 1970)
While genres can be blended for humorous effect (Buckaroo Banzai, Big Trouble in Little China), they can also be used to amplify and comment on one another. Roland Klick's Deadlock (1970) seamlessly evokes both spaghetti westerns and noir heist films, giving the mix a timeless, mythic quality which illuminates the greed and nihilism of characters who have been reduced to a state of base self-interest. Something like the offspring of Don Siegel's Edge of Eternity (1959) and Sergio Leone's The Good, the Bad and the Ugly (1966), the film isolates a handful of characters in a remote desert location and throws a strongbox of stolen cash into the middle so that we can observe them tearing one another apart.
A young man, identified only as The Kid (Marquard Bohm), staggers out of the desert with a machine gun in one hand and dragging the strongbox with the other, delirious with thirst and loss of blood from a wound in his arm. He collapses unconscious in a gully and not long after an old truck rumbles up on a rutted track. The driver, Charles Dump (Mario Adorf), stops when he sees the body and gets out to take a look. Cracking open the strongbox, he discovers a 7" single and a pile of cash. Leaving the Kid, he starts to drive away with the money, but something – maybe a sliver of conscience, maybe a desire to confirm that the Kid is dead – makes him turn back. But the Kid is gone, or rather, revived, he is standing nearby with the gun, and forces Dump to give him a ride.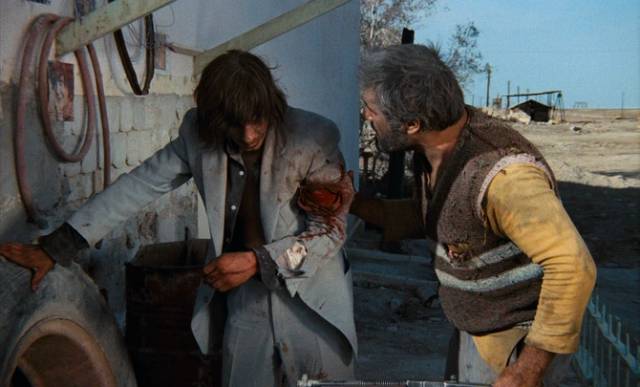 They arrive at an abandoned mining settlement, where Dump lives with a woman named Corinna (Betty Segal) and her mute, virtually feral daughter Jessy (Mascha Rabben), who may or may not be his daughter. The Kid wants Dump to dig the bullet out of his arm, but Dump is unwilling, leaving the Kid to lie on a cot slipping in and out of consciousness. Eventually the man the Kid has come here to reconnect with, his partner in a bank robbery, shows up and a series of crosses and double-crosses unfolds. Mr. Sunshine (Anthony Dawson) is a cold-blooded killer who only wants the money, which is currently hidden because the Kid can't trust him to split it the way they'd agreed.
The two women hover outside this three-way contest of masculine wills; as in a lot of genre movies they are irrelevant. All that matters is the money and the clash of male egos over who will ultimately possess it. This is a harsh, violent world devoid of anything beyond aggression and, at least in the case of Dump, fear. Each of the three men has only one goal – to get away from this dead place with the money. Each is driven by the need to prevent the others from achieving this goal. All could easily walk away, but the existence of the money makes that impossible and the ebb and flow of conflict moves inexorably towards a brutal, bloody climax.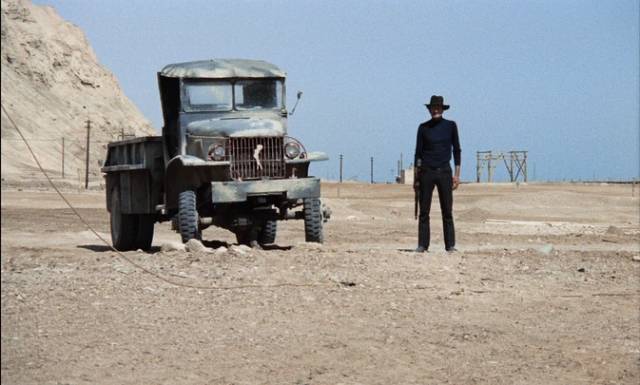 Writer-director Klick has stripped his narrative to its core essentials; these elements are familiar from any number of heist movies in which members of the gang turn on one another, driven by greed, and end up defeating themselves when more cooperation might have benefited them all. The desert setting and costume design evoke the moral nihilism of many spaghetti westerns, pushing the character conflicts into the realm of myth, transforming the greed and stupidity of these men into a bleak statement about human nature in general. Klick's staging of the almost ritualistic series of encounters is superbly photographed by cinematographer Robert van Ackeren on the strikingly desolate location in Israel's Negev Desert, which like Almeria in so many spaghetti westerns evokes a dreamlike memory of the American Southwest.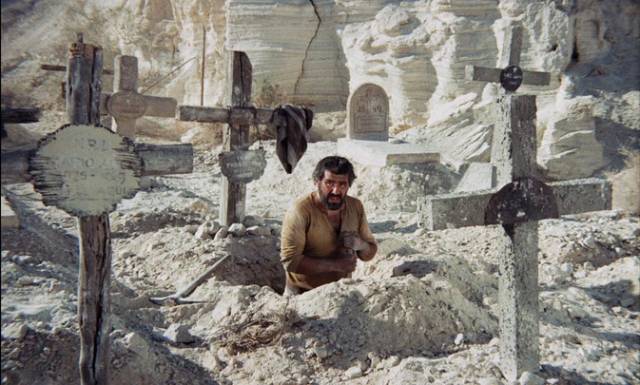 The film's mythic quality is reinforced by the casting of such distinctively different actors, who become representative types. The German Bohm (the Kid) would appear in many films by, among others, Fassbinder; he is young, handsome, and seems very contemporary in this setting which virtually stands outside of time. The Italo-German Adorf (Dump) has the sweaty desperation of a perpetual loser, a character he played in many spaghetti westerns and poliziotteschi, while the Scottish Dawson (Sunshine) had roots going back to the '40s as a character actor in numerous movies and television shows (including several early James Bonds) and here blends iconic villains from both noir and spaghetti westerns. Because this is a masculine universe, the two actresses have rather thankless roles – a slatternly whore and a voiceless, childlike avatar of sexuality – but both Segal and Rabben manage to have a strong presence in the sea of toxic testosterone.
Subkultur's dual-format (4K UHD/Blu-ray) release looks fantastic and sounds excellent as well. German and English tracks are included, both dubbed of course because of the mix of nationalities. The score by Can adds greatly to the impact of the film (that 7" vinyl in the strongbox is the band's "Tango Whiskey Man", which is woven through the movie).
The disk includes a commentary from Klick, plus two interviews totalling almost half-an-hour and a thirteen-minute featurette about the director's work. Hopefully, Vinegar Syndrome will soon offer more of the company's releases, including additional films by Klick.