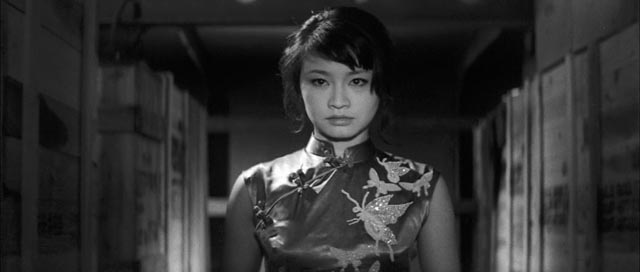 In the first week following my surgery I didn't have much energy to do anything except sit and watch, confined by an immobilizing sling and a machine which pumps ice water through a pad strapped to my aching shoulder. In the first few days, I was also kind of out of it because of the painkillers I was taking. In fact, I frequently slipped into hallucinatory waking dreams which blended with whatever I was watching, so it's a little hard to judge some of the movies I was seeing. (I've also spent a ridiculous amount of time watching videos on YouTube.)
My movie viewing has been all over the place, from cheap exploitation to Asian action movies to alien invasions and the early movies of Seijun Suzuki. While some of these movies are pretty disposable, many of them deserve some serious comment. Unfortunately, with my right arm disabled it's almost impossible for me to type. In fact, right now I'm dictating this into a speech-to-text app on my tablet, which is a pretty clumsy way to write. So for now, I'm just going to mention what I have been watching without giving anything but a brief comment about each title.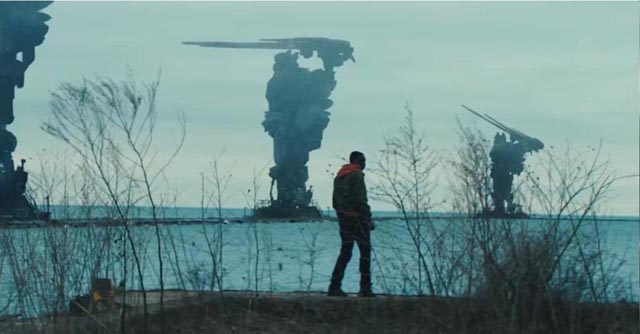 I enjoyed both of the alien invasion movies I watched, though they are quite different from each other. Rupert Wyatt's Captive State (2019) seems to have received mostly negative reviews, but I thought it was a refreshing change from big spectacles like Independence Day. Against the backdrop of an alien invasion, Wyatt tells a story of underground resistance. The aliens are apparently here to strip the planet of all its resources and human authorities have made accommodations with the invaders in exchange for class privilege. Although the tone is apocalyptic, the scale is quite small; it involves a resistance cell in Chicago which is involved in a campaign whose purpose is not fully revealed until the end. The mission is essentially tactical, with most members of the group sacrificing themselves to further a larger strategic goal. (Universal Blu-ray with director commentary and production featurette)

Kiyoshi Kurosawa's Before We Vanish (2017) is a smaller, more intimate treatment of a similar theme. Belonging to the Body Snatchers sub-genre, it focuses on three people who have been possessed by an alien advance team who have come to learn as much about human behaviour as they can before a full-scale invasion is launched which will inevitably wipe out our species. Much of the film involves the interactions between the alien scouts and the people they enlist as their guides. This creates a space for Kurosawa to explore, sometimes satirically and sometimes with surprising emotional depth, what it means to be human. (Arrow Blu-ray with making-of documentary and various interview and festival Q&A featurettes)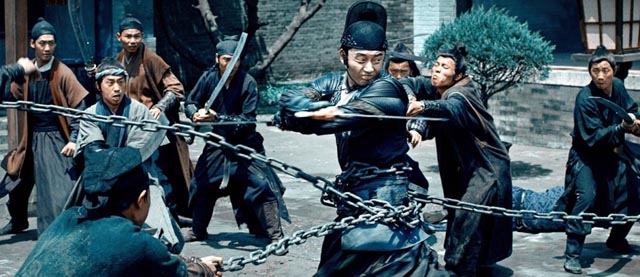 More conventional and more spectacular are a pair of period Chinese martial arts movies directed by Lu Yang. Brotherhood of Blades (2014) and its sequel, The Infernal Battlefield (2017), are convoluted stories about infighting in the late Ming Dynasty Court between princes and ministers as seen from the perspective of several assassins carrying out missions which begin to make them question their own loyalties. The design is lavish and the action plentiful. Although both films adhere closely to genre tropes, the characters' well-developed inner conflicts give them some depth. (Well Go USA Blu-rays with very brief featurettes)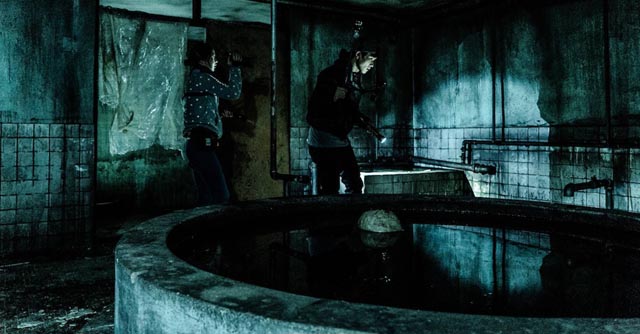 Which is more then can be said about Jung Bum-shik's Gonjiam: Haunted Asylum (2018), which is a fairly by-the-numbers Korean found-footage horror film about a team of annoying people from a podcast who sneak into a derelict hospital with multiple body-cams to investigate rumours of ghosts and disappearances. Although there are a few creepy scenes, the filmmakers make little use of the possibilities provided by the impressive setting in an actual abandoned hospital. The barely-sketched characters, who we mostly see in distorted, bug-eyed closeups, are so irritating that you spend most of the time just waiting for them to be killed off. (Bare bones Well Go USA Blu-ray)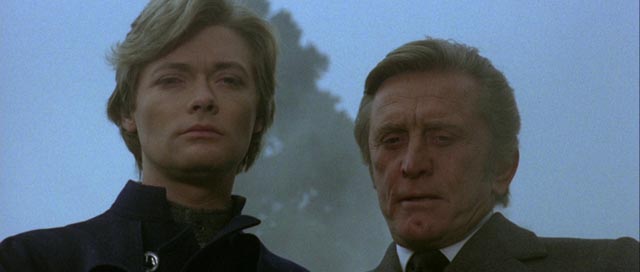 Alberto De Martino's Holocaust 2000 (aka The Chosen, 1978), which I actually saw during its original theatrical run, is one of the better Italian imitations of The Omen (1976) in which demonic forces are propelling the world towards Armageddon. Kirk Douglas is a wealthy businessman with plans to provide unlimited power to the entire Middle East by building a huge fusion reactor whose design turns out to fulfill prophecies from The Book of Revelations. When he tries to stop the project, he discovers that his own son is in fact the Antichrist. (Scream Factory Blu-ray with alternate US cut with extended ending)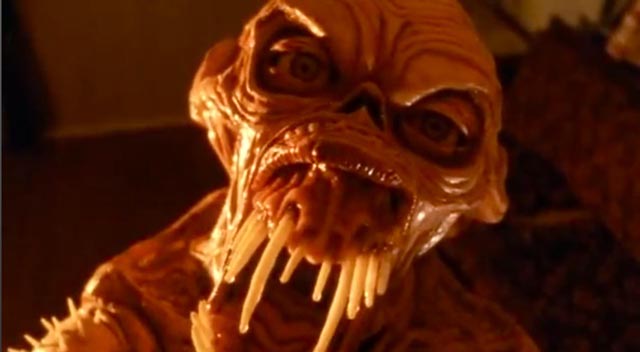 While Holocaust 2000 has all the trappings of a medium-budgeted international production with a major star, it adds little to its genre. Francis Teri's The Suckling (1989), on the other hand, plunges into the depths of bad taste to push the 1980s slasher into unexpected territory. A reluctant young woman is taken to a rundown whorehouse by her boyfriend who is pushing her to get an abortion. The madam performs the procedure with a proverbial coat hanger and the aborted fetus is flushed down the sewer where toxic chemicals quickly mutate it into a clawed monster seeking revenge. The critter somehow seals off the house and begins to kill the occupants one by one. The concept has more twisted imagination than the budget-constrained execution can do justice to, but the creature design by Ralph Cordero (who had performed similar duties on Buddy Giovinazzo's Combat Shock [1984]) is quite impressive. (I wonder whether Harlan Ellison ever tried to sue the filmmakers, because the central idea is very similar to his short story "Croatoan" [1975].) (Vinegar Syndrome Blu-ray with a couple of interview featurettes)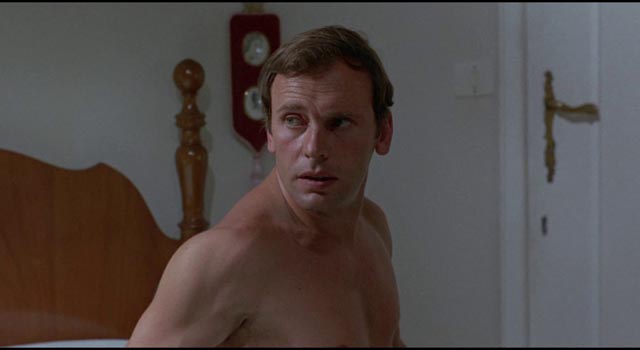 In a 40-year career, Giulio Questi made only three features in three distinct genres all of which are highly idiosyncratic, using familiar genre elements to deconstruct and play with the ways in which narrative cinema creates comprehensible fictional worlds. In Django, Kill … If You Live, Shoot! (1967) he pushed the surreal possibilities of the Spaghetti Western to extremes; he did the same for supernatural horror in Arcana (1972), which slides from phony seances to what appears to be a world-ending apocalypse. In 1968, while the giallo was still taking shape, he made one of the strangest films in that genre: Death Laid An Egg. On its surface, the film is about a troubled marriage, infidelity and emotional conflicts, and capitalism, with various complications leading to murder. Camerawork and a jarring nonlinear editing style give the film, which is set largely on a high-tech poultry farm, an almost sci-fi atmosphere. Very much of its time, Death Laid An Egg belongs to the same 1960s postmodern aesthetic as the work of Elio Petri and Luigi Bazzoni. (Nucleus Films Blu-ray with two different cuts, multiple featurettes, and a commentary from Alan Jones and Kim Newman)
*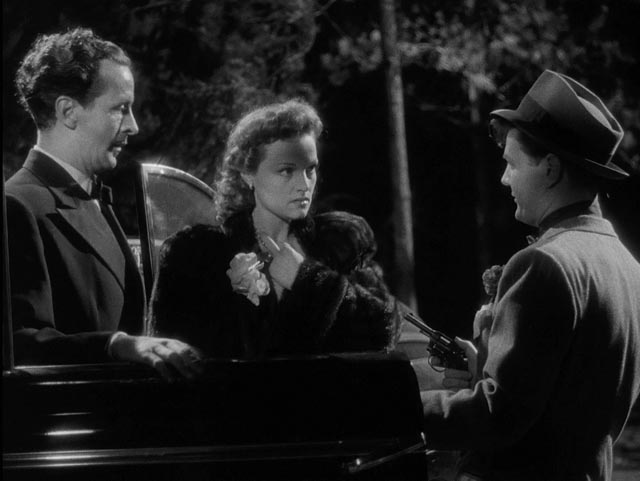 Indicator
I've just watched three new Blu-rays from Indicator, all three English films although two of them are disguised as American. St. John L. Clowes' No Orchids for Miss Blandish (1948), based on the notorious novel by James Hadley Chase, is interesting for a number of reasons, particularly its attempt to create an American hard-boiled gangster story with English actors and locations. The results play like an elaborate pastiche which wavers between overheated melodrama and comedy. It's interesting to note that while the film altered the source material in quite radical ways to make it more palatable it still had problems with the British censors. In the novel, Miss Blandish is brutalized, addicted to drugs and sexually abused by the vicious gangster Slim Grisson and ends up committing suicide because of all the trauma. In the film, Grisson is turned into a tragically romantic outsider who is finally destroyed by his love for the woman who, although initially kidnapped, stays with him voluntarily because he represents an escape from her stifling middle-class life. (Alternate US title sequence; interview with producer Richard Gordon and actor Richard Nielson; BBFC examiner Richard Falcon on the censorship issues; and Soldier, Sailor [1945], a propaganda docudrama about the merchant marine with a story by Clowes)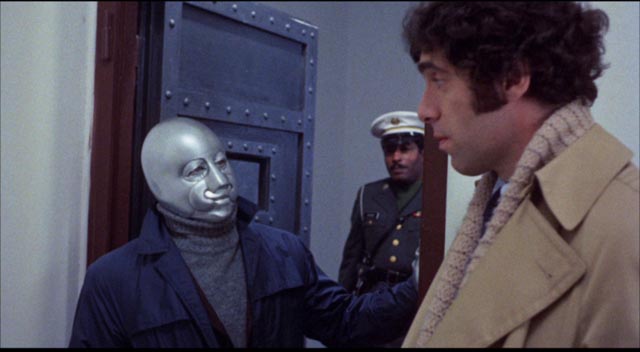 Jack Gold had a long career directing British television while making occasional diversions into theatrical features. As he himself has said, he deliberately cultivated a style which was essentially no style. Much of his work seems on the surface to be rather drab, but through writing and performance many of his films are nonetheless intensely dramatic – particularly a pair he made with actor Nicol Williamson: The Bofors Gun (1968) and The Reckoning (1970). In his two genre films, The Medusa Touch (1978) and Who? (1974), his very lack of flashy technique results in a strong sense of realism which reinforces the fanciful elements. Who?, based on a novel by sci-fi author Algis Budrys, is an interesting mix of Cold War thriller, science fiction, and character drama in which political conflicts are subsumed under existential questions about identity. A scientist seriously injured in a car crash in Germany is rebuilt by Russian doctors, who replace much of his body with a machine. When he is returned to American authorities, an agent played by Elliott Gould has the task of trying to determine whether he is in fact the scientist and not a Russian agent attempting to infiltrate a weapons research program. Although somewhat hampered by an inadequate budget, Gold manages to build a great deal of tension thanks to a well-constructed script by TV writer John Gould and strong performances from Elliott Gould, Trevor Howard as his Russian opponent, and particularly Joseph Bova as the cyborg. (Commentaries from director Gold and star Gould, audio interview with Gold, on-screen interview with actor Edward Grover, and Kim Newman on author Algis Budrys)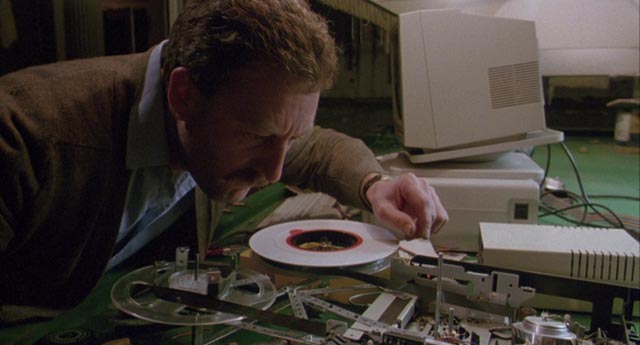 In the 1970s and '80s, British filmmakers produced a string of tough crime movies with a strong emphasis on character – Mike Hodges' Get Carter (1971), John Mackenzie's The Long Good Friday (1980), Peter Medak's The Krays (1991), and Richard Loncraine's lesser-known Bellman & True (1987). Indicator's Blu-ray gave me the first opportunity I've had to see the latter, which I missed during its original theatrical run, perhaps because it never played in Winnipeg. The story of an alcoholic computer expert who is manipulated by criminals he owes money to into helping them commit a major bank robbery, it's centred on the man's relationship with his stepson, who has been abandoned by his mother. The gang use the boy to put added pressure on the man, forcing him to take part in the actual heist. Bernard Hill's performance anchors the film emotionally, infusing the elaborate robbery sequence with a great deal of suspense by amplifying the level of personal risk involved. (Two cuts of the film, interviews with Loncraine, author Desmond Lowden, composer Colin Towns, and actor Kieran O'Brien who played the boy)
*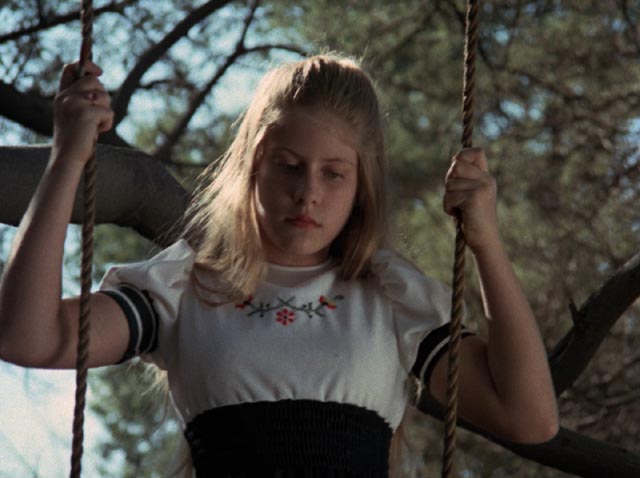 Arrow Video
I filled out the week with two box sets from Arrow. The first is volume two of the American Horror Project, which like volume one collects three lesser-known low-budget movies curated by Stephen Thrower whose massive survey of the genre, Nightmare USA (FAB Press, 2007), provided the impetus for Arrow to launch the series. I'd only seen one of the movies in the new set before, Robert Voskanian's The Child (1977), previously released on DVD by Something Weird Video in 2001. Needless to say, the film is much improved by this high def release. In fact, Arrow provides two different options, a full frame transfer and one cropped to 1.78:1 – the latter occasionally feeling slightly cramped. Although The Child belongs to the early '70s group of dreamlike poetic horror movies which includes Richard Blackburn's Lemora: A Child's Tale of the Supernatural (1973), Willard Huyck's Messiah of Evil (also 1973), and Matt Cimber's The Witch Who Came from the Sea (1976), I don't think it's as successful as those other films. It is steeped in a strange atmosphere, but at times is hampered by clumsy technique, particularly in the protracted climactic siege by zombies raised from the local graveyard by the creepy child of the title. (Introduction by Thrower, filmmaker commentary, featurette with Voskanian and producer Robert Dadashian)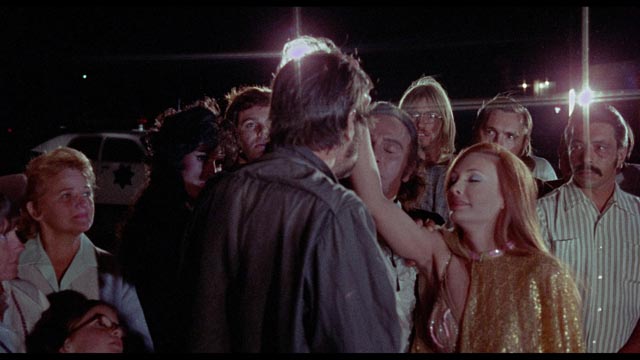 With the inclusion of Dream No Evil (1972), it seems that John Hayes may be undergoing something of a renaissance. Coming on the heels of Shout! Factory's recent release of Grave of the Vampire (1972), this film confirms Hayes' status as an interesting if minor figure working on the fringes of the industry in the '60s and '70s. An orphan girl, adopted into the family of a preacher with a traveling revival show, never gives up the idea of finding her father. She grows up to become the main attraction, livening up the sermons by diving off a high tower in a revealing outfit – apparently to represent mankind's fall from grace. As an adult, engaged to one of the preacher's sons who has gone away to become a doctor, she begins to lose her grip on reality. In a hotel which is also a whorehouse, she learns that her father has just died and is in the local morgue. As she weeps over his body, he returns to life and the two of them go to live together at a remote farm. Her father is loud and domineering and violently protective, killing anyone who seems likely to come between them. It's no surprise to realize before long that he is actually a phantom conjured up by her own longing and that she is in fact the killer herself. (Introduction by Thrower, commentary from Kat Ellinger and Samm Deighan, video survey of Hayes' career, featurette on the career of Edmond O'Brien, and an audio interview with actress Rue McClanahan)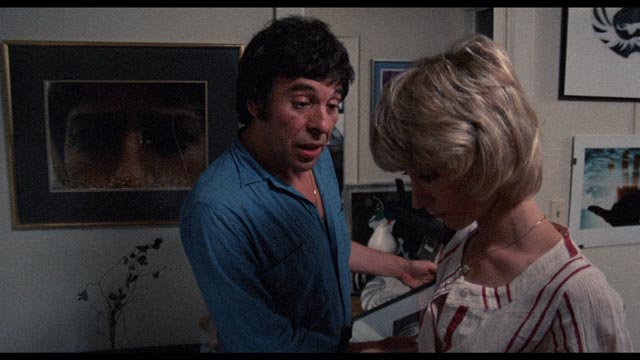 While John Hayes was fairly prolific, many of these fringe filmmakers made just one or two features and then disappeared. In a lot of cases this was due to the difficulty of raising production funds or to being cheated by distributors unwilling to share profits. That was certainly the case with Robert Voskanian, as it was with Frederick R. Friedel. Others struggled on, occasionally releasing another film after a long hiatus. S.F. Brownrigg turned out five features over thirteen years, while Martin Goldman is currently completing his fourth feature in four-and-a-half decades. The Arrow set includes Goldman's second feature, Dark August (1976), a low key regional horror film shot in rural Vermont. In some ways this is the most conventional movie in the set, with a greater degree of technical polish then the other two features. A man newly arrived in the community accidentally kills a young girl who runs out in front of his car on a dirt road, and her grandfather summons a demon to haunt him. The locals have no sympathy for the man and his attempts to put a stop to the persecution make him appear increasingly deranged. An exercise in folk horror, Dark August builds up some effective atmosphere, but is somewhat hampered by an unsympathetic performance by co-writer J.J. Barry as the persecuted man. (Introduction by Thrower, director commentary, on-camera interviews with Goldman and producer Marianne Kanter, and author Stephen R. Bissette on Vermont genre filmmaking)
*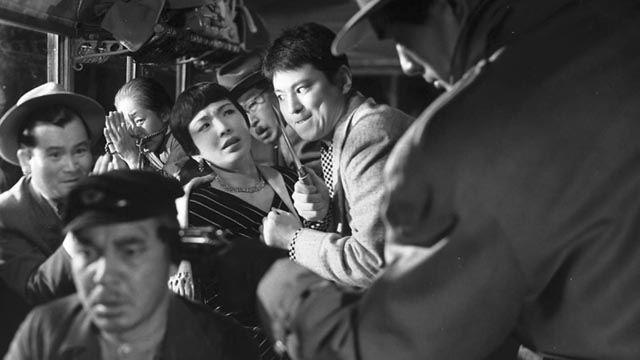 Seijun Suzuki
Seijun Suzuki served a lengthy apprenticeship as a director of B-movies for Nikkatsu, running into increasing resistance from studio executives as his work became more stylistically radical in the mid-'60s. His interest in exploring the underlying tensions of Japanese history, politics and culture was reflected in an increasingly aggressive deconstruction of familiar genre tropes, which in retrospect seems like an autocritique of his own earlier work. In volume two of Arrow's resurrection of that early work, we get five of Suzuki's crime movies dating from 1957 to 1961, a period during which he made no less than 21 features.
The earliest film, Eight Hours of Terror (1957), is like a remake of Hiroshi Shimizu's Mr. Thank You (1936) with the addition of a pair of violent criminals. When a storm blocks a rail line, a disparate group of passengers board a rickety old bus for a journey over a precarious mountain road. Along the way they pick up a pair of bank robbers who essentially take them hostage. The resulting tensions bring out various class differences among the passengers, with self-centred businessmen showing no sympathy for those being tormented by the gangsters, while a prostitute is held in contempt even as she risks her own life by distracting the bad guys to give the others a chance to get away. There are a couple of leftist students, a desperate young mother whose child is possibly dying, and a prisoner being taken in by a policeman for the murder of his former wife and her new husband, who turns out to be an army doctor who works to save the child while being threatened by the gangsters.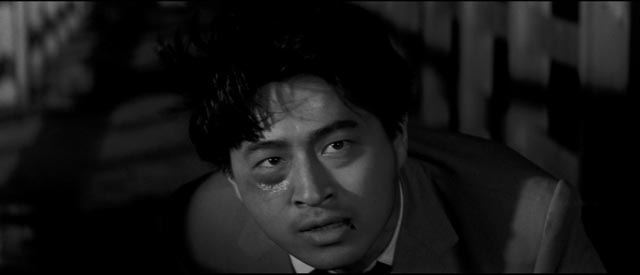 The next two features, The Sleeping Beast Within and Smashing the O-Line, both released in 1960, make an interesting pair. Both feature newspapermen investigating drug smuggling and other criminal activities of gangs connected to China. Hiroyuki Nagato plays a very different character in each film. In the first, he risks losing his girlfriend when he follows leads which point to her father's involvement in drug smuggling; his dedication and integrity eventually result in the father's confrontation with his own guilt, turning him against the gang which operates in the guise of a religious organization. In the second film, Nagato plays a cynical and unscrupulous reporter who uses and betrays almost everyone he's involved with in order to get his story and expose the criminals. Both films are fast-paced, gritty, and effectively shot in widescreen black-and-white.
The final two films in the set, made in 1961, are both shot in colour, giving them a more stylized feel which looks ahead to Suzuki's later work. Here he is also playing more consciously with genre tropes, particularly in the later of the two movies, The Man with a Shotgun, which models itself on the western. The hero arrives in a remote lumber camp, carrying his shotgun and claiming to be a hunter. The camp is populated by shady characters, with criminals holding sway over the company manager and making life miserable for local villagers. The hero has in fact come looking for those criminals, who not long ago raped and murdered his wife. The lone avenger tracking down outlaws on the frontier is familiar from numerous westerns, but situating this story in Japan gives it an odd, almost surreal atmosphere.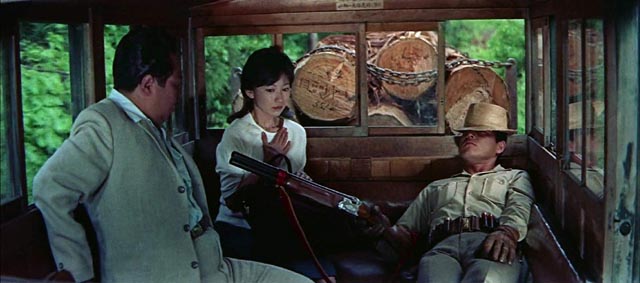 Tokyo Knights, made the same year, is the least successful film in the set. A young man is called home from school in the US to head up the family construction firm when his father dies in a suspicious accident. At first he is not interested in the business, preferring to take part in various activities at his new school, but it gradually becomes apparent that his father was murdered and that the manager of the family firm has betrayed them to a rival company. Taking charge, the young man sets out to expose the corruption and restore the company to its former position. The problem with the film is its tonal inconsistency, veering from family melodrama to awkward youth comedy, undermining what could have been a dramatic treatment of the ties between business and crime in post-war Japan.
Together, the five films in the set display Suzuki's development as a director, exploring various stylistic possibilities as he begins to assert his own voice while still serving as a studio journeyman. (Commentary from Jasper Sharp on Smashing the O-Line, lengthy analysis of Suzuki's development by Tony Rayns)