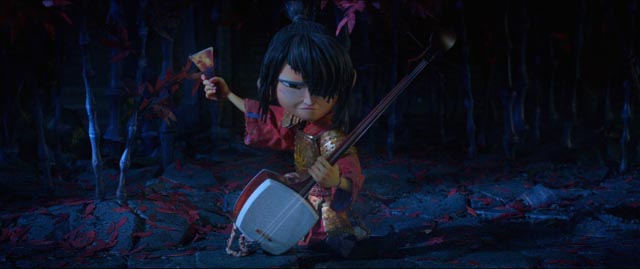 In terms of sheer volume, CG now dominates the animation market. While great work has been done (much of Pixar's output), CG always treads a fine line between photorealistic detail and an off-putting synthetic quality. Which is one reason why I'm grateful to filmmaking artists who still undertake the incredibly painstaking task of telling stories through more traditional techniques which involve creating thousands of individual images which, when projected, create an illusion of life and movement.
While Disney, which turned animation into big business from the '30s through the '80s, has all but abandoned cel animation in favour of CG, the Japanese – particularly Studio Ghibli – continue to produce masterpieces of drawn animation. And it's gratifying to see in the past few years something of a resurgence of stop-motion, a technique virtually as old as cinema itself. Wladyslaw Starewicz's The Revenge of the Kinematograph Cameraman (1912) remains a key work, not simply for its remarkable technique (Starewicz actually animated real insect bodies) but also for its self-reflective treatment of movies and movie-going.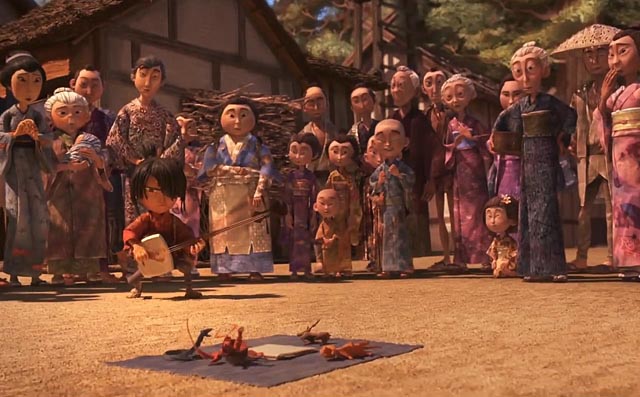 Britain's Aardman Animation carved out a very successful niche with their witty and engaging claymation, beginning with the Oscar-nominated Wallace and Grommit debut, A Grand Day Out (which lost the award to the company's own Creature Comforts the same year). But even Aardman branched out into CG animation with Flushed Away, though they have subsequently continued to put out claymation. In contrast to Aardman's vibrant cartoon world, Charlie Kaufman and Duke Johnson achieved a remarkable (and disturbing) sense of realism with Anomalisa. This infusion of lifelike energy into puppets reflects the essence of cinema in the illusion of movement through the projection of sequential still images, and no one today is doing more than Laika Entertainment to keep the art alive and vital.
The company produced Tim Burton and Mike Johnson's The Corpse Bride (2005), but it has established its own distinctive identity with subsequent productions, from Henry Sellick's Coraline (2009) through Chris Butler and Sam Fell's ParaNorman (2012) to Graham Annable and Anthony Stacchi's The Boxtrolls (2014). This company reaches back to the essence of the traditional fairy story and folk tale, to the harder, darker pre-Disney narratives which put children through dangerous and painful trials as they learn about loss and death and come to an awareness of their own mortality, an awareness which is at the heart of being human. And they do this through often spectacularly complex animation and with a great deal of humour.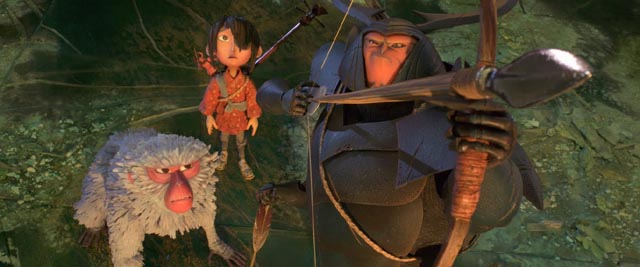 Laika's latest offering Kubo and the Two Strings (2016) builds on those previous accomplishments with a seamless fusion of stop-motion characters and expansive CG backgrounds and environments which give it a sense of scale within which the essentially intimate narrative takes place. Set in a fantasy version of Medieval Japan in which magic is real, Kubo tells the story of a young boy dealing with deep family trauma. It begins with his mother escaping something in a small boat on stormy seas, with Kubo as a baby. Reaching land, they take up residence in a cave on a high cliff, with Kubo – now a boy – tending his traumatized mother whose dreams shape his life.
Kubo walks down to a nearby village where he tells a story at the local market, illustrating it with vividly animated origami characters, but never reaching the end (to the frustration of the peasants who stop to listen) because this is a version of his own story, the ending of which he doesn't yet know. It's the story of the Moon King and a brave samurai, who it turns out was Kubo's father; his mother, one of three daughters of the Moon King, chose to marry this human warrior, bringing down the anger of her father and sisters, who killed the samurai and from whom his mother was fleeing in that opening sequence.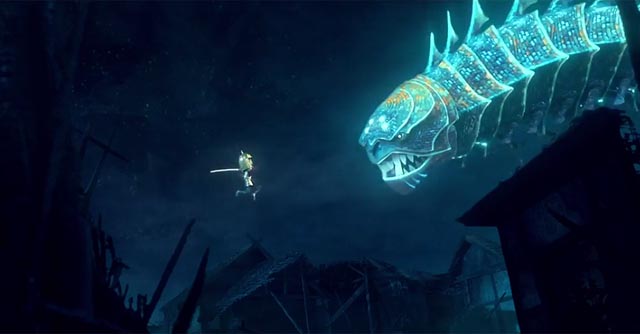 When the family eventually tracks down Kubo and his mother, the boy finds himself on an urgent journey to gather pieces of magical armour which will enable him to defend himself against his grandfather and aunts. Along the way, he's joined by a talking monkey (a charm given him by his mother which has come to life) and a giant bug transformed from a samurai who has lost his memory. It is Kubo's task to piece together the elements of this story, to understand his own origins and discover the true motives of those who seem to be determined to destroy him.
And this is the essence of the film; it is about the nature of storytelling, the uses to which we put narrative in our attempts to make sense of ourselves and the world we inhabit. I've seen a lot of comments on-line about how boring, simplistic and predictable the film is, which I find surprising because to me it seems rich and layered, with the viewer caught in a continuous process of discovery and understanding. On top of which, it's gorgeous to look at. The design and execution of the stop-motion is richly expressive and while I found some of the voice casting a little weak (Charlize Theron in particular seems a bit thin as the monkey), there is a lot of evocative detail in the supporting characters in the village (including George Takei and Brenda Vaccaro) and the villainous aunts (Rooney Mara) and the Moon King (Ralph Fiennes), the latter of whose motives are complicated, the damage he has inflicted supposedly being for Kubo's own good.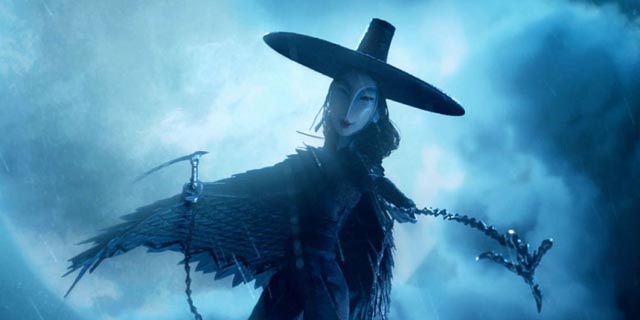 With a script co-written by ParaNorman's Chris Butler and direction by Travis Knight, producer of ParaNorman and The Boxtrolls making his directorial debut, Kubo and the Two Strings shows Laika continuing to stretch in terms of both the technical possibilities of the medium and narrative ambition. It'll be interesting to see what they come up with next, particularly as Pixar seems to be settling into a kind of creative complacency (Cars 2, Planes, Finding Dory … and Cars 3, Toy Story 4 and The Incredibles 2 all in the works).