Having spent time recently on two ambitious box sets from Indicator, I should mention a couple of other more modest releases from the label.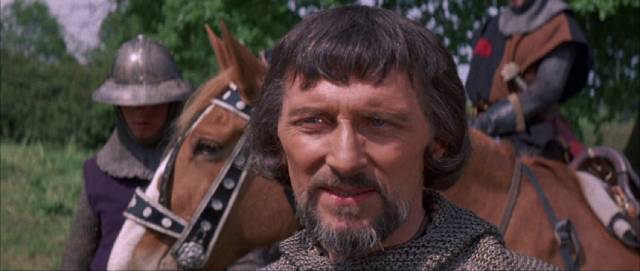 Robin Hood at Hammer
Robin Hood at Hammer is a two-disk set which reconnected me with part of my childhood back in England. When we first got a TV set at the end of the '50s, I got to watch the last season or two of The Adventures of Robin Hood (1955-60) starring Richard Greene. This half-hour series was aimed at kids, offering glimpses of a fantasized history in which dashing heroes and plucky maidens would stand up for what's right against a corrupt aristocracy. As its run drew to an end, Hammer Films once again tried to cash in on a popular show by adapting it to the big screen, as they'd earlier done with the BBC's Quatermass serials and would later do with the comedies On the Buses (1971), Love Thy Neighbour (1973) and Man About the House (1974) and the drama Man at the Top (1973).
But the company had already made a Robin Hood movie back in 1954, The Men of Sherwood Forest, directed by Val Guest. I'm not sure whether the television series was inspired by the feature, but the timing is suggestive. It's a pity that Indicator didn't include this in their set as it would have been interesting to see the evolution of Hammer's treatment of this folk myth across three different periods in the company's history. While Guest's movie starred American (future director) Don Taylor, Sword of Sherwood Forest (1960), directed by Terence Fisher, naturally starred Richard Greene, who by then had become indelibly linked to the role.
Although as budget-minded as any Hammer feature, the movie had more resources than the TV show, comparable to the company's other historical adventures like The Scarlet Blade (1963), while escaping the confines of television (and location shooting in Ireland) provided a larger sense of scale and allowed for a darker tone and more explicit violence. There are two villains, Edward, Earl of Newark (Richard Pasco), and the Sheriff of Nottingham (Peter Cushing), and the plot revolves around their nefarious scheme to buy up a lot of property, displacing the inhabitants of a town, a plan which necessitates the assassination of the Archbishop of Canterbury (Jack Gwillim) who's managing the country while King Richard is away at the Crusades. Robin gets wind of this and he and his band of outlaws set out to defeat the villains.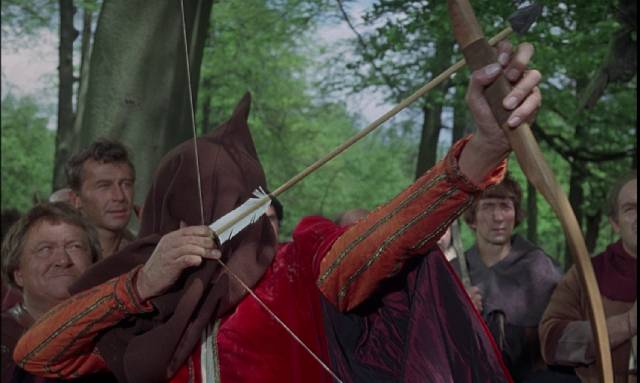 The oppressed locals are inspired by Robin and, as the bad guys kidnap and murder, a rebellion brews. Eventually they are joined by Maid Marian Fitzwalter (Sarah Branch), who tries to broker a truce between Robin and the Sheriff only to discover that the latter is a duplicitous bastard. There's budding romance and plenty of action, though the script takes one major misstep when it kills off Cushing's Sheriff before the climax, leaving Pasco (and his chief henchman, played by Oliver Reed) to carry the full weight of villainy into the final act. Which is not to say that Pasco isn't a fine villain, but Cushing has greater stature and his absence in the climactic confrontation, which involves a rousing fight in a convent chapel, is a weak spot in an otherwise sturdy kids' adventure.
Seven years later Hammer revisited the myth for what amounts to a new origin story. This time Robin (Barrie Ingham) is a nobleman dispossessed by his treacherous cousin Roger (Peter Blythe), who has made an alliance with the Sheriff (John Arnatt) to steal Robin's land. Strangely, A Challenge for Robin Hood (1967), directed by C.M. Pennington-Richards, feels much more like an inexpensive TV production than the earlier movie. Adding to the sense of diminished scale is a greater emphasis on comedy, and paradoxically given social developments during the decade, the earlier film's smart and independent Marian here becomes a passive character who has no influence on events other than needing to be rescued by the hero.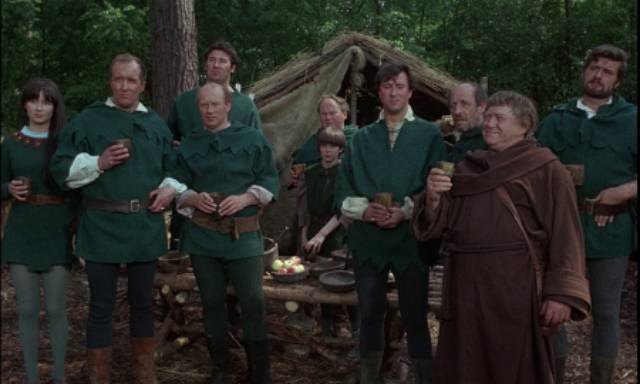 Although these historical movies never achieved the status of Hammer's Gothic horrors and psychological thrillers, they nonetheless represent the studio's ability to make the most out of what were always limited resources compared to what was available to bigger companies. While minor efforts, they deliver efficient action and entertainment for kids who didn't have access (in England) to the horror movies.
Indicator's set is packed with extras, commentaries and hours (about eight-and-a-half!) of new and archival interviews, plus a one-hour Children's Film Foundation production called Robin Hood Junior (1975), co-directed by John Black and Matt McCarthy, which somewhat confusingly seems to present the childhood origins of the famous outlaw but, while he and his friends act out familiar rebellious scenarios, reference is repeatedly made to the famous outlaw who has inspired them.
*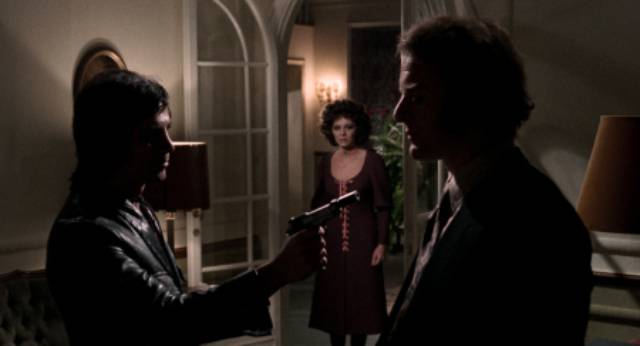 Cold Eyes of Fear (Enzo G. Castellari, 1971)
And for something completely different, Indicator have just released a 4K restoration of Enzo G. Castellari's Cold Eyes of Fear (1971) – rather than issuing dual-format editions, they've begun putting out duplicate 4K UHD and Blu-ray releases (so far this and a pair of Jean Rollin titles, with four more Rollins announced and Renato Polselli's Black Magic Rites delayed by a month); yet more pressure to take the plunge into 4K!
Cold Eyes of Fear seems like an anomaly for Castellari, who is best known for his westerns, war films, poliziotteschi and, later, post-apocalyptic action. This thriller was sold as a giallo, but it bears little resemblance to Dario Argento's influential, genre-defining features being released around the same time (Castellari's film came out a couple of months after Cat O' Nine Tails). Neither does it resemble the kind of stylish thrillers being released by directors like Umberto Lenzi in the previous few years.
Essentially a claustrophobic home invasion movie, it had been conceived to be made quickly on a small budget and the script by Castellari, Leo Anchóriz and Tito Carpi restricts the action to two interior settings and a handful of characters (with one extraneous sequence of a street fight which doesn't involve any of the main characters). Gianni Garko, taking a break from westerns, plays Peter Bedell, a playboy attorney who picks Anna (Giovanna Ralli) up in a bar and takes her back to the family mansion. As they settle down for the evening, he gets a call from his father, Judge Bedell (Fernando Rey), asking him to look up some case notes, but before he can find them, a man breaks in and holds him and Anna hostage. It's initially unclear what this man's motives are, but when a policeman shows up at the door and Peter tries to alert him to the situation, it becomes obvious that this isn't a simple break-in. The cop punches Peter in the face and comes in to join the other intruder.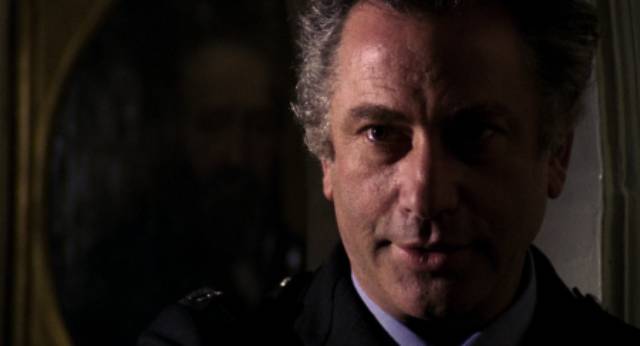 The cop is Arthur Welt (Frank Wolff), a man who had been sent to prison by Peter's father. The other man is Quill (Julián Mateos), whom Welt got to know in prison. Although it's not overtly spelled out, there's a clear suggestion that they had (and still have) a homosexual relationship. Welt is looking for evidence that he was unfairly treated and Quill has been drawn into his plan, which seems doomed to fail. Parallel lines of suspense are established, with the Judge not realizing that his office has been rigged with a bomb (Castellari cheats at one point by showing the bomb going off and killing the Judge, but this is just Welt imagining the results of his plan) and Peter trying to figure out how to get himself and Anna out of the situation – he doesn't hesitate to use the woman by having her try to seduce Quill.
Somewhere in the house are the trial records, which the Judge has hidden away for some reason. That reason is eventually revealed; Welt was indeed a scapegoat, his accomplices all being men of influence who were protected by the Judge. This revelation of his father's corruption up-ends Peter's complacent sense of order as he finds himself surrounded by corpses resulting from the Judge's actions. While not explicitly political, the film's cynical view of class and privilege is in line with the movies of filmmakers like Elio Petri and Damiano Damiani.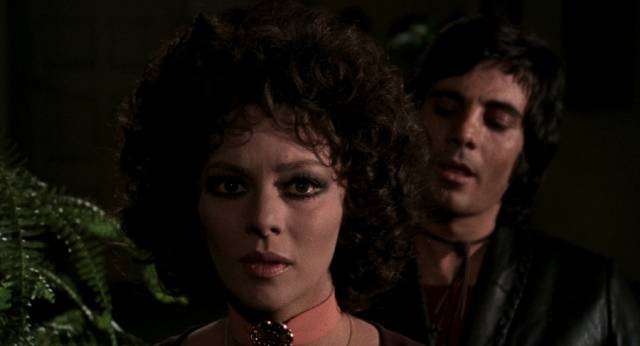 Shot by Antonio Ballesteros, Cold Eyes of Fear is oppressively dark and claustrophobic, with strong performances, particularly from Wolff (a great character actor who sadly committed suicide in 1971) and Ralli, whose Anna is the most sympathetic character (this was her sixtieth film, having begun her career at age seven, appearing in Vittorio De Sica's The Children Are Watching Us [1942] and Fellini's Variety Lights [1943] among others). Garko makes the most of this opportunity to get away from westerns, while Fernando Rey adds a touch of gravitas in what amounts to a brief supporting role. Spanish actor Julián Mateos, another veteran of westerns, eventually emerges as a sympathetic figure as it becomes clear that, like Anna, he has been caught up in something beyond his control, drawn into a dangerous scheme because of his feelings for Welt.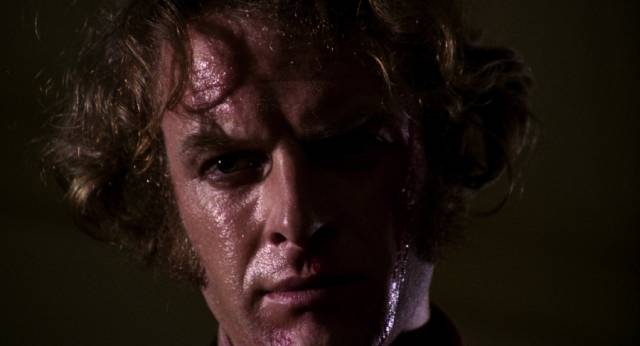 Adding to an uneasy atmosphere is Ennio Morricone's experimental jazz score, which is very unlike his familiar western scores and quite different from his work for Argento on the animal trilogy (it was also, amazingly, one of twenty-four scores he produced in 1971, up from sixteen the previous year, but fewer than the next year's twenty-nine!).
The disk includes a commentary and more than 90-minutes of interviews with Castellari, Garko, assistant editor Gianfranco Amicucci, and Lovely John on Morricone's score.