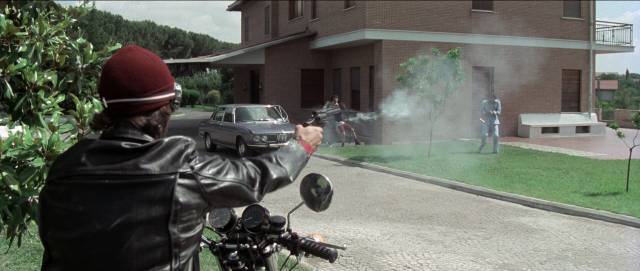 Despite my best intentions, time and energy keep me from watching quite a lot of what I buy. If I were more rational, I'd just stop ordering disks and try to work through at least some of the backlog; I'd also devote more time to worthwhile movies than trash. But, alas, I'm not particularly rational. The backlog covers a wide range of releases from my favourite companies – Arrow, Indicator, Criterion – with a considerable quantity coming from Severin, which releases quite a lot of desirable (to me, anyway) box sets. I have a number that I started going through but set aside for various reasons and haven't managed to get back to – the Al Adamson set kind of defeated me because of his tendency to recycle movies with varying degrees of re-editing. I haven't been in the right mood to finish the Andy Milligan set, and I haven't even cracked the nunsploitation collection or the recent Ray Dennis Steckler set. I did watch all the features in the two Eurocrypt of Christopher Lee sets, but haven't finished the Polish-produced anthology series Lee hosted, and every now and then I watch another episode of Narciso Ibáñez Serrador's Tales to Keep You Awake series.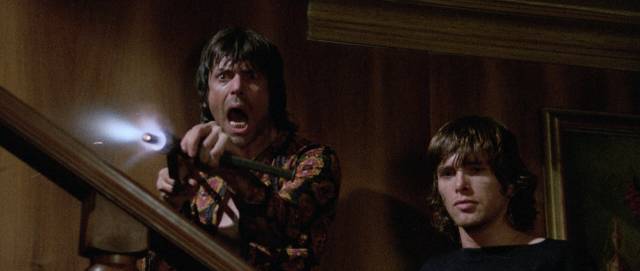 Violent Streets: The Umberto Lenzi/Tomas Milian Collection (1974-78)
Severin's latest set is a collection of five poliziotteschi directed by Umberto Lenzi and starring Tomas Milian. I'd seen three of these before, and have a fairly recent Blu-ray of Free Hand for a Tough Cop (1976) from Fractured Visions, plus the Code Red edition of Almost Human (1974), but needless to say I had to order the set for the new 2K scans and three CDs of four of the soundtracks. This set I did watch as soon as it arrived (early, as it showed up on February 8th despite its official street date of March 28). The movies all look excellent, the soundtracks – three by Franco Micalizzi, one by Ennio Morricone – are great, and each disk has multiple interview featurettes, though only Almost Human has a commentary – in fact two, one with writer Ernesto Gastaldi, the other with Nathaniel Thompson and Troy Howarth.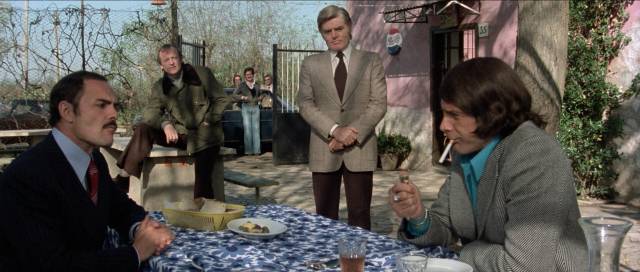 This set is a worthwhile upgrade, showcasing Lenzi's work in the genre which best suited his skills and temperament. Made during the peak period for Italian crime movies, from 1974 to 1978, seen together they illustrate how the genre quickly evolved before being replaced by the next commercial thing (zombies, sci-fi, post-apocalyptic action and epic fantasy). Personally, I think Almost Human (Lenzi's second poliziottescho) is his greatest film, a dark nihilistic thriller in which Milian plays a genuinely chilling psychopath. The following year, in Syndicate Sadists (1975), the actor returned as a hero (named Rambo!) who single-handedly takes down two rival crime families in the process of saving a kidnapped boy.
The next year, Free Hand for a Tough Cop begins to mix in an element of comedy despite the cruel nihilism of the story of a ruthless gang who kidnap a sick child, who will die if not recovered in a few days. The comedy comes in the form of the odd couple teaming of a cop (Claudio Cassinelli), who goes off-book and does a lot of questionable things, with a petty criminal (Milian) who is unwillingly recruited to help. It's here that Milian really begins to embody a caricature, constantly mumbling and picking his teeth and animating his face with a collection of tics.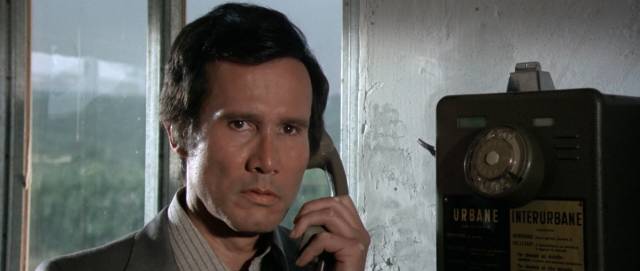 Although he plays a much darker character in the next year's The Cynic, the Rat and the Fist (1977), an escaped criminal who allies himself with a sadistic gangster (John Saxon) and plots to take over a chunk of Rome's criminal underworld, Milian continues with the tics and exaggerated mannerisms. This transformation reaches its pinnacle the following year with his dual role in Brothers Till We Die (1978), in which he plays both Sergio "Monnezza" Marazzi, the character he created in Free Hand and repeated in Stelvio Massi's Destruction Force (1977), and Monnezza's hunchbacked twin brother Vincenzo, who had previously turned up in Lenzi's The Tough Ones (1976) – some kind of extended cinematic universe long before Marvel got into the business! The tics and mannerisms, along with crazy wigs and heavy eye-liner, become increasingly distracting here (enough so that Lenzi terminated his collaboration with Milian after this film). Still, despite Milian's mugging, Lenzi stages some impressive action sequences and manages to wring a bit of genuine emotion from the brothers' relationship.
Violent Streets: The Umberto Lenzi/Tomas Milian Collection is a fine follow-up to Severin's earlier Complete Lenzi/Baker Giallo Collection. Considering I began my acquaintance with Lenzi's work with a very low opinion (the first of his movies I saw was Nightmare City [1980], which I hated at the time), the more I've seen the more I appreciate him as one of the greats of Italian genre cinema.
*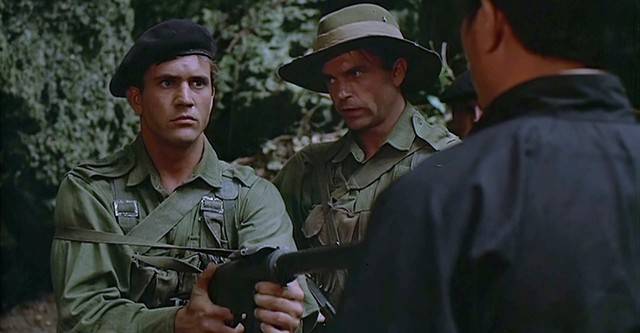 Attack Force Z (Tim Burstall, 1981)
Along with the Lenzi/Milian set, I also received an advance copy of Severin's Attack Force Z (1981), a routine World War Two commando mission story whose chief interest is a cast which includes two stars-in-the-making and a slightly grizzled older actor on the down-slope. Based on the exploits of a multi-national unit who worked behind Japanese lines in the Pacific (with a high rate of fatalities, apparently), the movie goes through the familiar motions – small team dropped off by submarine with orders to locate a downed plane and find out what happened to a couple of important passengers – with intermittent encounters with the Japanese and the locals who try to keep a low profile while offering some resistance to the occupiers.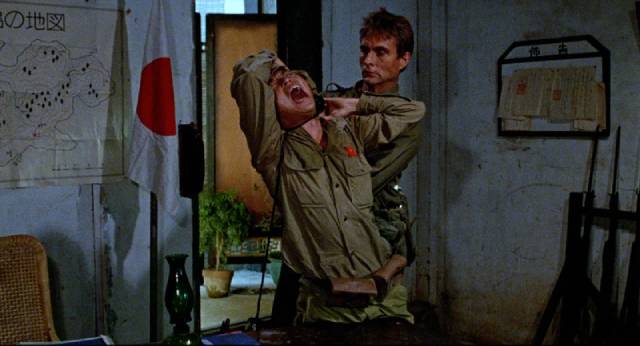 The key members of the team are played by Mel Gibson, just before he became an international star with Peter Weir's Gallipoli and George Miller's Mad Max 2 (both released later in 1981); Sam Neill, who had already established himself in, among others, Roger Donaldson's Sleeping Dogs (1977) and Gillian Armstrong's My Brilliant Career (1979) and had begun to go international as the grown-up Damien in Graham Baker's The Final Conflict (1981) and as Isabelle Adjani's husband in Andrzej Zulawski's Possession (which premiered at Cannes a week after Attack Force Z appeared at the same festival); and John Phillip Law, who kept himself busy after his promising start in the '60s, but never managed to establish himself as a star. The big surprise here, though, is the presence of Taiwanese actor Sylvia Chang as an English-speaking local who helps the team and falls for Law.
The main problems with the movie are the cliched script by British writer Roger Marshall (who mainly worked in television, but had previously written a few routine genre movies in the '60s and early-'70s) and the uninspired direction of Tim Burstall, who had a three-and-a-half decade career but didn't make anything of particular note. Even the bleak ending lacks any dramatic or emotional kick.
*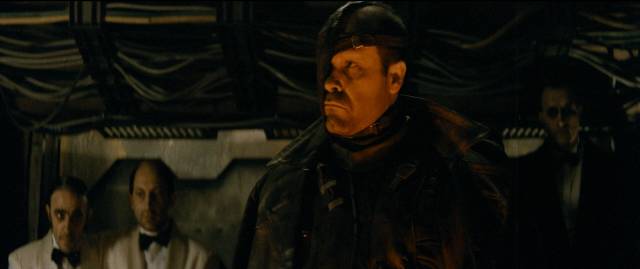 Accion Mutante (Alex de la Iglesia, 1993)
Back in November, for their Black Friday sale, Severin released three dual-format 4K UHD/Blu-ray editions. These include two Dario Argento titles and Alex de la Iglesia's first feature Accion Mutante (1993). The latter was de la Iglesia's first feature (preceded by only one short) which, although it had a relatively small budget (provided by Pedro Almodovar's production company), is pretty ambitious. A mix of satirical comedy and science fiction, it seems that it might have been influenced by Caro and Jeunet (Delicatessen [1991]), sharing their profligate, anarchic inventiveness and retro approach to design.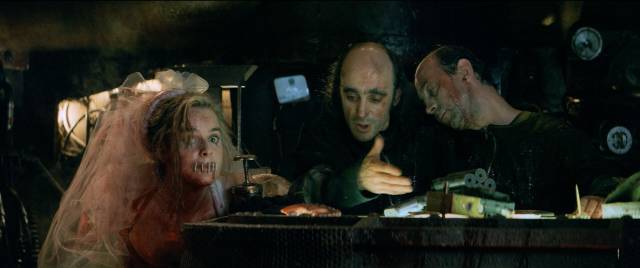 In a world ruled by beautiful people, those who don't make the grade form a revolutionary group called Mutant Action, kidnapping (and occasionally inadvertently killing) celebrities. After a mission goes badly wrong – everyone at a celebrity wedding ends up dead except for the bride – the core members of the group hop in their steampunk spaceship with the kidnapped socialite and head for a remote mining planet. The leader gradually bumps off his incompetent underlings and, after the ship crashes, he and his now-infatuated prisoner head off across the desert. The loose plot serves as a frame for a series of comic skits and strange encounters, giving the movie an improvisatory quality, with some bits more successful than others, though the often frantic pace ensures that there's little time to get bored.
The low budget and do-it-yourself quality of the effects mean that even with a 4K scan it still looks a bit rough, but that's an integral part of its charm. The disk includes a commentary and multiple interviews.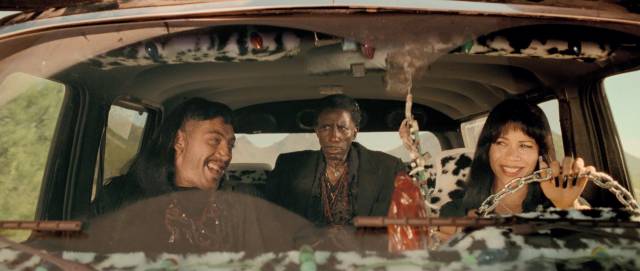 Perdita Durango (Alex de la Iglesia, 1997)
Having watched Accion Mutante, I finally got around to de la Iglesia's Perdita Durango (1997), another Severin dual-format 4K UHD/Blu-ray release, which has been sitting untouched on the shelf for a couple of years (I also haven't cracked Severin's editions of de la Iglesia's Day of the Beast [1995] or Alejandro Jodorowsky's Santa Sangre [1989], which arrived at the same time). His third feature, and a bid to move up to international productions, this is a rather ugly movie. Co-written by Barry Gifford, it expands on a supporting character from Wild at Heart (1990) played by Isabella Rossellini, a prostitute with a grudge against the world. Like Wild at Heart – but perhaps even more like Oliver Stone's Natural Born Killers (1994) – Perdita Durango is a perverse romance in which the two lovers amplify one another's psychopathology, leading to twisted sex and unsettling violence.
Here, Perdita (Rosie Perez) meets drug dealer and Santeria priest Romeo Dolorosa (Javier Bardem), who performs rituals involving dismembering corpses, tossing the parts in a big pot, then drinking the bloody soup and spitting it in the faces of those who've come to see the ceremony. It's Perdita who suggests that he could improve the show by killing a sacrificial victim and cutting out the heart … so they kidnap a pair of white-bread teenagers and drag them around on both sides of the Mexico-U.S. border, abusing them in various ways before scheduling the ritual sacrifice.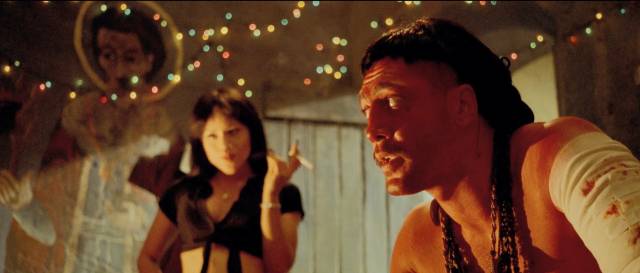 Meanwhile, gangster Mr. Santos (an almost unrecognizable Don Stroud) hires Romeo to drive a semi full of refrigerated embryos to Las Vegas and deliver them to a cosmetics company, while DEA agent Dumas (James Gandolfini) closes in. As in Wild at Heart and Natural Born Killers, the violence is extreme and treated as grotesquely comic. Though production values are high and the cast impressive (we even get Screamin' Jay Hawkins, who also provides the end title song, as Romeo's Santeria sidekick), it leaves the same bad taste as Lynch's and Stone's movies, asking you to empathize with psychopaths rather than their victims. I found myself swinging like a pendulum between being entertained and repulsed.
The image has saturated colours and a rather grungy look, obviously deliberate given the dark content. There are multiple featurettes – the one that surprised me was Narcosatanicos: Perdita Durango and the Matamoros Cult in which Abraham Castillo Flores and Jim Schutze explain that the movie's story and characters were based on actual people and incidents in Matamoros, just across the border from Brownsville, Texas, in which serial killer and drug dealer Adolfo Costanzo supposedly practiced ritual murder with Sara Aldrete. The true story is grim and ugly, which somehow makes its transformation into a dark romantic comedy even more disturbing.
*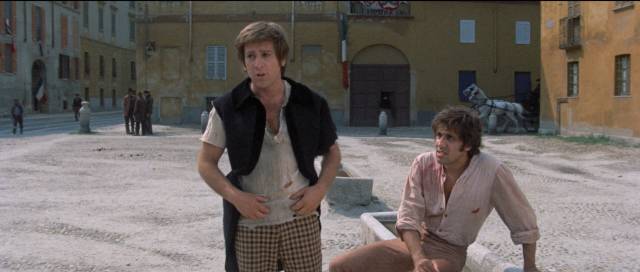 The Five Days (Dario Argento, 1973)
Along with the two new 4K UHD/Blu-ray editions of Dario Argento's third and fourth features, the Black Friday bundle also included a copy of Argento's autobiography Fear (FAB Press, 2019), which turned out to be a breezy and engaging read which, though it doesn't dig too deeply into Argento's obsessions, is full of vivid anecdotes going back to his childhood and covering his various fractious relationships, while not surprisingly concentrating on his movies. He recounts each production in chronological order, discussing problems with financing and distribution, and his mostly good, sometimes problematic relationships with actors. He seems to like most of the movies he's made, but doesn't shy away from a couple he considers failures (not surprisingly this includes the hubristically titled disaster Giallo [2009]).
One of those failures has been the most difficult Argento movie to see, The Five Days (1973), which he had co-written (with Enzo Ungari and Luigi Cozzi) with no intention of directing it himself (it was intended for Nanni Loy). A series of problems, beginning with Loy dropping out, led to Argento being forced to take on the job despite his reluctance – after his first three films, the "animal trilogy", he had produced the four part Door Into Darkness television series (directing two episodes) and wanted to avoid directing, at least for the time being. The Five Days, despite his part in developing the project, was unlike his previous work and not really suited to his particular talents.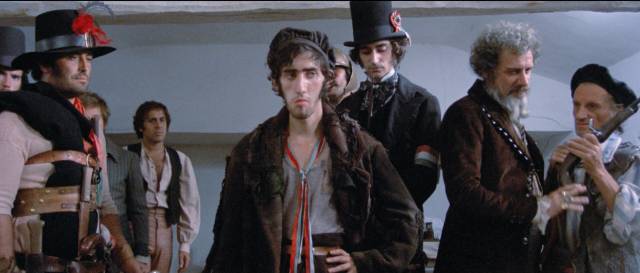 The large-scale historical adventure set during the Italian Revolution of 1848 sits uneasily between slapstick comedy, grim violence, and a satirical commentary on the ways class conflict corrupts political movements. At the centre of the civil war raging in and around Milan an escaped prisoner, Cainazzo (comedian and singer Adriano Celentano), and a baker, Romolo (Enzo Cerusico), are brought together by chance and witness – and become involved in – a series of fights and atrocities. The production is quite lush, but the tone is all over the place, horror undercut by ill-timed comedy and comedy turned sour by violence. By the time Cainazzo stands up to deflate the self-satisfied bourgeoisie who have reestablished control of the city it's impossible to see clearly what Argento really has to say about history, politics and flawed human nature.
Given its age and the technical quality of early '70s film stock (it was shot in the two-perf Techniscope format), the image looks excellent; bright, colourful and detailed. There's a commentary and multiple interviews, plus a CD of Giorgio Gaslini's score. The Five Days is an outlier in Argento's filmography, one which has been shunted aside for five decades, so it's nice that it's finally surfaced and in such an excellent edition, but it unfortunately can't be counted as a rediscovered masterpiece. The director's fans can be relieved that it didn't lead him away from the direction of his early work, and that he followed it with Deep Red (1975), acknowledged as one of his finest films.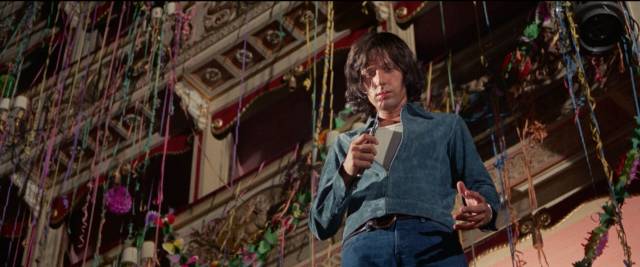 Four Flies on Grey Velvet (Dario Argento, 1971)
That movie built on and expanded the genre Argento had all-but defined with his first three features, the "animal trilogy" which consolidated many of the rules for the giallo. He didn't invent that genre – its roots went back at least to Mario Bava's The Girl Who Knew Too Much (1963) and Blood and Black Lace (1964), but throughout the '60s the thrillers of most directors conformed more to traditional mystery and suspense. It was Argento who transformed familiar tropes into something more abstract with The Bird With the Crystal Plumage (1970), quickly followed by The Cat o' Nine Tails and Four Flies on Grey Velvet (both 1971).
Four Flies was the first Argento movie I ever saw – in the Roxy in the small Manitoba town of Neepawa in 1973. It had a huge impact on me with its dream-like tone, its elaborately staged murders and its overwhelming atmosphere of twisted psychology. That impact has diminished over repeated viewings in the past decade-and-a-half. For a long time it was impossible to see – there were no accessible home video releases until 2009 – so it had remained merely a vivid memory. By the time I acquired an import DVD in 2009 or 2010, I'd seen all of Argento's other features, so it seemed less radical. There were still striking sequences – the initial encounter in an abandoned theatre in which the protagonist believes he's killed a man who was following him, observed by a figure in a creepy mask; the stalking and murder of a secondary character locked in a park at night (modelled on a sequence in Jacques Tourneur's The Leopard Man [1943]); the climactic death by car crash; the series of dreams in which a prisoner is executed by beheading in a North African courtyard – but the gay detective played by Jean-Pierre Marielle, which was an unusual element in the early '70s, now seems uncomfortably caricatured.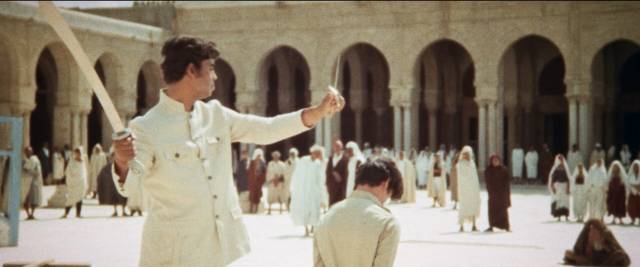 The biggest problem with the film, though, is the conception of the protagonist and the performance of Michael Brandon. A drummer in a rock band, Roberto is unremittingly morose and passive, an empty space at the centre of the narrative which sucks a lot of energy out of the film. Mimsy Farmer's jittery neurosis as his wife Nina seems entirely justified. It's difficult to see whether the fault is simply Brandon's weakness as an actor, or whether Argento had miscalculated, but the effect is to make Four Flies the least satisfying film in the trilogy despite its technical merits.
However, Severin's edition can't be faulted. The four-disk set is built around a flawless 4K restoration – included on both 4K UHD and Blu-ray disks, with hours of extras: there's a Nathaniel Thompson and Troy Howarth commentary and multiple interviews spread across two Blu-rays, plus a CD of Ennio Morricone's soundtrack. I haven't watched all the interviews, but co-writer and assistant director Luigi Cozzi provides a very detailed account of the conception, development and shooting of the movie which is definitely worth hearing.
*
All the Haunts Be Ours
I should mention two other box sets – one recent, one a year old – which I haven't finished watching. I've been dipping into the massive folk horror set All the Haunts Be Ours, released last January, on and off over the past year and recently finished watching everything I hadn't already seen (the set contains six features I already had on disk). Given its scale and the range of material it attempts to encompass, it's not surprising that the set is uneven, but it provides a fine overview of its rather nebulous subject. England, Australia and Eastern Europe predominate, but there are also film's from the U.S., Canada, Iceland and Italy.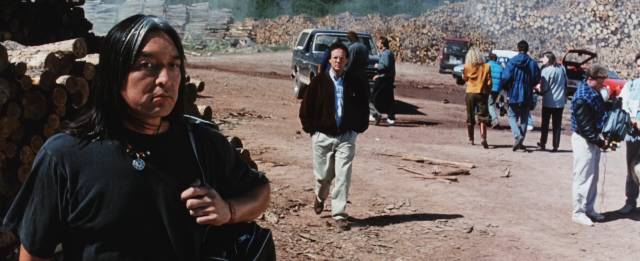 The high points for me are Avery Crounse's Eyes of Fire (1983), which I previously wrote about; Ann Turner's Celia (1989), a blend of childhood fears and political repression set in 1950s Australia; Ryszard Bugajski's Clearcut (1991), in which a liberal lawyer inadvertently conjures a violent indigenous spirit which seeks retribution for the destruction of Canada's forests; Djordje Kadijevic's Leptirica (1973), based on a 19th Century Serbian story about a village plagued by a vampire; Otakar Vávra's Witchhammer (1970), a Czech variant on the madness of the witch craze in which a 17th Century village falls under the power of a monstrous witch hunter; and Brunello Rondi's Il Demonio (1963), about a superstition-plagued rural Italian community in which a jealous woman casts a spell on her lover when he abandons her to marry another woman.
Still to (re)watch: Ben Wheatley's masterpiece A Field in England (2012), Chris Newby's Anchoress (1993), Mario Baino's Dark Waters (1993), Alan Clarke's Penda's Fen (1974), James MacTaggart's Robin Redbreast (1970) and Konstantin Yershov and Gyorgi Kropachyov's Viy (1967).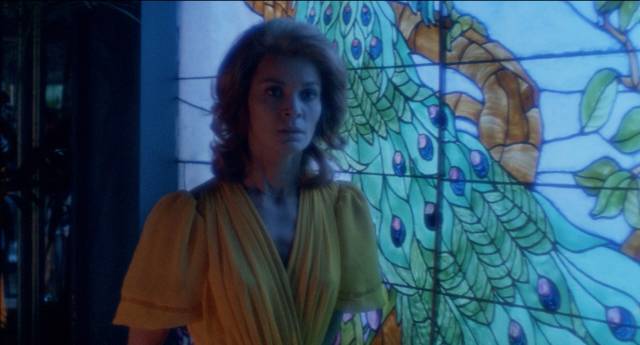 House of Psychotic Women
And finally (for now), the four-disk House of Psychotic Women set curated, like the folk horror set, by Kier-la Janisse and released to coincide with publication of the revised edition of her book of the same title. This consists of four very different movies which would probably not otherwise be found in each other's company, each revolving around female psychology and the ways in which it becomes distorted or deranged by a society not designed to accommodate it. The only one I haven't watched yet is Jane Arden's The Other Side of the Underneath (1972), which I saw more than a decade ago on DVD from the BFI and recall as a rather abrasive, improvised experiment mixing feminism with Laingian theory in an occasionally surreal group therapy setting.
The other three movies include one I've seen a couple of times before – Luigi Bazzoni's haunting, oneiric, unclassifiable meditation on memory and madness Le Orme (Footprints on the Moon [1975]), which features one of Florinda Bolkan's best performances as a woman whose search for what happened to her in a few lost days leads her farther back into forgotten childhood experiences. It's a kind of Alice in Wonderland story in which the lines between subjective and objective are so blurred that we never quite know what, if anything, is real; by the end, we're as lost and fearful as the character herself.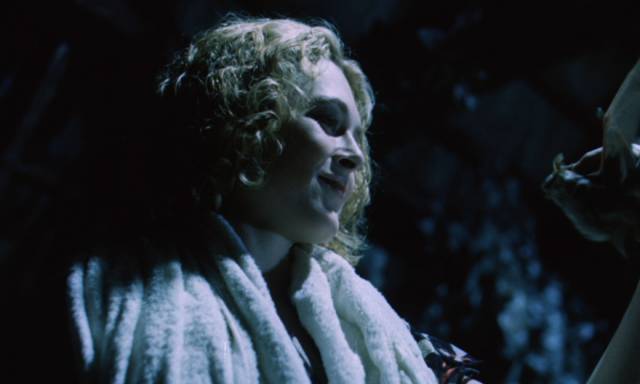 Grzegorz Warchol's I Like Bats (1986) uses vampire tropes as a metaphor for a woman's conflicted feelings about the role society expects her to play. By day, Izabela works in her aunt's antique store; by night, she prowls the streets of her town looking for men whose blood she drinks. She ends up in a psychiatric hospital (in a castle) under the care of a doctor whom she begins to fall in love with. Light and occasionally playful in tone, the seemingly supernatural elements aren't treated very seriously and their use as a metaphor for a woman's place in a society which discounts important parts of her nature never takes on much dramatic weight. Katarzyna Walter does have considerable charm as Izabela, though.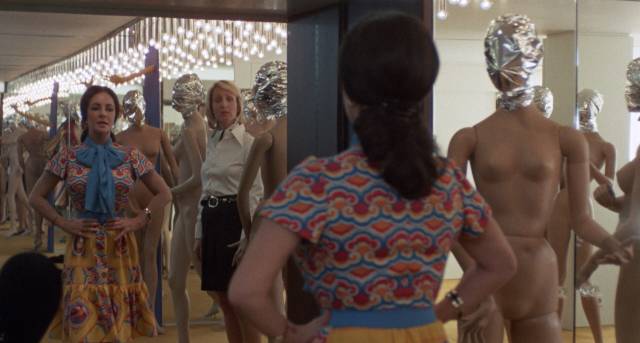 The real surprise of the set for me is Giuseppe Patroni Griffi's Identikit (1974). Based on Muriel Spark's 1970 novel The Driver's Seat, it stars Elizabeth Taylor at the end of her run of flamboyant roles which began with Joseph Losey's masterpiece of camp Boom (1968). I'm not sure why I'd never heard of this movie before since I went through a phase back in the '80s of reading almost everything Spark had written and that period of Taylor's career is my favourite – facing what in Hollywood counted as a woman's middle age, Taylor set aside her glamorous image and embraced a kind of overwrought grotesquerie in a series of melodramas about formerly glamorous women facing the loss of their youthful sexual power.
Taylor is in fine form as Lise, a middle-aged woman, imperious and erratic, who is rather abusive to the people she encounters as she heads to Italy for a vacation. There's something obviously unbalanced about her, her interactions socially awkward as she searches for someone for unknown reasons. In Rome, there's an atmosphere of incipient violence – Lise witnesses a terrorist attack; she's sexually threatened by a cab driver. Quite early on, the film begins to jump to scenes in which the police question the people she encounters and it gradually becomes apparent that at some point she has been killed and they are searching for the killer and a motive. This inverted mystery is about why she is killed and what part her own actions play in leading to her death.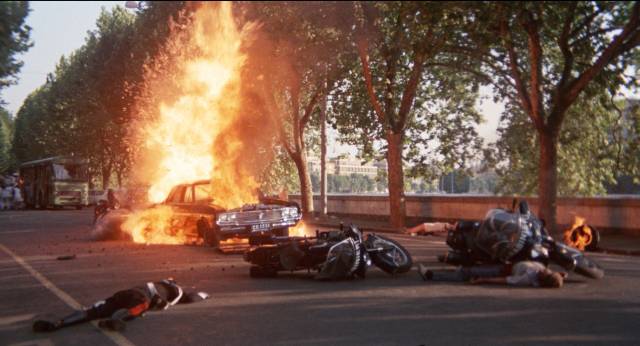 Shot (like Footprints on the Moon) by Vittorio Storaro, Identikit has a subdued palette which creates a cool atmosphere as it observes Lise's mysterious behaviour, the meaning of which only becomes clear at the end. The overall effect is of an odd but absorbing combination of Taylor's other recent melodramas and the modernist existentialism of Antonioni, Zurlini and the Fellini of La Dolce Vita and 8 1/2.
Each movie gets a brief introduction from Kier-la Janisse plus commentary and/or various interviews and featurettes. There are two cuts of Footprints – Italian and the shorter U.S. version – and The Other Side of the Underneath also comes in two versions, the release version and a longer workprint cut.