Vinegar Syndrome has signed up so many partner labels now that I'll have to curb my ordering. The range of what's available is barely reflected in the few I'm commenting on here – waiting for me to get to are several releases from Romania, the Philippines, Sweden, Canada and the U.S.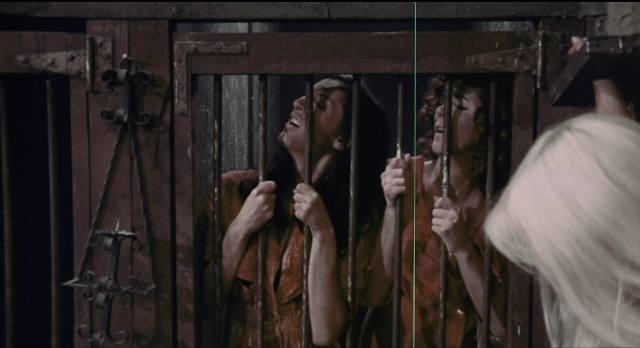 Blood-a-Rama Triple Frightmare
(Various, 1970-74)
American Genre Film Archive is dedicated to unearthing obscure titles unlikely to be known or remembered by anyone but the most obsessive devotee of the trashy underside of commercial cinema. This particular disk collects three drive-in movies, viewable separately or as one marathon screening with interstitial concession ads and trailers. You couldn't say any of them are "good", but all are entertaining in their own way and have individual points of interest.
Charles Nizet's Help Me … I'm Possessed (1974) has nothing to do with possession. Rather, it's a mad scientist story (complete with hunchbacked assistant) set in a castle somewhere in the California desert (I think I recognized the location from at least one Al Adamson movie). The doc's experiments involve chaining patients in the basement and torturing and eventually killing them. The assistant dismembers the bodies and folds them in trunks to be dumped in a nearby cave (the familiar Bronson Caverns). Meanwhile, there's some kind of supernatural or alien monster killing people in the neighbourhood – this looks like a cluster of flailing strawberry Twizzlers, which may not be convincing but exhibits admirable low-budget ingenuity.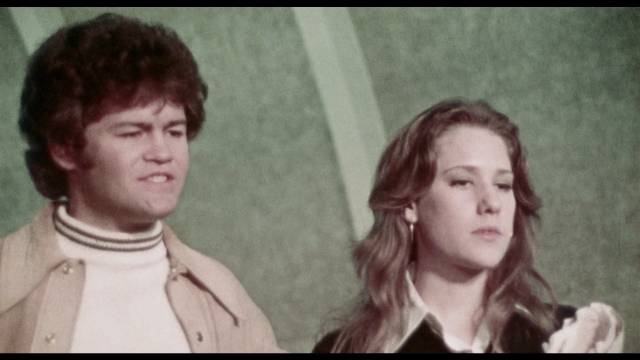 Continuing the misleading title trend, Joy N. Houck Jr.'s Night of the Strangler (1972) mostly takes place in daylight and no one is strangled. There are several violent deaths, however. A woman returns home to Baton Rouge where she tells her two brothers that she's dropping out of Vassar because she's pregnant and intends to get married. When she mentions that her boyfriend is black, her older brother goes nuts in a furious racist outburst. Back up North, she and her boyfriend are out in a park when a sniper shoots the Black man. Soon after, a black-gloved killer breaks into the woman's apartment and kills her, making it look like suicide. Then the violence continues in Baton Rouge, with the family being destroyed before the "surprise" revelation of the killer's identity. Despite the threadbare production, this is an effective slice of Southern family melodrama, most notable for the presence of ex-Monkee Mickey Dolenz as the younger brother.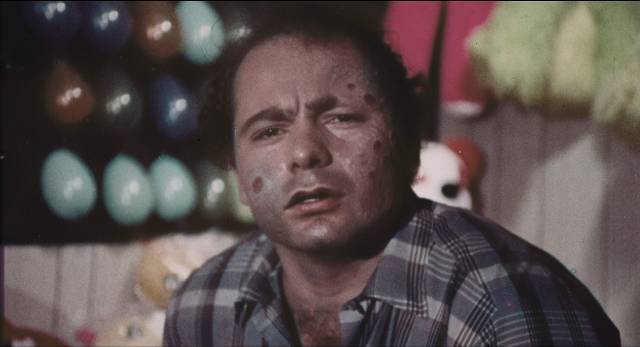 Leonard Kirtman's Carnival of Blood (1970) is a clunky mess, but nonetheless fascinating because it was shot on location at Coney Island, with a lot of time spent lingering over seedy sideshows and apparently drafting random passers-by to play customers at the various booths. In this, it would make a perfect co-feature with Byron Mabe's She Freak (1967). In addition to the local atmosphere, we get Burt Young in his first movie as the assistant at a booth which seems to be the focal point for a series of murders (every victim has recently won a stuffed animal there); as Gimpy, he's covered in skin sores and seems at best mentally slow. Strangely, an assistant DA sets out to solve the murders by dragging his girlfriend along and putting her repeatedly in danger. (AGFA Blu-ray with partial commentary on Carnival of Blood)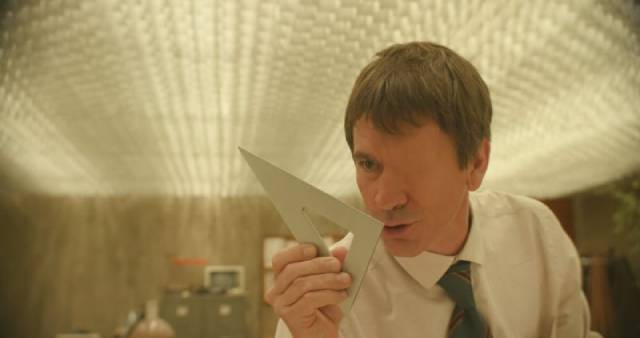 Keep an Eye Out (Quentin Dupieux, 2018)
I enjoyed Quentin Dupieux's Keep an Eye Out (2018) more than his previous movie Rubber (2010), which was a one-note joke dragged out to feature length. Keep an Eye Out may also be a bit one-note, but it seems more focused and I appreciated its circling repetitions more. A man who reported a dead body outside his apartment building is being questioned by a distracted detective. As his account is gone over multiple times, new details emerge which shift the narrative perspective and cast suspicion on him. Then, when the detective leaves for a while, putting his awkward, one-eyed assistant in charge, this younger detective accidentally trips and kills himself in the office. The witness, realizing this looks very bad, hides the body in a closet before the senior detective returns to resume the interrogation. The farce of desperation continues to escalate, with Dupieux nicely balancing suspense and humour, keeping things lively for a bit more than an hour before it becomes obvious that he can't find a way out and just abruptly ends things with an annoying "twist" before the credits roll. (Dekalog Blu-ray with commentary and a couple of behind-the-scenes featurettes)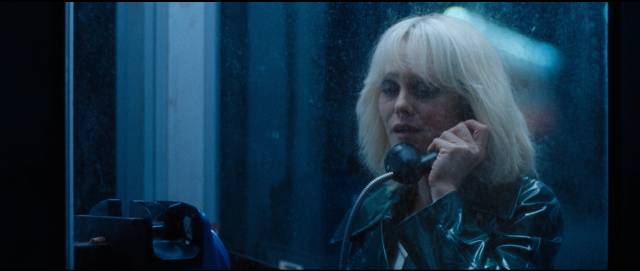 Knife+Heart (Yann Gonzalez, 2018)
Knife+Heart (2018), the second feature by French director Yann Gonzalez, is a retro-giallo set in 1979 Paris. Distressed by the end of her relationship with her lover, who also happens to be the editor of her movies, a gay-porn producer sets out to make a new movie only to find that a masked killer is targeting her actors. As the deaths pile up and the police investigation closes in, she rethinks the movie, turning it into a Cruising-like story of violence in the underground sex industry. The motive for the killings lies somewhere in the past, connected with the fate of a young performer the producer had discovered on a construction site. Shot in the feverish, colour-saturated style of classic gialli, the movie treats its milieu with sympathy and even humour, despite the sometimes graphic violence. Singer Vanessa Paradis gives a committed performance as the emotionally tormented producer. (Altered Innocence Blu-ray with interview featurette with Gonzalez and co-writer Cristiano Mangione, trailers, music video and Gonzalez' short film Islands [2017])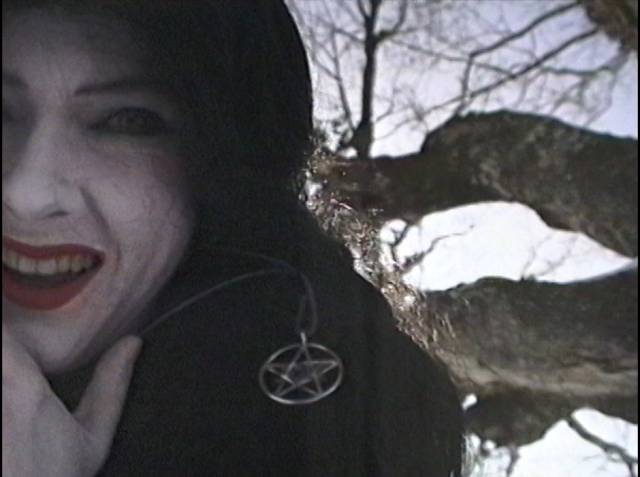 Red Spirit Lake/We Await
(Charles Pinion, 1993/1996)
The advent of video opened up numerous possible avenues for filmmakers – from cheap, unimaginative attempts to emulate familiar genres; to more consciously creative works which took advantage of greatly reduced production costs; to outright transgressions against the established standards of acceptable entertainment. The two video features by Charles Pinion included on this double-feature Blu-ray apply a transgressive underground sensibility to exploitative B-movie material with a greater sense of style than the majority of direct-to-video releases from the period.
Red Spirit Lake (1993) begins with a sleazy developer and his minions trying to force a woman to sell him her property. When she resists, they torture her and she seems to be trying to cast a spell as she dies – the property is reputed to be a locus of great spiritual energy, with a history of witch activity. The woman's niece arrives to inherit and the pressure to sell is transferred to her; when some friends arrive for a visit, supernatural forces and criminal activity combine to produce a number of violent deaths (and some graphic sex). The mix of mystical energy and raw physicality combines in a stream of artful sleaze set in a visually striking winter landscape. Director Pinion himself plays the unsavoury caretaker and underground filmmaker/photographer Richard Kern is one of the developer's violent minions.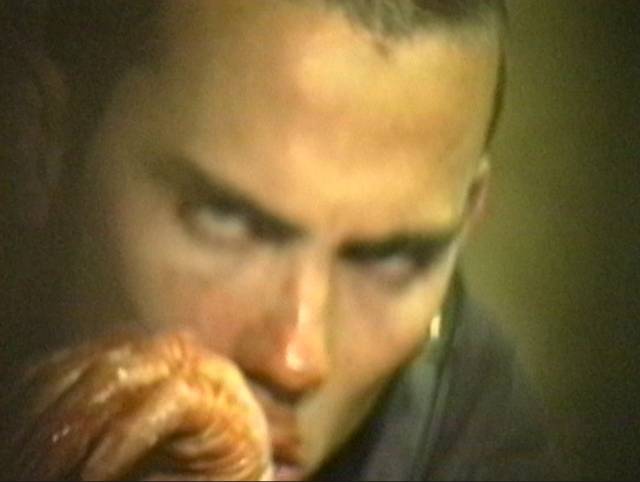 We Await (1996) offers even less plot while foregrounding even more disturbing imagery. A man stranded one night in a seedy part of town ends up imprisoned by a family of cannibals who torment him and force-feed him goo made from some kind of fungus, gradually transforming him into one of their own. There's a guy who thinks he's a dog, a really disturbing performance involving a man in bondage with a blowtorch applied to his genitals, and a lot of queasy slime consumption. (Saturn's Core Blu-ray with commentaries, multiple interview and behind-the-scenes featurettes, deleted scenes, short films and trailers)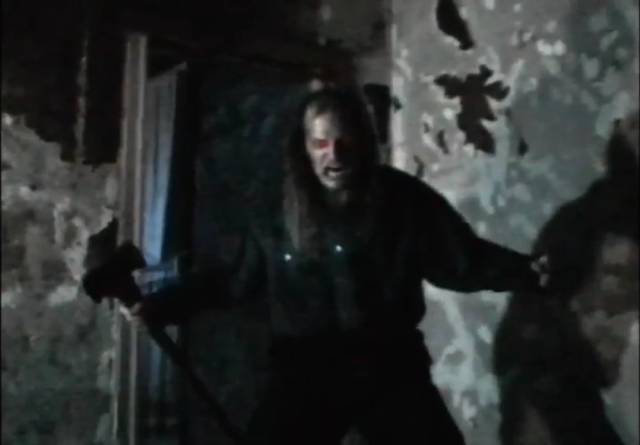 Sinistre (Ronnie Sortor, 1995)
There's not a lot to say about Ronnie Sortor's Sinistre (1995), another shot-on-video feature which mixes genre elements. It starts off as a sub-Tarantino heist-gone-wrong movie – only one of the three robbers gets away alive, heading for a remote cabin in the woods to wait for the arrival of his girlfriend, who was the inside person on the job. The robbery itself, seen in flashback, is pretty underwhelming. But as the survivor waits overnight in the cabin, he's either going crazy or beset by a powerful supernatural force in the form of an axe-murdering former occupant who lays siege with an army of zombies. This monster recognizes the robber as a fellow damned soul and has come to claim him. The gore is plentiful, the acting amateurish, and the script half-baked … but if you're in the mood, Sortor delivers during the bloody second half. (Saturn's Core Blu-ray with two versions of the movie, the original plus a later director's cut, both with commentaries, multiple behind-the-scenes and interview featurettes, outtakes and a short film)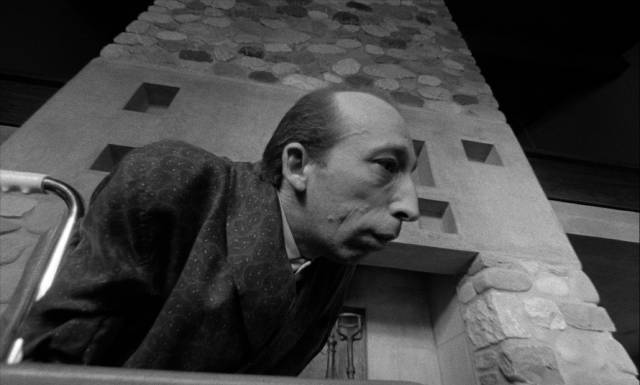 The Unknown Man of Shandigor
(Jean-Louis Roy, 1967)
Undoubtedly the prize of this batch, Jean-Louis Roy's The Unknown Man of Shandigor (1967) is a Swiss feature from the '60s post-Bond craze for sci-fi inflected espionage fantasies. Its tone and gorgeous black-and-white cinematography by Roger Bimpage inevitably evoke memories of Jean-Luc Godard's Alphaville (1965), though the connection is superficial. Misanthropic scientist Herbert Von Krantz (the distinctive Daniel Emilfork) has invented a device which can neutralize nuclear weapons; naturally this is a threat to the balance of power in a world controlled by nuclear-armed super states and he's targeted by multiple intelligence agencies as he retreats to his fortress-like home with his daughter Sylvaina (Marie-France Boyer).
Those seeking the device include Howard Vernon as Bobby Gun, an ex-Nazi working for the Americans; Jacques Dufilho as the Russian Schostakovich who uses decadent Western music as a weapon; and Serge Gainsbourg as the leader of a French team of assassins who has a show-stopping scene in which he sings "Bye, Bye Mister Spy" during the funeral of one of his men. There's also some kind of unseen monster inhabiting the pool at Von Krank's redoubt.
Although made in the era of Alphaville, Theodore J. Flicker's The President's Analyst (1967), Daniel Mann's Our Man Flint (1966) and Stanley Kubrick's Dr. Strangelove (1964), Roy's movie failed to get much distribution despite its obvious stylistic and narrative qualities. Which makes this new disk release a genuine rediscovery. New label Deaf Crocodile have done an excellent job with a 4K restoration providing superb picture quality, a commentary by Samm Deighan, interviews with the director's wife (a pity they were too late for Roy himself, who died in March 2020) and assistant director Michel Schopfer, a half-hour making-of from Swiss television in 1967, and a restored trailer.
*
A friend commented that I seemed sour and cranky in my previous post about recent Vinegar Syndrome releases and I guess that's true. Looking at the rest of the VS partner label titles on my to-do pile, I have to wonder why I've been spending so much time on trashier movies. Still waiting for my attention are Matthew Pope's Blood on Her Name (2019, Yellow Veil Pictures), Lino Brocka's Cain and Abel (1982, Kani Releasing), Raya Martin's Death of Nintendo (2020, Altered Innocence), Calin Cazan and Mircea Toia's Delta Space Mission (1984, Deaf Crocodile), Don Owen's The Ernie Game (1967, Canadian International Pictures), Radu Jude's "I Do Not Care If We Go Down in History as Barbarians" (2018, Big World Pictures), Frida Kempff's Knocking (2021, Yellow Veil Pictures), Johannes Nyholm's Koko-Di Koko-Da! (2019, Dark Star Pictures), Mattie Do's The Long Walk (2019, Yellow Veil Pictures), Paul Negoescu's A Month in Thailand and Two Lottery Tickets (2012/2016, Dekanalog), Lynne Ramsay's Morvern Callar (2002, Fun City Editions), Dwein Baltazar's Ode to Nothing (2018, Kani Releasing), Emily Hagins' Pathogen (2006, AGFA), Roman Chimienti and Tyler Jensen's Scream, Queen: My Nightmare on Elm Street (2019, ETR Media) and Francois Simard, Anouk Whissell and Yoann-Karl Whissell's Summer of 84 (2018, Gunpowder & Sky)