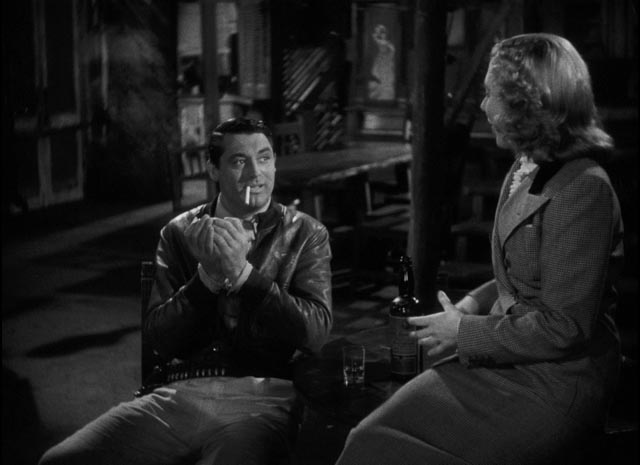 I can't recall which Howard Hawks movie was my first, though possibly it was Hatari! (1962), seen on television in the late '60s. Not his best work, needless to say, but this rousing adventure about a team hunting big game in Africa to send back to zoos in the States (in retrospect, all pretty problematic), was an excellent piece of entertainment for an adolescent kid. In subsequent years, as my appreciation of film became more conscious, I became aware of Hawks as a distinctive director through my love of Bogart movies, with To Have and Have Not (1944) and The Big Sleep (1946) as two particular favourites. So at some point in the '70s, Hawks became one of my most significant and best-liked of Golden Age Hollywood filmmakers.
In the classic studio paradigm, he was endlessly versatile, making movies in numerous genres while never being firmly identified with any particular one (unlike John Ford who, although he too worked in various genres, is indelibly associated with the western). Early in his directing career, Hawks drew on his experiences as a World War One pilot for The Dawn Patrol (1930), and on contemporary headlines for the signature Warner Brothers gangster film, Scarface (1932). A couple of years later, he adapted his fast-paced style to screwball comedy with Twentieth Century (1934) and then made one of the greatest films in that genre with Bringing Up Baby (1938). And a year after that, he combined the many threads of his career to date into one of his masterpieces.
*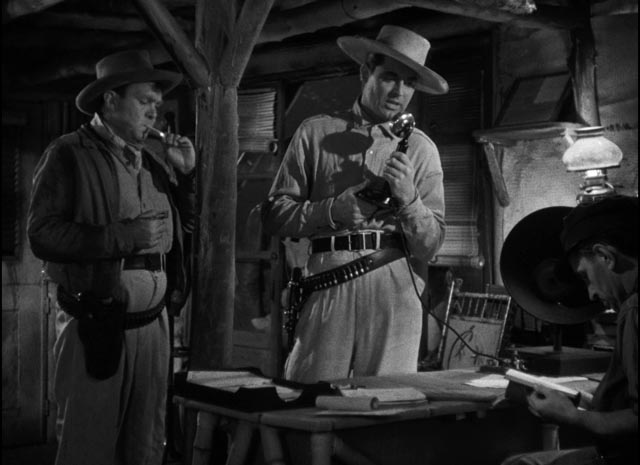 Only Angels Have Wings (Howard Hawks, 1939)
Only Angels Have Wings (1939) is one of the purest expressions of Hawks' approach to movies and to life. Set in a small port town somewhere in South America, it depicts the experiences of a crew of mail pilots who risk their lives daily to fly their cargo over a dangerous mountain range. Here Hawks gets to display his favourite subject, the dynamics of a disparate group of men engaged in a very particular job to which they are all committed despite personal frictions. Hawks respected nothing more than sheer professionalism and the movie spends a great deal of time on the work these men do. Serious commitment is what helps them survive, despite dangerous flying conditions; carelessness is what costs them their lives.
Into this group one evening sails another key figure in Hawks' work: the tough woman who causes new stresses by altering the configuration of the group. With the arrival of Bonnie Lee (Jean Arthur), a cabaret singer heading back to the States by ship, the tight bonds of the group are disrupted. Boss Geoff Carter (Cary Grant) is initially hostile to her, particularly as her appearance interferes with the smooth running of his operation; pilot Joe Souther (Noah Beery Jr) tries to get out of his scheduled flight so he can have dinner with Bonnie, but is ordered into the air by Geoff, only to run into bad weather. Forced to return to the field, Joe has his mind more on that dinner than the tricky task of landing in low visibility and he cracks up his plane and dies. Geoff and the other pilots deal with this the only way they know how; rather than mourning, they just get on with eating, drinking, and living. Appalled at their apparent callousness, Bonnie rages at Geoff until she comes to understand that this is the only way they can deal with the ever-present risk posed by the job.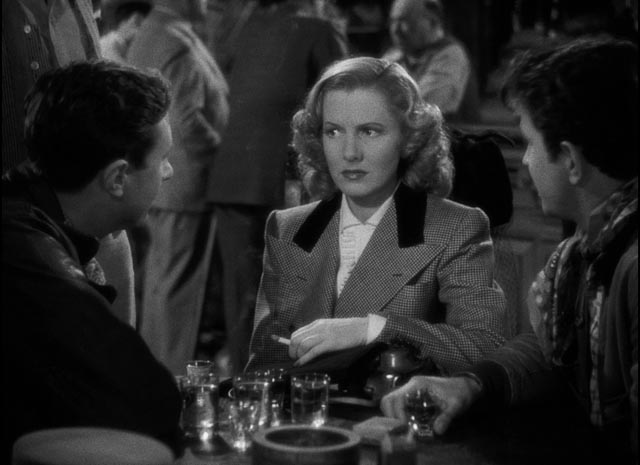 The friction between Geoff and Bonnie draws on the structures of screwball and romantic comedy, but adapts them to a more serious situation. In Only Angels Have Wings, Hawks maintains a delicate balance between comedy and drama, finding in that balance a convincing representation of how people actually live their lives. The demands of their work require compromise and adaptation to circumstances over which they have limited control at best – both in the air as professionals and on the ground in their emotional lives.
Jules Furthman's script adds an additional layer of complication with the arrival of a replacement pilot named Bat MacPherson (Richard Barthelmess), who is immediately recognized as the disgraced Kilgallen, who is despised because he once bailed out of a crashing plane, leaving another man to die. Although no one wants him around, Geoff needs the extra hand and immediately assigns MacPherson to a dangerous medical flight to rescue an injured man from the top of a mesa which is barely big enough for a landing and take-off. This, and a later flight which runs into trouble, gradually bring MacPherson back into the group as he proves himself to be committed to the job and capable of professional performance under dangerous conditions.
And as if that isn't enough, MacPherson's wife turns out to be Geoff's old girlfriend Judy (Rita Hayworth). Her appearance is instrumental in Geoff working out some unresolved issues which eventually make it possible for him to stop pushing Bonnie away.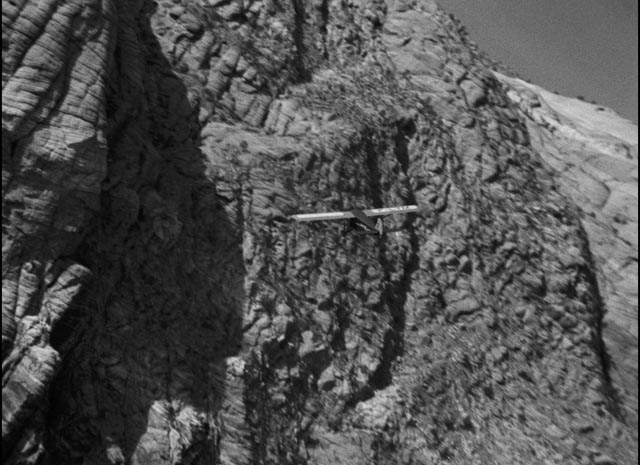 Only Angels Have Wings is not only an engaging romantic-comedy-adventure; it's one of the first films in which Hawks begins to give free reign to the fast-paced overlapping dialogue which became one of his signatures. These characters crack wise, express emotions in tough, unsentimental ways, and banter with one another the way people actually talk. It's a richly expressive movie which also feels casual and relaxed, with actors and director seeming completely at ease; its tone and attitude, the mix of romance, comedy and drama are similar to another great exemplar of popular studio art from just three years later, Michael Curtiz' Casablanca (1942).
Criterion's Blu-ray edition looks stunning, with a film-like transfer which shows a lot of detail in the many night sequences and does justice to the extensive model work in many of the flying sequences as well as some spectacular real flying, particularly in MacPherson's rescue flight to the mesa. The cleaned up original mono soundtrack handles the fast overlapping dialogue well and gives dynamic presence to the ambiences and effects, as well as Dmitri Tiompkin's score.
Extras include excerpts from Peter Bogdanovich's audio interview with Hawks from 1972; an interview with critic David Thomson; a featurette about Hawks' aviation movies with Craig Barron and Ben Burtt; and a Lux Radio Theatre adaptation of the film featuring the original cast. The booklet essay is by critic Michael Sragow.
*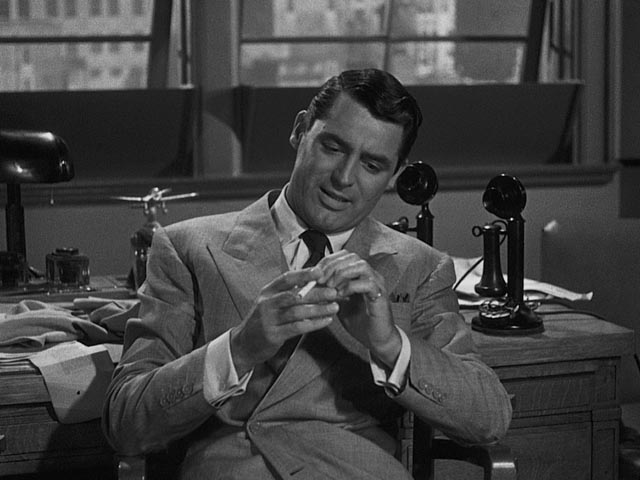 His Girl Friday (Howard Hawks, 1940)
Nine months after their release of Only Angels Have Wings, Criterion issued a Blu-ray of another of Hawks' most critically revered movies: His Girl Friday (1940). Which coincidentally was originally released theatrically nine months after Only Angels Have Wings. This screwball comedy took as its starting point the great, cynical stage hit The Front Page by Ben Hecht and Charles MacArthur. Based on Hecht's experiences as a newspaperman in Chicago, the play is a fast-paced, very black comedy about a bunch of reporters gathered in the city hall newsroom as they await the execution of a man which is being used by the mayor as a means to garner votes for his upcoming election. The core of the play is the conflict between reporter Hildy Johnson and his manipulative editor Walter Burns as Johnson prepares to leave the city and get married. When the condemned man manages to escape, Hildy is drawn back into the thrill of chasing a story and beating his rivals to a scoop.
The play manages to blend its characters' jaded view of politics and life with a bitter view of expedience leading to injustice – the condemned man, Earl Williams, did in fact kill a cop, but it was more or less accidental, arising from his disorientation after losing his job and becoming another casual victim of the Depression. This pathetic little guy has been recast as a dangerous Red revolutionary by corrupt politicians, with the collusion of a cynical press. Although justice is finally served, it's not through any altruistic determination of the press to pursue truth; rather just a matter of expediency in pursuit of increased circulation and profit. The underlying darkness, however, is embodied in very funny dialogue which bounces among a large number of characters who are drawn with comic precision.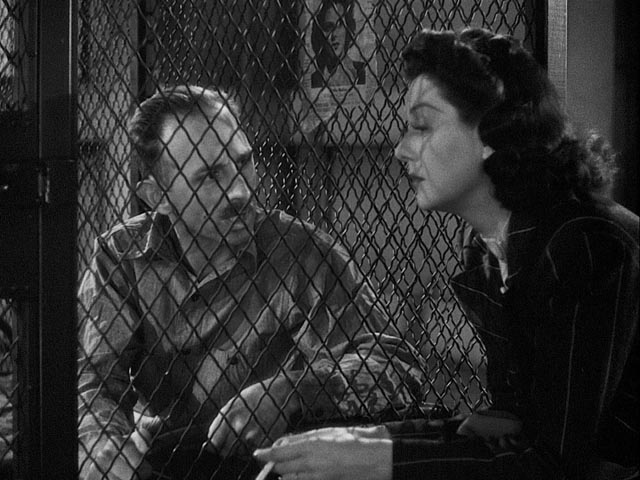 Hawks' movie version, adapted from the play by Charles Lederer, adds a whole new element into the mix by turning Hildy into a woman, who happens not only to be her paper's ace reporter but also the ex-wife of editor Burns. She's determined to leave and have a normal life with her husband-to-be, insurance salesman Bruce Baldwin, while Walter schemes to bring her back to the job and to himself. The complex plot of the original becomes a background for what has been termed a comedy of remarriage, in which a man and woman whose strong personalities have driven them apart eventually come to the realization that they are destined for each other.
That background, with its almost breathtaking cynicism, gives the relationship comedy a far more caustic tone than the genre usually displays. Walter (Cary Grant) is an unscrupulous, amoral, manipulative bastard who buries whatever romantic feelings he has for Hildy (Rosalind Russell) beneath his overt determination to keep her for the paper's benefit. Set against him, Hildy initially appears the more positive figure, a tough, determined, independent professional woman who wants to be in charge of her own life. But that toughness itself signals that the course she's chosen – marriage to the nice, trusting, but dull Bruce (Ralph Bellamy) – is a mistake; he's a device she's chosen to enforce a break from the overbearing control of Walter. But once Williams breaks out, all her professional instincts kick into gear and Bruce is pushed aside; she's just as hard as all the other newspapermen and in her cynical pragmatism does turn out to be ideally suited for a relationship with Walter.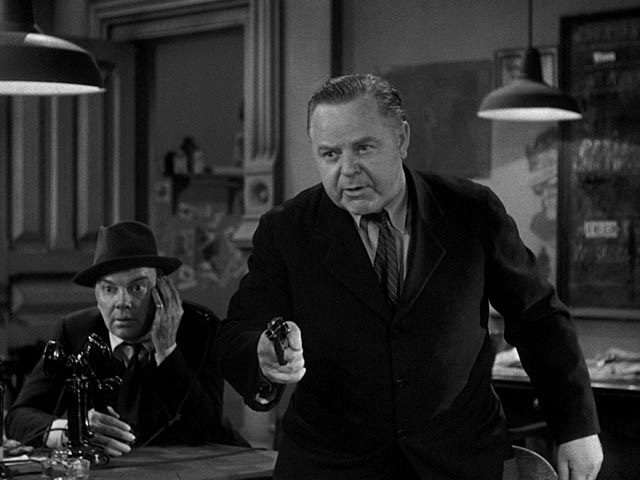 In His Girl Friday, Hawks made the most acerbic romantic comedy of Hollywood's Golden Age. But to be honest, this is not a movie I respond to well (despite my own innate cynicism). The very thing which is most praised about the film is the thing which irritates me: its speed. Hawks ramps up the tempo to a degree which gives the movie an air of ADHD. It rushes through its tightly constructed story at a breathless pace, the actors speaking so fast, overlapping each other's lines, that it becomes exhausting rather than funny. As a technical feat, it's impressive, but I find it headache-inducing.
I'm not convinced by those who seem to find this sheer speed wonderful in and of itself. David Bordwell, in his interview on the disk, praises it – in fact, it seems to be a source of some kind of ecstasy for him – and Peter Bogdanovich, in his audio interview with Hawks, goes out of his way to knock Lewis Milestone's 1931 version for being "too slow". But beyond the exhausting pace, my biggest problem with the film is that, for me, Cary Grant's Walter Burns completely lacks charm. He's an aggressively manipulative bully, and I just can't fathom what the tough, independent Hildy sees in him. His Girl Friday is my least favourite among Hawks' major films.
However, Criterion's Blu-ray is a terrific package, with an excellent restoration from a fine grain master made from the original nitrate negative. The original mono mix is clean and detailed, with all that cacophonous dialogue clearly audible. There are plentiful supplements, including audio interviews with Hawks, featurettes on the film, Hawks and Rosalind Russell, a lengthy interview with film scholar David Bordwell (who adores the film), and a 1940 radio adaptation.
*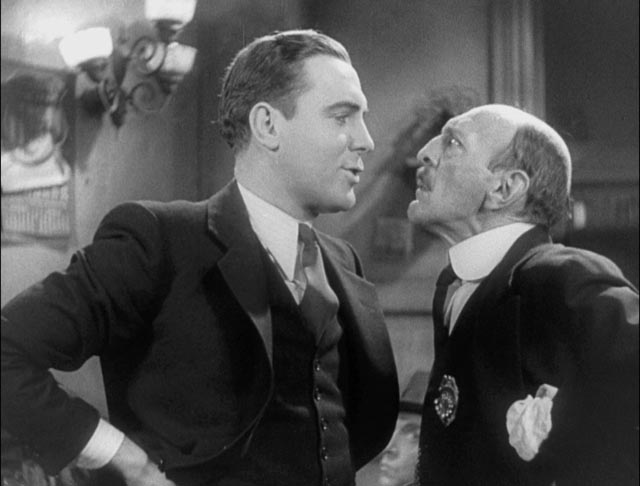 The Front Page (Lewis Milestone, 1931)
But the main reason I wanted to get hold of this release is the inclusion of the first adaptation, a precode version which sticks very close to the original play, directed by Lewis Milestone. This is a real find, a 2016 4K restoration of a print discovered in an archive, which differs from the previously available Library of Congress print released by Kino Lorber in 2015. This was Milestone's preferred version, with different takes and variant editing; the film had been shot with three cameras to produce duplicate negatives for different markets, with all the best material being used naturally for the home market.
In the absence of Hawks' gender twist, The Front Page (1931) is focused entirely on the cynical politics of the play and the group of opportunistic newspapermen who surround Hildy Johnson (Pat O'Brien in his first starring role) and Walter Burns (Adolphe Menjou). Although not as hyper-paced as His Girl Friday, the film still crackles and, quite surprisingly, features some very dynamic camera movement which gives a lot of energy to the action which is largely confined to the press room. Milestone follows his actors around the room, at times with 3600 circular tracking shots which seem to drive the snappy dialogue (how sound was recorded cleanly during these shots with the equipment available in 1931, dollying a massively blimped camera on a stage floor without creating enough noise to drown out the voices, is a mystery to me). It's fascinating to discover yet more proof that the effect of the transition to sound, in the hands of skillful directors, was not simply to constrain visual storytelling by forcing locked down cameras and reducing the physical movement of actors to keep them within microphone range. Here Milestone uses the camera in ways which seem to prefigure early Scorsese.
Given a disk of its own, The Front Page is accompanied by its own supplements: a 24-minute featurette on the discovery and restoration of the print; a 26-minute piece about the life and career of Ben Hecht and his influential role as a Hollywood screenwriter; and two separate radio adaptations of the play from 1937 and 1946.
The set also contains a pair of essays, each printed on a tabloid-sized fold-out: Farran Smith Nehme writes about His Girl Friday and Michael Sragow about The Front Page.