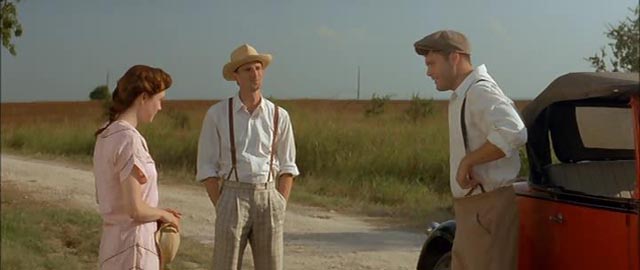 Dan Ireland died last week and it was a bit of a shock to realize, when I read the news, that I actually knew very little about him despite having watched him deliver many commentaries on Trailers From Hell over the past few years and, more importantly, despite the fact that he directed one of my all-time favourite films.
The Whole Wide World (1996) is one of those rare movies which finds its way deep inside you and takes up residence there, connecting with you on many levels, but anchored by the powerful emotions it evokes. It's a love story without romantic illusions about two people who become important in each other's lives while never managing to slip into sync. It's a poem of longing and loss which is full of life and energy and a lightness which makes the ultimate impossibility of fulfillment heartbreaking. I've watched it many times since I first saw it at a screening at the Cinematheque some twenty years ago, and every time I'm reduced to tears in the final moments. It's as if, each time I see it, I become so invested in these two people that I hope all over again that they can work things out and it'll somehow end happily, even though I know it can't.
The two people in question are Novalynne Price (Renee Zellweger), a young small town Texas schoolteacher in the early '30s, and a local eccentric who, for her, is some kind of celebrity because he's a published writer, something which she admires on principle. It doesn't matter that he's hardly a "literary" figure, but rather one of the most prolific and successful pulp writers when pulp was at its zenith. Robert E. Howard (Vincent D'Onofrio) was driven to tell stories, inventing whole worlds and turning the history of his part of Texas into rousing tales of adventure and heroism. The imaginative universe in his head overshadows the limitations of the small community he's tied to by what gradually becomes apparent is a deeply unhealthy attachment to his mother.
Howard's mother is severely neurotic, using the classic image of a frail and sickly woman to keep him close; without him, she obviously can't survive, and as a loving son, he has no choice but to sacrifice his life to her needs. His distant father, a doctor, can see all too clearly what is happening, but is powerless to break the pattern of mutual dependency.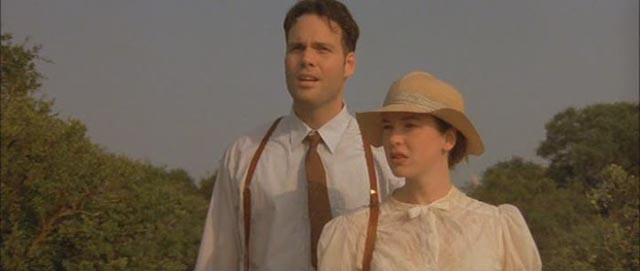 Novalyne through her attention and admiration exerts a countervailing pull, but despite his deeply romantic nature, an emotional and sexual bond with an equal can never be powerful enough to outweigh the unhealthy ties of a lifetime. Howard's only means of escape, however temporary and ultimately illusory, are conjuring up imaginary worlds, places and times where a man can be an all-powerful hero, where women can be subjugated and monsters destroyed. All this he pours into his stories, but when he emerges into daylight, he is just exactly where he has always been. Unable to break free, he submits completely, his sense of self defined solely by those unbreakable emotional ties. When his mother finally dies, he himself ceases to exist and it's inevitable that he'll follow her into the void.
Novalyne, for all her love and admiration, can't save him from his depression, can't make him see himself for what he is apart from his mother. Ireland captures something rich and moving here, revealing that the bonds that constrain and shape our lives are not always freely chosen and can work devastatingly against our own needs and desires. Novalyne's own sense of loss at the end of the film is one of the saddest things I've seen on screen, deeply resonant because we have come to care so much for these two people, embodied by two wonderful actors not yet stars.
Faithfully adapted (by Michael Scott Myers) from One Who Walked Alone, the memoir Novalyne Price published in 1986, The Whole Wide World exists so completely and securely in its own perfectly realized imaginative space that in two decades I have never felt the urge to seek out Dan Ireland's other films. If this seems to be a disservice to him, I think it's also a tribute to his remarkable skill and commitment to this particular project.
It comes as a surprise to discover now that he co-founded the Seattle International Film Festival while still in his teens; that he became a distributor with Vestron Pictures; that for Vestron he executive produced four of Ken Russell's later films, including Salome's Last Dance and The Lair of the White Worm, as well as Bernard Rose's Paper House, among others; and that he directed a number of short films and four other features besides The Whole Wide World.
Dan Ireland: May 11, 1958-April 14, 2016
*
Mention also needs to be made of Guy Hamilton, the journeyman British director who died on April 20 at age 93. His career began in the early '50s with some minor crime stories and standard war films along with adaptations of J.B. Priestley's An Inspector Calls (1954) and George Bernard Shaw's The Devil's Disciple (1959), but he is now probably best known for his four James Bond features, including my personal favourite in the series, Goldfinger (1964), as well as Funeral In Berlin (1966), the grimmest of the three Harry Palmer spy movies starring Michael Caine. Although his later work is relatively undistinguished – the mediocre Force 10 From Navarone (1978), the Agatha Christie mysteries The Mirror Crack'd (1980) and Evil Under the Sun (1982), and the failed attempt to launch a new action series with Remo Williams: The Adventure Begins (1985) – along the way he made a couple of interesting little movies: the Oliver Reed-starring The Party's Over (1965), a bleak look at the dark side of Swinging London which was re-cut by its producers, causing Hamilton to remove his name from the release version (subsequently released by the BFI in its original director's cut under the Flipside label), and A Touch of Larceny (1959), my personal favourite among Hamilton's films, which I saw a number of times on television during the '70s, but which strangely remains unavailable on home video. In this witty, low-key comedy James Mason devises a way to make money by making it appear that he has run off with state secrets so that the press will smear him as an enemy agent, while actually stranding himself on a small island off the Scottish coast from which he will eventually return with indignant innocence and claims for compensation. While comedy didn't appear to be a natural fit for Hamilton, this film somewhat resembles an Ealing production, providing Mason with one of his lightest roles; he obviously enjoyed the opportunity and plays the part with flair.