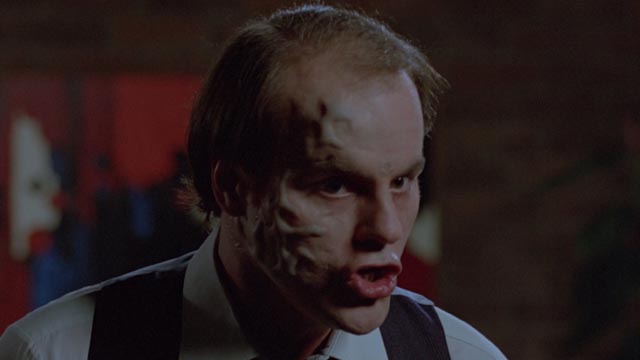 A derelict-looking man (Stephen Lack) prowls a mall, furtively grabbing leftover food and drink from the tables in a food court. He overhears two middle class women saying disparaging things about him; when he stares intently at them, one of the women collapses in a seizure. Realizing that this has brought attention to himself, the man runs, pursued through the mall, up and down escalators, until two men corner him and knock him out with an injection.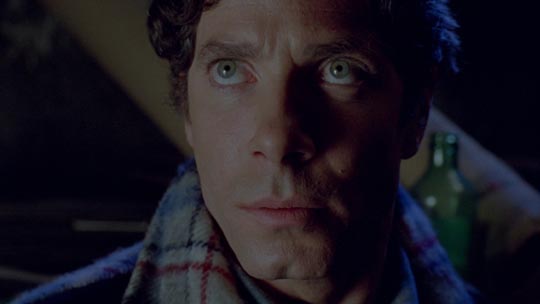 The scene shifts to a lecture hall where corporate types have gathered for a demonstration of telepathy. The demonstrator (Louis Del Grande) asks for a volunteer and a young man in a suit (Michael Ironside) joins him on stage. The young man is calm and amiable; the demonstrator begins to twitch and shake, reaching a climactic spasm in which his head explodes in a shower of gore.
That exploding head in Scanners (1981) managed to raise the profile of filmmaker David Cronenberg from that of a minor Canadian director of low budget horror movies to someone with international commercial potential.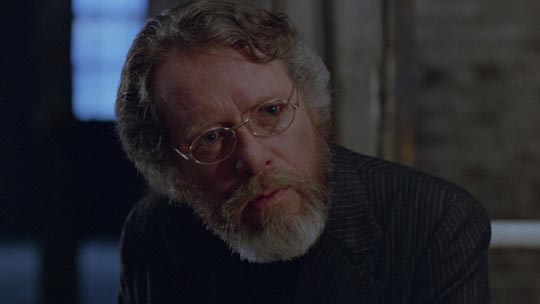 With twenty-one features in forty-five years, Cronenberg is now the grand old man of Canadian cinema. His career has been remarkable for a number of reasons, not least in that with very few exceptions he has made all his movies in Canada and seldom disguised that fact. In addition, he has written the scripts for fourteen of those features, with only four of those fourteen based on previously existing works. The consistency of his interests throughout his career mark him as a genuine auteur who through sheer persistence has achieved a respectable critical reputation and a degree of commercial success. All the more remarkable then that much of that work has been done within the horror genre, often with imaginatively disturbing concepts and squirm-inducing effects.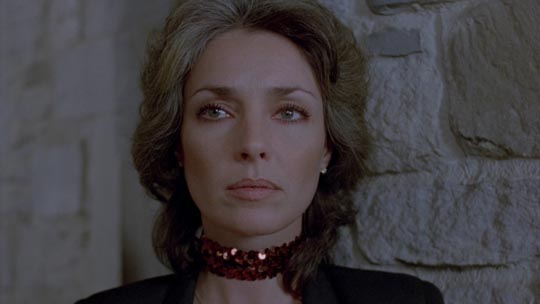 Following a couple of student shorts and two short experimental features (Stereo [1969] and Crimes of the Future [1970]) which established many of his stylistic and thematic characteristics, Cronenberg worked in television for several years before making his notorious commercial debut with Shivers (aka They Came From Within [1975]), a movie which caused a certain degree of outrage in Canada due to the fact that its production had been facilitated by government funding agencies. In many ways, Shivers was groundbreaking with its queasy venereal horror, its seemingly nihilistic embrace of the disintegration of middle class Canadian complacency, and its graphic, gory effects.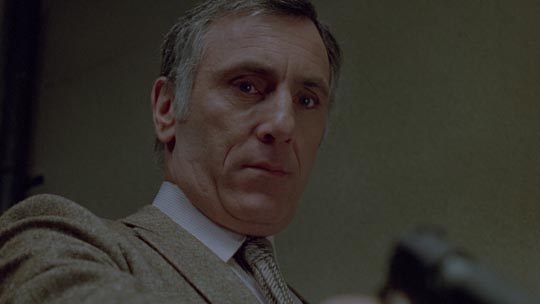 Shivers and its follow-ups, Rabid (1977) and The Brood (1979), confirmed Cronenberg's interest in "body horror", an almost obsessive attention to the visceral instability of human flesh in the hands of often well-meaning if misguided doctors. And yet his abilities as a director were, in one respect, much slower to develop than his skills as a writer and conceptual artist: all of his earlier films are marked by wildly uneven performances even as their narrative and visual elements rapidly gained in sophistication. Good actors in early Cronenberg films often give remarkable performances, while inexperienced or mediocre actors can't rise above the level of perfunctory low-budget performances.
You can clearly see Cronenberg honing his skills with actors through the series of features which run from (the non-horror racing movie) Fast Company (1979) through to The Fly (1986); he obviously learned a great deal from working with Oliver Reed and Samantha Eggar in The Brood, James Woods in Videodrome, Christopher Walken in The Dead Zone … and Patrick McGoohan in Scanners.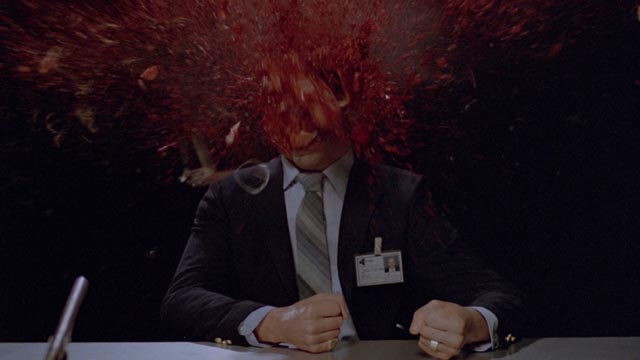 Scanners (1981)
Scanners, released now in a dual-format edition from Criterion (much improved over the old MGM DVD), was a transitional film in several ways, not least in a big increase in budget over the earlier films (none of which went much higher than CDN $1,000,000). In this thriller, Cronenberg also expanded the narrative scale – although maintaining some elements of the family-based horror which characterized his most personal previous film, The Brood. He continued with the themes of bodies at risk from medical experimentation and unstable minds in conflict with the flesh, but embedded them in a more action-oriented plot involving illegal medical experiments and corrupt corporate and political forces. There are echoes of Brian De Palma's The Fury (1978) in the narrative and also in some of the visuals (most strikingly the explosive effects of the protagonists' mental powers). In its obvious attempt to achieve something more commercial, Scanners feels less personal than the films which preceded it, but in working on a larger scale and successfully managing the more complex logistics of the production, Cronenberg laid the groundwork for the integration of his various personal interests with the resources and possibilities of a more mainstream production model. Although that synthesis is not quite there yet, Scanners was a crucial step towards the achievements of Videodrome, The Dead Zone, The Fly and everything which has followed.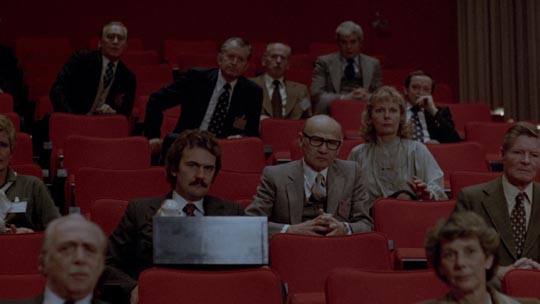 While The Brood presents a family torn apart by a monstrous mother whose love has become pathologically distorted, Scanners is constructed around a male triangle, two sons dealing in radically different ways with an emotionally distant father. Cameron Vale (Stephen Lack) has withdrawn, becoming a loner (the derelict of the opening sequence) while Darryl Revok has set out to seize the paternal power by ruthlessly gathering together other scanners (telepaths created by an experimental drug) into an organization determined to take control of society – and just as ruthlessly killing any who refuse to fall in line. Vale, although abandoned by the father who created him, finds himself opposing the "bad" son, unwillingly taking on the job of stopping the takeover.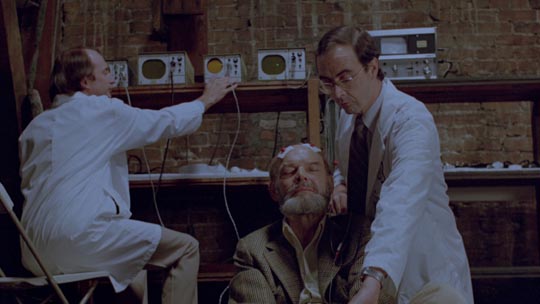 While there are some unsatisfying weaknesses in the story (no final confrontation with the father in particular), the film has a number of powerful set-pieces – the most eerie and disturbing occurring when Kim Obrist (Jennifer O'Neill) finds herself being scanned by a not-yet-born scanner in a doctor's waiting room. Generally, Cronenberg stages action scenes well and the various factions (Revok's revolutionaries, Kim's underground resistance, and the dangerously irresponsible corporation trying to exploit the research of Dr Paul Ruth [Patrick McGoohan]) are sufficiently developed to support the personal conflicts and give them dramatic weight. But the film is seriously weakened by the stiff performance of Stephen Lack in the lead; Lack was a painter rather than an actor and he (sorry) lacked the skills to hold up his corner of the triangle, allowing a young, charismatic Michael Ironside to seize control and launch a long and often villainous career.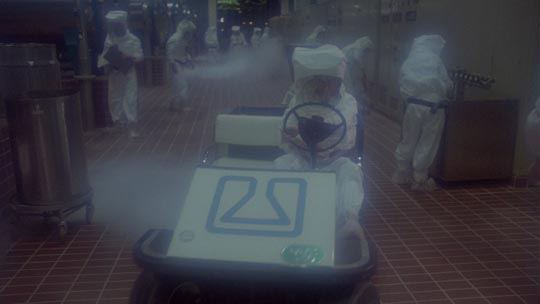 Cronenberg handles the action elements of Scanners very efficiently, with the climactic psychic duel between Vale and Revok providing some impressive pyrotechnics greatly enhanced by makeup effects by Stephan Dupuis and Chris Walas (with an assist from the legendary Dick Smith, who just died on July 30), but the director's distinctive obsessions seem somewhat reined in to make the movie possibly more audience-friendly than Shivers, Rabid and The Brood. One element of his earlier work which is readily apparent, though, is his interest in and feel for architectural spaces and the ways in which they constrain and even shape human behaviour. This is particularly pronounced in the opening pursuit of Vale through the mall, which becomes a labyrinthine trap with its multiple levels and hard diagonals constantly seeming to offer a way out but really just leading him back in until he's overwhelmed.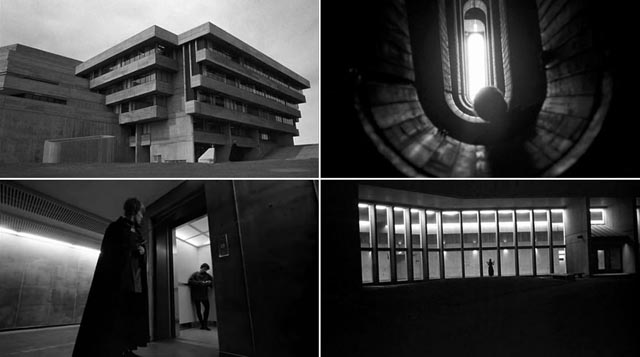 This more abstract concept took precedence over considerations of character and narrative in Cronenberg's earliest work, as is clearly demonstrated in the most substantial supplement on Criterion's disk. Cronenberg's first feature, Stereo (1969), delineates pathological states of mind within institutional settings (which are "played" by then-contemporary buildings – the University of Toronto, Scarborough – adding to their chilling implications for an inhuman future). The inclusion of Stereo here is appropriate because this short experimental feature deals with some of the themes of Scanners, though in a more coolly intellectual way. Like its more disturbing companion piece, Crimes of the Future (1970, filmed at Massey College, Toronto), Stereo was shot silent and consists of detached voiceovers accompanying sometimes obscure visuals of various individuals performing almost ritualistic actions within sterile institutional surroundings. While Crimes of the Future is quite explicitly sexual, Stereo is an almost purely psychological dissection of the experience of telepathy, the voices being those of various subjects involved in experiments in mental communication, all of whom gradually find their sense of identity disintegrating as their minds blend with others around them. In style, tone, theme and content, Stereo is very reminiscent of the works of J.G. Ballard, particularly from the Atrocity Exhibition period (1969, the year Stereo was made). The film is actually one of the most thoughtful projections of what the experience of genuine telepathy might be like. (Not surprisingly, by 1996, Cronenberg got around to making a direct adaptation of a Ballard novel; Crash turned out to be one of the director's finest films.)
For Scanners, Cronenberg draws to some degree from Stereo, but the later film is more superficial, concerned as it is with its thriller plot and the physical rather than psychological effects of telepathy. Rather slow by today's standards, it remains a reasonably entertaining horror thriller whose importance lies in its contribution to David Cronenberg's evolution as one of Canada's finest and most important filmmakers.
The disk
Criterion's director-approved transfer (available in a dual-format edition) seems to have a few issues, with a darker, somewhat flatter image than the German and British Blu-rays now available (dissected by a number of on-line commentators, and most clearly evident in the image comparisons offered by DVD Beaver). However, the disk does offer a filmic look, with appropriate grain, and the colours at least to my eye do seem to reflect the look of low-budget Canadian films of the period. The lossless mono soundtrack is clear and effective in both quiet and more action-filled moments, while Howard Shore's score, the second of fifteen he's contributed to Cronenberg's movies, comes across very strongly, providing much of the film's atmosphere.
The supplements
As already mentioned, the new 2K transfer of Cronenberg's debut feature, Stereo (1:02:43), greatly adds to the value of the disk. But Criterion have also included some other worthwhile features, beginning with The "Scanners" Way (22:57), an interesting look at the film's production, focusing on the practical, pre-digital effects work. Mental Saboteur (19:26) is an engaging interview with Michael Ironside about his work on the film as well as his later career, in both Canada and Hollywood. In The Ephemerol Diaries (14:23), Stephen Lack talks about his involvement in Scanners and his more substantial career as an artist. In a 1981 excerpt from The Bob McLean Show (11:07), a young Cronenberg talks about Scanners (his most recent film) as well as his notorious early features. Finally, there are the theatrical trailer and some radio spots. The booklet features an essay by British critic Kim Newman.