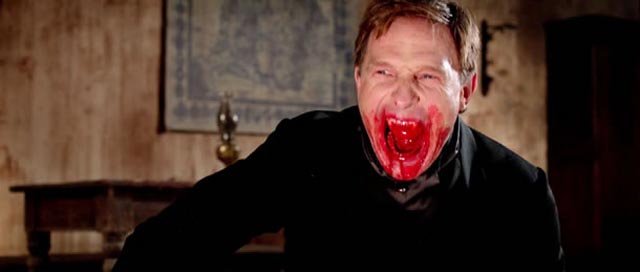 The horror genre, of course, is one of the most commercial in movie history. This is both a blessing and a curse. Because it's pretty hard to lose money with a horror movie, it's been possible for filmmakers to experiment and push boundaries – like George Romero, Larry Fessenden and Bill Gunn, whom I wrote about in recent posts. But it's a fact which has also produced a lot of laziness in both conception and execution, or at best a rote repetition of overly familiar formulas. Along with their more prestigious releases, Shout! Factory has been releasing a steady stream of these more disposable titles, but even with these they tend to add extras like interview featurettes and an occasional commentary track.
Psycho Killers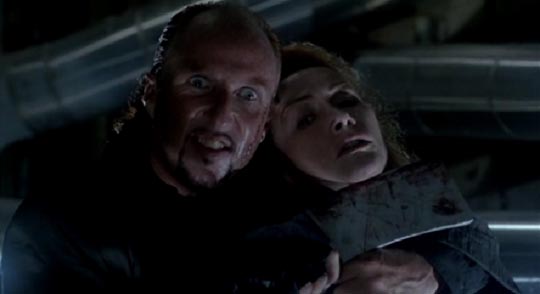 A few of the least of these are James Isaac's The Horror Show (1989), which plays like a fairly inept retread of Wes Craven's Shocker, which itself was a mediocre riff on Craven's own Elm Street franchise. Odd thing is, Isaac's movie was released six months before Craven's, so I guess they represent a moment of near synchronicity. I admit that before popping the disk in my player, I had some faint hope for The Horror Show because it starred Brion James (the replicant Leon from Blade Runner) as serial killer Max Jenke and genre stalwart Lance Henrikson as Detective Lucas McCarthy, who sends the killer to the electric chair. But everything about the movie is cut-rate and the storytelling can't even muster the level of basic competence. When the execution goes wrong, Jenke's malevolent will travels by power line to take up residence in McCarthy's basement; he proceeds to torment the family from his roost in the furnace, managing to make McCarthy himself look like a dangerously out of control killer. But this is one of those typical movies where characters do endlessly stupid things and the most fundamental rules of narrative are ignored. In the interviews included – with lead actress Rita Taggart and stunt coordinator (and long-time Jason Voorhees-portrayer) Kane Hodder – we're inevitably told what a great experience it was to make the film, what a genius the director was and how surprisingly well it holds up all these years later. The viewer may feel the need to disagree on at least two counts.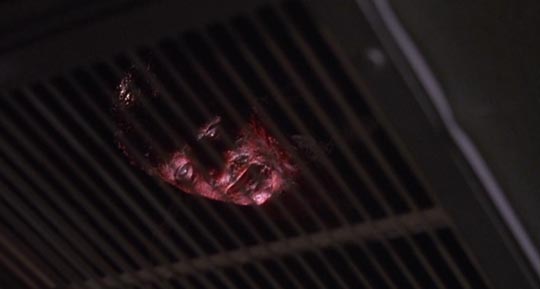 A double-feature disk released a couple of months ago supplies two more titles from the '80s: Andrew Fleming's debut feature Bad Dreams (1988) and Jean-Claude Lord's Visiting Hours (1982). Fleming went on to better things, with a busy career in television and features, including The Craft (1996) and the charming but underrated Nancy Drew (2007), which he played straight, recapturing some of the flavour of Bonita Granville's series from the '30s. Bad Dreams starts off well with creepy cult leader Harris (Richard Lynch) leading his followers in a fiery mass suicide. One girl survives, emerging from a coma fifteen years later. Cynthia (Jennifer Rubin) has no memory of the event and is put into one of those movie encounter groups in which each member has an implausible psychiatric problem. As she begins to get visions of Harris returning from Hell to claim her, everyone around her starts to die in violent ways – the fanatic tells her he'll keep this up until she submits to him. Meanwhile, her therapist Dr Alex Karmen (Bruce Abbott) falls in love with her, creepy institution head Dr Berrisford (Harris Yulin) puts pressure on her to remember the events of the fire, and Detective Wasserman (Sy Richardson) gets increasingly aggressive with his suspicions that maybe as a teen she actually killed everyone in the cult herself. But then in the home stretch, having established a malevolent supernatural premise, Fleming throws it away with the completely nonsensical revelation that it's all an illicit drug experiment in which Berrisford has been fiddling the meds to drive each member of the group deeper into whatever their personal psychosis might be … an explanation which fails to take into account the actual narrative details which weave the evil Harris into each death. But once again, the on-disk interviews (with many of the actors, as well as producer Gale Anne Hurd) tell us that this is a radically new approach to horror and a work of near genius …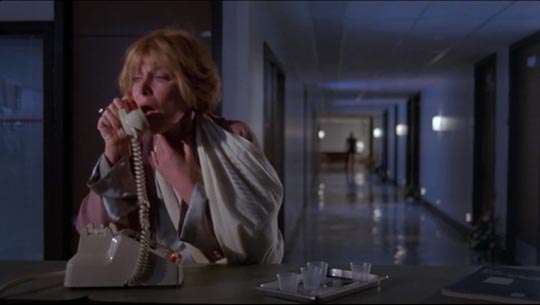 Jean-Claude Lord's Visiting Hours is one of those '80s Canadian tax shelter movies which helped to glut the market in psycho slashers for the better part of a decade – Paul Lynch's Prom Night and Roger Spottiswoode's Terror Train (both 1980), J. Lee Thompson's Happy Birthday To Me and George Mihalka's My Bloody Valentine (both 1981) and so on. TV personality Deborah Ballin (Lee Grant) draws the ire of angry misogynist psycho Colt Hawker (Michael Ironside) when she starts a campaign to exonerate a woman accused of killing her abusive husband. Hawker's initial attack puts Ballin in the hospital and he spends the rest of the movie rather incompetently trying to finish the job. Written by Brian Taggert, who went on to script the cheesily enjoyable Peter Weller vs giant rat movie Of Unknown Origin as well as the original V mini-series, the script makes some attempt to critique violence against women in society as well as the media, but the point is mostly lost in the routine of stalk-and-attack. Still, the presence of Grant as the heroine adds a touch of class which mixes oddly with William Shatner as her producer/boyfriend. The movie's biggest distinction, however, is Michael Ironside's committed performance as the psycho. This is the movie that made Ironside the go-to guy for villains for years to come. The interviews on the disk are a bit more interesting this time; Taggert talks about his career and the practicalities of working in a commercial medium; producer Pierre David talks about putting the project together and getting financing and distribution; and actress Lenore Zahn (who played Lisa, a prostitute assaulted by Hawker, who finally helps to identify him) talks about her acting career and her transition to politics – she's now an NDP member of the legislature in Nova Scotia.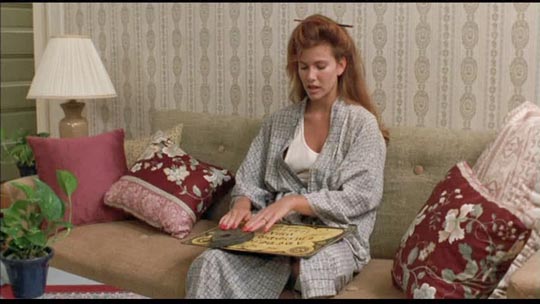 Do malevolent spirits who take over people's lives and kill their friends count as serial killers? Perhaps the best of the recent lower-end Shout! Factory releases is Kevin S. Tenney's debut feature Witchboard (1986), though I wouldn't argue too hard for its cinematic value. This is one of those fairly routine horror titles (like Tom McLoughlin's One Dark Night [1982]), which offers a paradoxical sense of comforting familiarity; but maybe I've always had a soft spot for it because Tawny Kitaen makes such an appealing heroine. Tenney does deserve a bit of credit for constructing his script around his characters rather than shock and gore set-pieces. At a party, a group of friends play with a Ouija board, triggering an increasingly dangerous obsession in Linda (Kitaen), who believes she's communicating with a lonely 10-year-old boy's spirit, but is actually opening the way into our world for serial killer Malfeitor (J.P. Luebsen), who coincidentally used to live in the house where she rents an apartment. The evil ghost's activities are played through the conflict between Linda's current boyfriend Jim (Todd Allen) and her former boyfriend – and Jim's former best friend – Brandon (Stephen Nichols), who introduced the Ouija board to the party. The new Blu-ray offers extras far out of proportion to the movie's actual value – a lengthy retrospective documentary, along with hours of on-set, behind-the-scenes featurettes and interviews and two commentary tracks, all of which combine for a fascinating account of low-budget genre filmmaking in the '80s.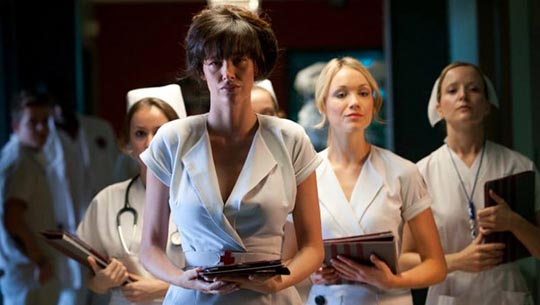 Douglas Aarniokoski's Nurse 3D (2013) is a recent attempt to recapture the glory days (?) of psycho-slasher cinema, a retro mash-up of soft core '70s nurse movies and psycho killers. And for the most part, for the connoisseur of trash, it works quite well. Paz de la Huerta plays Abby Russell, a hot yet efficient nurse at a big city hospital, who sidelines as a vengeful angel of death, luring married men and then killing them for their transgressions. This all stems from a childhood trauma and years she spent in an institution. The precarious balance she's established between her day and night jobs is tipped over when she becomes obsessed with an inexperienced young nurse she's been mentoring; rejection triggers all her psychosis and the movie erupts into bloody carnage. All of this is played by Aarniokoski as both parody and straight psycho-horror, a difficult balance to maintain, and while it doesn't actually tip over into all-out derangement like its protagonist, it does achieve a certain integrity within its own parodic ambitions.
*
Zombies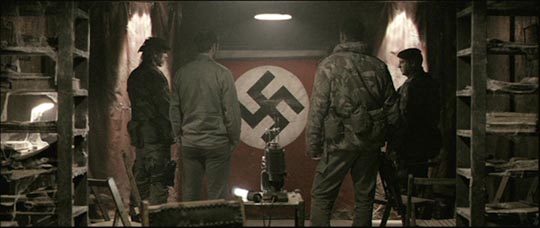 In the past decade or so, few things have become a genre cliche so much as zombies. Books, movies, comics, TV shows are crawling with the undead. What's surprising is just how resilient this sub-genre has proved to be: Edgar Wright's comic riff in Shaun of the Dead (2004); Marc Price's remarkable no-budget Colin (2008), which takes the zombie's point of view; Howard J. and Jon Ford's mythic African-set The Dead (2010); Michael Bartlett and Kevin Gates' found-footage Zombie Diaries 1 (2006) and 2 (2011); Yann Demange's satirical mini-series Dead Set (2008), which pits Big Brother-like reality show contestants against the zombie apocalypse; and, of course, George Romero's continuing variations on the theme. Interestingly, the best examples tend to be lower-budget projects, while bloated commercial efforts like Marc Forster's World War Z completely fail to grasp what makes zombies work, striving for large scale action which dissipates the crucial sense of personal, individual threat.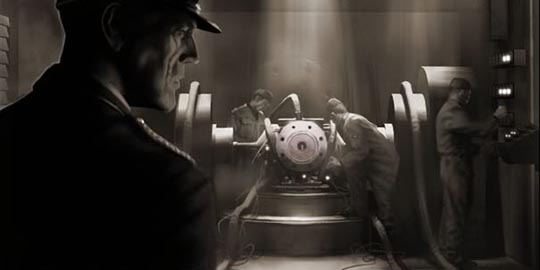 But even within the zombie sub-genre, there are even finer divisions, one of the most persistent being the Nazi zombie, going back at least to 1966 and Herbert J. Leder's The Frozen Dead. Ken Wiederhorn's Shock Waves (1977) established the key element of the form – crazed scientist(s) trying to create an invincible army of the dead which will finally establish the Thousand Year Reich. More recently, we've had among others Tommy Wirkola's Dead Snow (2009) and what is now a trilogy from the British team of Steve Barker, Kieran Parker and Rae Brunton. Outpost (2007) was a fairly straightforward story about a unit of mercenaries in Eastern Europe who stumble on an underground bunker from World War Two in which scientists were using powerful machines to generate an energy source to revive the dead as mindless, unstoppable soldiers. In Outpost: Black Sun (2012), a woman tracking a Nazi war criminal teams up with a NATO unit heading into an area overrun with supposed terrorists who turn out to be Nazi zombies who have been activated by someone who has discovered the bunker and turned on the machines. And in Outpost: Rise of the Spetsnaz (2013), we go back for an origin story with a Russian infantry unit heading into Germany at the end of the war being captured and experimented on by the crazy scientists. This last is the most claustrophobic of the series, almost all of it taking place inside the bunker, but it's already feeling kind of tired, the basic idea offering few options for anything fresh. It probably doesn't help that it was released shortly after Richard Raaphorst's crazily inventive Frankenstein's Army, which seriously raised the bar for Nazi zombies.
*
The Vampire Count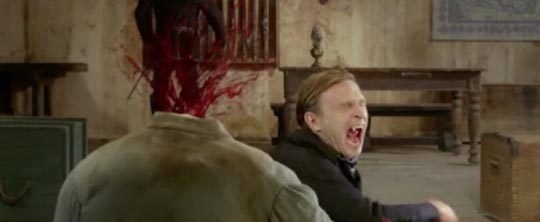 Compared to zombies, vampires have had a much longer life, although in the past few decades the tendency to transform bloodsuckers from monsters into tragically romantic anti-heroes has sapped them of much of their power. You can barely see any connection at all between the Cullen clan and Stoker's vile, pestilent Count. But even Dracula found himself being given the romantic makeover following his successful revival on Broadway in the '70s. In John Badham's movie based on the play (1979), Frank Langella's Count was enveloped in Byronic mystique, seducing the ladies rather than devouring them like a wild animal; this trend reached its low point with Francis Ford Coppola's lush but misconceived (and hubristically titled) Bram Stoker's Dracula (1992), in which all horror was utterly dissipated in the maudlin romantic quest of the Count to find his lost love.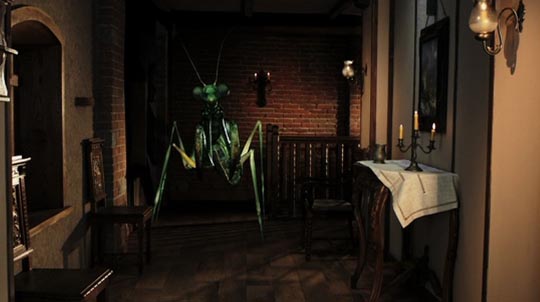 At this point there would seem to be little to add to the saga of Dracula, an impression somewhat confirmed by Dario Argento's Dracula (at least he was honest enough to claim it for himself rather than attribute it to the now defenceless Stoker). Shot in 2012 in 3D, the film got little release and less respect. Argento's glory days are long past, with each new film greeted with disappointment from fans and contempt from critics who never did much appreciate what the director was doing. Having discovered Argento in 1973 with Four Flies On Grey Velvet and then being swept away by his virtuosity in Suspiria four years later, I've always been inclined to cut him a little slack, but there's no denying that after Opera (1987) his work became much more erratic. Still, I rate Trauma (1993) higher than most, and even enjoyed his Phantom of the Opera (1998) and Mother of Tears (2007). Despite some awful performances, Sleepless (2001) has some value, as does the more problematic The Stendahl Syndrome (1996), which pretty much climaxes Argento's often creepy on-screen use of daughter Asia.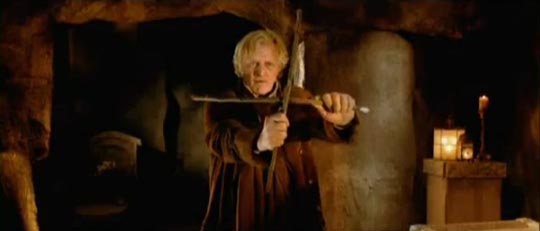 The biggest problem with Dracula, apart from over-familiarity, is the fact that Argento has never really been temperamentally suited to the supernatural (other than in the Three Mothers trilogy, which extend the serial-killer structures of his gialli into a less realistic, more dreamlike realm). There's a rather stubborn absence of supernatural mystery in this version of the vampire saga, despite some occasional echoes of his former visual power. Thomas Kretschmann is so-so as the Count, Rutger Hauer shows up pretty late as Van Helsing, Asia as Lucy adds a not unexpected note of perversity, but overall the movie just feels tired and half-baked. All its flaws come together in the bizarre but inexplicable scene in which the shape-shifting vampire turns up as a giant praying mantis; where the heck did that come from and what are the implications, given that he arrives as a huge female bug to bite a man's head off? This is not so much imaginative reworking or embellishment of a familiar story as it is a completely arbitrary and nonsensical idea thrown in just to be different. (Not surprisingly, co-writer Antonio Tentori, in the 64-minute "making of" on IFC's Blu-ray, points to this scene as conclusive proof of Argento's genius and in itself as justification for doing yet another adaptation.)
But no doubt if the 73-year old director goes on to make another movie, I'll seek it out in hopes of seeing some echo of what first drew me to his work four decades ago.