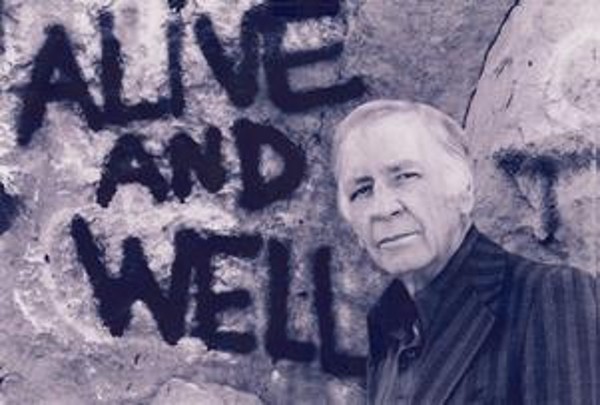 Many years ago, I became kind of obsessed with the novels of Jim Thompson, one of the best mid-century American writers. Although he mostly wrote short crime novels intended for sale on drugstore paperback racks, he definitely wasn't a pulp writer: a) he had just about the blackest view of life and human behaviour of any of the authors he's likely to be classed with – James M. Cain, Raymond Chandler, David Goodis, et al.; and b) he packed his novels with quite remarkable literary techniques, beginning with his superb unreliable narrators, his ability to juggle multiple viewpoints, not to mention impossible viewpoints (he ends Savage Night with the protagonist narrating his way into death), and audacious experiments like the dual endings of A Hell of a Woman which run in alternate lines for several pages – what may be actually happening to the protagonist and what may be his subjective invention of what is happening to him as he dies.
Although all Thompson's books are lean, tightly tailored narratives, it's these techniques which make it so difficult for filmmakers to come up with good adaptations. Michael Winterbottom's recent Killer Inside Me (2010) is very faithful to the book in terms of the narrative line, but as good as Casey Affleck is in the role of Lou Ford, the movie can't help but be about what happens on the outside of the character, while the entire book is all about being trapped inside Lou's head, forced to see the world the way he sees it, making the reader a party to his psychosis. Stephen Frears' The Grifters (1990) is okay, but again it makes something more conventional, something easily grasped out of the slippery prose. And of course Sam Peckinpah completely cut the long final act out of The Getaway (1972), which is a pity because that section with its depiction of a married couple in hell growing to hate each other and themselves is the best part of the book.
I have to confess that I haven't seen a few of the adaptations – Roger Donaldson's remake of The Getaway (1993), James Foley's After Dark, My Sweet (1990), Maggie Greenwald's The Kill-Off (1989), Alain Corneau's Serie Noir (1979, from A Hell of a Woman) – but I doubt there's a better translation of Thompson to the screen than Bertrand Tavernier's superb Coup de Torchon (1981). Somehow transposing Pop. 1280 from Texas to a seedy French colony in Senegal just before World War Two creates just the right movie analogue for Thompson's tricky writing.
Anyway, all of this is just preamble to my own response to Thompson's work, cooked up at the height of my passion when I was reading every one of his novels one after the other. I wrote a seasonal pastiche to hand out to friends and co-workers at the bookstore where I was employed at the time. Some of them thought it was appalling and inappropriate, others enjoyed it in the spirit of dark humour with which it was intended.
So here, in the spirit of the season, is my holiday offering: Jim Thompson's "A Christmas Carol" …