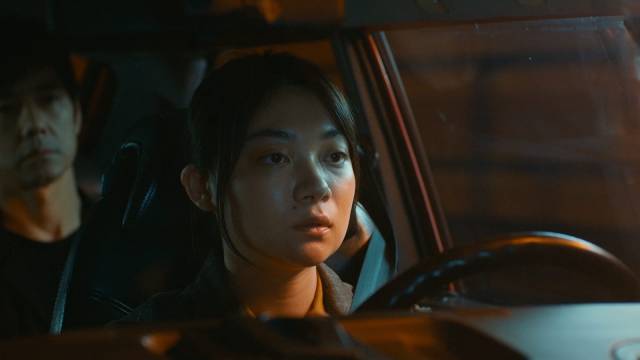 Although I've been writing about movies for a long time, it still occasionally happens that a film intimidates me. The strange thing is, it's not necessarily the most difficult (sometimes impenetrable) movies that have this effect. Is there anything more lucid than Ryûsuke Hamaguchi's much-lauded, award-winning Drive My Car (2021), adapted from a Haruki Murakami short story? And yet this film, which takes its time to observe characters struggling with conflicted feelings and finding ways to connect with one another, lays a lot of traps for a reviewer. It is so full of symbols, allusions and literary references that it opens multiple rabbit holes it would be all too easy to plunge into, in the process losing sight of the human qualities which make it such a pleasure to watch.
The narrative revolves around three characters, each dealing with issues of loss and guilt, their lives intersecting during rehearsals for a performance of Chekhov's 1899 play Uncle Vanya in Hiroshima. Yusuke Kafuku (Hidetoshi Nishima) is an actor and director commissioned by a festival to create an experimental production. Koji Takatsuki (Masaki Okada) is a young actor, a television star who has fallen into disgrace, whom Kafuku has cast (age-inappropriately) in the title role. Misaki Watari (Tôko Miura) is a young woman assigned by the festival to be Kafuku's driver during his tenure, an imposition he resents as he likes to drive himself and distrusts anyone else with his classic seventeen-year-old bright red Saab.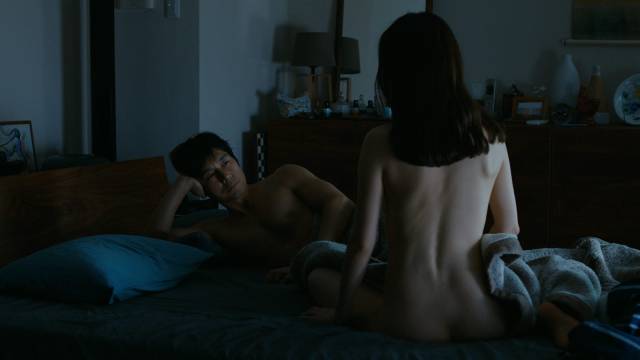 The film falls into three distinct acts which descend progressively into Kafuku's complicated feelings around the death of his wife, Oto (Reika Kirishima). In the opening scene, we are immediately plunged into their relationship at its most intimate; in the aftermath of sex, Oto, a successful television writer, comes up with detailed stories, which she tells to Kafuku. The next day, she only vaguely recalls them and he tells her what he remembers, adding his own details; she then creates scripts based on these stories. This creative process is a crucial element of their sexual and emotional life together. And yet, despite their bonds, he knows that she has other lovers.
Kafuku's conflicted feelings remain unresolved after Oto's sudden unexpected death and because she had been in the habit of recording the plays he was directing on cassette so that he could practice his own lines as he drives, she remains a constant phantom presence in his life. Her final recording was of Uncle Vanya and, commissioned by the festival in Hiroshima, he takes the tape with him, even though he has no intention of playing the part again himself. He instead gives the title role to Takatsuki; his motives are complex because he knows (although Takatsuki doesn't know that he knows) that the younger man was one of Oto's lovers, their relationship resulting from his appearing in television productions she had written.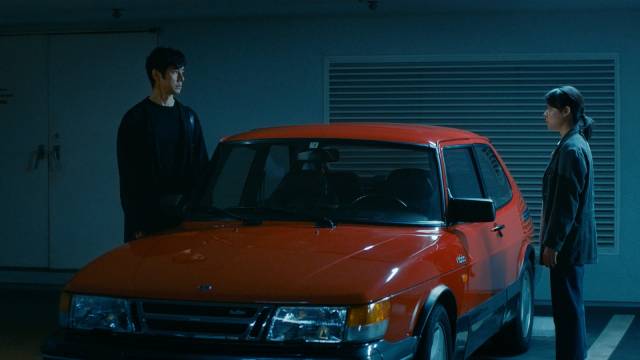 It seems possible that Kafuku is intentionally tormenting Takatsuki during rehearsals, frequently singling him out for criticism, but as the process continues it appears that he is working through his own emotions by trying to shape the undisciplined actor's performance, to draw something positive and worthwhile out of him. But this isn't very different from the way he deals with the rest of the cast, eventually making his treatment of Takatsuki seem more like an act of creative generosity to someone with whom he has a personal connection through the absent Oto.
The third, and in some ways most important, character is the driver, Misaki. A sullen, uncommunicative twenty-two-year-old, she doesn't react to Kafuku's initial hostility – the job is an assignment which means nothing to her personally. Kafuku, who has requested accommodations an hour from the rehearsal space so that he can spend the commute time interacting with Oto's tape, resents the imposition but has no choice – it's a requirement of his contract since a previous artistic director had accidentally run someone over. Relinquishing the wheel of his Saab, Kafuku takes the back seat and has Misaki play the tape.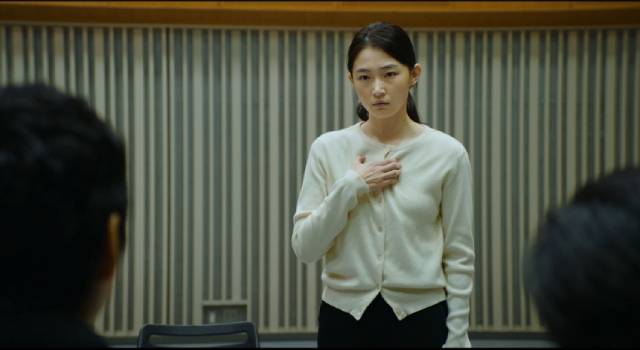 The hours they spend confined together in the car produce only a few perfunctory moments of conversation – until Kafuku is invited to dinner by Kon Yoon-su (Jon Dae-yeon), one of the festival organizers, and his wife Lee Yoon-a (Park Yu-rim), one of the actors in the play. During the meal, to which Misaki is invited by default, Kon asks Kafuku about her driving and he unexpectedly says that she's the best driver he's ever known, that her control of the car is so skilful that he becomes unaware of gravity. Misaki immediately leaves the table and joins the family dog on the floor, clearly moved by his words.
It's after this that they begin to have actual conversations in the car. Kafuku explains the significance of the tape and his feelings of guilt – if he had returned home earlier that day, it's possible that Oto could have survived the brain hemorrhage – and Misaki in turn tells him that the reason she drives so well is that as an adolescent her mother demanded that she drive and would hit her if she made the slightest mistake. Misaki too feels guilt because her abusive mother died in a landslide which swept over their house and perhaps Misaki could have saved her. This shared sense of guilt leads to the film's third act in which Kafuku, forced to make a decision either to shut down the production or take on the role of Vanya himself, has Misaki drive him to the site of her childhood trauma in Hokkaido, a trip which requires a full day of nonstop driving.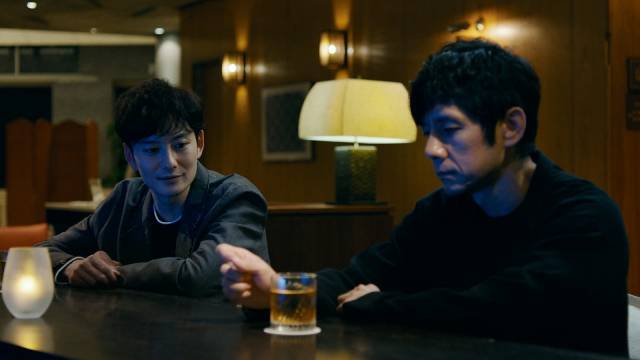 On a wintry hillside, looking at the half-buried ruins of the house, Kafuku, in helping Misaki understand the limits of what she might have been able to do as her mother died, can finally come to terms with his own feelings of guilt. Through mutual understanding, these two haunted characters are finally able to lay their personal ghosts to rest and begin to move forward with their lives. Drive My Car is about overcoming emotional inertia and beginning to live again.
Of course, it's about much more than this, including the process of creating art and how that process interacts with life. The long mid-section focuses on Kafuku's approach to directing the play, a process which is mysterious and experimental. He casts a diverse, seemingly incompatible group of actors, each of whom speaks their own language – Japanese, Tagalog, Mandarin, English, Indonesian, Korean Sign Language – with the rehearsal process involving reading the text together over and over again until it has been completely absorbed, becoming second nature before any "acting" takes place. Each performer comes to understand the others' parts even though they don't understand the language itself. Communication occurs outside of language, on an emotional level.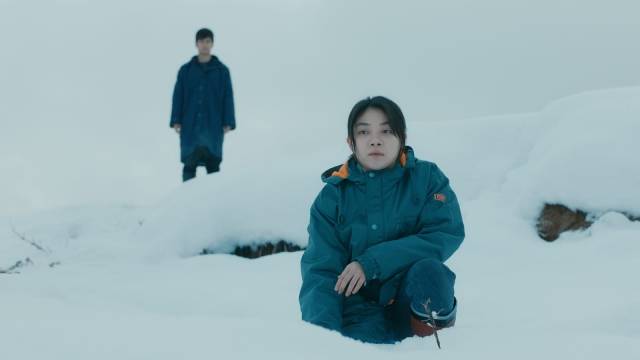 While he offers little in the way of explanation and the actors become frustrated with what seems like a monotonous process which has little to do with actual acting, in time a strange alchemy begins to manifest and as they start to get scenes up on their feet it becomes apparent that they are finding emotional and psychological depths in the text … they are beginning to understand themselves and each other as characters, just as Kafuku, Misaki and Takatsuki gradually come to understand one another. In effect, the rehearsals for the play illuminate Hamaguchi's own process, gradually adding layers on top of layers until the film, which begins as a rather cool and detached narrative, accumulates depths of emotion which enable him to use coincidences and melodramatic elements without any sense of absurdity or bathos, drawing the viewer towards a cathartic resolution which has unexpected emotional force.
*
The disk
Shot digitally, the film has excellent picture quality which Criterion's Blu-ray presents flawlessly. The intimate, confined scenes are nicely contrasted with the impressive landscapes through which the little red Saab drives.
The supplements
The disk includes a documentary by producer Teruhisa Yamamoto about the making of the film (35:21) which combines behind-the-scenes footage with interviews with members of the cast; the film began shooting in Korea in 2019, but was stalled by the beginning of the pandemic and eventually resumed on Japanese locations in 2020. In an interview (25:05), Ryûsuke Hamaguchi talks about his experience as a protege of Kiyoshi Kurosawa and his own approach to filmmaking as finding a way to balance fiction with the camera's recording of physical reality; as should be clear from the feature itself, his approach to working with actors is very much like Kafuku's. There's also a press conference from the screening in Cannes, with Hamaguchi, producer Yûji Sadai and actors Tôko Miura, Reika Kirishima and Janice Chang answering questions about the production.
Finally, the disk includes a trailer (1:59) and the booklet essay is by Bryan Washington.