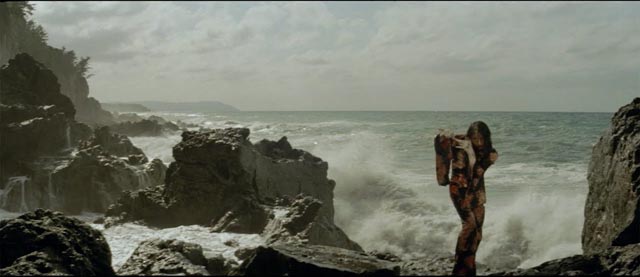 I don't think I'm watching movies more than usual these days, and yet I seem to find myself forced into writing omnibus reviews just to catch up. On today's menu: eight recent Arrow releases (with many more still waiting on the shelf).
Three from Japan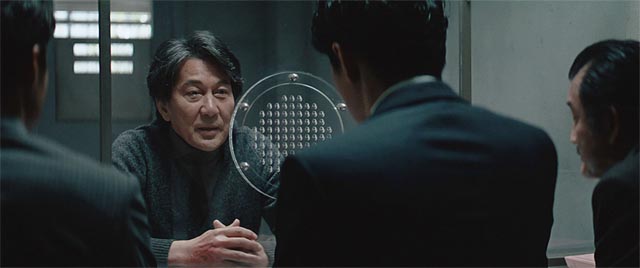 The Third Murder (Hirokazu Kore-eda, 2017)
Although my first encounter with the work of Hirokazu Kore-eda was his sui generis After Life (1998), about a group of people waiting in limbo as they decide on how they want to spend eternity, he is best known for a long series of quietly observant family melodramas, from Nobody Knows (2004) to After the Storm (2016). His style is reminiscent of great precursors like Mizoguchi, Naruse and Ozu. That style, deceptively spare with its wide and medium shots and long takes which involve unobtrusive camera movement, is also apparent in his recent feature The Third Murder (2017), but the subject matter seems like a bit of a departure.
This courtroom drama could easily frustrate Western genre expectations because it stubbornly refuses to draw clear conclusions and ends without an unambiguous assertion of the truth about a brutal murder. In fact, its subject is the ultimate unknowability of any such truth. But rather than being a clever expression of existential uncertainty, it is apparently firmly rooted in the Japanese judicial system which acknowledges that at best mere probability of guilt can be established, and this is arrived at through conferences between prosecutors, defence attorneys and judges before the actual court case, which serves merely to formalize the verdict already reached.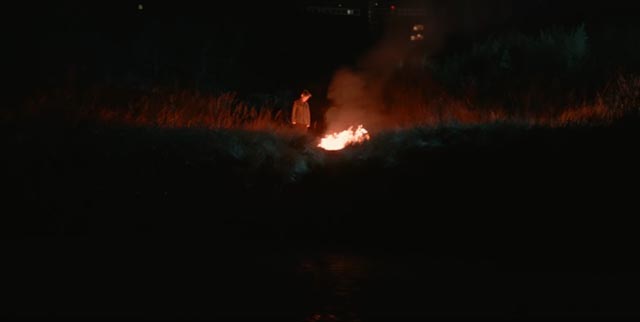 Although the film opens with a seemingly detached, documentary-like depiction of the murder (a man bludgeons his employer to death beside a river), by the end we are left uncertain whether what we saw is what actually happened. This is something both like yet different from Hitchcock's "lying prologue" in Stage Fright (1950), because there the protagonist is deliberately misleading another character – and the audience – with his account of events; but in The Third Murder, the point of view is detached and seemingly objective. We can only know the event depicted through later accounts provided by various characters and what initially seemed certain becomes clouded by conflicting details. Even though the convicted man admits his guilt, we come to question his motives – both for the crime itself and for his confession.
A slow, fascinating contemplation of the limits of knowing, The Third Murder grips in a way very different from Western mysteries and thrillers, which almost always tend to follow a trajectory towards unequivocal truth.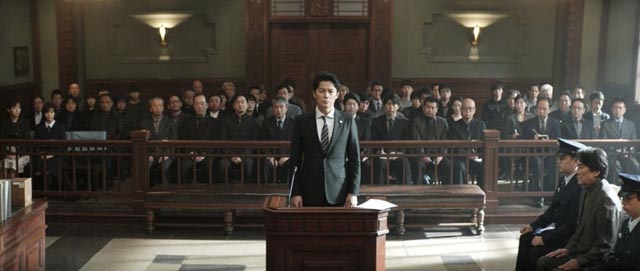 The first of Hirokazu's films to be shot digitally, The Third Murder looks very good on Arrow's Blu-ray; with muted colours and excellent contrast, it has a strong cinematic appearance. The feature is supplemented with an excellent introduction by Asian cinema expert Tony Rayns (38:01), who spends as much time on the intricacies of the Japanese legal system as on the way the film uses that system for its thematic exploration of the limits of knowing. There's also an interesting behind-the-scenes documentary (30:01), several very brief introductions by some of the cast (1:53), a stills gallery and trailer.
*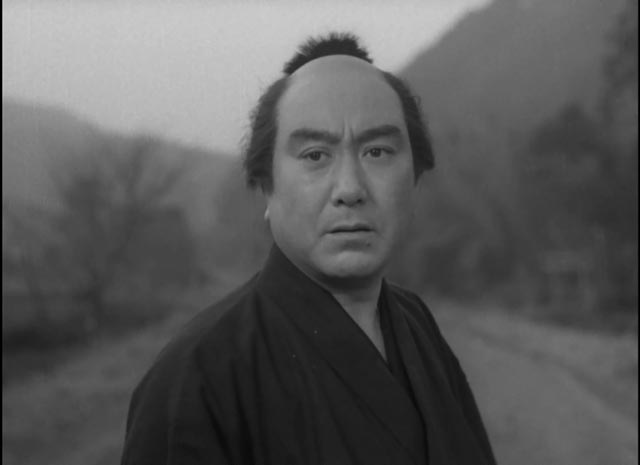 Bloody Spear at Mount Fuji (Tomu Uchida, 1955)
In his commentary on the Arrow Blu-ray of Tomu Uchida's Bloody Spear at Mount Fuji (1955), Japanese cinema expert Jasper Sharp comments that the project was associated in development with Hiroshi Shimizu, a remark which throws some light on the film's oblique approach to the samurai genre. The period trappings and character types seem familiar, but the multiple story threads and nuanced critique of the toll the rigid class structure of Edo-era Japan takes on ordinary people's lives echoes Shimizu's gently comedic, often melancholic ensemble road movies.
Uchida was a prolific director for the two decades leading up to the Pacific war, then fell quiet for fifteen years before reappearing with Bloody Spear in 1955. Made just a couple of years after the end of the post-war occupation of Japan, during which the American authorities had placed restrictions on the Japanese film industry, with censorship suppressing the kind of stories which suggested the cultural and political underpinnings of the country's recent militarization, Bloody Spear openly questions the samurai code and the class structure of the Tokugawa Period. But at the same time, it reasserts aspects of the national identity suppressed by the Occupation – most pointedly in its use of Mount Fuji as a prominent part of the film's landscape (not to mention in the title itself).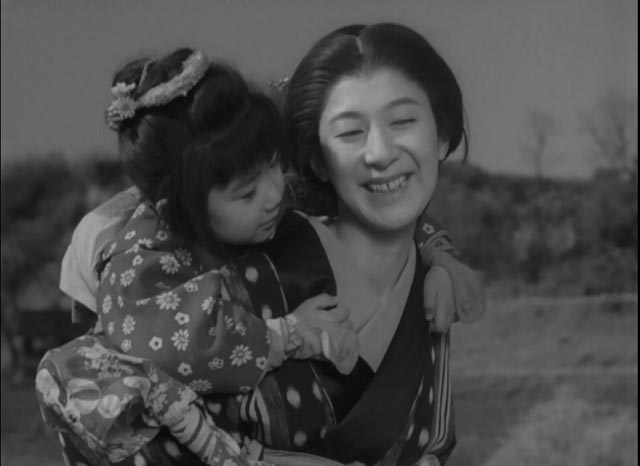 Using the journey of a samurai and his two servants to a distant shrine as a frame, Uchida juggles the stories of several mostly lower class travelers whose lives intersect in various ways along the road and in the inns where they pause on the way. But this samurai, Sakawa (Teruo Shimada), is a troubled figure – he has a drinking problem which requires his spear carrier, Genpachi (Chiezô Kataoka), to keep an eye on him to avoid trouble on the journey.
Among the people encountered along the way are a peasant reluctantly taking his daughter to be sold into prostitution; an official on the trail of a thief; a shamisen player and her young daughter; a pilgrim; and a mysterious man suspected of being the thief, who turns out to be a tragic figure who redeems himself in the end with an act of generosity. As we gradually learn more about each of these people, the film moves from light comedy and observation of the nuances of class towards a more sombre tone which climaxes at last in a burst of violence which feels more hopeless and sad than cathartic.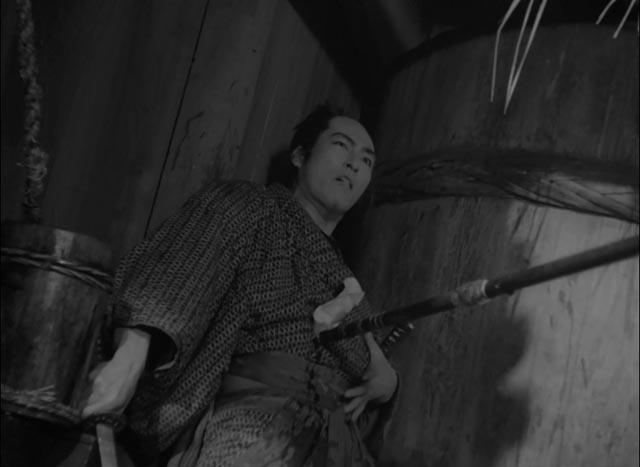 Not surprisingly, the source for the transfer is somewhat worn and battered, but the image is nonetheless satisfying, with decent contrast and a fair amount of detail. Arrow have supplemented the feature with the informative commentary by Jasper Sharp (though he does have a tendency to reel off long lists of names and credits for various cast and crew members); an interview with Uchida's son Yasuka (52:40), another with Toei Studio's publicist Kazunori Kishida (14:24), and a discussion of the director by French critic Fabrice Arduini (27:17). Altogether, an excellent introduction to the work of a talented filmmaker little known in the West.
*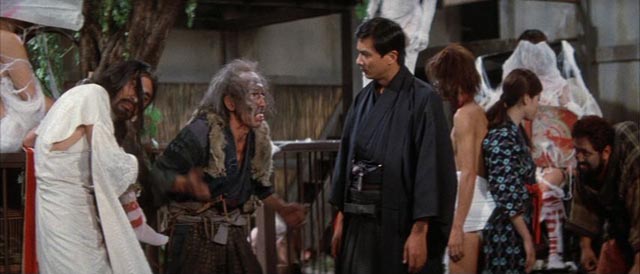 Horrors of Malformed Men (Teruo Ishii, 1969)
Better known – at least among fans of Japanese genre and exploitation cinema – is Teruo Ishii, a cult figure who made kids films and ero-guro (erotic grotesque) movies, with crime and noir in between. In his best work, violence and eroticism are blended stylishly into feverish fantasies. Mood and unsettling imagery often push narrative coherence out of the way to create a dream-like world with only tangential connections to reality.
Ishii had an affinity for the dark erotic fantasies of Edogawa Rampo (pseudonym of writer Taro Hirai [1894-1965]), whose detective novels and perverse short stories have been a popular source for Japanese genre filmmakers. Ishii's Horrors of Malformed Men (1969) combines elements from a number of Rampo's stories, eventually revealing one character to be Rampo's signature detective Kogoro Akechi. The film begins in a madhouse and ends amongst human monsters, revolving around a mystery involving a doppelganger.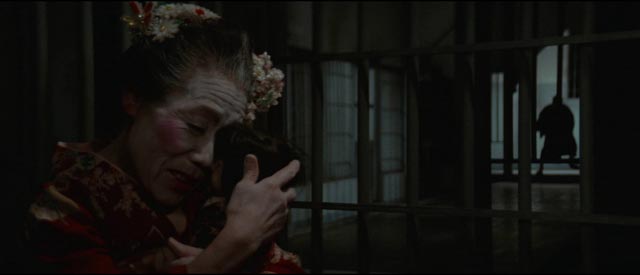 Hitomi (Teruo Oshida), a medical student, escapes from an asylum where he has been confined for reasons he doesn't know and, following various clues, heads for a remote town on the coast which he senses is important to his forgotten past. On the way, he sees an item in a paper about a businessman who has recently died – a man who looks just like him. Pretending to be that man, Komoda, he makes it appear that he has risen from the grave, having been buried prematurely. Finding himself attracted to the man's widow, he initially resists her attempts to resume their marriage … and things become more complicated when he discovers that "he" was having an affair with one of the servants.
Further clues lead him to an island visible off the coast where he discovers his father creating a small kingdom of "malformed men", human monsters who can live together as an affront to the Japanese prejudice against those who don't conform to acceptable physical standards. His father Jôgorô is played by Butoh dancer Tatsumi Hijikata, whose strange contortions and unnatural movements provide the film with its most striking images.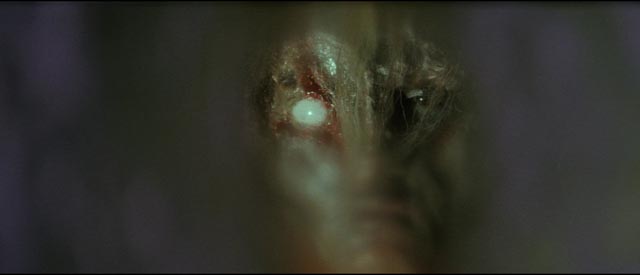 Arrow's Blu-ray serves the film's distinctive imagery well with a detailed, textured film-like transfer. There are two commentaries – one by Mark Schilling, carried over from an earlier Synapse DVD release, the second by Tom Mes, new to this release. Also carried over from the DVD are a featurette (22:52) with filmmakers Shinya Tsukamoto and Minoru Kawasaki testifying to their love of Ishii's work and his influence on their own films, plus a piece about Ishii visiting a film festival in Italy with Schilling (13:45). There's also a new interview with Toei screenwriter Masahiro Kakefuda, who co-wrote the film's script with Ishii.
*
A trio of gialli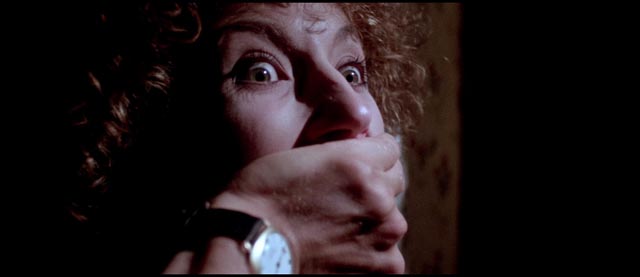 The Suspicious Death of a Minor (Sergio Martino, 1975)
The golden age of the giallo really only lasted a few years. Mario Bava laid the groundwork in the mid-'60s, but the genre didn't get fully up to speed until Dario Argento made The Bird With the Crystal Plumage in 1970. But by the mid-'70s the giallo was already morphing into other things; particularly with the explosion of the poliziotteschi, a violent action genre, giallo elements were becoming touches of narrative colour in otherwise more conventional movies.
In those early days, Sergio Martino was one of Argento's main rivals in the genre – he even had what may be the best title in the entire giallo canon: Your Vice Is a Locked Room and Only I Have the Key (1972). By 1975, Martino had already moved on to other things – comedy, straight drama, poliziotteschi. But that year, he made this hybrid movie, a police thriller with some giallo elements (less lurid this time), and even some not particularly funny comedy beats.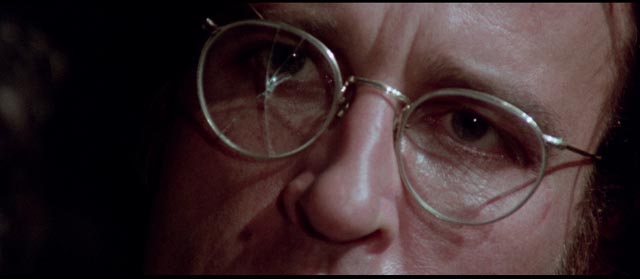 The film begins with the brutal murder of a teenage prostitute by a man who behaves very much like a giallo psycho, but there is no attempt to hide his identity. Rather than a sexually twisted sadist, he turns out to be a hired killer, an enforcer for a trafficking ring. The ambiguity of identity central to the giallo is actually reserved here for the protagonist, Paolo Germi (Claudio Cassinelli), who is revealed halfway through not to be the petty criminal we thought he was.
The police investigation of the murder is complicated by a kidnapping and messy ransom drop, a car chase (subverted intermittently by awkward slapstick comedy), before eventually working its way up to a prominent but very corrupt wealthy businessman. Martino stages the action and suspense effectively, and the cast is good, but the traces of giallo which run through it suggest that we'll be getting something darker and more twisted than we're actually given. It's a decent thriller, but finally feels like a minor (no pun intended) work.
Arrow's dual-format edition uses a 2K restoration as the basis of a strong video encoding, with a choice of Italian or English-dubbed soundtracks (I watched it with the former). The informative supplements are a commentary by Troy Howarth and a lengthy (42:55) interview with Martino.
*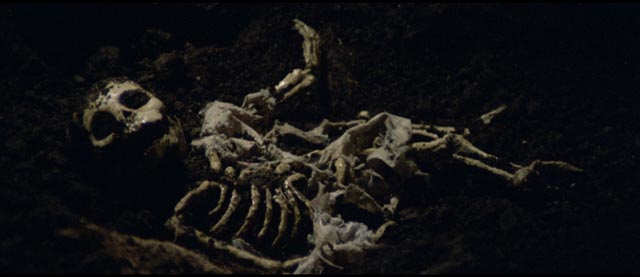 Don't Torture a Duckling (Lucio Fulci, 1972)
Lucio Fulci was extremely busy throughout his thirty-year directing career. Although he's now known mostly for the horror movies he made between 1979 (Zombie) and 1982 (Manhattan Baby), and to a lesser degree for several gialli from the early to mid-'70s, he began with comedies and interspersed his better-known movies with westerns, adventures, police action and eroticism. But he made what is arguably his best film (and his own favourite) in 1972, incorporating giallo elements into a harsh regional drama set in a rural village in southern Italy, the kind of physical and social setting which might appeal to Francesco Rosi.
In Don't Torture a Duckling, a series of child murders stirs up paranoia, suspicion and superstition amongst the villagers. Maciara (Florinda Bolkan) is an outsider, a woman shunned since childhood, who tries to assert some kind of power by practicing witchcraft … though ultimately the illusory nature of that "power" can't protect her from the angry and violent villagers.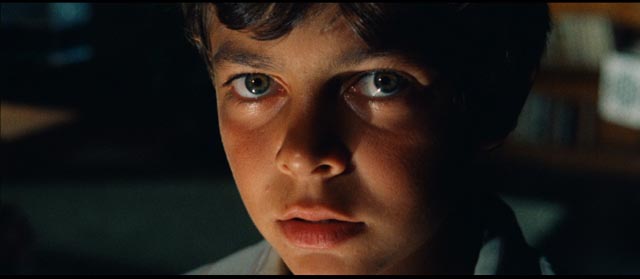 Fulci here works with one of the best-constructed scripts of his career (which he co-wrote with Robert Gianviti and Gianfranco Clerici), conveying layers of backward attitudes confronted by social changes which threaten to destabilize the community – changes which, despite the true nature of the murderer (which comes as no real surprise after decades of revelations about the Catholic Church), are attributed to a horror of female sexuality as embodied in the uninhibited behaviour of the wealthy Patrizia (Barbara Bouchet) and the darker, more primal Maciara. It takes two outsiders – Patrizia and journalist Andrea (Tomas Milian) – to see through the fog of prejudice which grips the village and expose the actual killer.
The cast is excellent, with Florinda Bolkan (who had worked with Fulci the previous year in A Lizard in a Woman's Skin) giving one of her finest performances as a woman who fights fiercely against her own victimization.
In addition to a fine new transfer, Arrow have packed their dual-format edition with a substantial collection of extras, beginning with yet another commentary by the seemingly ubiquitous Troy Howarth; there's an interview with film scholar Michael J. Koven (27:44), a video essay by Kat Ellinger (20:30), an archival audio interview with Fulci (in two parts, 28:33 and 13:12), and interviews with Bolkan (28:20), cinematographer Sergio D'Offizi (46:31), assistant editor Bruno Micheli (25:38) and assistant makeup artist Maurizio Tranti (16:03).
*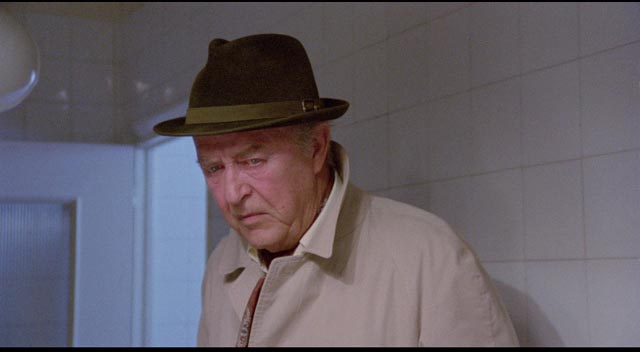 The Pyjama Girl Case (Flavio Mogherini, 1977)
Okay, does this really count as a giallo? Arrow's packaging, Troy Howarth in his commentary and Alexandra Heller-Nicholas in her booklet essay say yes. And to reinforce the idea, the original Italian title is La ragazza dal pigiama giallo (which translates as The Girl in the Yellow Pyjamas). But it's really a more straightforward mystery (with a single murder), which was based on an actual unsolved case from 1934, in which a woman's body was discovered in a small Australian town. She was beaten, shot, and partially burned, dumped in a pair of yellow pyjamas which became a signifier in the absence of any definitive identification.
That lack of identification led not only to a great deal of speculation, but also to something so bizarre that it's not surprising that it resulted in a somewhat sordid mystery movie: the unidentified body was sealed in a clear tank full of formalin and put on public display, with crowds of the curious filing by the stare at the naked corpse – the idea being that someone might recognize the unfortunate woman. The police eventually settled on an Italian waiter whose wife had disappeared; he was tried and convicted and deported back to Italy, but doubts remain about the identity of the body which was eventually buried in 1944 in a suburb of Melbourne.
The film begins with the discovery of the body on a beach, then settles into a dual narrative – the events leading to the death of Dutch immigrant Linda Blythe (Dalila Di Lazzaro) at the hands of her Italian husband Antonio (Michele Placido) are intercut (sometimes disorientingly) with the investigation by retired cop Inspector Timpson (Ray Milland). Structurally, this is reminiscent of Harvey Hart's The Pyx (1973), but The Pyjama Girl Case limits its horror to the effects of social prejudice and petty jealousy on a troubled marriage. Underlying the events leading to the murder are the frustrations experienced by immigrants faced with Australia's parochial attitudes towards foreigners. The eventual death of Linda is sad, pathetic and pointless rather than infused with the unsavoury frisson which usually accompanies violence in a giallo.
In contrast with the experiences of Linda and Antonio, Timpson's investigation is inflected with irreverence, which at times slips uneasily into a comic tone – the inspector has seen a great deal in his long career and he views the murder as a puzzle to be solved rather than the tragedy of a life destroyed. Milland appears to be enjoying himself, which may not be surprising as he didn't get a lot of particularly good roles later in his career and this is certainly one of the better ones.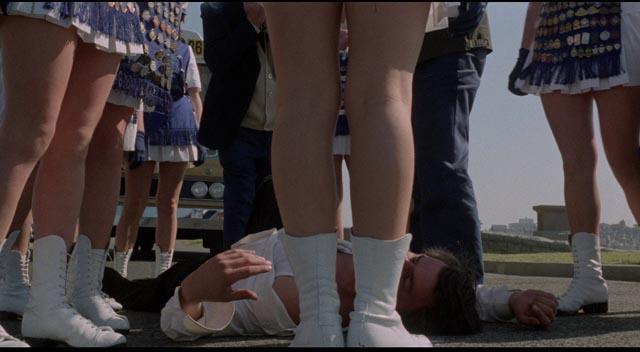 The Pyjama Girl Case is an interesting example of genre crossing international borders. Mogherini brought an Italian sensibility and technique to an Australian subject – shooting some exteriors on location, while the studio work was done in Rome, post-dubbing the whole film (the English track is preferable here because it uses Milland's own voice) – giving the film a distinctive if occasionally uneven tone. His outsider's eye even generates some empathy for Antonio, despite what he does.
The transfer, using a 2K restoration from the original camera negative, is impressive, and once again Arrow have provided substantial extras beginning, yes again, with a Troy Howarth commentary. There's also an interview with critic Michael Mackenzie (28:30) which covers the spread of the giallo to other countries; an archival interview with composer Riz Ortolani (21:24), who also wrote the score for Don't Torture a Duckling; and new interviews with actor Howard Ross (31:46), editor Alberto Tagliavia (23:17) and assistant director Ferruccio Castronuovo (15:04).
*
Two extremes
Incident in a Ghostland (Pascal Laugier, 2017)
I can't say I liked Pascal Laugier's Martyrs (2008), a movie which applied a religio-philosophical gloss to what seemed like a disturbing interest in watching young women being relentlessly tortured. That interest also seemed to be a key element of his new film, Incident in a Ghostland (2017), so it didn't hold a lot of appeal for me – except that the new feature was shot here in Winnipeg, and my friend Gord Wilding was the production designer. So I overcame my reservations and ordered a copy of Arrow's Blu-ray.
Did I like the movie? Not particularly. But it was interesting to see so much of Gord in the main set – a remote farmhouse cluttered with numerous objects familiar from his studio (a lot of quirky artifacts and taxidermy). The house has a creepy, fairytale quality which is appropriate to the story of two teenage girls who find themselves trapped and tormented by monsters. Those girls, Beth (Emilia Jones) and Vera (Taylor Hickson), have a powerful case of sibling rivalry which makes for a prickly drive to the house their mother Pauline (Mylene Farmer) has just inherited.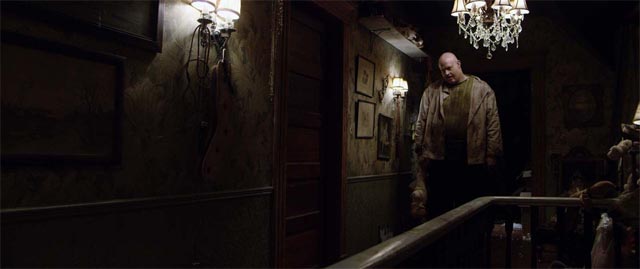 Along the way, half-heard radio broadcasts let us know that there's a serial killer loose in the area, who takes over remote houses, imprisoning and torturing families for days before killing them and moving on. Hmm … wonder if we should worry about the sinister ice cream truck which hassles their car on the highway, the driver of which Vera provokes by giving him the finger?
It's not possible to talk about the movie's story without revealing some spoilers, so what follows gives away some major story points.
The first night in the house, the girls and their mother find themselves under attack by an unsavoury pair of predators. Events are confusing, with the sisters trapped in the basement while Pauline fights back up in the kitchen. Jump ahead and the adult Beth (Crystal Reed) has turned her traumatic experience into a successful career as a horror novelist – apparently as successful as Stephen King. Her latest bestseller, "Incident in a Ghostland", is a fictionalized account of that night in the farmhouse. At a party celebrating her success, Beth receives an urgent and confused phone call from Vera (Anastasia Phillips), who apparently has never recovered from her nightmarish experience.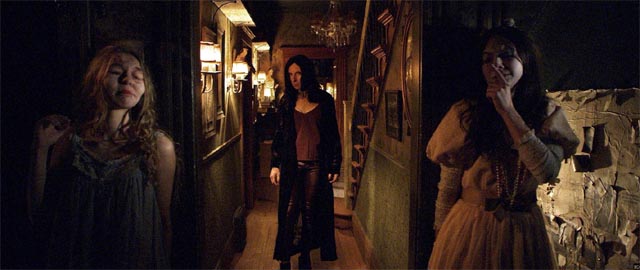 Beth heads back to the farm, where Pauline and Vera have continued to live despite the constant reminder of the horror. But once she gets there, past and present begin to slip and slide against one another and we gradually come to realize that Beth's future life is really a fantasy her tormented mind has conjured up to protect her from the ongoing horror – that she is still a teenager, that Pauline is dead, and that Vera is desperately trying to bring her back to reality so that they can fight back against the pair of killers who have taken over the house.
Apart from Laugier's penchant for torturing women, his conception of the killers is also problematic. The dominant one is a trans woman (Kevin Power) and the subservient one is a hulking, retarded man (Rob Archer), the pair of them apparently driven to murderous insanity by their outsider status. The film itself conceives of them as inherently deviant and dangerous specifically because of their status as "not normal", making it pretty regressive, undermining whatever "progressive" credit it might get for having the girls fight back and ultimately survive their ordeal.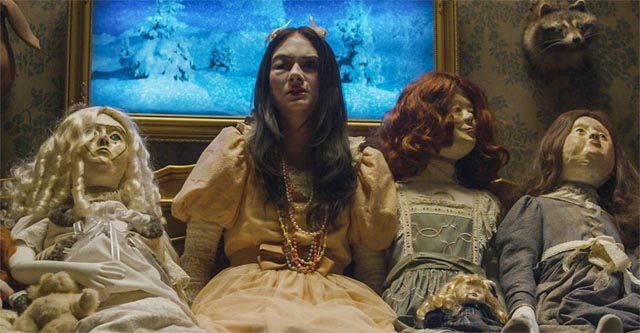 Moodily shot by Danny Nowak, with a thick, claustrophobic atmosphere and very good performances from the small cast, Incident in a Ghostland is nonetheless an unpleasant experience which, like Martyrs, revels in tormenting and inflicting pain on young women. Laugier has here attempted to create a modern fairytale, but he ends up falling into conventional conceptions of monstrosity, reiterating rather than interrogating them.
The image on Arrow's Blu-ray is rich and atmospheric, and once again there are plentiful extras, beginning with a 73-minute behind-the-scenes documentary which is much more interesting than the film itself. There's also a 15-minute interview with Laugier, a 26-minute featurette about the score, and interviews with actors Crystal Reed, Emilia Jones and Laugier again (each 9 minutes).
*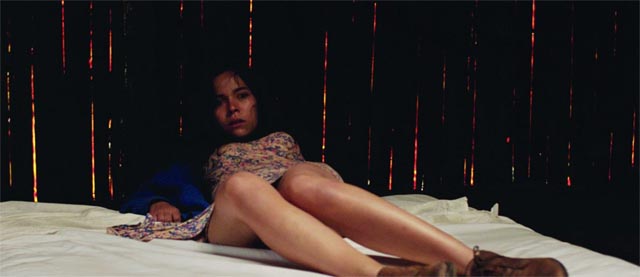 The Untamed (Amat Escalante, 2016)
I didn't know what to expect from Amat Escalante's The Untamed (2016). I had an impression that he was something of a neorealist, making gritty dramas about the struggles of the Mexican underclass in Guanajuato and Los Angeles (for which he had won awards in Cannes and Venice). The Untamed, however, seemed to be a horror movie from the description on Arrow's website., where there were hints of something perverse and disturbing. They got that right. The film deals very seriously with social and psychological issues in a repressive culture which views sexuality with suspicion … but complicates its themes with unsettling elements of fantasy.
Alejandra (Ruth Ramos) is a housewife with an aggressively macho husband named Angel (Jesus Meza) who, it turns out, is having a passionate affair with her brother Fabian (Eden Villvicencio), a sensitive nurse whom he takes pleasure in dominating. The precarious balance among these three is thrown off when Fabian treats an injured woman named Veronica (Simone Bucio).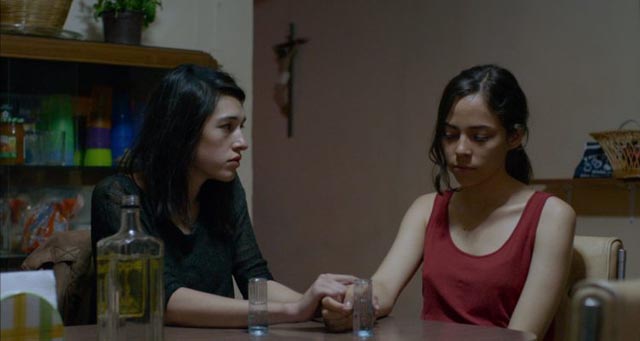 Veronica has become addicted to increasingly damaging sexual encounters at a remote farm outside the city. The couple who own the farm are harbouring an alien lifeform which arrived some time back on a meteorite. This octopus-like creature is capable of providing an apparently exquisite sexual experience, although its own motivations remain unclear – it gives almost unbearable pleasure, but the more addicted its "partners" become, the more it seems inclined to inflict pain. Sexual submission (like Fabian's to Angel) seems to be an invitation to abuse.
If you're wondering whether it's possible to make a serious drama revolving around tentacle porn, the answer here is definitely yes. Escalante, a protege of Carlos Reygadas, approaches the story with a psychological and emotional authenticity which paradoxically gives the metaphorical presence of the creature a convincing sense of reality. The creature is a concrete manifestation of all the sexual feelings and conflicts among the characters. Like Reygadas, Escalante grounds everything with a style which is both elegant and visceral, finely attuned to the nuances of both character and landscape, using long takes to create a kind of documentary lyricism.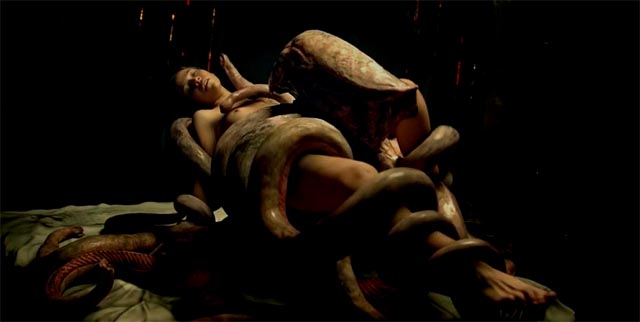 The performances are excellent and the digital effects disturbingly convincing. There are echoes in The Untamed of Andrzej Zulawsky's Possession (1981), another film in which the psychological and sexual turmoil of a troubled marriage are given a physical manifestation in the form of a tentacled creature.
As expected, the Arrow Blu-ray has a rich transfer, which gives the fantastic story a strong grounding in a visually realistic world. There's an excellent 84-minute making-of documentary which provides a detailed account of Escalante's method of working with actors, carefully and methodically building scenes through rehearsals and multiple takes through which he and the cast make incremental adjustments in performance. In addition, Escalante's first, award-winning short film is included: Amarrados (2002, 15 minutes), uses neorealist techniques and metaphorical imagery to sketch the desperate life of a homeless street kid, addicted to glue sniffing and subject to sexual abuse.