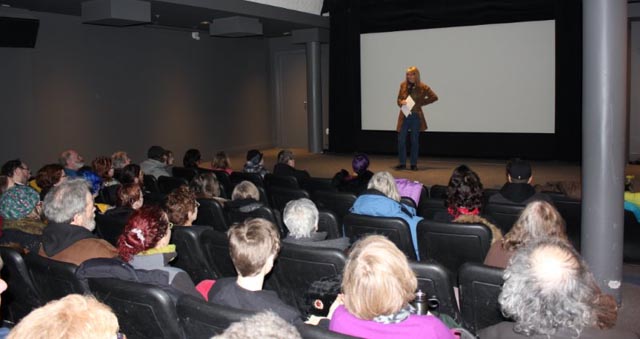 This past Saturday Janine Tschuncky and I had the "official premiere" of our documentary CarFree: Stories from the non-driving life. It's actually been available on-demand on MTS Television here in Winnipeg for a month already, but we arranged for a screening for cast, crew and friends at the Cinematheque on Saturday the 10th. Despite the bitter cold, we had a good and very receptive crowd.
I felt much more relaxed this time than when I premiered my documentary Going a couple of years ago; CarFree is, essentially, Janine's baby – her original idea, she did the research and found all the people we interviewed; I was serving her vision rather than trying to tell my own story, so I was able to sit back and just watch the film and the audience with a bit of detachment. Having seen it countless times throughout the editing, it was interesting to watch it on the big screen with a better sound system. I ended up feeling quite pleased with the way it turned out.
After the screening, members of the audience had very positive comments – and a couple have even said it's inspired them to reduce their own car use. So hopefully, the film will have the kind of impact we were hoping for. We even sold enough DVDs to cover most of the cost of renting the theatre! Now we have to start looking into festival possibilities and begin networking with environmental groups beyond Winnipeg.
So congratulations to Janine (it's her first film and an impressive effort) and a big thanks to Pierrette Boily who served as our entire crew, helping with equipment and shooting second camera, and was the whole production transportation department (yes, we did use a vehicle on the shoot – it's difficult to haul equipment on bikes!).
And once again, thanks to Cam Bennett and Kim Bell at Stories From Home for funding this project.