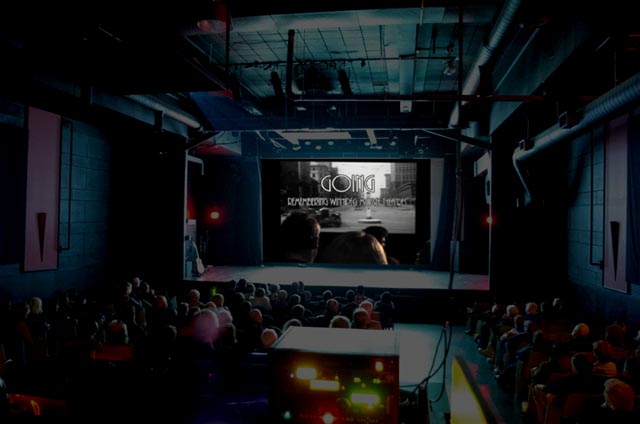 If it's possible to feel exhilarated and anti-climactic at the same time, that's how I feel this evening. It's been just over a year since I shot Going: Remembering Winnipeg Movie Theatres, my documentary about the experience of going to the movies back when there were real theatres instead of multi-screen bunkers, and the process I started then has finally come to an end. We had the premiere this afternoon at the Park Theatre on Osborne Street – the only remaining neighbourhood theatre in Winnipeg (although these days, it's mostly a venue for live music).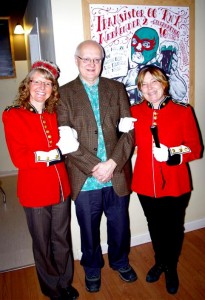 Thanks to my friend Janine, it was a livelier event than if I'd organized it by myself. She and our friend Karen came dressed as old-time ushers, handing out the free popcorn and showing people to their seats. She had also organized some door prizes, which – after my rambling introduction – were drawn for by her niece Gabby and two nephews, Zack and Max.
Then, before the actual screening, the members of Baltimore Road went up on stage to perform their song "Saturday Matinee". This was one of those strange coincidences which seemed to attach themselves to the project: band member Stewart Fay was one of the people I interviewed for the film and not only does the song express the emotions I was trying to get across, it had been written several years ago to mark the reopening of the Park Theatre … everything just falling into place … (Another of those strange coincidences: CanadInns was reopening the renovated/restored Metropolitan Theatre downtown on Donald Street  the same day as my screening; in my opening narration, I mention their plans for reviving the Met as the original inspiration for my project.)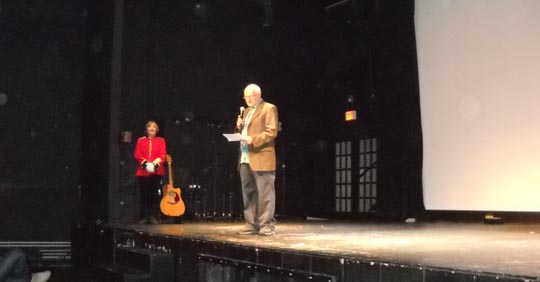 Seeing your film with a real audience for the first time is a strange experience. By now I know every moment, every detail because I've seen it countless times – in fragments as I edited, and complete as I watched each cut to gauge content, overall pace and tone. But once it's playing on a big screen with a crowd of people (many of whom I'd never met before – everyone I invited brought friends and relatives), it's a different thing entirely. It's out of my hands and in the audience's. My perception of it changed as I experienced their responses.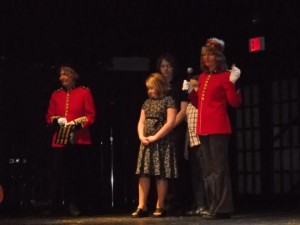 This can be really painful – going in, I was acutely aware of all the weaknesses, the technical flaws, the tricks I'd used to hide the fact that sometimes I was forcing things together which perhaps didn't really work in an objective way. But I was lucky. The audience this afternoon was with me. I hadn't realized how funny much of the film is until I heard the laughter (after the screening, one of my subjects told me he hadn't realized I was making a comedy and would have been much funnier in his interview if he'd known). It was also gratifying to realize that many of my viewers found the historical information interesting (I was worried that I'd kept things too sketchy in order not to bog down the pace).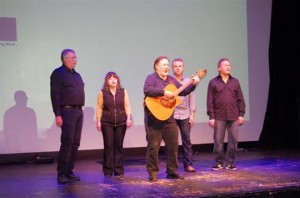 The event also brought into focus just how much things have changed since I started making films almost a quarter of a century ago. My first short premiered on 16mm film; today, I screened my feature from a file on my laptop … if I had more RAM, I could've screened the full HD master; but I had to use a compressed SD file, so the image wasn't as sharp as I would have liked. But that didn't seem to matter to the people watching – they were focused on the content, on the lively, engaging, funny, sometimes melancholy things the people up there on the screen were saying.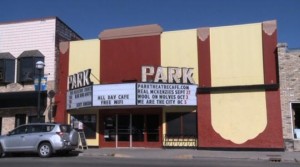 So – after more than a year of work, it's done, out of my hands and out in the world. Feeling the positive response and getting all those post-screening compliments, from the people in the film and also from those who had just come to watch it, was exhilarating … but what's left this evening is a big "now what?"
*
A big thanks to Cam Bennett and Winnipeg-On-Demand for funding this project, and to Kyle Bornais and John Barnard at Farpoint Films for facilitating the production (and handling all the mind-numbing accounting paperwork!).
Also thanks to Erick Casselman and the staff at the Park Theatre.
Photos courtesy Megan Thom and Ken Spicer.