I briefly got to know Kier-La Janisse when she worked with Dave Barber at the Cinematheque here in Winnipeg a few years ago. She had a wealth of experience as a programmer and an intense passion for genre films – while she was here, her brief, idiosyncratic ode to Italian bit-player Luciano Rossi, A Violent Professional, was published by FAB Press in England.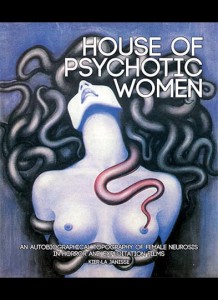 Winnipeg turned out to be a bit frustrating for her because, as Dave can well attest, it's incredibly difficult to build any kind of consistent audience for non-mainstream programming in this city. Kier-La eventually moved on and now lives in Montreal, where she founded The Miskatonic Institute of Horror Studies, a genre workshop program, and works for the Fantasia International Film Festival (editing their on-line magazine Spectacular Optical).
When she was here in Winnipeg she mentioned that she was working on another book, a personal critical take on female psychological disturbance in the movies. So I was excited to receive the FAB newsletter this morning with an announcement of the upcoming publication of House of Psychotic Women: An Autobiographical Topography of Female Neurosis in Horror and Exploitation Films. FAB is releasing a limited edition hardcover in early August, with the regular softcover edition to follow at the end of September.
Needless to say, I've already placed my order and am eager to get reading …
The limited edition can only be ordered directly from FAB Press, but the regular edition is listed for pre-order at Amazon in Canada, the States and England.