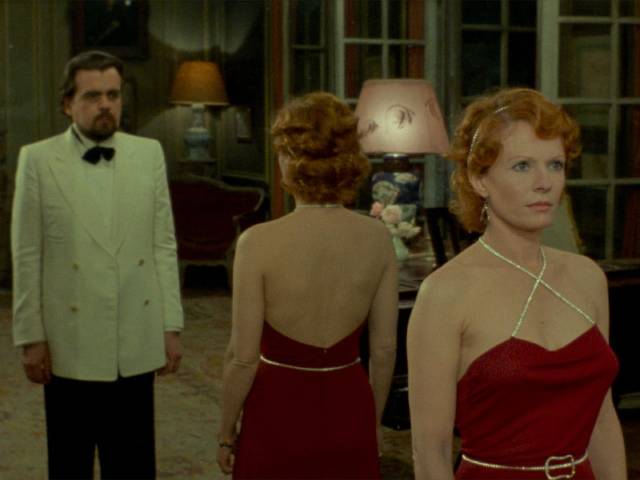 I haven't read any of Marguerite Duras' novels, so come to her movies without preconceptions – or any particular expectations. Prior to Criterion's new release of two of the features she directed in the 1970s, I was most familiar with her script for Alain Resnais' first feature, Hiroshima Mon Amour (1959), a key film for the Nouvelle Vague, and I saw her own Nathalie Granger (1972) years ago, though I have no clear memory of it other than a general impression that it was enigmatically minimalist.
Enigmatic also applies to the films in Criterion's set – India Song (1975), perhaps her most famous feature, and Baxter, Vera Baxter (1977). Languid and visually lucid, marked by a formal elegance, these films initially seem almost obvious in their depiction of broken bourgeois relationships – but Duras' detached, almost wilfully disinterested style suggests that there are traps awaiting the facile critic. Both films leave the viewer with a sense of mystery, a lack of resolution which makes what seems obvious perhaps not so obvious after all. The aesthetic pleasures of their shimmering surfaces may conceal more than they reveal.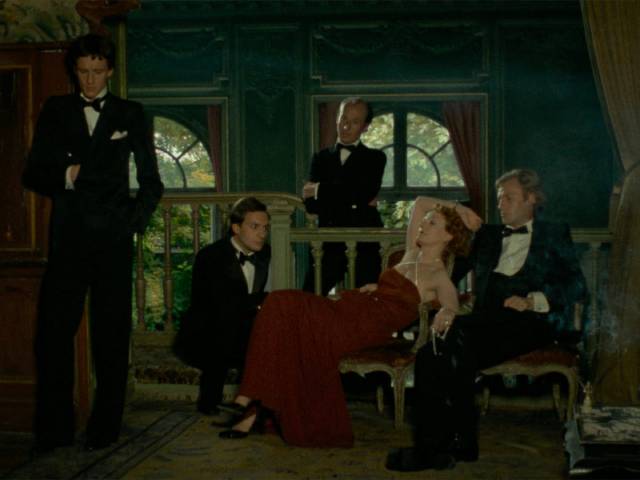 India Song is the more radical film, using a deliberately artificial technique to disrupt what is otherwise a fairly familiar story of Europeans undone by an exoticism which inspires violations of bourgeois propriety. Set at a party in the French ambassador's residence in Calcutta in the 1930s, it revolves around the ambassador's wife Anne-Marie Stretter (Delphine Seyrig) and her open infidelities. Drifting through elegant rooms, she dances with her current lover and other potential lovers, watched by the Vice-Consul of Lahore (Michael Lonsdale), the one man who may genuinely love her, but whose romantic longing is obviously off-putting for her.
The Vice-Consul is in disgrace, a man undone by the heat and strangeness of the country to which he has been posted, recently removed from his position because he opened fire on the beggars in the park outside his residence. A pathetic figure, his unrequited feelings eventually drive him mad as he watches Anne-Marie with all the other men who seem to have easy access to her – he literally runs off screaming into the night, his agonized cries heard in the distance as the party continues.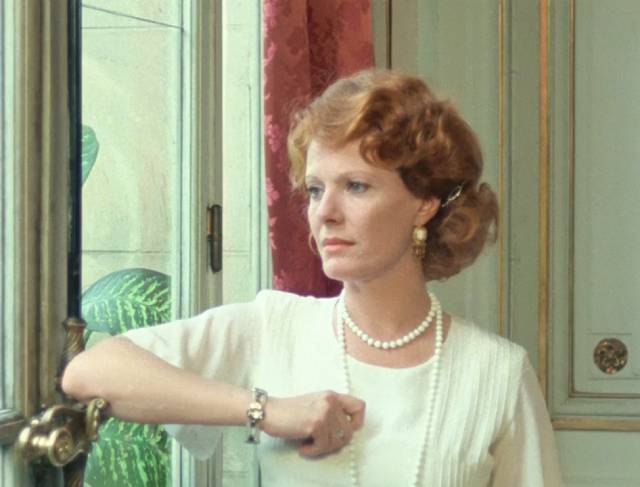 This melodrama is played as a series of tableaux, the moral decay of these European colonialists enacted like an inevitable ritual leading to self-destruction. The visual repetitions are separated from language – there is no sync sound, but unlike in silent melodramas none of the characters even mouth unheard dialogue. They simply drift wraithlike through these opulent rooms, pantomime shadows re-enacting a pathetic drama of romantic cliches, while we hear multiple voices commenting on the situation as if various members of this expatriate community are gossiping about something which had already happened. This separation of image and text emphasizes the ritual quality of the situation, the enervation experienced by servants of an exhausted colonial system. The overall effect, drawing on silent cinema, is more musical than dramatic.
While the cinematography of Bruno Nuytten (shot in and around the Chateau Rothschild to suggest, without explicitly representing, the Indian setting) is lush and elegant, the atmosphere is one of overwhelming decadence and decay. Towards the end, with Anne-Marie sitting among her lovers, everyone spent from a night of futile social activity, voices remind us of what is happening elsewhere in the world – the Sino-Japanese war, the Spanish civil war… As this ritual of bourgeois desire and betrayal plays out, the world is rushing towards destruction.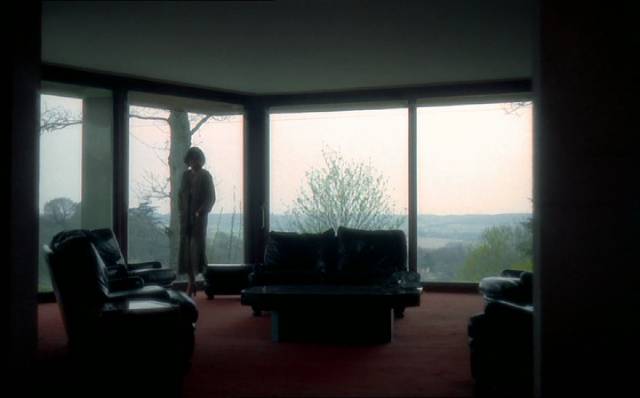 Baxter, Vera Baxter plays on a smaller scale in contemporary France. Once again, infidelity rots a bourgeois marriage from the inside out. Vera (Claudine Gabay) lingers in a villa on the Atlantic coast, trying to decide whether to rent it for the summer. She's visited by Monique (Noëlle Châtelet) and later by an unknown woman (Delphine Seyrig), with whom she talks about her life, her unfaithful husband Jean (François Périer), her own affairs, her sense of a life which is going nowhere and suggestions of bourgeois marriage being a kind of prostitution.
These conversations take place inside a villa which seems both impressive and devoid of any real human presence, an empty edifice with panoramic views through its large windows of a wooded valley which emphasizes the sterility of the domestic space where Vera talks of her life. Once again Duras plays with sound in an unconventional way as throughout the film we hear uninterrupted music which is at odds with the drama; we're told that this is coming from another nearby villa where some new arrivals are having a party. Upbeat and dominated by South American flute, this cheerful music (by Carlos D'Alessio) exists in an endless loop which seems to mock Vera's personal troubles.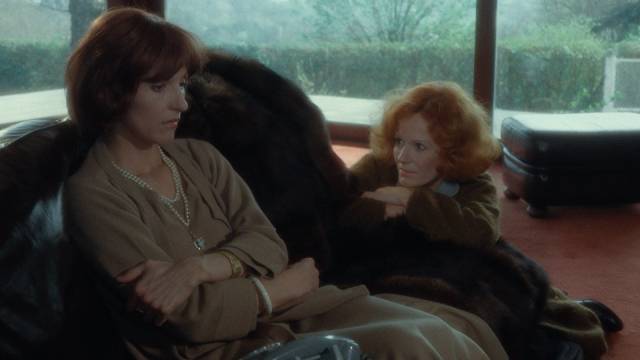 Sacha Vierny's cinematography is cooler than Nuytten's; the tone here is one of melancholy and emotional exhaustion rather than romance, and less ironic. This gives the impression that the film is more accessible than India Song, and yet in the end Vera's emotional state remains unresolved.
*
The disks
Both films have been given 2K transfers supervised by Nuytten. I've seen some complaints online about the colour grading (the images being "modernized" by pushing the colour palette towards teal), but to my eye the image for both is rich and finely detailed. The mono audio on both disks supports the stylized use of sound with a nice balance between voices and music.
The supplements
The first disk includes a brief archival clip of Seyrig (6:36) excerpted from a 1977 documentary in which she talks about her experiences working with Duras. There's also a documentary about the making of India Song from 2020 (46:56) in which assistant director Benoît Jacquot, cinematographer Nuytten, script supervisor Geneviève Dufour and producer Stéphane Tchalgadjieff discuss what made working with Duras unlike their experience with other directors.
On the second disk there's a brief 1977 interview with Duras from French television (3:51) in which she discusses her conception of the title character in Baxter, Vera Baxter. More substantial is a 2002 documentary by long-time Duras collaborator Dominique Auvray, Marguerite As She Was (1:02:53), which covers the entire life of the author and filmmaker, from her childhood in Indochina and her experiences of colonialism, her opposition to the Algerian war, her development as a novelist and her move into filmmaking when she was dissatisfied with what other directors had done with her scripts. There's a wealth of archival material in which we see Duras at every stage of her career and she comes across with enormous charm, obviously deeply committed to her work but also viewing life with humour.
The booklet essay is by film scholar Ivone Margulies.