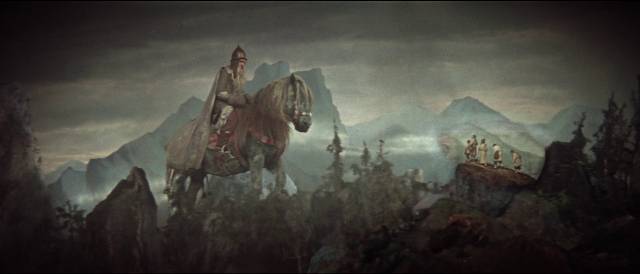 Aleksandr Ptushko was a significant figure in Soviet cinema, working from the late 1920s to the early 1970s, through the Stalinist era and into the thaw of the late '50s and '60s. In some ways, he held a privileged position – he made the first Soviet colour feature, The Stone Flower (1946), using film stock seized from the Germans – but like all filmmakers of the time he had to navigate the unpredictable climate of censorship and repression which was endemic to the regime. And yet, somehow, he was able to concentrate on material which avoided the strictures of social realism.[1]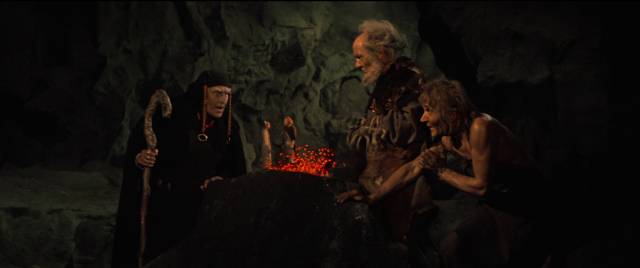 Ptushko was a fantasist, much like his near-contemporary George Pal. Like Pal, Ptushko began his career making animated shorts with stop-motion puppets – his work obviously drew on the pioneering films of Ladislaw Starewicz and even Georges Méliès for their trick effects – and like Pal, he eventually combined animation with live-action and finally went on to ambitious large-scale live-action fantasies. These latter, made on an epic scale, were rooted in folklore and national legends which would have been familiar to Soviet audiences. Their interest to Western distributors, though, lay in their imagery and not the patriotic material; dubbed and re-cut, the English-language versions emphasized the special effects while rendering their narrative content incoherent.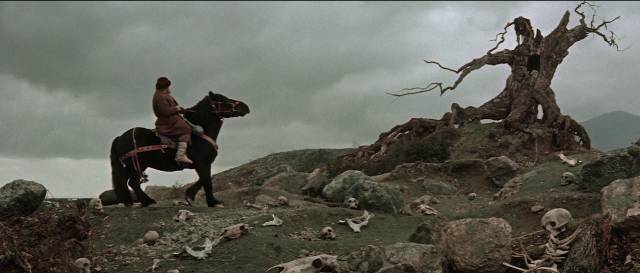 Two of Ptushko's films, restored by Mosfilm and the Finnish National Audiovisual Institute respectively, have been released on Blu-ray by Deaf Crocodile with some English-friendly extras … but without their U.S. versions, which might have been interesting as I've never seen them. In fact, my only exposure to Ptushko's work before this was the special effects he did for Viy (1967), a movie which Alan Upchurch in a two-part 1992 Video Watchdog essay reprinted in the accompanying booklets attributes to Ptushko himself as the two official directors, Konstantin Ershov and Georgiy Kropachyov, were recent film school graduates.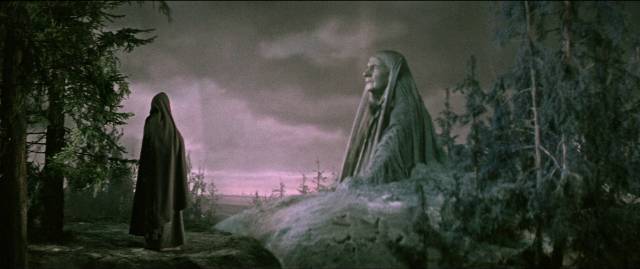 Both Ilya Muromets (1956), based on a Russian oral epic poem, and Sampo (1959), based on the Kalevala, a Finnish national epic comprising a cycle of traditional folk songs, provide a loose narrative frame on which Ptushko could hang a series of spectacular sequences which use a variety of effects techniques. Although the former climaxes with a full-scale three-headed dragon, the story centres on the conflict between Russians and the invading Tugars who use subterfuge and military might to crush the nation. Ilya is a warrior knight whose wife Vasilisa is kidnapped by the invaders; his quest to find her takes years, during which she becomes unwilling consort to the Tugar leader while Ilya's newborn son is raised without knowledge of his true father.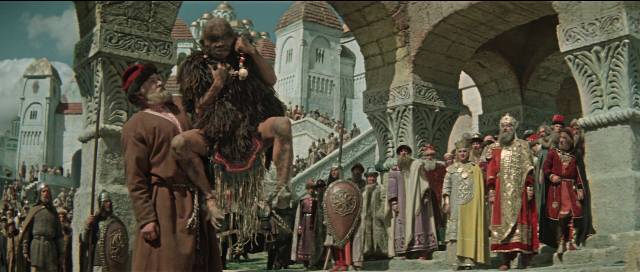 There are battles and magical encounters as Ilya becomes a symbol of national resistance who eventually finds his reputation smeared by traitorous nobles who would be happy to serve under the Tugars. Sent into exile, he sets his bitterness aside and returns to defeat the Tugars as they besiege the capital with that dragon as their ultimate weapon. Ilya saves the day, rescues Vasilisa and is united with the son he has never known.
Being a Soviet production, when resources were virtually unlimited for approved productions (the scale of Andrei Tarkovsky's Andrei Rublev [1966] and Sergei Bondarchuk's War and Peace [1966-67] was all but inconceivable in the West at the time), Ilya Muromets, despite being only ninety-minutes long, has an epic scale, with vast landscapes and clashing armies, imaginative fantasy characters, and a very impressive dragon. The opening shot has a weary giant knight on horseback approaching a group of men in the mountains. He tells them that he can no longer fight as defender of the nation and gives them his big sword before turning to stone.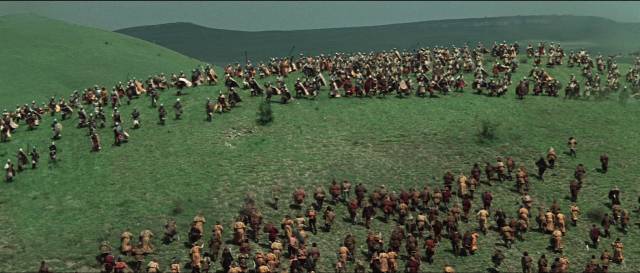 These men come to Ilya's village shortly after the raid in which Vasilisa was kidnapped and find Ilya distraught because he sits paralyzed in his lodge, unable to take his part in the fight. They administer some healing herbs and, as he can move again, pass on the knight's sword, essentially nominating him as the new national hero, a role he accepts. As he heads for the capital to offer his services, he passes through haunted woods and encounters a strange creature called Nightingale the Robber, whose whistle can be deadly, which he captures and takes with him as a tribute to the ruler. Throughout, the serious epic tone is tempered by such whimsical touches of fantasy.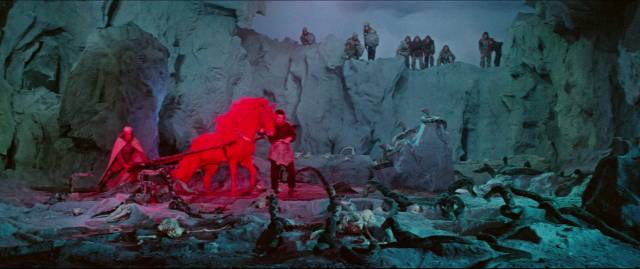 If the film has a weakness, it would be the casting of Boris Andreyev as Ilya, a stolid presence who seems too old for the part and, frankly, lacking in charisma. But the densely packed narrative and Ptushko's imaginative visuals are impressive. Picked up by Roger Corman in 1964, re-cut and dubbed as a kids' matinee attraction called The Sword and the Dragon, it suffered further indignity when it was trashed by Mystery Science Theater 3000 in 1994.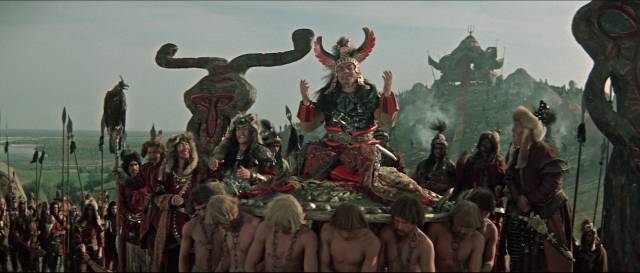 MST3K had done a similar hatchet job the previous year on the U.S. version of Ptushko's next film, Sampo, retitled The Day the Earth Froze and once again re-cut and dubbed, with more than twenty minutes chopped out. In its original form, it's more deliriously fanciful than Ilya Muromets. A Russian-Finnish co-production, it lacks the great landscapes of the previous movie, with much of it shot on large, imaginative studio sets which evoke two conflicting worlds – the lush land of the villagers who thrive in fields and orchards and the harsh North, where a powerful witch rules over elves and dwarves in a land of rocks and ice.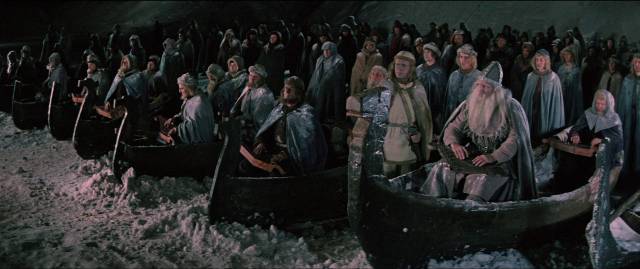 The Sampo is a magical millstone which is the source of the people's prosperity; only one man is capable of making such a device and the witch Louhi kidnaps his fiancee Annikki to force him to produce one for her. Setting out with her brother Ilmarinen, Lemminkäinen heads across the sea to rescue Annikki. He agrees to forge the Sampo for Louhi, but tricks her by taking both his fiancee and the millstone. In revenge, Louhi seizes the sun and imprisons it in her cave, turning the whole world cold and dark. Lemminkäinen leads an army to the frozen North to defeat the witch and restore balance to the world.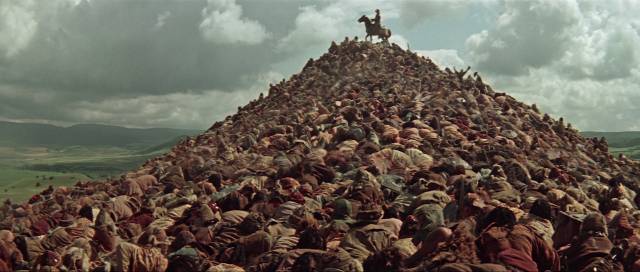 Based on a song cycle, much of the dialogue has the lilting quality of verse and it wouldn't be a surprise if the characters occasionally broke into song – if any American movie shares the particular fantasy qualities of Sampo, it would be The Wizard of Oz. Visually sumptuous, the film captures the feeling of wonder one might recall from hearing bedtime stories as a young child. Ptushko shows his mastery here by crafting the kind of imagery that a child's mind would conjure up on hearing those stories.
*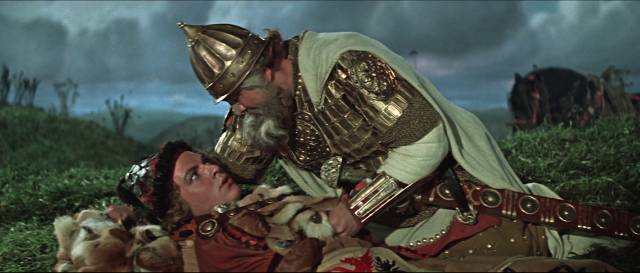 Both films look spectacular on Deaf Crocodile's Blu-rays, with rich colours and an incredible amount of detail in their 2.35:1 image. Ptushko's effects for the most part look quite flawless with their mixture of practical and optical techniques, elaborate matte shots, forced perspective miniatures, puppets and elaborate makeups. In recent years, it's been possible to get a better sense of the fantasy tradition in Soviet bloc cinema as more film's have become available on disk. While socialist realism was the dominant mode for decades, filmmakers like Ptushko, Karel Zeman, Jaromil Jires, Juraj Herz, Jindrich Polak and others were forging an imaginative alternative which mostly, if at all, reached the West in bastardized form as their work was cannibalized for their lavish visuals by companies like American International. (Pavel Klushantsev's Planeta Bur [1962] was ransacked for both Voyage to the Prehistoric Planet [1965] and Voyage to the Planet of Prehistoric Women [1968] by Curtis Harrington and Peter Bogdanovich respectively.) As mentioned above, Ilya Muromets became The Sword and the Dragon while Sampo was renamed The Day the Earth Froze.
Each disk includes a commentary by writer Stephen R. Bissette and the Sampo disk also has an hour-long interview with MST3K head writer Mike Nelson, which I didn't listen to because I find what he does/did so irritating.
___________________________________________________________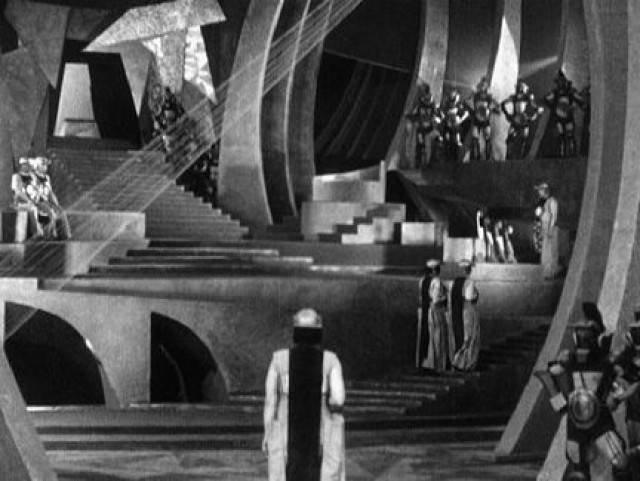 (1.) Despite the caricature of the farmboy who falls in love with his tractor, Soviet cinema was a complex mix of politics and art. Recognizing the powerful potential of movies to reach widely scattered audiences with both ideas and emotions, the post-Revolution regime quickly invested in production – there were famously trains which were fully equipped for production and exhibition which traveled the country to promote the benefits of Communism. Without question, one aspect of this involved pushing the benefits of modernization and new technologies; Eisenstein himself made the quintessential movie in this genre, The General Line (1929), about a woman who works tirelessly to bring her peasant community into the new century, with an ecstatic sequence of massed tractors harvesting the crops which previously had been reaped laboriously by hand.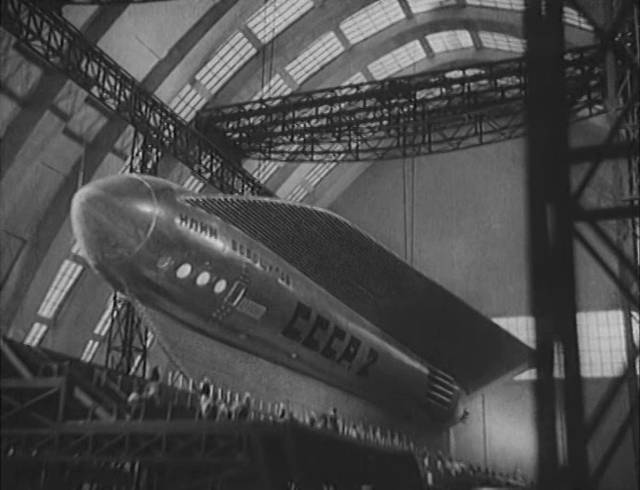 At first glance it may seem odd that fantasy emerged quite quickly under these conditions, but in fact fantasy and science fiction allowed Soviet filmmakers to project the benefits of Socialism into the future, depicting a world where the triumph of the Revolution had transformed the world and projected progressive social attitudes into space itself. The post-Revolution industry was actually launched with an ambitious, and expensive, fantasy film which aimed to promote the Revolution both at home and abroad; Yakov Protazanov's Aelita: The Queen of Mars (1924) depicted a Russian engineer flying to the Red Planet, where he becomes involved in a workers' uprising against the Queen whom he had fallen in love with in his dreams. Aelita was released a year before Eisenstein's first feature, Strike (1925), and three years before Fritz Lang made Metropolis (1927).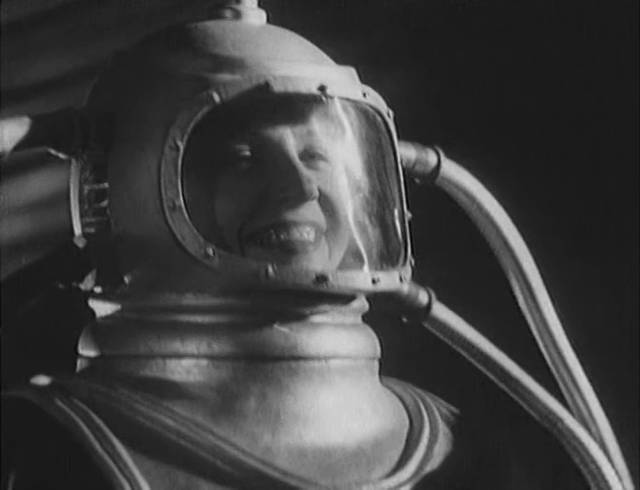 One interesting point about Soviet science fiction was a side-effect of its promotion of the Revolution: while American science fiction tended to be somewhat jingoistic and permeated by nationalistic militarism (and anti-Communist paranoia) – movies like Destination Moon (Irving Pichel, 1950) and Conquest of Space (Byron Haskin, 1955) had the military deeply involved in space exploration and took for granted that control of space was essential for dominance on Earth – as early as Vasily Zhuravlyov's The Space Voyage/Cosmic Journey (1936) there are no spies or saboteurs, just dedicated people (in this society there's even gender equality) working together to overcome the technical and logistical problems involved in getting off the planet. In later films, space crews tended to be multinational, with men and women working together, because the global triumph of the Revolution had erased national boundaries and the conflicts they engender. (return)