Sometimes writing this blog feels a bit like running the Red Queen's Race: the more I write, the farther I fall behind. So once again, I'm dipping into the neglected pile by my desk and offering a few comments on some of the disks I haven't yet found the time to review. Some of these, I actually watched two or three months ago…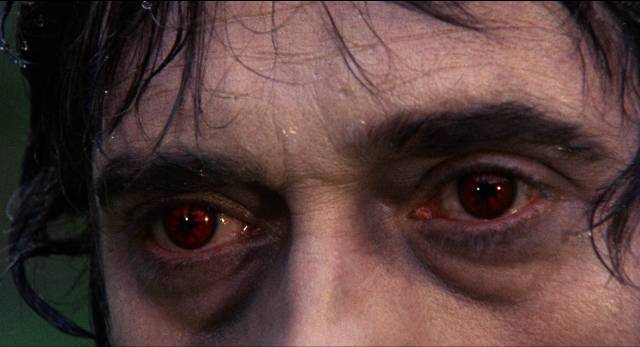 The Living Dead at Manchester Morgue (Jorge Grau, 1974)
I finally got around to watching Jorge Grau's The Living Dead at Manchester Morgue (1974) again in Synapse's 4K restoration – the collector's edition steelbook has been sitting on the shelf for more than a year-and-a-half – and it remains my favourite Euro-zombie movie, made five years before Lucio Fulci decisively unleashed that genre with Zombie (1979). Grau's film is quite different from any other, even Romero's Night of the Living Dead (1968), which was obviously an inspiration. The tone is unsettling, in part because like his fellow Spaniard José Ramón Larraz, Grau set and shot the film in England with an outsider's eye. He also gave his zombies a pseudo-scientific rationale in a Ministry of Agriculture experimental technique for killing crop-destroying parasites with high-frequency sound waves. These sounds act on the primitive part of the brain, reanimating the recent dead and turning newborn babies murderous. The zombie attacks are graphic and the English landscapes lushly photographed, while the cynical violence of the police and the evocation of environmental catastrophe give the story an edge of political nihilism.
The dual-format edition includes a soundtrack CD as well as a feature-length survey of Grau's career (which I did watch as soon as I received the set in late 2020), plus an interview and lengthy Q&A with make-up effects maestro Giannetto De Rosi.
*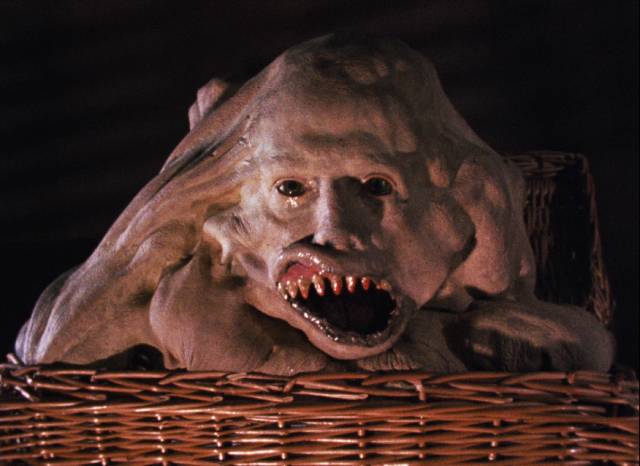 Basket Case Trilogy (Frank Henenlotter, 1981-92)
I ordered this three-disk Second Sight set on a whim when I came across a deal on-line. It'd been years since I last watched Frank Henenlotter's first feature, but its darkly comic tone remained vivid in my memory. Of the sequels, I'd only seen the first, but recalled being disappointed by the radical shift towards a kind of fairy tale. Actually, the sequels seem closer to Henenlotter's other features, Brain Damage (1988) and Frankenhooker (1990), which lean more towards gross-out comedy than grim horror. Basket Case (1981) holds up well as an urban nightmare – shades of Eraserhead and Buddy Giovinazzo's Combat Shock (1984), not to mention the grungy street-level horror of Abel Ferrera's The Driller Killer (1979).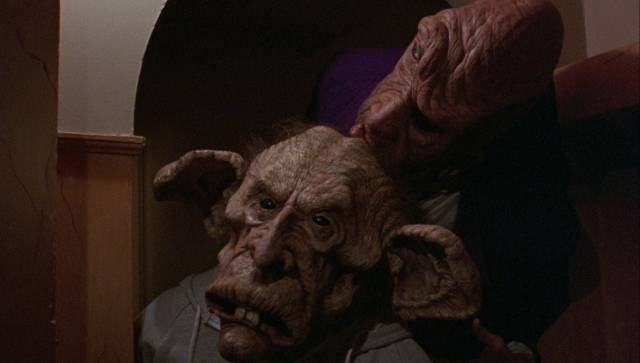 It took years for Henenlotter to be convinced to make a sequel, not least because he killed off Duane (Kevin Van Hentenryck) and Belial, his monstrous conjoined twin, at the end of the original film. Basket Case 2 (1990) replays that ending at the start, having the pair whisked off in an ambulance still alive but with severe injuries from their fall off the fire escape. They escape from the hospital and are taken by Granny Ruth (Annie Ross) and Susan (Heather Rattray) to their refuge for a group of fanciful mutants (a kind of pocket-sized version of Midian, the mutants' haven in Clive Barker's Nightbreed [1990]). Duane just wants to live a normal life, but despite being physically separated, he and Belial are still bound together emotionally and psychologically. Duane falls for Susan and Belial falls for Eve, who's physically similar to him. As a reporter and the authorities begin to close in, things get very messy, particularly in the way Duane submits to his fate as Belial's brother.
The second sequel, Basket Case 3 (1992), rushed out by the distributor despite Henenlotter's misgivings, follows on directly from number 2, with Eve pregnant and close to giving birth and the local cops determined to clean out this nest of monsters. The narrative is growing thin by this point, but like the second film it offers a lot of striking character designs – while Belial was conceived as a nightmarish monster, many of these additional mutants have charm, not surprisingly eliciting more sympathy than the intolerant humans.
The set has nice transfers, with even the low-budget 16mm imagery of the first film looking very good. There's a long-form featurette covering the production of all three films, with Henenlotter coming across as amiable and self-deprecating. In addition, there's a commentary on the first movie, some behind the scenes material and outtakes, an interview with poster-designer Graham Humphreys and a featurette on the locations.
*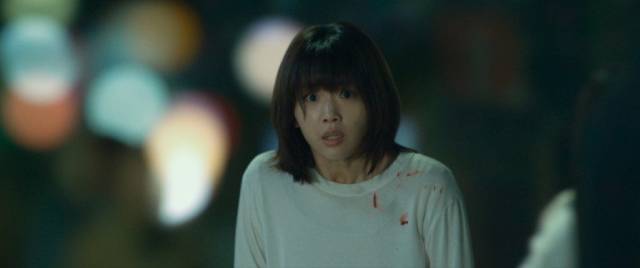 Midnight (Kwon Oh-seung, 2021)
Korean filmmaker Kwon Oh-seung makes his debut with yet another grim serial killer movie – this genre has been strangely prevalent in the past couple of decades in Korea for some reason. I'm not sure what if anything it says about contemporary Korean society that so many filmmakers do make very good, if often very nasty, thrillers like this. Kwon does find a new angle in Midnight (2021) by focussing on Kyung Mi (Jin Ki-joo), a young deaf woman who late one night finds herself witness to a murderer in the middle of his latest crime. The killer, Do Shik (Wi Ha-joon), realizes that she is deaf and diverts his attention to go after her, leaving the current victim trapped but still alive. That victim is So Jung (Kim Hye-yoon), whose brother Jong Tak (Park Hoon) is searching for her because she's late arriving home.
Kwon gives the ensuing cat-and-mouse a relentless pace and escalating tension because Do Shik can easily manipulate other people (including the police) while Kyung Mi is treated as mentally deficient because she can't speak. Do Shik even manages to get helpful bystanders to hand her over to him, while Jong Tak is eventually forced to choose between saving his sister or rescuing Kyung Mi. Societal attitudes and prejudices compound the nightmare quality of Kyung Mi's situation, but as the "game" Do Shik is playing with her approaches its climax, she manages to turn her apparent disadvantage against him, his own arrogance proving to be his downfall.
Eureka's Blu-ray has an excellent transfer of the very dark cinematography (it all takes place over a single night), and includes a commentary by Kat Ellinger and a video essay on Korean horror by Travis Crawford.
*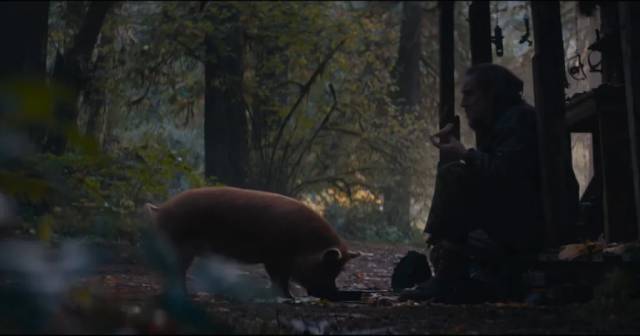 Pig (Michael Sarnoski, 2020)
Nicolas Cage built his career on his ability to turn it up to eleven. I've gone through phases, either enjoying the excesses or being really irritated by them. I found things like Vampire's Kiss (1988) and Leaving Las Vegas (1995) unwatchable, and Wild at Heart (1990) is the only David Lynch film I dislike, in large part because of Cage. But when he blends in, rather than trying to dominate, I quite like him – say, in Birdy (1984), The Rock (1996), Face/Off (1997) – and in his later career, when he made choices which many critics derided, I came to like him even more. Season of the Witch and Drive Angry (both 2011) are really entertaining, and his ridiculous performance in Neil LaBute's The Wicker Man (2006) really needed a better movie to provide an appropriate setting. In the past decade, he has appeared in so many indistinguishable movies, half-a-dozen or so a year, that it hasn't been possible – or desirable – to keep up; it's been all too easy to forget that he has been a respected, if sometimes problematic, star for forty years, though occasionally something of interest has bobbed to the surface. Mandy (2018) perhaps, Color Out Of Space (2019), and certainly Bad Lieutenant: Port of Call – New Orleans (2009). But it's a sign of his instability (and erratic judgment) that last year he followed the truly awful Willy's Wonderland with one of his best-reviewed movies ever.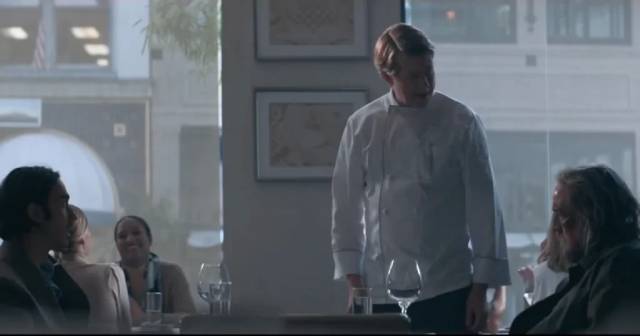 The first feature of writer-director Michael Sarnoski, Pig (2021) is a low-key character study which draws on Cage's well-known screen persona to create an air of tension, an expectation that at any point suppressed energy will explode – but then keeps it in check to fuel a sense of loss and grief. Cage is Rob, a grizzled loner who has retreated to a solitary life in a cabin in the forests of the Pacific northwest. He spends his days with his beloved pig, hunting for truffles which he sells to a dealer from Portland. Wilfully cut off from people, he can barely speak any more. Then one day, some people show up and kidnap the valuable pig and Rob has to pull himself together to re-enter the world and get her back.
This has the makings of an absurd parody of the Taken movies, but Rob's particular set of skills are all rooted in the art of cooking, not slicing and dicing villains. As he makes his way to Portland and his contact in the restaurant business, he's also slipping back into a painful past which he fled years ago, confronting his own former self as much as those who have disrupted his life in search of easy profits. Sarnoski takes his time and allows the suppressed feelings to bubble to the surface at their own pace, with Cage resisting any temptation to let things spill out. He keeps the pain of his memories internal and for once doesn't push the audience to react, his performance all the more moving for his restraint.
The Elevation Pictures Blu-ray has a decent image and, along with three brief deleted scenes, a pair of odd extras – shot during production, Cage gets some coaching in the kitchen from a couple of chefs who show him how to prepare and, just as importantly, present a couple of dishes.
*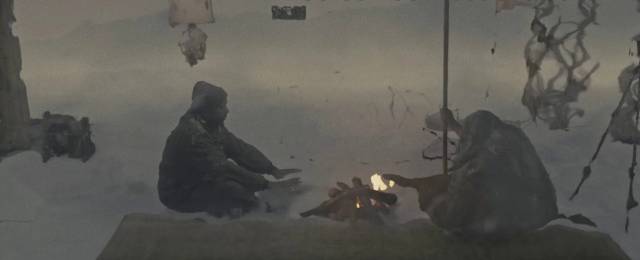 Synchronic (Justin Benson & Aaron Moorhead, 2019)
I'm a fan of Justin Benson and Aaron Moorhead, particularly their diptych Resolution (2012) and The Endless (2017), which infuse low-key character studies of brotherhood and male friendship with a strain of Lovecraftian cosmic horror. Spring (2014) complicates a potential romance between a damaged American tourist and a troubled woman on a Greek island with a living breathing embodiment of ancient myth. And yet somehow their fourth feature, Synchronic (2019), slipped by my attention and I only caught up with it recently (after learning that they'd completed a fifth, Something in the Dirt [2022], which I'm eager to see).
Synchronic appears to have a bigger budget than the earlier films, and the cast is headed by a couple of recognizable names – Anthony Mackie and Jamie Dornan – who play a pair of long-time friends who work together as EMTs in New Orleans. As they deal with typical life issues – Steve (Mackie) is single, envious of Dennis (Dornan)'s family life, his own unfettered existence now overshadowed by a terminal illness – they encounter a series of bizarre emergencies involving a new designer drug called Synchronic which seems to disconnect its users from the flow of time. When Dennis's daughter Brianna (Ally Ioannides) disappears, Steve takes the drug to follow her back in time to several periods in New Orleans' history, at each stop inevitably encountering trouble specifically because he's a Black man. The rescue plot provides a pulpy frame on which to hang an exploration of racism, while also (intentionally?) raising the common narrative trope of the Black character who must sacrifice himself to save a deserving white character.

The film suggests an attempt by Benson and Moorhead to create something more mainstream than the idiosyncratic indie genre movies which preceded it, but it still has some of the mysterious, allusive quality of their earlier work. Actors themselves, they are skilful in drawing fine, nuanced performances from the cast, and Synchronic displays their excellent technical skills (Moorhead once again handled the cinematography, and both of them collaborated on the editing, as they have on all their features). Perhaps the most interesting and appealing thing about Benson and Moorhead's work is that they use genre as a way of exploring deeply personal issues, rather than as a foreground element to appeal directly to an audience. The fantasy is always woven intricately through an exploration of the characters' concerns, tying those concerns to a larger philosophical framework which embeds the characters in an expansive view of time and existence which stretches beyond individual lives.
The VVS Blu-ray has a commentary, a few featurettes, a deleted scene and alternate ending.
*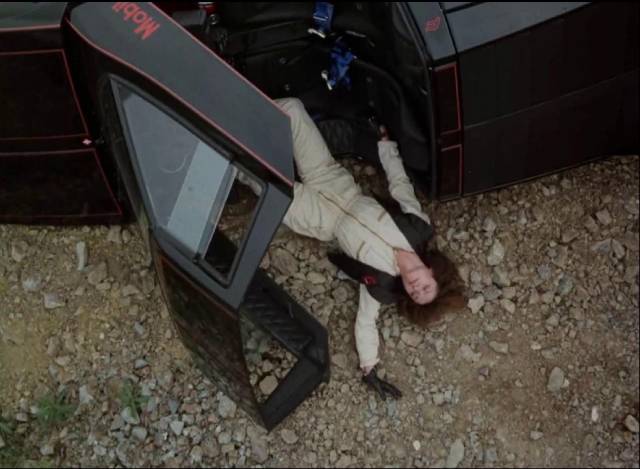 Ferat Vampire (Juraj Herz, 1982)
I first encountered the work of Czech filmmaker Juraj Herz at the 1981 Hong Kong International Film Festival which screened his darkly Gothic retelling of Beauty and the Beast under the title of The Virgin and the Monster (Panna a netvor, 1978). It was some time later that I saw his best-known (in the West) feature, The Cremator (1969), a black comedy nightmare of the Holocaust, and later still Morgiana (1972), another period film with fairy tale overtones. Even though it's only been a few months, I can't say how his 1982 movie Ferat Vampire came to my attention, but I ordered the (rather expensive) German limited edition Blu-ray (1000 copies) from eBay. (Mysteriously, there's no record of the purchase in my eBay account – if it wasn't for the fact that the disk is sitting here on my desk, I might believe I'd imagined the whole thing!)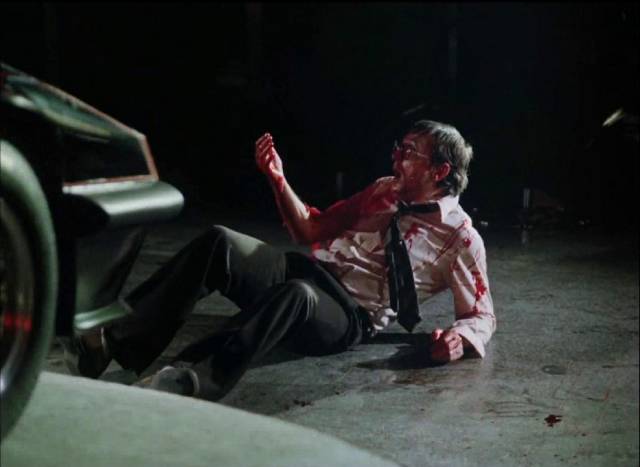 Ferat Vampire, made when Czechoslovakia was still embedded in the Soviet bloc, is an allegory of industrial Capitalism. The Ferat corporation has developed a new, futuristic car which seems to run on the blood of its driver which is sucked through the sole of the foot by the accelerator. When ambulance driver Mima (Dagmar Havlova) quits her job to become a rally driver for the company, her partner Dr. Marek (Jiri Menzel, himself a formidable director in the Czech New Wave) begins to investigate, gradually uncovering the sinister secrets of a company which literally sucks the blood from its workers to feed corporate profits – that is, a typical Capitalist enterprise.
Like The Cremator, Ferat Vampire offers a comedy of human monstrosity wrapped in a very dark narrative. Unlike most Western movies in which machines turn against their users (Elliot Silverstein's The Car [1977], Jerry London's Killdozer [1974], Stephen King's Maximum Overdrive [1986]), Herz's film is overtly political, its horror rooted in the behaviour of the people who build the machines.
Although there are some flaws, the transfer on the Ostalgica disk is generally excellent. Unfortunately, while the feature itself has English subtitles, none of the extras do – these include a commentary and several featurettes.
*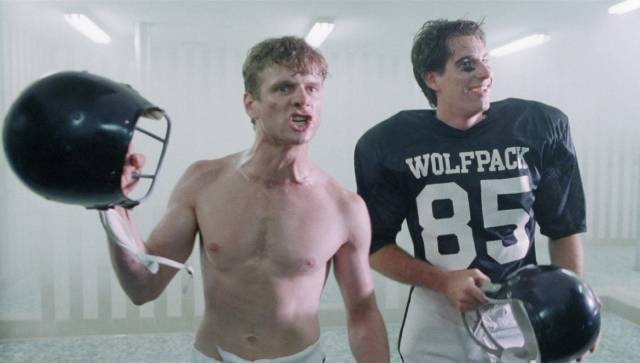 Wolfpack (Bill Milling, 1987)
Released by Vinegar Syndrome in March as part of their Vinegar Syndrome Archive line, Bill Milling's Wolfpack is an effective if somewhat obvious movie about how easy it would be for the U.S. to slip into outright fascism – though made during the Reagan years, it seems even more pertinent now, with its increasingly menacing high school football rallies prefiguring the deranged political rallies of the Trump era. In a typical American small town, newly arrived Sam Adams (Jim Abele) quickly fits in thanks to his football skills. But he begins to have doubts when he sees the influence the team, and particularly quarterback Jack "Boot" Butkowski (Tony Carlin), has off the field. Modeling themselves on the SS, they impose order on the student body, something which the administration views entirely favourably. It's all about school pride and eliminating bad behaviour like drug use and poor attendance.
As things grow darker and more violent, Sam has to choose whether to remain an insider or to risk being ostracized for his opposition to the rising tide of fascism. His resolve is hardened when an elderly friend (and former football coach) is terrorized and injured by team members and he realizes that Jack is being guided by a smug history teacher who is manipulating the kids to recreate the rise of Nazism in the community with Jack as the home-grown Hitler.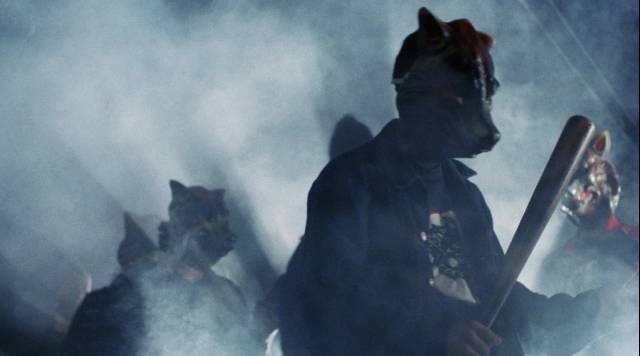 Perhaps the most interesting thing about Wolfpack is its single-minded seriousness. It sketches in some typical high school tropes about cliques and social hierarchies, but avoids exploiting the milieu for titillation – all the more surprising since Milling had a long, prolific career as a porn director throughout the 1970s and '80s, with this being his one mainstream feature (which he co-wrote with Fred E. Sharkey, whose only credit this is). Milling obviously wanted to say something and approached the project with conviction. He was aided considerably by Carlin, who gives a convincingly charismatic performance as the insidious young fascist leader. The rest of the cast give decent performances and the movie is well shot by Michael Mayers (who had previously shot the very different Class of Nuke 'Em High [1986] for Troma) and tightly edited by Sharyn L. Ross (who had cut Slava Tsukerman's Liquid Sky [1982] and Robert Hiltzik's slasher Sleepaway Camp [1983]). This is one of those movies which seems to have come out of nowhere and then disappeared until being resurrected decades later on disk. Although in no way remarkable, it's well-worth a look and what it sets out to say remains relevant.
The limited edition Blu-ray features a very good transfer and includes a brief interview with Milling and a featurette on the New Jersey locations.
*
Vinegar Syndrome
Wolfpack definitely stands out when set beside Vinegar Syndrome's disappointing April line-up of three less-than-stellar releases.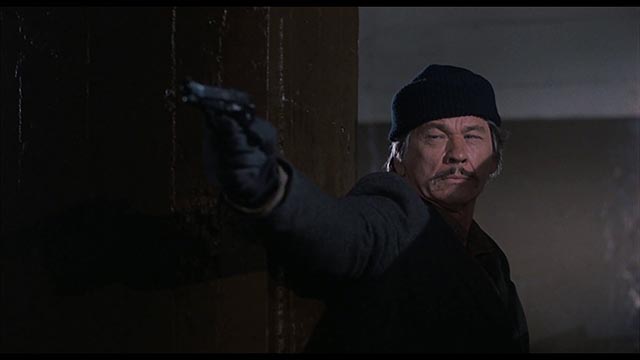 Death Wish II (Michael Winner, 1982)
As I've mentioned here a number of times, I like quite a few of Michael Winner's movies and disagree with the generally negative critical opinion of him. But Death Wish II (1982), made eight years after the original film became a controversial box office hit, is not one of his best. Essentially a retread of the original Death Wish (1974) relocated to the West Coast and stripped of its more interesting psychological elements, number 2 is dull and perfunctory. It would've made more sense for VS to put the effort of a 4K UHD restoration into the third movie in the series; Death Wish 3 (1985) is absurd and overblown, its vision of urban warfare reminiscent of Italian futuristic dystopias like Enzo G. Castellari's 1990: Bronx Warriors (1982). This VS release seems entirely unnecessary.
The two-disk dual-format edition includes an alternate television cut, several interview featurettes and a commentary.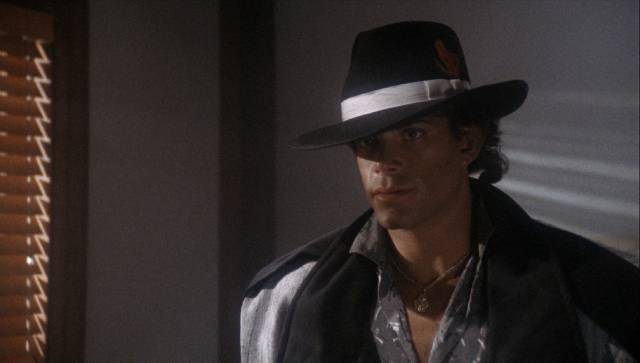 Alien Private Eye (Vik Rubenfeld, 1989)
Equally unnecessary is Nik Rubenfeld's Alien Private Eye (1989), a pastiche of hard-boiled noir, sci-fi and martial arts with echoes of Alien Nation (1988) – aliens who look almost human (the main difference is Spock ears, which many get surgically altered to help them fit in) live among us and among them are bad guys looking to produce a dangerous drug. Ham-handed and half-baked, the movie is unsuccessful as either action, sci-fi or comedy. And that's really all that can be said for it.
Nonetheless, VS give it a 4K scan from the original negative, a commentary and interview with director Rubenfeld, and additional interviews with cinematographer Jürg V. Walther and lead actor Nicholas Hill.
Flesheater (S. William Hinzman, 1988)
As for Bill Hinzman's Flesheater (1988), it seems inexplicable that VS would go the 4K UHD route with such a clumsy, extremely low budget 16mm feature which looks as if it was made by kids in the back yard. Hinzman's main claim to fame was his distinctive appearance as the original graveyard zombie in George A. Romero's Night of the Living Dead (1968), though he subsequently tried his hand at other jobs – writer, producer, director, editor, even cinematographer (he did a fine job shooting Romero's The Crazies [1973]). In his second movie as director (after the John Russo-scripted The Majorettes [1986]), he tries and catastrophically fails to emulate NotLD, co-writing, directing and acting in a rural zombie tale which is amateurish and dull and mostly seems like an excuse for Hinzman to grope a number of young actresses.
I have a real fondness for low-budget regional filmmaking, but Flesheater lacks the most important ingredients – a sense of originality and commitment which can overcome limited resources and generate a fresh perspective on familiar material. Flesheater is unimaginative, poorly paced, shot with no sense of style. Despite occasionally competent gore effects, most of the attack scenes lack tension or dramatic pay-off, and the cast are barely up to the task of delivering their uninspired lines, let alone creating anything resembling a character.
The dual-format edition includes a commentary and multiple interviews with people involved in the production, both in front of and behind the camera.
This was the most disappointing month since I became a VS subscriber and it definitely had me questioning the wisdom of making that substantial investment.
*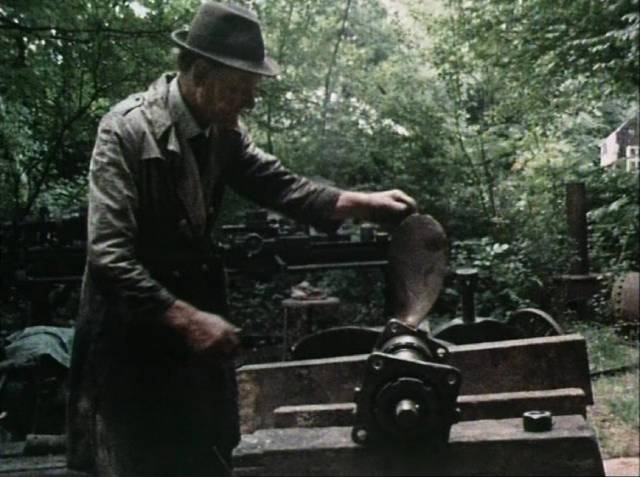 The Moon & the Sledgehammer (Philip Trevelyan, 1971)
I spoke a couple of weeks ago about the subjective element in documentaries which focus on the idiosyncratic lives of particular people. On-line, you can find diametrically opposed opinions about Philip Trevelyan's The Moon & the Sledgehammer (1971). While there are accusations that Trevelyan merely exploited the Page family, the film has accumulated passionate supporters over the past five decades – there's a website devoted to the film and it still shows up at festivals and special screenings, even though Trevelyan himself long ago gave up filmmaking to take up life as an organic farmer.
This is another film about which I can't recall when I first heard about it, but I bought a copy on DVD years ago – having been born in a small Essex village myself, I've always had an attraction for the English countryside, though I was uprooted from it at the age of twelve (or perhaps because I was uprooted). This is part of what draws me to films as varied as Peter Hall's Akenfield (1974), Piers Haggard's Blood on Satan's Claw (1971) and Bruce Robinson's Withnail and I (1987). Trevelyan's documentary is a portrait of a family seemingly isolated both socially and temporally, living in a wooded area of Sussex and mostly keeping to themselves.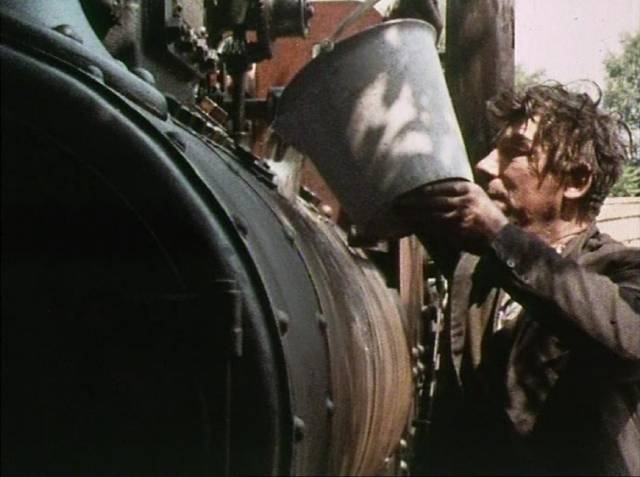 Patriarch Mr. Page, long-ago widowed, dressed in a three-piece suit and smoking a pipe, holds forth on the land and life while his four adult children look after the garden and chickens and tinker with machines from another age – particularly massive traction engines which billow smoke and spit steam and roar like beasts. This small enclave, hidden from the world by its cordon of trees, might exist in the Nineteenth Century or at some future time after the collapse of society. I am reminded of Russell Hoban's remarkable 1980 novel Riddley Walker and Graham Oakley's 1986 illustrated children's book Henry's Quest. The sense of a rejection of the modern world, a turning away to embrace an earlier more comprehensible time is palpable.
But as Trevelyan accumulates details, assembled allusively by editor Barrie Vince, the impression of a sun-dappled idyll begins to disintegrate. We glimpse fractures within the family – sons Jim and Peter bicker about the best way to maintain the ancient machines, daughters Kathy and Nancy reveal some resentment about the constraints of life here, the absence of outside relationships, as they garden and sew and pump the bellows for the old organ their father plays. There's a touching scene between Kath and Jim in the garden, as they talk about her flowers and he quotes a romantic poem, which takes on a suggestion of an incestuous relationship which can't quite be openly admitted.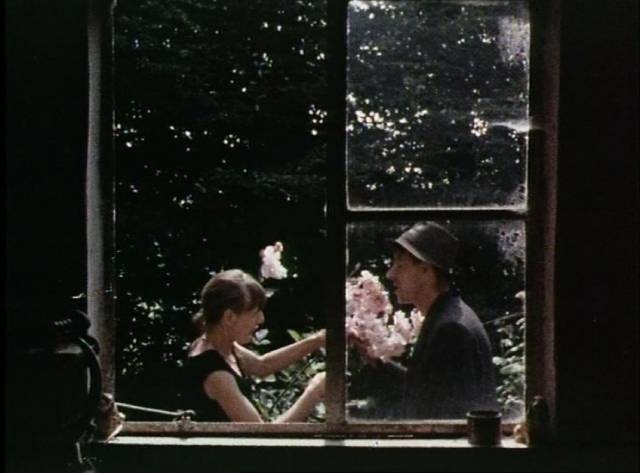 We never really learn how these people became confined to this small patch of earth with only themselves for company, but there's a growing sense of frustration and sadness that life hasn't amounted to more. The cheerful, even garrulous patriarch takes on a slightly sinister aspect as we see the hold he has maintained on his children – he may have lived out in the world before starting a family, but having retreated he has ensured that his offspring haven't had that opportunity. Trevelyan and cameraman Richard Stanley pay close attention to faces, but as expressive as they are they only give us brief, fragmentary glimpses of the thoughts and feelings behind guarded eyes. It's up to the audience to make something of it all – hence the conflicting reviews.
Watching the film again recently, on the 50th anniversary DVD with an improved, restored image and supplementary interviews with people involved in the production, I can't help finding in it the suggestion of a tragic Nineteenth Century romance by one of the Brontes or Thomas Hardy, a story of people both shaped and crushed by the harsh demands of a self-sufficient life on the land.