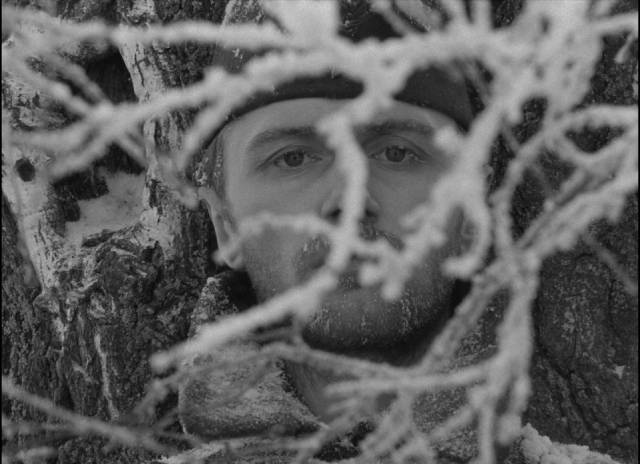 For Soviet filmmakers in the 1950s and '60s, a film about the Great Patriotic War was a rite of passage. The fight against Germany had consolidated a national identity which had been conflicted in the previous two decades as the Revolution violently worked to reshape and modernize a society rooted in the economic and class conditions of the 19th Century. Winning the war against Germany forged a sense of shared destiny which Stalin was able to appropriate to himself; but after the dictator's death and a relative loosening of the political situation, the war could be treated as a more generalized expression of national identity rather than as a tribute to his leadership.
Lesser talents no doubt leaned on cliches and propaganda, but the best directors managed to infuse the genre with greater depth. Their films – Mikhail Kalatozov's The Cranes Are Flying (1957), Grigoriy Chukhray's Ballad of a Soldier (1959), Andrei Tarkovsky's Ivan's Childhood (1962) – mined the war for stories of individual sacrifice infused with the heroism of ordinary people, blending triumph with tragedy. The War became a forge for shaping the Russian soul; while that soul might of necessity be associated with the collective imperatives of Communism, it had its roots in pre-Revolutionary Russia and the literature of the 19th Century. Despite the ostensibly materialist nature of the Revolution, the deeply rooted spiritual bond between the people and their nation remained and was embedded in these movies through expressive imagery which imbued the characters' suffering with a mystical quality.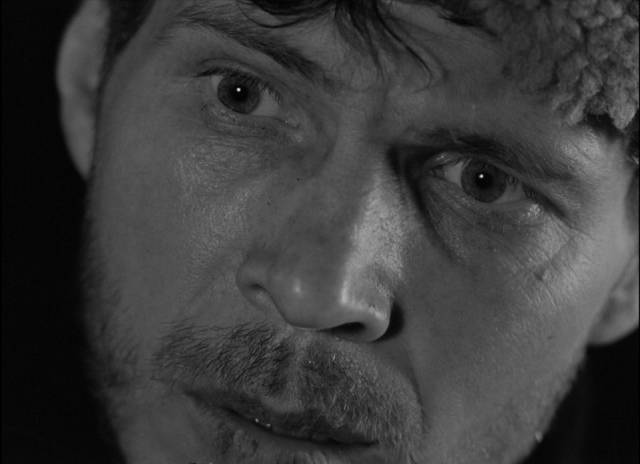 Larisa Shepitko, born in 1938, was younger than the above-mentioned filmmakers, and her own Great Patriotic War movie came well after the heyday of the genre. The Ascent (1977), while hearkening back to those earlier movies with its starkly expressive black-and-white cinematography, is more overt in its spirituality; as it progresses it increasingly evokes echoes of Christ's suffering, although it never relinquishes the visceral power of the material circumstances of the characters' lives and deaths.
Under the opening titles, a group of partisans and civilians flee from German gunfire across a landscape buried under snow, seeking temporary shelter in leafless woods. It's bitterly cold (the film was shot in the depths of winter, with temperatures dropping to minus-40 degrees) and food and water are running low. The partisan commander wants someone to go and forage for food, but many are already so weak or injured that they refuse. The task falls to Rybak (Vladimir Gostyukhin), an earthy peasant, and he's followed by Sotnikov (Boris Plotnikov), despite Rybak trying to deter him. Sotnikov is frail and sick, a teacher unaccustomed to physical hardship, and he is something of a hindrance to Rybak as they forge a path through deep snow towards a nearby farmhouse.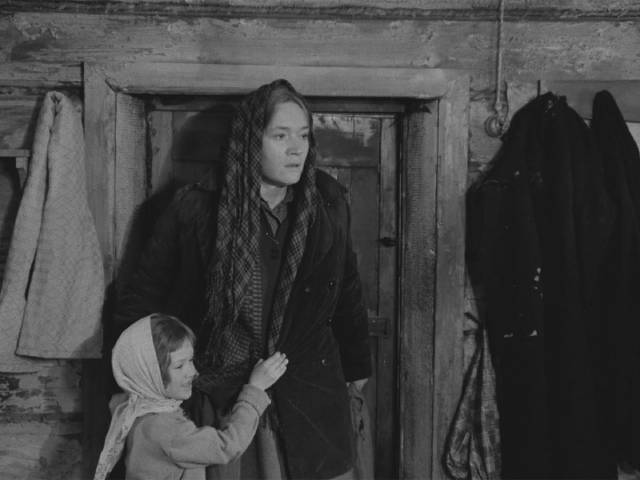 What they find is a burned-out ruin. Unwilling to return empty-handed, they move on towards a village where they finally come across an inhabited farm. They quickly deduce that the village elder inside the house (Sergey Yakoviev) has survived by cooperating with the Germans; the compromises necessary to survive in the midst of war and occupation form one of the film's central themes, the question being how much can one give up before life becomes valueless. Rybak takes the elder outside, apparently prepared to kill him, but instead kills a sheep. Heading back towards their unit with the animal, the two men run into a German patrol. Sotnikov is wounded in the leg and Rybak leaves him. After firing back at the patrol, killing one German, Sotnikov tries to turn his rifle on himself, removing a boot so that he can pull the trigger with his toe, but he's too weak. As he lies back in the snow, accepting his imminent death, Rybak returns and drags him away from the approaching Germans.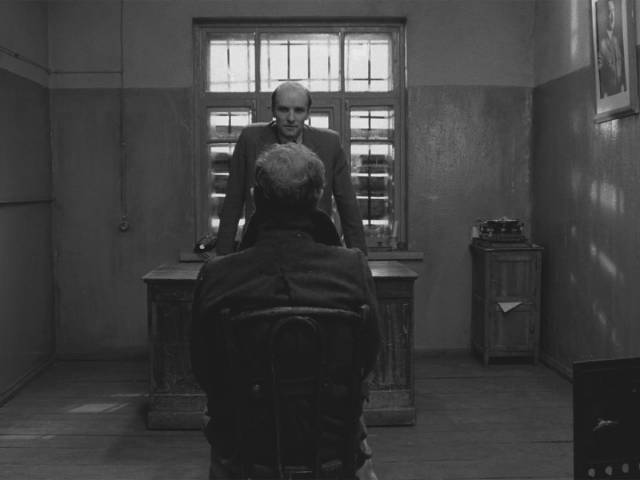 Resistance to and acceptance of death create an on-going tension through the remainder of the film. Sotnikov gains strength through resignation, while Rybak is weakened by his desperate desire to remain alive. That desire becomes a kind of contaminant which infects others; they seek shelter in a farmhouse where they find three young children. When their mother Demchikha (Lyudmila Polyakova) returns, she's angry and resentful because the men's presence endangers her and her children. Yet when a patrol comes by, she tries to hide them. Sotnikov, weak and in pain, gives them away by coughing, and they are captured by the Germans, who also drag the woman away for harbouring partisans, leaving her children alone to fend for themselves.
Once captured, the pair are confronted by Portnov (the great Anatoliy Solonitsyn, probably best known for the title role in Tarkovsky's Andrei Rublev [1966]), a police official collaborating with the Germans. Sotnikov unsettles the man with the beatific calm with which he endures torture, while Rybak cracks under the mere threat of physical pain. Imprisoned with several others – including Demchikha, the village elder whose sheep they took, and a young Jewish girl whom a villager had been hiding – Sotnikov's calm resignation becomes a source of strength for them all as they face execution … all except Rybak, who begs to be allowed to join the collaborationist police rather than die.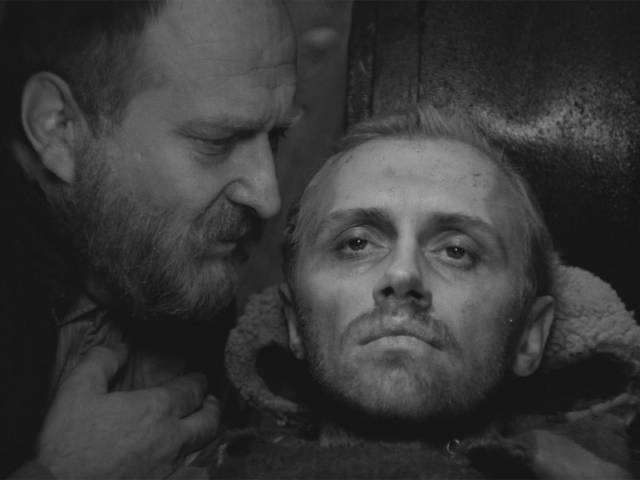 Sotnikov's acceptance of his fate leaves him paradoxically undefeated, something sensed by Portnov, who sees that the man somehow transfers the strength of his resistance to a boy witnessing the execution; while in clinging to life Rybak has lost everything. The evocation in the final sequence of Christ on Golgotha and Judas driven mad by his betrayal push the film into overt allegory, which for me at least detracts from the dramatic power of the narrative which Shepitko has so carefully constructed from a precisely observed reality (an impression apparently shared by Tarkovsky, who found the symbolism too obvious). But there's no denying the overall impact of her filmmaking, the striking imagery and excellent performances.
The Ascent was Shepitko's fourth and final feature; she died at forty-two in a car crash during production of her next film, which was completed as Farewell (1983) by her husband Elem Klimov.
*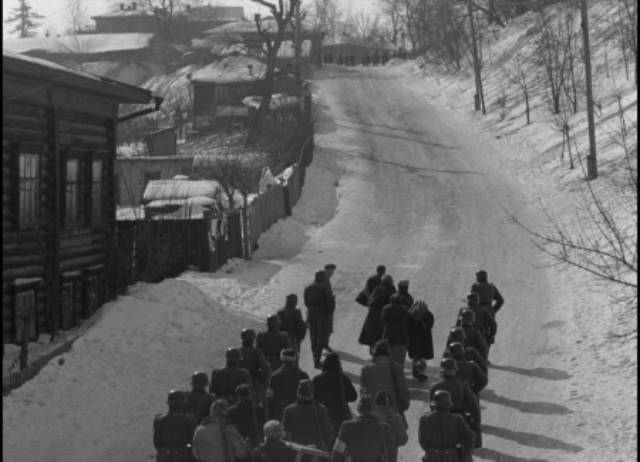 The disk
Criterion previously released The Ascent on DVD in 2008 as part of a two-disk Eclipse set, along with Shepitko's second feature, Wings (1966). Needless to say, this new 4K restoration by Mosfilm shows a huge improvement in image quality.
The supplements
Quite a few recent Criterion releases have been a bit light on supplements, and the original Eclipse edition of The Ascent was obviously bare-bones, so this release seems almost like over-compensation. The disk includes four-and-a-half hours of extras! Much of this material focuses on Shepitko herself and her short life and brief career, beginning with an introduction by Anton Klimov, her son (17:38), who offers a very personal perspective on the film. There's a selected-scene commentary from Daniel Bird (33:08) which discusses her use of symbolism in The Ascent. An interview with actress Lyudmila Polyakova (22:18) focuses on Shepitko's work with the cast. Larisa (20:46) is a tribute made by Elem Klimov shortly after her death in 1979, while A Talk With Larisa (52:40) is an interview with Shepitko from German television after The Ascent won the Golden Bear at the 1978 Berlin Film Festival, framed by comments from Klimov recorded in 1999. In addition there are two Russian television programs from 2012 (39:55, 39:03), one focused on Shepitko's career, the other on her relationship with Klimov.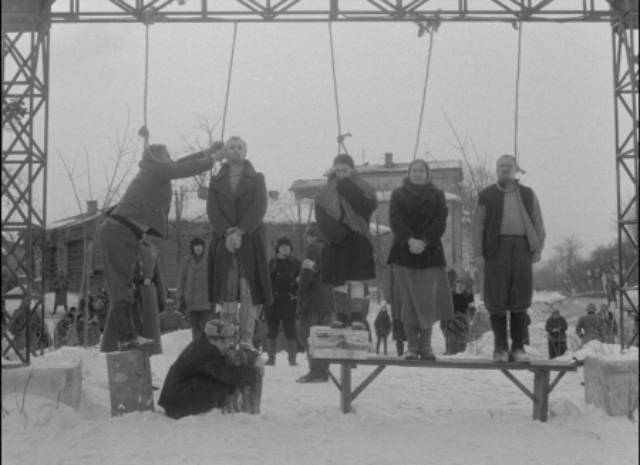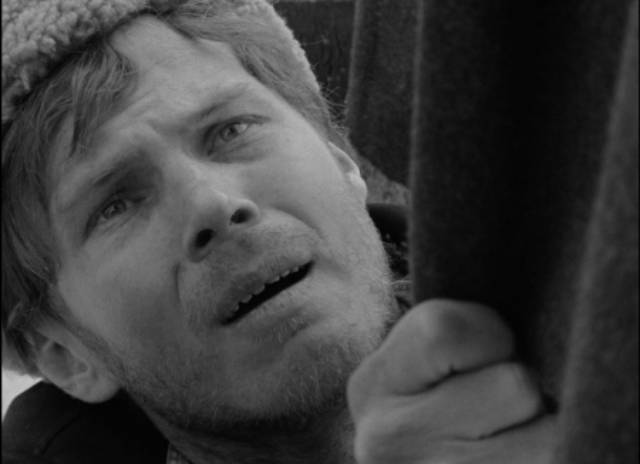 And finally there's a short film made by Shepitko in 1967 as part of an omnibus film commemorating the fiftieth anniversary of the Revolution; The Homeland of Electricity (38:50), adapted from a story by Andrey Platonov (one of whose stories was the source of Francesco Rosi's Three Brothers [1981]), is about a young student sent to a remote area suffering from drought and famine, who finds the peasant population lethargic and helpless. He gradually gets them involved in building a pump from scrap metal gathered from their houses, producing water to irrigate their fields. In a strangely ambiguous ending, the old motorcycle which powers the pump bursts into flame, stopping the flow of water; as the villagers stare in shock, it begins to rain, but they seem completely unaware of the action of nature as technology fails them. The authorities considered the film too pessimistic and suppressed it, destroying the negative. Expecting something of the kind, people involved had already struck a couple of prints which were hidden away until Glasnost and it was restored and screened in 1987. The print used for this transfer is quite battered, but it reflects Shepitko's preference for harsh landscapes and people in extreme situations.
The booklet essay is by poet Fanny Howe.