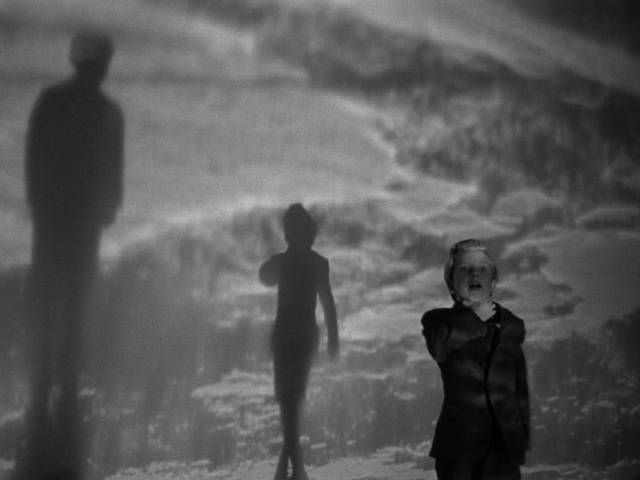 Moonrise (Frank Borzage, 1948)
Frank Borzage was an incredibly prolific filmmaker, having begun directing shorts at the age of nineteen in 1913. After a couple of years he graduated to features and averaged about two a year for the next four-and-a-half decades, though the rate slowed with the coming of sound. My experience of Borzage's work has been spotty – I've only seen about ten percent of his eighty-five or so features, from the late silent and early sound years, and while I can recognize the skill and elegance, his romanticism is not entirely to my taste.
Of the films that I've seen, most seem to involve people tragically oppressed by circumstances beyond their control, often forced into criminal acts by society's rejection, and ultimately redeemed by love. Romance in these films is an almost supernatural – or religious – force with the power to wash away misunderstandings and injustice.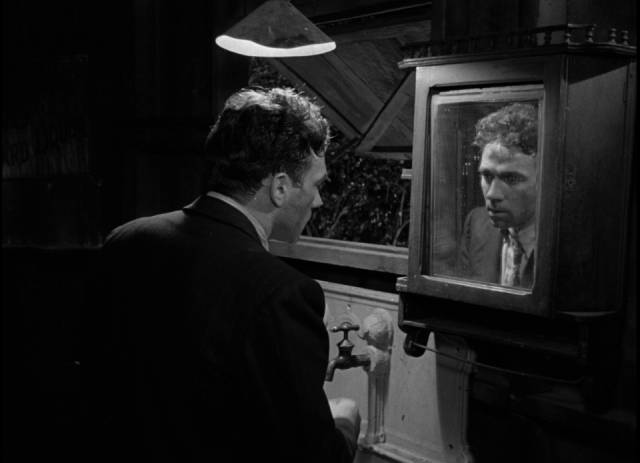 With the grinding pressure of the Depression and the war which followed forcing a new, harsh realism on audiences, Borzage gradually fell out of favour – his work became less commercially viable and, ironically, this elegant, sensitive artist ended up at Republic Studios, home of cheap westerns and crime films. He was one of several major directors brought in by Herbert Yates to give Republic a bit of prestige – Yates financed Orson Welles' striking Macbeth (1948) and John Ford's The Quiet Man (1952).
Borzage wasn't happy at the studio and after two unsuccessful features, he was reluctant to take on what would be his final project for Yates, a film which had already collapsed for William Wellman and which tangentially belonged to a genre completely at odds with Borzage's own outlook. Moonrise (1948), adapted from a popular novel by Theodore Strauss, had elements of noir – an ill-fated hero trapped by circumstances beyond his control – and the idea that doom was inescapable was diametrically opposed to Borzage's belief in redemption through love.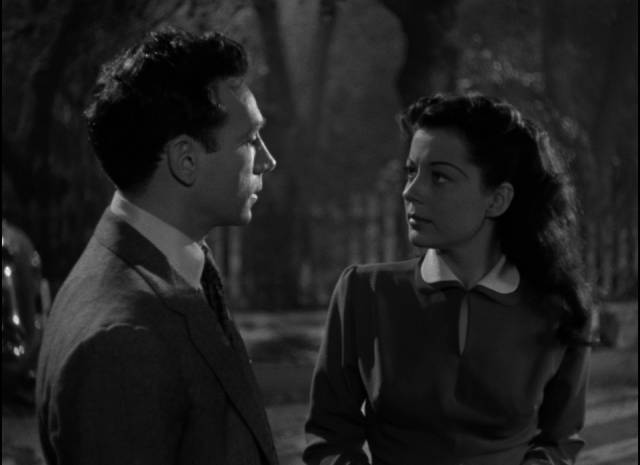 I'm not sure in what ways Moonrise would have been different if directed by Wellman with John Garfield in the lead, but in Borzage's hands, the film is a strange, dreamy work whose style hearkens back to silent cinema – an impression reinforced by its elaborate studio exteriors, which include a small Southern town's railway station and square and a very gloomy swamp. The prologue is a remarkable expressionist nightmare which uses reflections, distortions, shadows and unsettling angles to depict the hanging of a man and the lasting impact the execution has on the man's son. We see the shadow of death on the boy as a baby in his cradle, quickly followed by childhood years of being tormented by other kids who taunt him about being the son of a murderer.
All this is compressed into just a few minutes before we meet the grown Danny Hawkins (Dane Clark) by a dark pond across which we can see a dance in progress. Danny is confronted by the arrogant Jerry Sykes (Lloyd Bridges), who warns him away from his girl Gilly Johnson (Gail Russell). They get into a fight which quickly escalates. Danny, after a lifetime of being tormented by Sykes, won't back down and when Jerry comes at him with a big rock, he wrestles it away and smashes Jerry's head. Although to some degree it was self defense, Danny sees this as confirmation that he's tainted by a killer's blood.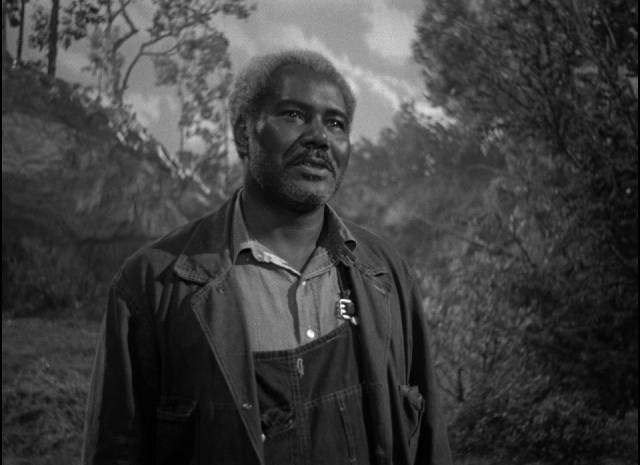 Fear and guilt grow inside him, causing increasingly erratic behaviour which eventually gives him away to various other characters – all his life he has believed that he's destined for his own father's fate and everything he does now pushes him towards it. All very noirish.
But in Borzage's hands, it doesn't play out that way. Although Danny has been tormented, abused and ostracized all his life by the likes of Jerry Sykes, the air of doom comes almost entirely from within himself. It's the product of his anger and hatred towards a father who has placed the burden of a criminal reputation on him. But in truth, he's surrounded by people who are sympathetic and supportive: his Aunt Jessie (Selena Royle), who brought him up; his grandmother (Ethel Barrymore), who towards the end puts his father's act into perspective; even the remarkably sensitive, laid-back Sheriff Clem Otis (Allyn Joslyn); and his wise old friend Mose (Rex Ingram), a thoughtful, educated Black man who has separated himself from society to live back in the swamp with his hunting dogs.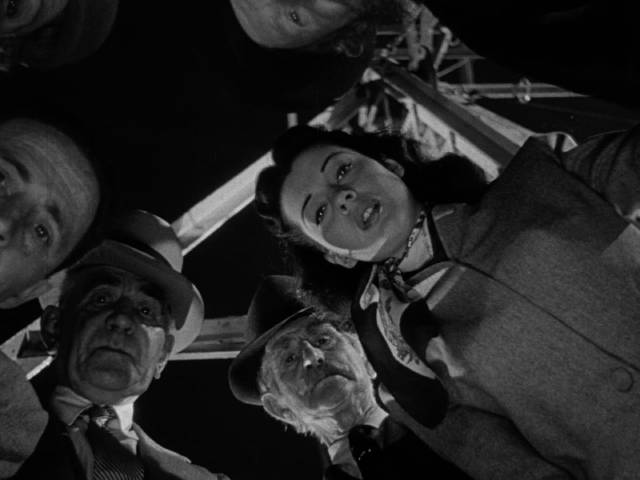 Mose is the most interesting character in the film, not simply because of Ingram's quietly powerful performance, but because it's so unusual to see a Black character from that period given such a dramatically pivotal role; he understands Danny's pain and anger and becomes a substitute father, giving the boy advice and a dose of philosophy to give him a bigger perspective on life. Like the Sheriff, Mose does what he can to guide Danny to the right decision – to own his action and face the consequences rather than running and being dragged back like a criminal.
But most importantly, there's Gilly, the woman he loves and who – despite having been engaged to Jerry Sykes – loves him. Gilly, the town's school teacher, risks her position by embarking on a relationship with Danny, and her love is crucial to his ultimate redemption. She, along with all the other positive forces in Danny's life, refutes the bleak fatalism of noir … and also reinforces the feeling that Moonrise belongs to an earlier age. The studio sets, the expressionist imagery, and the redemptive morality make the film seem more like a silent melodrama than a product of the post-war years – an impression which garnered it critical dismissal and audience disinterest when it was first released. The film disappeared along with Borzage and his reputation for decades until its gradual rediscovery in the past twenty-odd years.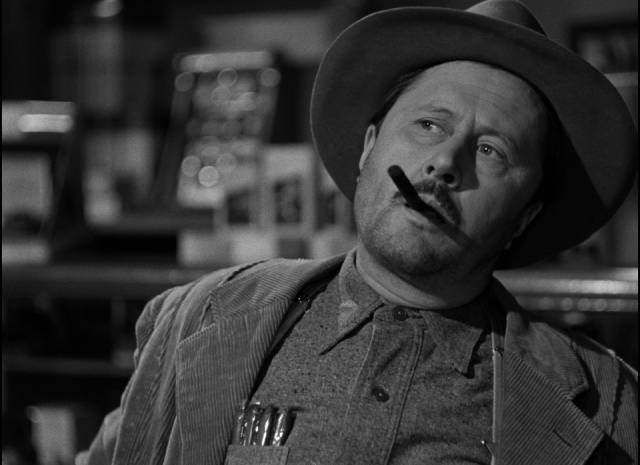 Untied from the moment of its creation, Moonrise can now be appreciated for its many positive qualities, not least Borzage's audacious expressionist imagery – that opening sequence is breathtaking, and the quick montage of Danny's tormented childhood tells us all we need to know about his psychological state. The studio sets, seen as creaky and fake at a time when filmmakers were aggressively getting out into the real world, now bear a potent psychological power, giving the entire film an air of claustrophobic interiority; the whole thing seems to be trapped inside Danny's head, distorted by his crippled view of the world until it suddenly opens up in the last few shots after he makes the right decision.
But that said, there's one thing which threatens to sink the whole enterprise – Dane Clark as Danny. He's so locked into bitterness and anger, it's impossible for the viewer to see in him the potential for redemption which so many other characters apparently see. In particular, Gilly's response to him seems completely implausible. After killing Jerry, Danny returns to the dance and forces himself on Gilly. Unwilling to make a scene which would inevitably cause her problems as the local teacher, she lets him drag her out of the dance and, along with another couple, they drive off into the night. Fuelled by alcohol and guilt, Danny drives like a maniac as his passengers plead with him to slow down. The more they plead, the more aggressive he becomes, his self-destructive fury eventually causing a crash which everyone luckily survives.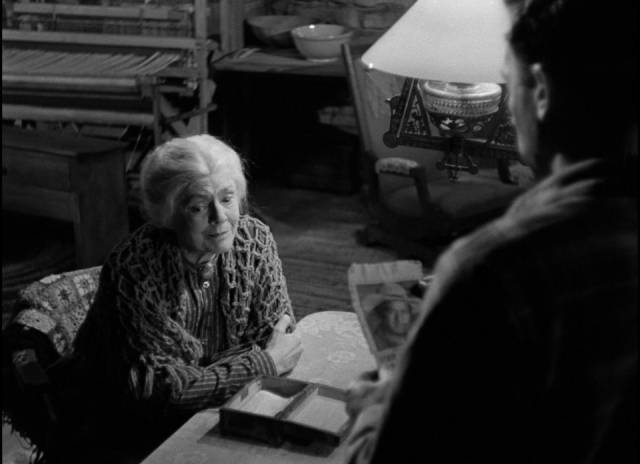 So obviously out of control and dangerous, it seems clear that Danny isn't a good bet, and yet Gilly is drawn more closely to him. Unconcerned with Jerry's disappearance (it will be a while before the body is found in the swamp), Gilly responds to Danny's aggressive advances by acquiescing. She sees in him a wounded child like those she deals with at school – which gives her feelings more of a maternal than a romantic air – wanting to protect him from the world. Gail Russell, with her large sad eyes, does her best, but Clark's Danny is so alienating that it's hard not to get irritated by Gilly. Clark's one note performance never allows us to see Danny's vulnerability, just his unwavering anger, resentment and self-pity, until the sudden last-minute moment of redemption. This unwavering love of a sensitive woman for an abusive man is reminiscent of Borzage's 1930 film of Ferenc Molnar's Liliom; it's a narrative element which really hasn't aged well.
*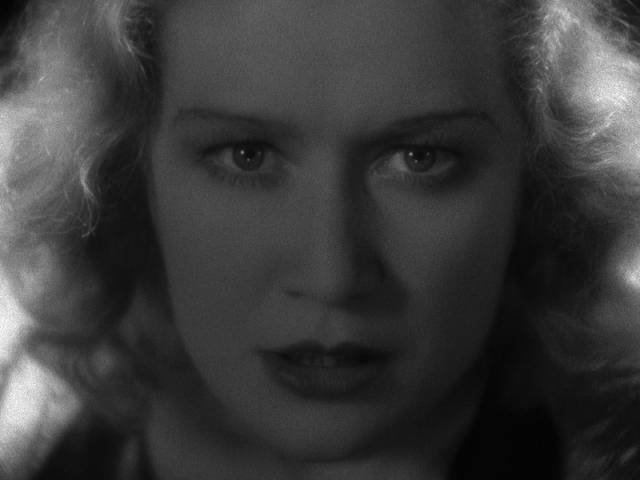 The Story of Temple Blake (Stephen Roberts, 1933)
Another recent Criterion release makes an excellent double-bill with Moonrise. It too combines noirish elements with expressionist imagery, in a Southern setting. Stephen Roberts' The Story of Temple Drake (1933), made on the cusp of the Production Code, was adapted from William Faulkner's controversial pot-boiler Sanctuary, a novel which outraged the guardians of propriety with its sordid tale of rape and murder. Naturally, the novel had to be watered down, if not exactly cleaned up, to make it acceptable to an industry which was striving to hold off outside regulation in the wake of all the sex and violence which had been rampant on screen in the final years of the silent era and the first years of sound.
The film tells the story of Temple Drake, a wealthy young woman whose privileged life has generated a decadent attitude – a party girl with "loose morals", she has rejected repeated proposals of marriage from an upright young lawyer because she knows she wouldn't be good for him. Beneath the constant pursuit of fun, Temple has a deep well of self-loathing – her father's wealth has made it unnecessary for her to develop either a sense of responsibility or any real self-awareness beyond knowing that there's really no place for her in "respectable society".
Bored at a big party one night, she takes off with one of her friends, the drunken Toddy Gowan (William Collier Jr), who not surprisingly crashes the car on a dark road. It just happens that a gangster named Trigger (Jack La Rue) is nearby and he leads the pair to a run-down old plantation which houses a seedy speakeasy run by Lee Goodwin (Irving Pichel). Toddy is so drunk he's out of it, leaving Temple vulnerable. Lee's wife Ruby (Florence Eldridge), although contemptuous of the society woman, shows her to a crib in the barn where she can sleep, hopefully without interference, leaving a boy named Tommy (James Eagles) to stand guard. But Trigger finds her there, shoots Tommy and rapes Temple. (The film remains oblique here, of course, with the assault off-screen; but it does leave a suggestion for those who've read the book, with a bin of corncobs in the background – Faulkner depicts the sadistic Trigger as impotent, using a corncob for the actual assault.)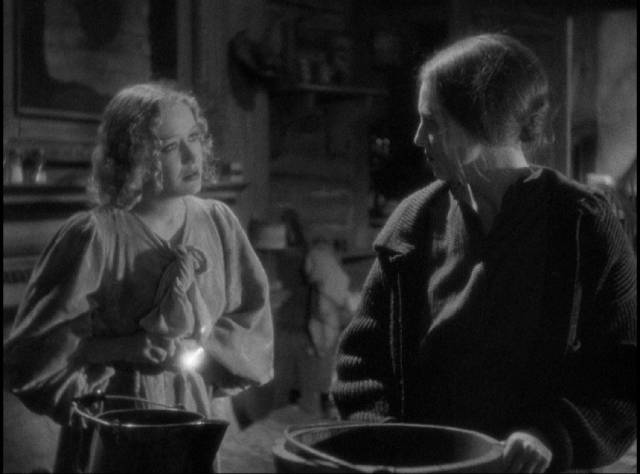 This degradation essentially confirms Temple in her self-loathing and she goes with Trigger, who sets her up in a brothel run by Miss Reba (Jobyna Howland). Meanwhile, Lee is arrested for the murder of Tommy and Temple's would-be fiance Stephen Benbow (William Gargan) is assigned to his defence. Lee won't help himself by implicating Trigger because he fears the gangster more than the law, but Ruby tells Stephen where he might find Temple.
And find her he does at Miss Reba's, half-dressed in the company of Trigger. Realizing that Stephen is in danger, she asserts that she's with Trigger willingly, playing fully into the role of fallen woman to protect the man who loves her. After Stephen leaves, Trigger assumes that what she said was genuine, but her disgust with him and herself prompts her to kill him.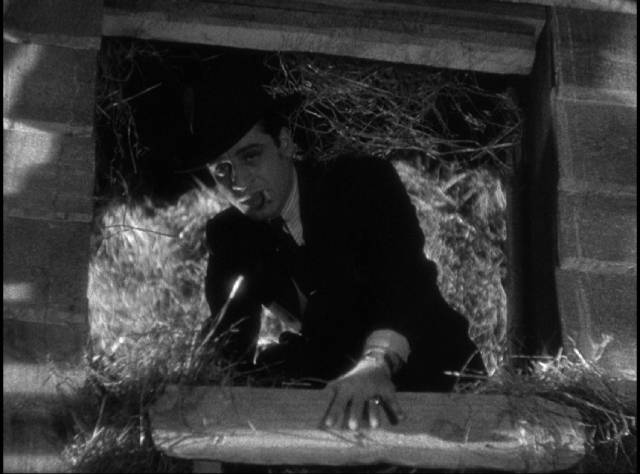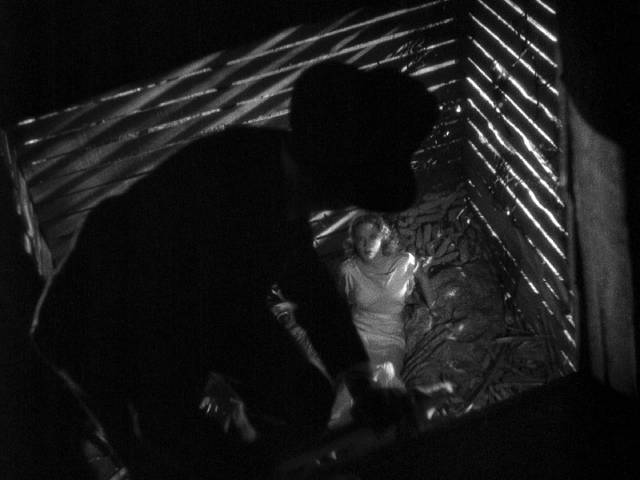 Having hit bottom, Temple seems to have no way to restore herself to her former comfortable life. She confesses to Stephen, but pleads not to be called for the defense at Lee's trial. With no other option to save his client, Stephen does call her and although she initially resists, Temple eventually tells the whole story, finally redeeming herself from the awful consequences of her own careless behaviour.
Like Moonrise, this is the story of a character whose internal conflicts lead to a series of bad decisions which in turn lead to murder … and a crucial choice to take ownership of those decisions and their consequences, thus bringing themselves back into the society from which they have felt ostracized. There may be more pure art in Borzage's style than Roberts', but where Dane Clark is off-putting, Miriam Hopkins gains the audience's sympathy with her fierce performance as Temple. Even in the early going, her resistance to conformity and social norms comes across as an expression of independence in a time and place which has little to offer a woman. Trigger's violence is simply a cruder way to reduce her to a form of property, which is the only real role her class has to offer her.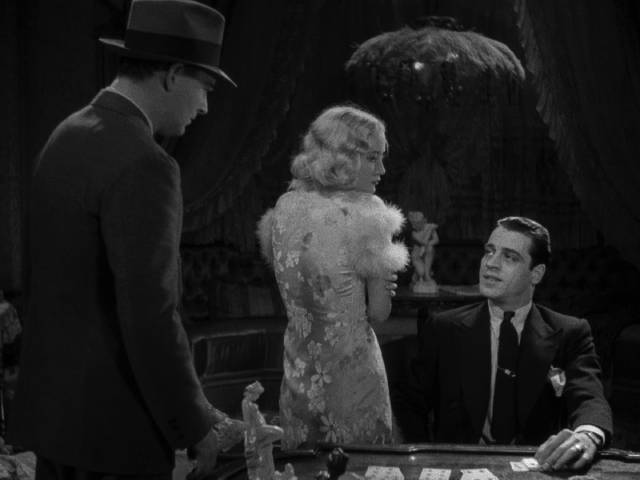 The strictures of the industry in the early '30s necessitated polishing some of the sordidness off Faulkner's story, but that worked in the favour of a more interesting and nuanced depiction of Temple as a character and her struggle to achieve some kind of agency within constricted social opportunities. The atmospheric, expressionist cinematography of the great Karl Struss provides a powerfully dramatic setting for Hopkins' performance, particularly in the sequences at the old plantation, which have the mood of the classic horror films of the period. (Struss not only shot F.W. Murnau's Sunrise [1927], but also Rouben Mamoulian's Dr. Jekyll and Mr. Hyde [1931] and Erle C. Kenton's Island of Lost Souls [1932]; he ended his long, prolific career – almost 150 credits – with Roy Del Ruth's better-than-it-needs-to-be The Alligator People [1959].)
*
Both films are given impeccable presentations by Criterion, with richly detailed transfers. Neither gets a commentary, but there are supplements to provide context. On the Moonrise disk, there's a conversation (17:20) between Borzage expert Herve Dumont and film historian Peter Cowie in which they discuss the director's career, his decline in favour during the '30s and '40s, and the origins and reception of Moonrise itself.
There are three supplements on the Temple Drake disk, beginning with a discussion on the visual style of the film between cinematographer John Bailey and director of the Margaret Herrick Library Matt Severson (17:58); critic Imogen Sara Smith on the complexity of the film and Hopkins' performance (19:15); and an interview with critic Mick LaSalle about the film's relationship to the Production Code and the censorship of the period (14:21).