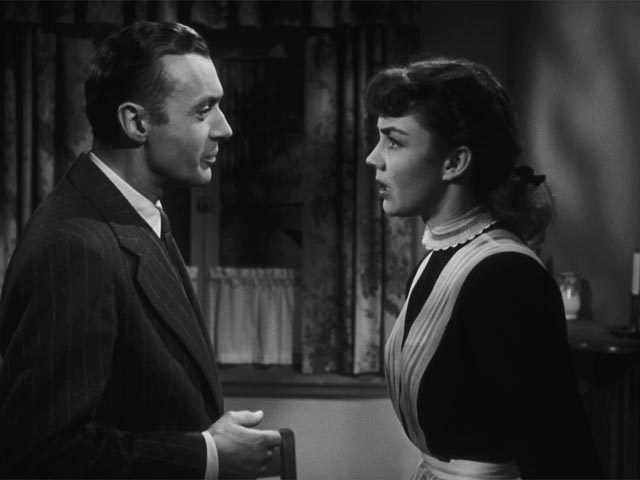 When I first saw Ernst Lubitsch's final completed film about ten years ago, it was with a preconceived notion that this was a minor work which was a disappointing finale to a career full of sparkling high points. And yet, what I discovered was a charming, somewhat melancholy comedy filled with wit and finely drawn comic characters. That impression has been reinforced by watching the film again on Criterion's luminous new Blu-ray edition.
Cluny Brown (1946), made just after the War, is set in England just before the War. In 1938, Hitler was already reaching out to take possession of Europe, having started with Czechoslovakia. That country was essentially signed over to him by British Prime Minister Neville Chamberlain, and yet one of the two protagonists of the film is a Czech exile who has sought refuge in England. Adam Belinski (Charles Boyer) is a famous intellectual who is now homeless – stateless – but not helpless; he is a wily manipulator who skillfully takes advantage of the upper class English people he encounters, while making them feel good about themselves for being generous to him. In essence, he's a good-natured conman.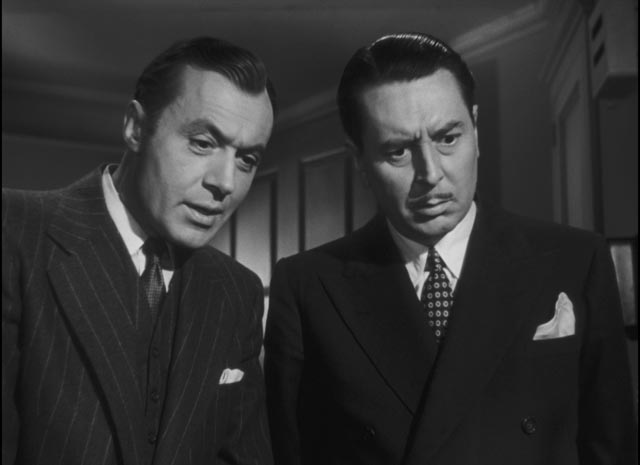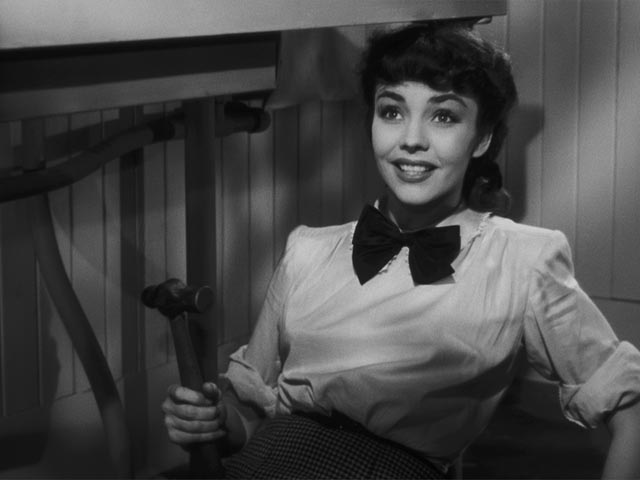 In the opening scene, Adam encounters another character who doesn't fit in. Cluny Brown (Jennifer Jones) is a feisty orphan with a passion for plumbing which she has developed living with her plumber uncle. Like Adam, she is a displaced person, but unlike him she isn't wily and manipulative – rather, she is open-hearted and oblivious of social rules. Her passion for plumbing horrifies those who witness it, as a violation of both social and gender distinctions. Everyone, that is, except Adam who is enthralled by her enthusiastic unclogging of a kitchen sink.
By the machinations of a well-oiled plot, both Adam and Cluny end up at the country estate of Sir Henry and Lady Alice Carmel (Reginald Owen and Margaret Bannerman). Adam has been given refuge by their rather feckless son Andrew (Peter Lawford) – he's so concerned about the looming war in Europe that he's even written a letter to the Times – while Cluny has been sent by her Uncle Arn (Billy Bevan) to take a position as parlour maid in the hope that she will learn her proper place.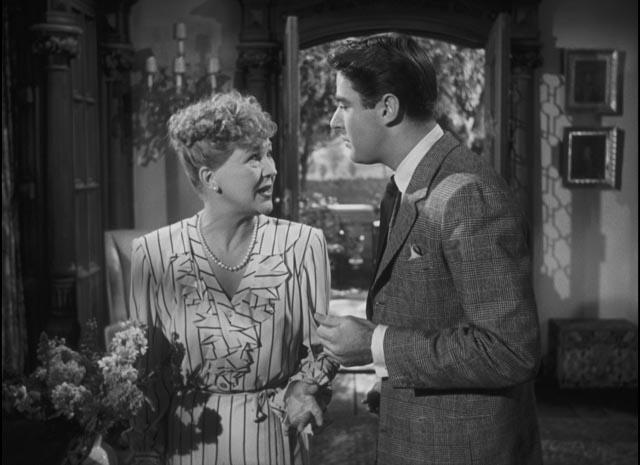 The comedy is rooted in the clash between these two outsiders who ignore the rigid conventions of Britain's classbound pre-war society and all those who absolutely embrace those conventions, who define their sense of themselves and their place in the world by the deeply entrenched rules. Under Adam's watchful gaze, and with some judicious prodding from him, Cluny gradually comes to understand herself and what she wants from life (apart from the freedom to plumb).
This process involves a major detour which brings her close to marrying the very stuffy local chemist Jonathan Wilson (Richard Haydn), who is arrogant and unwavering in his sense of his own place in the world, living behind his shop with his aging mother – played by Una O'Connor in a masterful comic turn which relies entirely on a remarkable range of throat-clearing coughs and glances rather than words. One of the film's melancholy comic highlights is Mother's sixty-fifth birthday party at which Jonathan's speech leading towards an announcement of his engagement to Cluny is interrupted by a plumbing emergency. Cluny initially tries to resist temptation, but finally can't control herself, and to everyone's horror and embarrassment she rolls up her sleeves and sets to with a hammer and wrench.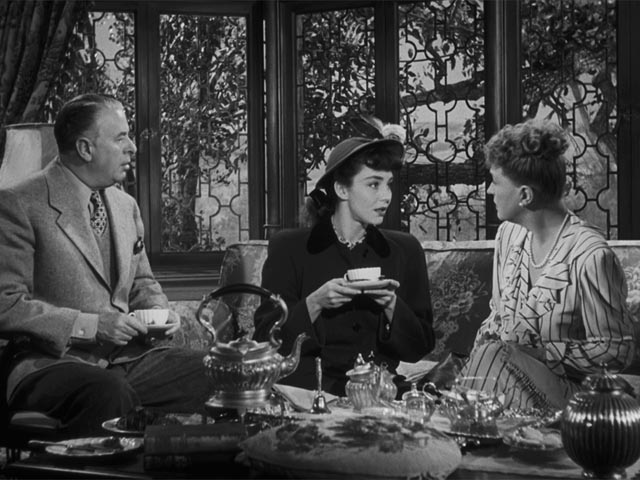 Although Lubitsch views all his characters with sympathy, even though so many of them are so comfortably cocooned that they remain dangerously oblivious of the coming horror, it is clear from that opening scene that the two misfits are destined for one another. All the social comedy, the details of character, the intersecting plot lines (Cluny's close call with marriage is paralleled by Andrew's incompetent non-courtship of Betty Cream [Helen Walker], a self-possessed woman who has to take complete charge of their relationship) lead towards the inevitable (and satisfying) romantic-comedy resolution, with Adam and Cluny running away together … running far away, to America where (supposedly) all that class nonsense has no hold.
The script by Samuel Hoffenstein and Elizabeth Reinhardt, based on a novel by Margery Sharp, is as full of wit as any Lubitsch work. The cast is perfectly in tune with the layers of social and character comedy, with both Jones and Boyer displaying previously untapped comedic talents, supported by a terrific group of character actors. But most of all, what makes Cluny Brown a gem – arguably one of Lubitsch's masterpieces – is the superb direction. Lubitsch is in complete control of his craft, his comic timing impeccable, his use of reactions adding layers to every scene which give what might have been an easy send-up of standard comic targets genuine emotional depth. He makes the viewer care about these people even as we laugh at their shortcomings, all the more so because of the shadow of the coming war hanging over them.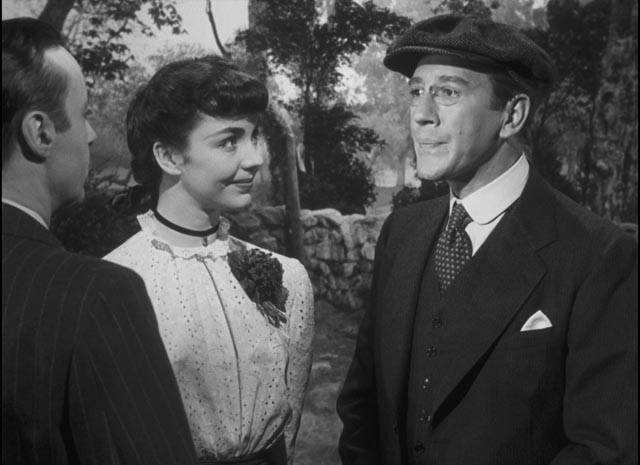 *
The disk
Criterion's Blu-ray has been mastered from a new 4K restoration scanned from a fine grain composite print and it looks gorgeous, with a pristine, detailed image and excellent contrast. The soundtrack is equally crisp, with every word of the snappy dialogue clearly audible. The film doesn't show its age at all.
The supplements
There are several useful extras, beginning with a survey of Lubitsch's career from French critic Bernard Eisenschitz ported over from an old Carlotta DVD (14:11). More pertinent to this particular film are a conversation between critics Molly Haskell and Farran Smith Nehme (16:43) in which they enthusiastically discuss the strong and unconventional female characters in Lubitsch's work; and a visual essay/interview by film scholar Kristin Thompson (15:21) in which she goes into illuminating detail about Lubitsch's very precise use of reaction shots to enrich the humorous effect of the film's social comedy.
There is also a Screen Director's Playhouse radio adaptation from 1950 (59:44), which has Boyer reprising his role, but Dorothy McGuire substituting for Jones.
The booklet essay is by novelist Siri Hustvedt.