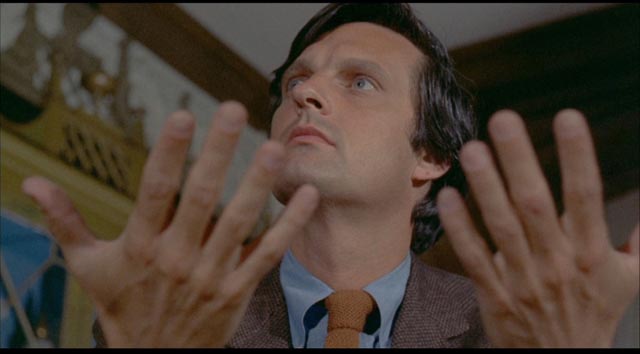 Paul Wendkos was an enormously prolific director of television movies and episodic series who occasionally worked on features (from The Burglar [1957] to Special Delivery [1976]), his greatest commercial success probably coming with the three Gidget movies he made between 1959 and 1963. I think the first Wendkos work I encountered (before I had any idea who he was) was a movie-of-the-week called Fear No Evil (1969), in which Louis Jourdan played yet another investigator of the occult, who encounters a possessed mirror with the power to revive the dead. I haven't seen it in almost fifty years, but still recall it being genuinely creepy and a definite cut above the average TV movie.
I first became aware of Wendkos as a filmmaker in the Winter 1971 issue of Cinefantastique, in which Fred Clarke gave a laudatory review to another of the director's TV movies, The Brotherhood of the Bell (1970). That review, and an interview with Wendkos by Dale Winogura in the Spring 1972 issue, left me with a keen desire to see The Brotherhood of the Bell – a paranoid thriller about a man who joins a Skull-and-Bones-like secret society only to discover that membership comes with hidden costs. But it never came up on TV anywhere I was living, and later I was unable to find it on any form of home video … until now, that is. After watching Kino's Blu-ray of Wendkos' feature The Mephisto Waltz, forty-eight years after reading that review, I was prompted to go searching and discovered that it had actually been released on DVD back in 2015. So naturally, I immediately acquired a copy.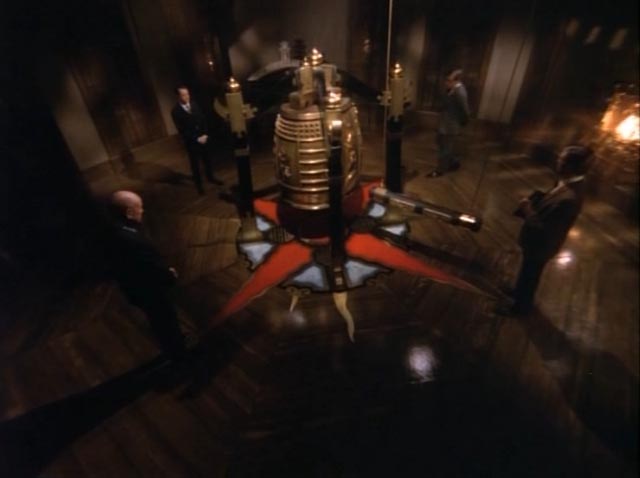 The Brotherhood of the Bell (Paul Wendkos, 1970)
Sitting down to watch The Brotherhood of the Bell, I felt some trepidation – it would be surprising if anything could stand up to five decades of expectation. And yet, apart from an implausibly hopeful ending, it gripped me from the start. The script by David Karp, who had a prolific three-decade career writing television dramas and series episodes, was based on his own novel (previously adapted for Studio One on CBS in 1958) and is an impeccable display of narrative construction; there isn't a wasted moment as it pursues its paranoid trajectory.
In the opening scene, Professor Andrew Patterson (Glenn Ford) returns to his old college fraternity to take part in a backroom ceremony; he is to be the patron of a new initiate into the Brotherhood of the Bell, a secret society stretching back two centuries. Until now, twenty years after his own initiation, membership has seemed purely symbolic, a private men's club for the privileged. But after the ceremony, his own mentor, Chad Harmon (Dean Jagger), sends him to an address where an unnamed man hands him an envelope containing an "assignment" to be carried out for the Brotherhood. He is to dissuade one of his colleagues at a prestigious research foundation from taking a new posting at another institution, because that has already been lined up for one of the Brothers. Contained in the envelope are materials to be used to blackmail his colleague, Dr. Konstantin Horvathy (Eduard Franz), a Holocaust survivor who escaped from behind the Iron Curtain with the help of a network of agents who would be exposed and destroyed if the materials were sent to the wrong people.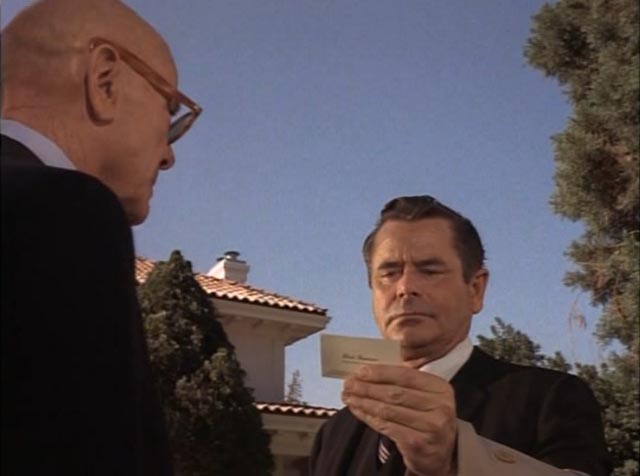 Patterson is appalled and confronts Harmon, who immediately becomes unfriendly. Patterson knew from the start that at some point he would have to pay the price of membership. When Patterson counters that the Brotherhood has never done anything for him, so it's unreasonable to expect him to ruin the life of a close friend, Harmon explains that in fact everything in Patterson's life, his social and professional position, even his marriage to Vivian (Rosemary Forsythe), is owed to the hidden influence of the society – a claim which is, of course, impossible to prove or disprove. But, despite his disgust, he does the Brotherhood's bidding, causing the despairing Horvathy to commit suicide.
Plagued by guilt, Patterson decides to go public and expose the Brotherhood … but the more he tries, the more insane he appears. He can trust no one, even his father-in-law (Maurice Evans), who arranges for the evidence of the blackmail to disappear. With his marriage shattered and his father (Will Geer)'s highly successful construction business under attack from the IRS (yes, even his father's success is apparently due to Patterson's membership in the society), Patterson appears to be an unhinged conspiracy theorist, driven to madness by a sense of guilt about his friend and colleague's suicide. He ends up on an inflammatory TV show where host Bart Harris (William Conrad) manoeuvres him and the studio audience into a paranoid frenzy designed to reinforce the idea that all conspiracy theories are an expression of delusion and madness – allowing the Brotherhood to remain hidden behind the scenes.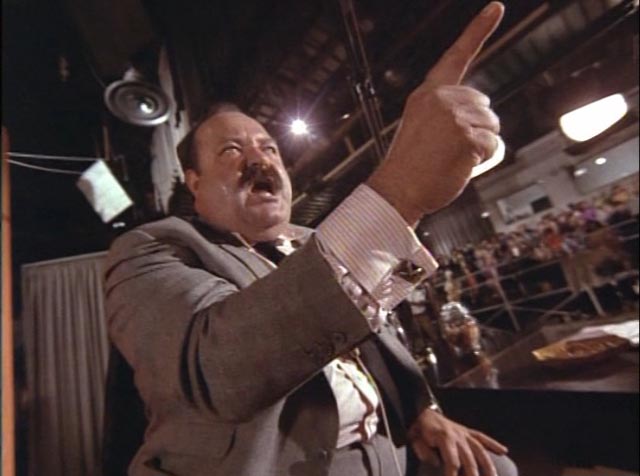 The all-enveloping miasma of fear, the idea of hidden forces maintaining an unshakable grip on every aspect of politics, the economy, even the personal lives of individuals, seems inescapable … and perhaps if the movie had been made as a theatrical feature it would be remembered as one of the first examples of the cynically despairing paranoid thrillers of the 1970s. Maybe it would need a couple more years (and Watergate) to give filmmakers the confidence to follow the implications of such a narrative to their logical conclusion, or perhaps it was just the dictates of a network programming department which led to a coda in which Patterson goes to the new member he was intended to oversee and persuades him to go public and back up Patterson's story. The idea that just one more voice accusing the powerful of being nefariously corrupt could somehow convince the public that Patterson has been telling the truth is unpersuasive because the movie until this final scene has been far too convincing in its depiction of the Brotherhood's absolute power.
Still, that's a minor caveat. Wendkos has milked Karp's script for every drop of its disturbing power, using visual techniques which had served him well in the earlier supernatural horror, Fear No Evil, and would again serve him well in the following year's The Mephisto Waltz – a fondness for extreme wide-angle lenses to distort physical space and human faces, utterly unstable framing which tilts radically again and again as if to throw the characters around in those deep spaces. It's a style which runs the risk of devolving into mere mannerism, but allied to the tightly focused script and the excellent performances of a very strong cast, it creates a deeply unsettling and uncomfortable atmosphere which puts The Brotherhood of the Bell on a level with Alan Pakula's The Parallax View (1974), Roman Polanski's Chinatown (also 1974), Sydney Pollack's Three Days of the Condor (1975). Arthur Penn's Night Moves (also 1975) and other classic paranoid thrillers of the decade.
*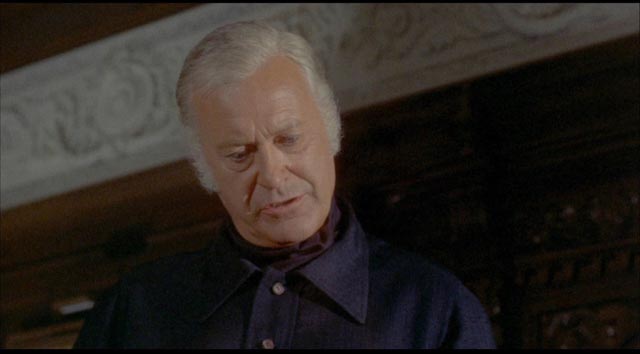 The Mephisto Waltz (Paul Wendkos, 1971)
Despite having been enticed by Cinefantastique's coverage of The Brotherhood of the Bell, I somehow missed what seems to be considered Wendkos' best theatrical feature – perhaps because it never played locally where I was living in the early '70s. The Mephisto Waltz (1971) (reviewed in the Summer 1971 issue of Cinefantastique) was adapted by Ben Maddow (a prolific left-leaning writer who had been blacklisted during the '50s) from a best-selling novel by Fred Mustard Stewart. I actually had a copy of the paperback but never got through it for some reason. It was one of a bunch of popular horror novels from the period – Tom Tryon's The Other, Robert Marasco's Burnt Offerings, William Peter Blatty's The Exorcist – and I suspect that I never finished reading it (unlike the others) because of its setting in the world of classical music, which simply didn't grab my interest at the time.
Stylistically, The Mephisto Waltz is similar to Fear No Evil and The Brotherhood of the Bell. As mentioned, Wendkos had a fondness for very wide-angle lenses, distorting the visual space in sometimes unsettling ways, along with psychedelic montages to evoke a sense of the supernatural and generate paranoia. The story being told here isn't particularly original – it's about Satanists who extend their own lives by serially taking possession of younger bodies. (This was the basis of John Blackburn's 1968 novel Nothing but the Night, adapted by Peter Sasdy in 1973, and has been used as recently as 2017 in Jordan Peele's Get Out.) The protagonist is a failed concert pianist turned journalist who arrives at a big mansion to interview the world's greatest living pianist. The former is Myles Clarkson (pre-MASH Alan Alda) and the latter Duncan Ely (Curt Jurgens). Ely treats the interview as a kind of audition, examining Myles' hands and getting him to play something on the piano. He sees promise and gradually draws Myles into his life (helped by the seductive presence of Ely's daughter Roxanne [Barbara Parkins]). Whatever hold the pair have on him, it starts to adversely affect his marriage to Paula (Jacqueline Bisset).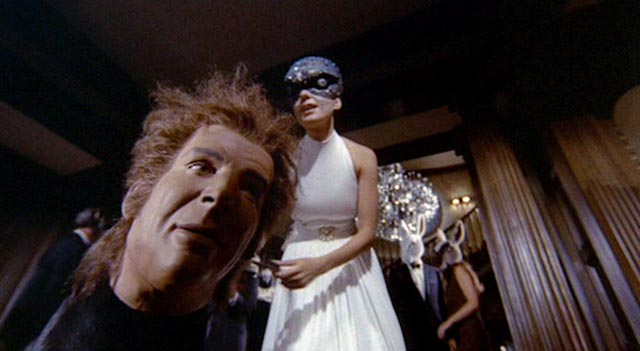 Ely is dying and looking for a replacement vessel and Myles' hands make him a desirable candidate. Being a '70s movie, there's no doubt that things won't end well for the good characters. But the way the story plays out doesn't make a lot of sense when you think about it. (SPOILERS) Using their Satanic powers, Ely and Roxanne manage to transfer the old man's soul into the younger body, essentially obliterating Myles. But Paula has figured out what they're up to and she steals a book of magic from the Ely home and performs her own ritual, summoning the Devil to grant her own wish … which is to transfer herself into Roxanne's body. But Myles is lost, so all she's doing is tying herself to Ely … hardly a successful romantic ending.
What it is is a bit perverse, because all the body hopping is essentially in aid of Ely and his daughter Roxanne perpetuating an incestuous relationship.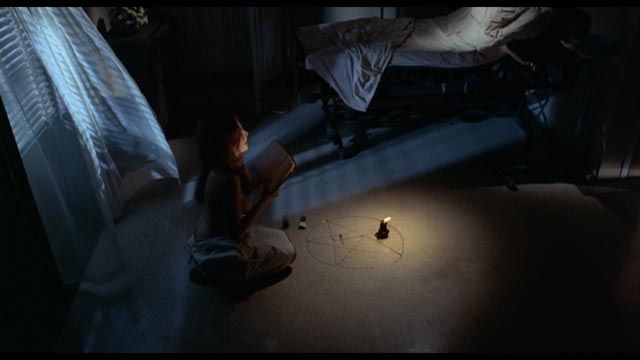 Like Dan Curtis' adaptation of Burnt Offerings, The Mephisto Waltz can't quite shake the air of being a slightly bigger, slightly more ambitious made-for-television movie, perhaps an inevitable consequence of both directors' years in TV production (and the involvement of television uber-producer Quinn Martin in The Mephisto Waltz). It does seem a little ironic that the made-for-TV The Brotherhood of the Bell seems bigger and more ambitious, pushing beyond the limitations of the medium, while the theatrical feature seems conceptually smaller and more constrained. But it does have a good cast and occasionally striking visuals – the masked ball which features a man-faced dog; Paula's impromptu devil-summoning; some hallucinatory dreams which turn out to be all too real.
The Kino Blu-ray presents a decent image, plus a couple of commentaries – from critic Bill Cooke (a former Video Watchdog contributor) and actress Pamelyn Ferdin, who plays the Clarksons' daughter Abby.