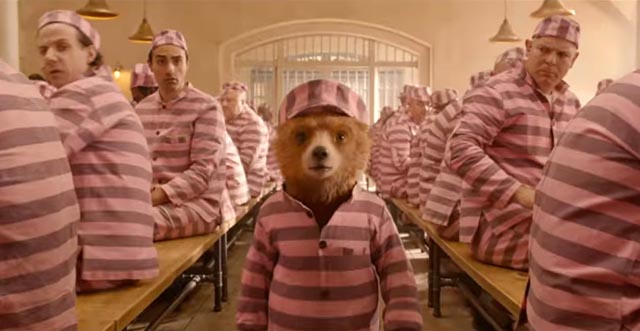 My first trip to a theatre in 2018 turned out to be the best time I've had at the movies in some time. Paddington 2 (despite the uninspired title) is every bit as good as the first Paddington (also co-written and directed by Paul King). Both adapted from the Michael Bond series of children's books, they manage to blend nostalgic charm with the creative possibilities of digital filmmaking technologies. The blend of a CG-generated title character with real locations and live-action cast is seamless, and the CG character itself is rendered with remarkably subtle expressions which convey a rich variety of emotions.
In a field too often characterized by crass and superficial attempts to seize kids' attention, the Paddington films seem almost charmingly old-fashioned. They combine verbal wit with physical slapstick and an honestly earned emotional engagement which avoids sentimental manipulation and pandering. There isn't a trace of condescension and the humour appeals to adults as much as to children, while the hints of danger faced by the small bear in the big city of London generate just the right level of suspense to propel the narrative.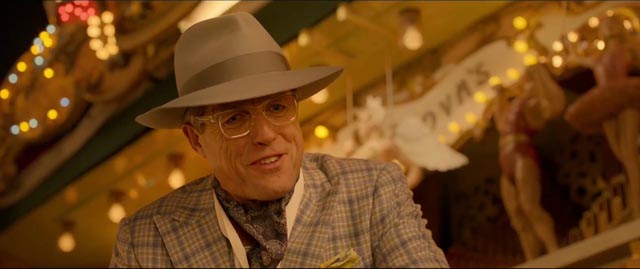 Quite appropriately, this storybook movie revolves around a children's book – specifically, a pop-up book with scenes of London landmarks which Paddington hopes to buy as a birthday present to send ot his Aunt Lucy. Unfortunately, as a one-of-a-kind antique it's a bit expensive, and Paddington has to find work to earn the price. A stint as an assistant in a barber shop ends badly (with dire consequences later in the story), so he tries his hand as a window washer, a chore which introduces several important characters – including the egotistical actor Phoenix Buchanan (a hilarious Hugh Grant) who knows a secret about the book.
When Buchanan breaks into Mr. Gruber's antique shop to steal it, he manages to frame Paddington for the crime and the bear ends up in prison. This stretch is the heart of the film, as Paddington's innocence touches and transforms the hardened criminals who surround him, most importantly the threatening prison cook Knuckles McGinty (Brendan Gleeson). There are various crimes committed, a prison break, an exciting chase involving steam trains, and a tense underwater climax … but all ultimately ends well with an emotionally satisfying conclusion and an elaborate end credits sequence in which even Phoenix Buchanan is redeemed.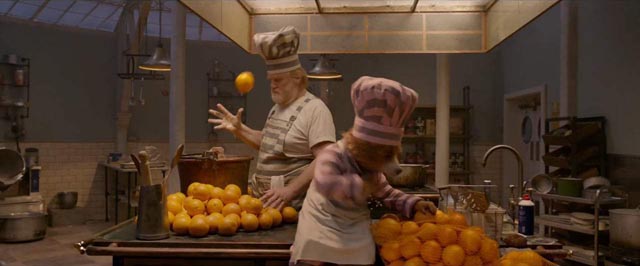 The cast is excellent. Ben Whishaw again lends an unaffected open-heartedness as the voice of Paddington, while Sally Hawkins, Hugh Bonneville, Madeleine Harris and Samuel Joslin return as the Brown family, Julie Waters as their feisty housekeeper Mrs. Bird, Jim Broadbent as Mr. Gruber, and Peter Capaldi as the hostile neighbour Mr. Curry. Fine new additions among a large supporting cast include Tom Conti as Judge Gerald Biggleswade, who sentences Paddington as much in revenge for the barber shop incident as for the supposed break-in. But the two comic stand-outs are Brendan Gleeson as Knuckles, who despite his hardened self-interest finally does the right thing because he's been touched by Paddington's guileless nature; and Hugh Grant, who mocks his own image as the insufferable Phoenix Buchanan. Here he transforms the tendency towards smug self-satisfaction in his past romantic comedy leads into a rousing character part as a villain who uses his theatrical abilities to commit crimes.