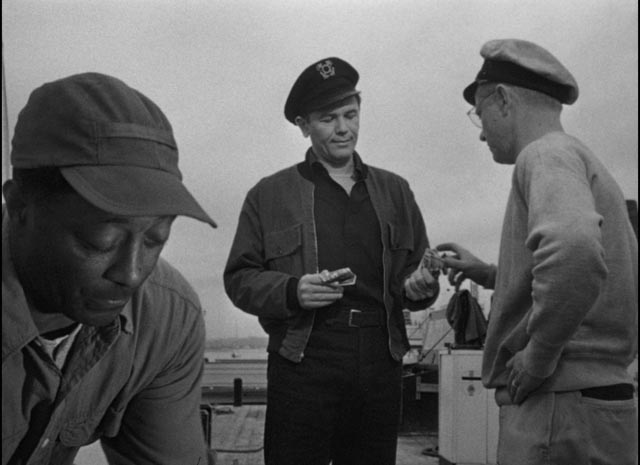 The story goes that Howard Hawks once bet Ernest Hemingway that he could make a good movie out of the author's worst book. The result was one of the finest romantic adventures of the '40s … but it had only a tenuous relationship to Hemingway's novel about a down-on-his-luck charter boat captain struggling to make ends meet in the late Depression, who ends up getting involved in smuggling people and contraband from Cuba to Florida. In Hawks' version of To Have and Have Not (1944), that captain becomes one of Humphrey Bogart's noble wartime anti-heroes (a la Casablanca's Rick), who at first reluctantly and then willingly gets involved in the fight against Nazi Germany.
Just six years later, the same studio (Warner Brothers) financed a new adaptation of that novel, retitled The Breaking Point (1950) and directed by quintessential studio craftsman Michael Curtiz. What began as a book about the Depression, then a movie about the war, here becomes a story about post-war disillusionment. Although relocated to the West Coast, the narrative here is closer to that of the book. But rather than being beaten down by the Depression, the captain – Harry Morgan (John Garfield) – is struggling with more than economic problems. Like many a noir protagonist, he came home from the war to find that his country had little use for him once the fighting was over. His sense of self-worth is inextricably bound up with his charter fishing boat, but he's deeply in debt and his creditors are threatening to take it away from him.
When his latest customer, having hired him for an extended fishing trip to Mexico, skips out without paying, Harry doesn't even have enough cash to pay port fees to get out of Mexico and head back home. And so, against his own better judgment, he agrees to a proposition from a sleazy lawyer named Duncan (Wallace Ford) – to smuggle a group of Chinese illegal immigrants back to California. But the man behind the deal, Mr. Sing (Victor Sen Yung), tries to renege on payment. Things go very wrong and Harry ends up without any money, a murder on his conscience, and the suspicion of the U.S. Coast Guard. Add in a sultry blonde – Patricia Neal as Leona Charles, the hedonistic companion of Harry's deadbeat customer – and The Breaking Point has the makings of a classic film noir.
But it doesn't follow the classic noir trajectory, because its focus is on Harry's marriage and family rather than any doomed romance. Although tempted by Leona, Harry is very much in love with his wife Lucy (the luminous Phyllis Thaxter) and devoted to his two young daughters. It is this connection to family which fuels his torment and pushes him deeper into illegal activities as the only way he can see to continue to fill his role as husband and father. The film's portrait of family life under severe economic and psychological stress is rare in its frankness and compassion – the emotional and physical attraction between Harry and Lucy is depicted with warmth and honesty. This is not the usual chastely asexual marriage so often imposed by the Production Code; we are left in no doubt that this relationship has an active and passionate sexual dimension.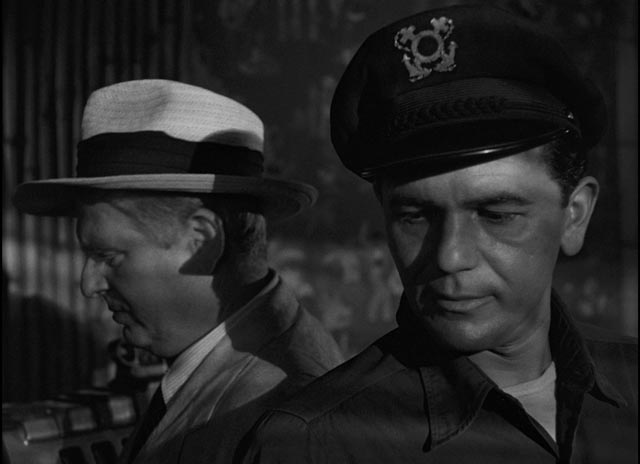 By the time Harry becomes involved in a more overtly criminal activity, providing a getaway for a ruthless gang following a racetrack robbery, the film is reiterating his experience of the war; violence and catastrophic injury test his connections to wife and family, finally making his psychological damage physically visible. It's almost as if he needed this overt wounding to release the unbearable pressure which had been separating him emotionally from Lucy and the girls. Coming close to death has brought him closer to healing.
As scripted by Ranald MacDougall (who had previously scripted Mildred Pierce and Bright Leaf for director Curtiz), The Breaking Point adds other unexpected details to this story of a marriage being tested … most particularly in its treatment of race. Harry's first mate Wesley is played as Harry's equal – and to some degree the voice of his conscience – by Juano Hernandez, a Black Puerto Rican. They are friends as well as partners, his young son Joseph (played by the actor's own son Juan) a friend and playmate of Harry's daughters. The film is radical in its lack of emphasis on Wesley's race; he is simply a part of the community in which these characters live, himself an engaging and fully realized character. Which is not to say that the film is unaware of larger issues of race in the surrounding society – in fact Wesley's fate is shocking in its revelation of just how casually dismissive of his existence are others outside this community. Interestingly, it is Wesley's fate which fuels the film's final devastating image.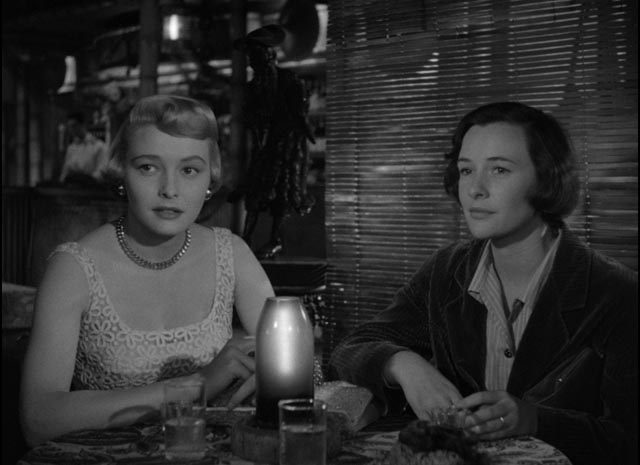 The Breaking Point is a finely crafted drama of character and relationships which uses the tropes of a noir thriller to frame its real concerns – the demands and limits placed on traditional masculinity in the shadow of World War Two. How does a man who has spent years fighting re-adapt to family life and the mundane stresses of making a living to support that family? John Garfield gives one of his strongest performances as a man who finds himself drawn back towards the kind of clearly defined conflicts which paradoxically made war easier to cope with than the peacetime role of husband and father. He gets excellent support from Phyllis Thaxter, Juano Hernandez, Patricia Neal and a fine ensemble of character players in the smaller roles surrounding him.
Michael Curtiz, a Hungarian expatriate, was an interesting figure who poses a challenge to the idea of the auteur. He worked in every conceivable genre from western to musical, comedy to adventure, costume drama to melodrama, always with a level of craft which brings out the full values of the material, but without a distinct individual personality. He always served the film rather than imposing himself on it, along the way creating some of the greatest movies ever to come out of Hollywood – Casablanca, The Adventures of Robin Hood, Mildred Pierce. The Breaking Point turns out to be one of his finest films, yet it has remained strangely little known for reasons which have nothing to do with its intrinsic qualities.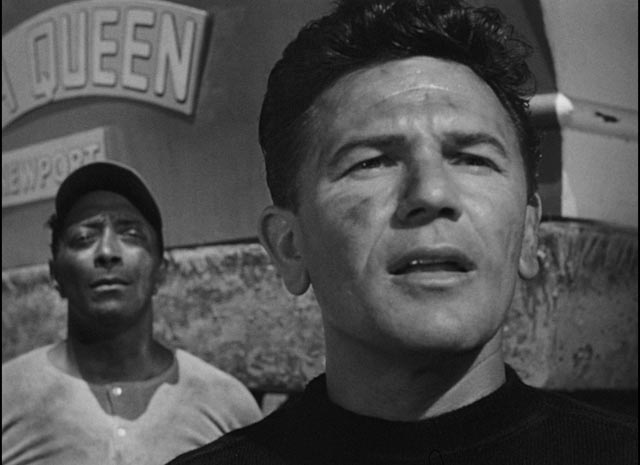 As the film was being completed, with Warner Brothers poised to give it a major push, the Red Scare flared up in Hollywood with the publication of an anti-communist pamphlet titled Red Channels: The Report of Communist Influence in Radio and Television, and Garfield was included in the list of tainted stars. He abruptly became persona non grata and the studio all but buried the movie. Garfield made only one other film the following year before dying in 1952 at age 39. In a saner world, The Breaking Point would have been a major hit and probably an award-winner … but as it is, it has taken almost seventy years to resurface for well-deserved rediscovery through Criterion's new 2K restoration on Blu-ray.
The disk
The Breaking Point gets an excellent presentation on Criterion's Blu-ray, with strong contrast and a film-like texture. Ted McCord's photography is unfussy and naturalistic, providing support for the drama without calling attention to itself. The audio, restored from the original 35mm soundtrack master, supports clear dialogue and the score by Max Steiner and Howard Jackson.
The supplements
Criterion also provide several useful extras to illuminate the context of the production and its fate.
Critic and Curtiz biographer Alan K. Rode sketches that history and its place in the director's and star's careers in an interview (21:16), and Garfield's daughter Julie speaks more specifically about her father's craft (16:41), while a video essay by Taylor Ramos and Tony Zhou analyze Curtiz's expressive but unobtrusive camera style (9:59).
A brief clip from a 1962 NBC Today show displays a number of artifacts from Hemingway's Key West house which relate to the novel on which the film was based (4:51).
There is also a theatrical trailer (2:17) and a booklet essay by critic Stephanie Zacharek.