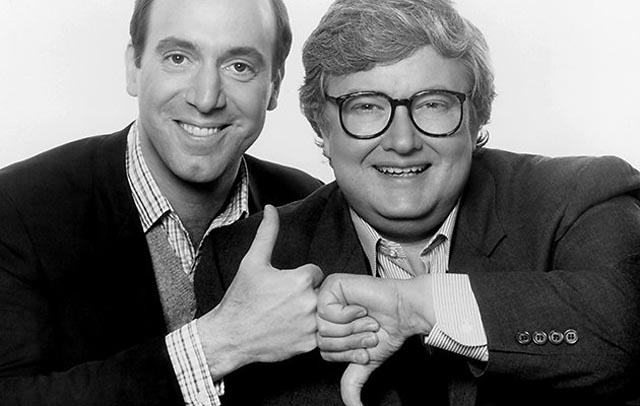 Anyone interested in movies – and particularly anyone who writes about them – had to take note this past week of the death of Roger Ebert, the Chicago-based movie critic who over fifty years became the face and voice of criticism for a large public. He more or less fell into the role in the '60s when he was assigned to review movies for the Chicago Sun-Times, which became his professional home for the rest of his life.
Although he won the Pulitzer Prize for his critical writing in 1975, it was the start of his long-time television relationship with fellow Chicago critic Gene Siskel on PBS's Sneak Previews that same year which became the basis of his strange celebrity status. While there had been prominent and influential critics before this – James Agee, Manny Farber, Andrew Sarris, Pauline Kael, and so on – none achieved Ebert's public presence. Which is not necessarily to say that he was a better critic than any of them; his position coincided with shifts in the way media functioned – particularly the move away from print to television (and eventually, of course, the Internet).
I used to watch Siskel and Ebert back in the '70s, always interested in catching clips of movies that hadn't yet reached Winnipeg, and often amused by the prickly conflicts between the two rivals. I was also intrigued when I realized that this was the same man who had written the script for Russ Meyer's mad masterpiece Beyond the Valley of the Dolls (1970), something which he never tried to brush off as an indiscretion, but apparently remained proud of even after gaining such prominence.
It was only after the Internet made his written words easily accessible, however, that I actually read much of Ebert's work. While the TV format often made his opinions seem somewhat facile (the reductionist two-thumbs-up/two-thumbs-down inevitably trivialized the idea of criticism even as the show itself got its audience to actually think about applying critical judgements to what they were watching), his writing reveals a deep passion for film and ultimately that was what sustained his prominent public position.
Even when disagreeing with him, I found his opinions interesting and occasionally illuminating. There's a certain middle-brow tendency in his work (like many critics, he gave a rave to Anthony Mingella's insufferable adaptation of The English Patient), and his favourite movie remained Citizen Kane to the end. But he could also surprise with unexpected opinions. I probably became more interested in his writing after he contributed a laudatory commentary track for the DVD of Alex Proyas's Dark City, a genre movie generally dismissed by reviewers, but which Ebert found to be a rich expression of cinematic art.
Ebert wasn't a film scholar but rather a passionate fan of the movies and his reviews always expressed his emotional engagement with the medium. That passion was his biggest contribution, conveying the idea that whatever the particular film, there was something to be gleaned from it, that watching was not simply a passive activity but an interaction which had weight and meaning. His real significance as a critic was in conveying that sense of engagement to a general audience.
Roger Ebert died at 70 on April 4th after years of fighting cancer which, despite quite catastrophic effects, he never allowed to dampen his sense of optimism or his interest in the movies. He kept writing to the end.