It's always tough to be original, but I was made nervous last year as I started on my documentary about Winnipeg movie theatres when I learned that local writer Russ Gourluck was working on a book about Manitoba movie theatres called Silver Screens On the Prairie. Russ has written a number of books on local history, all large format and packed with pictures. I was made even more nervous when I learned that he'd already interviewed my ex-mother-in-law about the small theatre her family owned when she was growing up – she was the first person I interviewed for my documentary.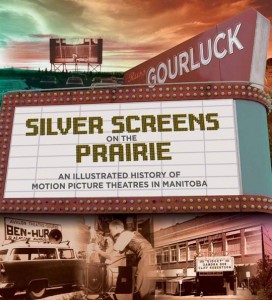 Although we had a brief email exchange around the time I was shooting all my interviews, neither of us really wanted to pool our information (well, maybe I was the reluctant one). Given his established position, I didn't want it to end up looking as if my movie was an adjunct to his book.
Well, my film is finally finished and will begin showing on the local MTS digital channel Winnipeg-On-Demand in December, and Russ had his book launch yesterday at the McNally-Robinson bookstore at the Grant Park Shopping Centre. I went with a couple of friends and picked up a copy. A quick glance showed that the book inevitably contains some of the same photos I culled from the archives … but he has a lot more than I do (the book is 300 pages, every one of them with at least one picture on it). And the index reveals a handful of names that are also attached to my film.
But the focus of the book is on the theatres themselves and the people who owned and ran them, from the big showcase buildings in downtown Winnipeg to the smallest houses in the smallest towns around the province – hundreds of them – while my film deals more with the experience of going to the movies. There were echoes in Russ's presentation at the launch of the narration I wrote for the film, but the two works are more complementary than duplicative. Just an odd instance of synchronicity.
Now I just have to worry about the reaction I get when the people I interviewed for the film finally get to see it!