ERASERHEAD
An Appreciation by K. George Godwin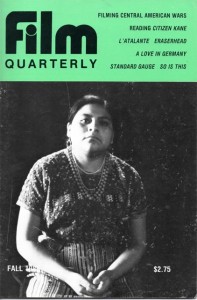 >>A man lives in a seedy one-room apartment located in a nondescript urban wasteland.  One day he gets a call from a girlfriend he hasn't seen in some time.  She has given birth to a baby.  Her mother insists on marriage.  He agrees – or rather doesn't disagree.  Unable to cope with the demanding baby, the woman leaves.  The man looks after it through an illness.  He has a brief sexual encounter with a neighbour.  Increasingly insistent visions of a strange woman who exists behind the radiator in the apartment impinge on his claustrophobic world.  Finally, he kills the baby – an act which shatters the world and frees him to join his vision-woman in Heaven.<<
ERASERHEAD, writer-director David Lynch's first feature, has been baffling and disturbing audiences since its release in 1976.  It has become one of the most persistent and successful cult films on the midnight and art house circuits.  Yet, while it shares many characteristics which might be attributed to cult films as a class, it differs in some significant ways.
A common characteristic of many cult films is their air of exhibitionism – the relentless grotesquerie and pseudo-mysticism of EL TOPO; the innocent decadence of ROCKY HORROR; the not so innocent decadence of John Waters' outrageous entertainments.  These films invite the audience to throw off their inhibitions and join in an assault on generally accepted standards of good taste.  The ultimate example of this is the participatory cult which grew up around Jim Sharman's ROCKY HORROR, the complete identification of the audience with the film, the shared knowledge and rituals which brought the audience together in a communal experience, a new and alternative culture.
Yet ERASERHEAD, while it dwells on shocking, even perverse images, seems in-turned, obsessively introspective.  It provides an auditory and visual assault which isolates each viewer.  The experience becomes intensely personal, unshared.   Lynch achieves this by relentlessly applying alienating devices.   Foremost among these is the setting of the film in a bleak world not recognizable as our own.  The action which takes place there offers no narrative with an externally meaningful coherence.  The simple "story" of Henry Spencer's forced marriage to Mary X is utterly banal – yet it is couched in a collection of bizarre, seemingly meaningless images and inconclusive scenes which shatter the story's familiarity and make it frighteningly strange.