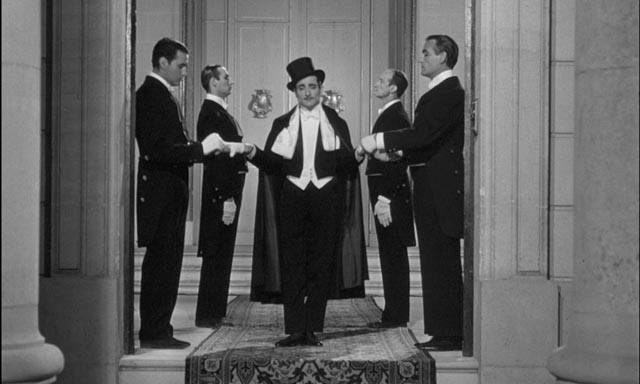 I was shocked and saddened this morning to come across several obituaries for the French filmmaker Pierre Etaix. Yet another strange coincidence. I had first heard of Etaix a couple of years ago when Criterion released a Blu-ray set of his entire body of work – five features and three shorts. But for one reason and another, it was only this past week that I had got around to watching those films. I was planning to write something soon about him and his work … and suddenly he's gone, just a month before his 88th birthday.
Although I had procrastinated over watching his movies, once I started (when my friend Howard came over and we chose Etaix's first feature, The Suitor [1963], as our evening's viewing) I was compelled to watch all the films in quick succession. Etaix was a protege and collaborator of Jacques Tati, and there's no question of Tati's influence on his work; but there are also echoes of Chaplin and Keaton, and perhaps even Fellini and Bunuel. Although Etaix used dialogue (sparingly), there's a quality of the silent cinema about his work, a love of physical comedy and the elaborate construction of sequential gags which grow and expand with both flawless logic and an air of throw-away spontaneity. He had a remarkably light touch, but there's also a deep sense of melancholy running through his films.
Like Tati, Etaix had a superb eye for the small peculiar details of human behaviour; like Keaton, he had a stoic determination in the face of implacable events. His philosophy was to start from something very ordinary and expand from it into greater and greater elaborations of comic possibility, at times into full-blown flights of surreal fancy, all rendered with an exquisite control of film's visual and aural potential. Much of his work directly references earlier movies (he skilfully evokes silent Expressionist horror in Insomnia, the first part of As Long As You've Got Your Health [1966], an omnibus film in which the second part is called The Movies, an encyclopedic compendium of the petty irritations that must be dealt with when going to a movie theatre, which eventually branches out into a series of parodies of advertising in which people are reduced to their pathetic essence as mere consumers).
His final feature, Land of Milk and Honey, essentially ended his filmmaking career in 1971. An absurdist documentary of French society in the years just after the upheavals of 1968, it presents a harsher view of capitalist modernity than Tati's, and was greeted with a degree of outrage as an offence to France. In the ensuing years, the films became mired in legal confusions about ownership and disappeared, essentially erasing Etaix from French film history for decades until all the problems were resolved and the films were carefully restored (from severely damaged elements) in 2010. This is all the more surprising given that he was nominated for and won a number of prestigious awards during the brief 10 years he was directing – including a best dramatic short Oscar for Happy Anniversary (1962), which in miniature sums up his view of an ordinary, well-intentioned person being thwarted at every turn while trying to accomplish the simplest of tasks (in this case picking up some flowers and a gift on his way home for an anniversary dinner with his wife).
After Land of Milk and Honey, Etaix was unable to make any more films, although he continued to act in others' movies up until last year. He returned to his first love and devoted much of his creative time to being a clown, even starting a school for clowns with his wife Annie Fratellini. That passion informs all the film work, the physicality, the elaborate chains of gags (which very often don't pay off in the most obvious or expected ways), and the distinctive comic persona he brought to the screen.
Most of Etaix's films were co-written (and in the case of the early ones, co-directed) by Jean-Claude Carriere, the remarkably prolific collaborator of many key filmmakers for the past five-and-a-half decades – in fact, Carriere's earliest credits are for his work with Etaix. It's perhaps not unreasonable then to detect a touch of Etaix's influence on the final decade of Bunuel's career.
Hearing of his death just days after having watched all his films evokes the kind of melancholy which is embedded in the films themselves. A sad coincidence, but the films have reentered the stream of cinema history and Etaix, or the character he created under that name, will be seen and enjoyed for years to come.