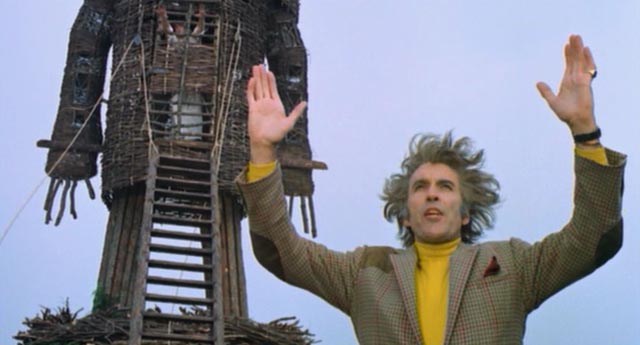 Although it's almost always a one-way street, we come to feel that we have some kind of relationship with the people we watch on screen. In a sense, I've known both Christopher Lee and Patrick Macnee for most of my life. Both of these distinctive actors died recently at the age of 93 after very long and productive careers. Initially, Macnee was the more familiar of the two for me. As a child in England, I didn't have access to the films which established Christopher Lee as a star – Hammer horrors were rated X and inaccessible (my first encounter with him would have been as Captain LaRoche in Hammer's Pirates of Blood River [1962], which was not restricted despite disturbing images of men being devoured by piranha) – but I watched Patrick Macnee in The Avengers throughout the early to mid-'60s before we emigrated to Canada. I can't recall whether the show was available in Newfoundland, but it may have been, which would mean that John Steed was a part of my life for the whole decade into my mid-teens. Then he turned up again in 1976-77 in the lesser, but still entertaining New Avengers.
But he had begun his career many years before that, with bit parts in some prominent movies of the late '30s and '40s before entering television in the medium's early days. After some years on British television, he moved to Canada and then the States, appearing in numerous series[1] before returning to England in the early '60s and landing the defining role of his career.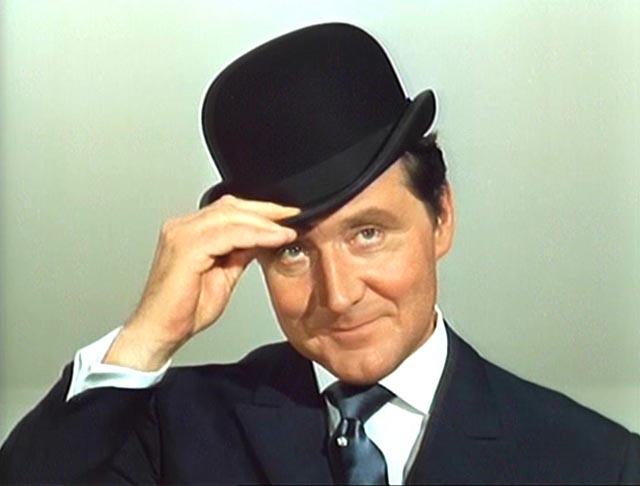 Patrick Macnee's John Steed was a debonair presence, instilling a strain of knowing humour into the increasingly far-fetched plots of The Avengers. The series' early realism took a left turn with the replacement of Honor Blackman's Cathy Gale by Diana Rigg's Emma Peel in 1965. Macnee's diffident humour was a perfect complement for Rigg's sexy self-confidence and the show became known for the pair's suggestive banter as they mocked the conventions of the espionage genre. He brought the same light touch to everything he did – mostly on television, with rare appearances in movies. Probably his most distinctive big screen role was as Dr. George Waggner, the werewolf psychologist in Joe Dante's The Howling (1981).
Christopher Lee was a more imposing, less accessible figure, a tall, aristocratic man who exuded seriousness rather than humour (he traced his ancestry back to Charlemagne, a fact he celebrated in his "symphonic metal" album Charlemagne: By the Sword and the Cross and its follow-up, the heavy metal Charlemagne: The Omens of Death, released respectively when he was 88 and 90!). Although he had numerous minor roles in movies and on television from the late '40s to the mid-'50s, he became a star through Hammer Films' reinvigorating of the horror genre with The Curse of Frankenstein (1957) and more particularly Horror of Dracula (1958), films which indelibly connected him with horror, even though his work was varied and he chafed somewhat at being pigeon-holed. He appeared in adventures, thrillers, mysteries, fantasies, science fiction … always with an imposing, commanding presence. But despite the firmly embedded images of his Dracula and his Saruman (let's not dwell on Captain Rameses in Starship Invasions or Count Dooku in the prequel trilogy), the highlight of his career for me remains Lord Summerisle in Robin Hardy's unique The Wicker Man (1973), a film which even after forty years still exists within a genre entirely its own.
While there's no question that Lee had the more impressive career, Macnee had the more accessible persona. But both of these British actors have been a presence to some degree throughout my life. I'll have to dig through my collection to revisit some of their work.
Christopher Lee died on June 7th in London; Patrick Macnee died on June 25th in California.
_______________________________________________________________
(1.) Two samples of that work can be found in a couple of old DVD sets of series purporting to be true stories of the supernatural.
Macnee appeared in Vision of Crime (directed by Herbert L. Strock), the first episode of the short-lived Boris Karloff-hosted series The Veil (1958). While on a boat to France a man (Robert Hardy) has a vision of his brother's death; hurrying home, he discovers that his brother has indeed been shot. Investigating the case is a buffoonish police sergeant played by Karloff and his much smarter constable, played with deferential amusement by Macnee. The 25-minute story is simple and obvious, but there's a very nice comic tone to the Macnee-Karloff pairing which suggests they might have done well as an on-going team. (The two-disk set from Something Weird Video, released in 2001, contains all ten episodes of the series in excellent transfers from fine-grain 35mm prints.)
The next year, Macnee starred in the second episode of One Step Beyond, Night of April 14th (January 27, 1959, directed like all 92 episodes of the show by John Newland), in which various people have premonitions of the sinking of the Titanic. Macnee plays Eric Farley, a newlywed husband who surprises his wife Grace (Barbara Lord) with tickets for the voyage as a honeymoon gift. He becomes increasingly irritated as she has a series of terrifying dreams which turn out to be urgent warnings not to go aboard. Insisting that she adhere to the vow to "love, honour and obey", he pressures her not to ruin his fun; in the end she survives and he doesn't. Although Macnee plays the part with warmth and charm, the character is an insufferable, condescending chauvinist. (The eight-disk set released by Delta in 2005 contains thirty-three episodes, all in weak transfers from very ragged source material.) (return)