Introduction
In the summer of 1980, David Lynch's first feature, Eraserhead, showed up at what was at the time Winnipeg's main repertory cinema, The Festival on Sargent Avenue. The theatre was run by Greg Klimkiw (later Guy Maddin's original producer) whom I knew from our in-print rivalry as film reviewers for the two University student newspapers – Greg for the University of Manitoba's Manitoban, and me for the University of Winnipeg's Uniter. Although we had occasionally tossed barbs at each other, there was no actual animosity and when Greg took over the Festival, he handed me a "free lifetime pass".
The initial booking for Eraserhead was just for a weekend. Having read something about it in the previous year or two, I was eager to see it and went with a friend to the first showing. I was hooked from the opening image, found myself sucked into a remarkably dense, sustained imaginary world every detail of which fascinated me. My friend, however, was bored and restless and I had to spend much of the screening very deliberately ignoring his hints that we should leave. I went back the next night by myself and once again found myself immersed in Lynch's world.
During that summer, Greg brought the film back repeatedly for weekend midnight screenings and I ended up seeing it a total of eight times in about three months. Most of those subsequent screenings were in the company of another friend, Tim Kulchyski, who was equally impressed. We'd often walk about until dawn talking about the film, trying to parse its meanings, ending our discussion over breakfast at Salisbury House.
Months later, while staying with my brother and his family in Hong Kong, I found myself unable to shake off my obsession and I set out to explain to myself what I thought and felt about Eraserhead. The result was an essay which, when I returned to Winnipeg in the Spring of 1981, I submitted to Cinefantastique, a magazine I'd subscribed to since its first issue in 1971 and which I admired for the general seriousness of its approach to genre films. The editor/publisher Fred Clarke replied quite quickly, explaining that my essay wasn't really the kind of thing they usually printed. However, he'd been trying to do a piece on Eraserhead for several years and had not had any luck with the notoriously secretive Lynch; the director was well-known for not wanting to talk about his work, particularly about how he did things technically, which was one of the focuses of Cinefantastique's approach.
But what Clarke had done was to send a copy of my essay to Lynch as an indicator of how seriously they took his work, and to prove that they wanted to approach him with respect. I wasn't entirely sure how I felt about being rejected and used at the same time, but the outcome was certainly to my advantage. Lynch finally responded to the magazine by saying that he would be willing to cooperate on an article – but only if they used me as the writer. Quite a coup for someone with no journalistic experience beyond rather amateurish weekly reviews for a student paper.
Initially, Clarke asked me to send along a list of questions I'd need answered and he would get his man in Hollywood to go over and put them to Lynch. This was satisfactory to neither myself nor Lynch. Terms were eventually agreed on: I had to buy my own ticket to Los Angeles, while the magazine would pay for my hotel and a rental car for a week. And so, with no prior experience as an interviewer, I flew south and booked into the Beverly Garland Howard Johnson's next door to Universal Studios, where Lynch was already preparing for his upcoming Dune production.
The next day, I went to the studio, briefly met Lynch and his assistant Steve Martin, and was sent to a private screening room where I was shown Lynch's first two short films – The Alphabet and The Grandmother. There was a genuine sense of unreality about the experience which, I think, added to the power of the two films. Then after lunch, I settled into Lynch's office, turned on my cheap Radio Shack cassette recorder, and began a conversation which went on for more than three hours. We had a second, equally long session the next afternoon, plus a couple of brief phone follow-ups during the course of the week as I met and interviewed other Eraserhead alumni who had been given permission by Lynch to speak to me.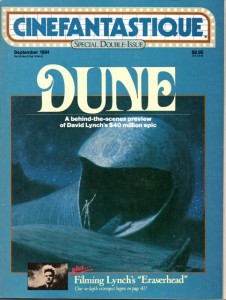 That week in Los Angeles was a remarkable experience for me which further deepened my appreciation of Lynch's work. When I returned to Winnipeg, I spent weeks transcribing all my tapes (initially writing by hand, then typing them out), during which time I mapped out the article which I finally sent to Cinefantastique (after passing it by Lynch to check the accuracy of what I had written) in early Spring 1982. My biggest frustration in the whole process was the  subsequent delay in publication; the article finally came out in the Fall 1984 issue of the magazine, by which time – partly because he had already opened up to me – Lynch had gone on to speak to other writers. Although I was the first to hear the full story of the making of Eraserhead, much of what I had heard and written about had already appeared elsewhere by the time my article appeared.
Included here are my original essay and the full text of the article as written (both were heavily edited by Fred Clarke at Cinefantastique).  (The article can also be found at this French website dedicated to David Lynch.)
This material is also available as an eBook which includes transcripts of all the interviews I conducted when researching the article. This, and a companion volume about my experiences on the Dune shoot in Mexico, can be ordered from the Cagey Films Shop page.