Available from BearManor Media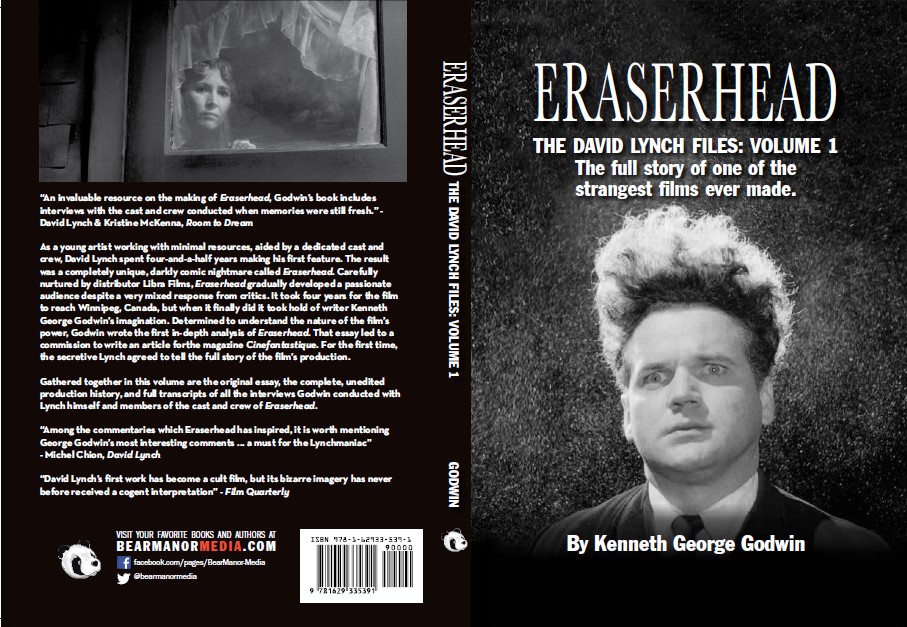 "The best thing that's ever been written on [Eraserhead]" – David Lynch
About the Book
As a young artist working with minimal resources, aided by a dedicated cast and crew, David Lynch spent four-and-a-half years making his first feature. The result was a completely unique, darkly comic nightmare called Eraserhead. Carefully nurtured by distributor Libra Films, Eraserhead gradually developed a passionate audience despite a very mixed response from critics. It took four years for the film to reach Winnipeg, Canada, but when it finally did it took hold of writer Kenneth George Godwin's imagination. Determined to understand the nature of the film's power, Godwin wrote the first in-depth analysis of Eraserhead. That essay led to a commission to write an article about the film for Cinefantastique. For the first time, the secretive Lynch agreed to tell the full story of the film's production.
Gathered together in this volume are the original essay, the complete production history, and full transcripts of all the interviews Godwin conducted with Lynch himself and members of the cast and crew of Eraserhead.
"An invaluable resource on the making of Eraserhead" – David Lynch & Kristine McKenna, Room to Dream
"Among the commentaries which Eraserhead has inspired, it is worth mentioning George Godwin's most interesting comments in Cinefantastique … a must for the Lynchmaniac" – Michel Chion
"David Lynch's first work has become a cult film, but its bizarre imagery has never before received a cogent interpretation" – Film Quarterly
"K. George Godwin's definitive analysis of Eraserhead" – Paul M. Sammon
268 pages.