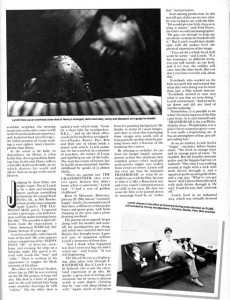 ERASERHEAD bears a number of similarities to THE GRANDMOTHER.  It too is about loneliness, fear, a longing for security, a desperate need to escape from a grim life which entraps the central character.  But in ERASERHEAD these things expand to fill a whole world, a bleak, dying post-industrial wasteland.  The family, however, still figures large in its scheme.  But where in THE GRANDMOTHER it is distant and unfeeling, isolating the boy, in ERASERHEAD Henry Spencer finds it threatening; not simply closed to him, its interactions a mystery, but ready to actively assault the dull cocoon of his life.  His marriage to Mary X does not provide him with a little warmth and companionship, protection from the bleak outside world – it brings hostility and resentment from Mary and leaves him with a demanding, insatiable child which traps him more deeply in the world from which he longs to escape.
Each apparent way out (Mary's leaving him; the visit of a sexually available neighbour; the seeming escape into some other, outer world in the Eraserhead dream sequence), only leads him back into the trap, the failed promise of escape making it even tighter, more claustrophobic than before.  At the centre is the baby, not threatening but helpless; its dependence on Henry is what holds him; he is bound by responsibility.  In the end, Henry inflicts a horrible death on the baby, repudiating that responsibility, an act which shatters his world and allows him to escape to his sterile Heaven.
***
Judging by these films, one might expect David Lynch to be a dark and brooding figure, perhaps resembling in intensity pictures of the young Orson Welles.  Or, as Mel Brooks put it, "I expected to meet a grotesque, a fat little German with fat stains running down his chin and just eating pork."  The actuality is quite different from the expectation: a "clean American WASP kid; it's like Jimmy Stewart thirty-five years ago."
Lynch is a friendly, rather boyish man in his mid-thirties, who appears to have stepped out of the HAPPY DAYS Fifties of drive-ins, sock-hops, and cruising the strip on a Saturday night.  His speech is littered with words like "neat" and "nifty".  There is nothing in his appearance to suggest the bleak intensity of his films.
In late 1981, when Lynch finally agreed to tell the full story of the making of ERASERHEAD, he was based at Universal Studios in a large, airy office in which he was preparing the DUNE project.  His desk was a litter of papers and on the wall behind him hung some modular drawings he calls "rickies".  On the office door was tacked a note which read, "Gone for a short hike for woodpeckers. D.K.L." and on the black office couch sat five stuffed toy woodpeckers – Chucko, Buster, Pete, Bob and Dan; "the boys" (who later would be relocated to Mexico for the shooting of DUNE) – one of whom held a pencil with which, Lynch pointed out, he had scrawled in a moment of treachery the names of Lucas and Spielberg on one of the walls.  It was apparent that the man had a sense of humour, but he hardly seemed disturbed.  And the childhood he spoke of was almost idyllic.
"When my parents saw THE GRANDMOTHER," he said, "they were very upset because they didn't know where this came from.  I had a sort of golden childhood."  Born in Missoula, Montana, January 20, 1946, into an "extremely happy" family, his memories are of blue skies, red flowers, white picket fences, and green grass, with birds chirping in the trees and a plane droning overhead.  He would take afternoon naps and watch red ants crawling on the cherry tree.  His parents never argued, he got along with his brother and sister.  His toys were all new, paint gleaming, and he wore "clean little corduroys".  All his grandparents got along and when they visited in their nice Buicks they brought treats.  A general aura of happiness suffuses Lynch's memories of those days.  "And I think what happened was that I went to a big city and it scared me."  He began to sense that what he knew was only a small part of the "real world" and that the rest of it was not quite so rosy.  "And," he said, "it was real frightening."
The idea of the city as a frightening, alien place runs through ERASERHEAD.  But if Lynch is to be believed, this is not the calculated expression of an idea. He speaks a great deal of feeling and intuition, indeed he seems to distrust words to some degree and although highly articulate, he claims that "I can't talk about things so well."  Again, much of this stems from his painting background.  He thinks in terms of visual images and there is a fear that translating those images into words will at least partially sterilize them by pinning down only a fraction of the meaning they convey.  By refusing to verbalize he can leave the images largely uninterpreted so that they maintain their original power, their multiple associations which might vary widely from viewer to viewer.  Lynch will not even say how he interprets ERASERHEAD, what he intended to say with the film, because to him it is like a Rorschach test and every viewer's interpretation is as valid as his own; he does not want the film to be pinned down, its meanings fixed by an "orthodox" interpretation.
Even during production, he did not tell any of the cast or crew what he was trying to say with the film.  "He would give me little clues as to what it meant," said Fred Elmes, the film's second cinematographer, "or how this related to that.  He gave me enough to keep me involved, to keep me hooked with it."  But Lynch would deal chiefly only with the surface level, the physical expression of the image.  "You can do a whole lot of stuff scene by scene," said Lynch; "if it has resonance in different levels, you can talk mainly on this level and if it's true" the validity will carry into the other levels.  "But you don't ever have to really talk about this."  Everybody who worked on the film accepted this and trusted that what they were doing was far more than just a film school exercise.  "Everybody seemed to tune into what it was that we were doing," Lynch commented, "and we never really sat down and did any heavy kind of intellectualizing.  Like Jack (Nance) says, 'We'll leave that to the smart guys back east.'"
Nonetheless, it is possible to see where the main impetus of the film came from.  As Lynch himself said, "ERASERHEAD is the real Philadelphia Story.  Philadelphia itself was a place I never wanted to go to – ever.  It was really a frightening city.  There's an atmosphere in every place that you go.  And it's hard to imagine the atmosphere, but once you're set in it, you say, 'I see what you're talking about.'"  In Philadelphia "it's mainly an atmosphere of fear, just all-pervading fear."
Lynch was an art student living a hippy existence before hippy times.  "We lived in strange ways and strange parts of town," he recalled.  But the hostility between police and hippies had not yet surfaced.  "One time I was walking around at night with a stick with nails driven through it and a squad car pulls up alongside of me, and he says, 'What've you got there?'  And I showed him this stick with nails driven through it.  He said, 'Good for you, bud,' and took off.