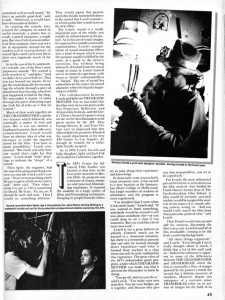 For David Lynch, THE GRANDMOTHER was important for a number of reasons.  Although he now sees it as "innocent and sort of primitive," like a painting by Rousseau, the experience of making it gave him the confidence in his filmmaking skills which he would need for the protracted and arduous task of making his first feature.  It was also this film which put him in a position which would enable him to make that feature.  When the initial grant had been running out, Lynch had invited Tony Vellani up to Philadelphia to see what had been done so far; Vellani was very impressed and okayed the extra funds.  He also told Lynch about the newly formed Centre for Advanced Film Studies which the AFI had set up in Los Angeles.  Lynch applied and although he did not get in immediately, he was accepted by the Centre in its second year.
Finally, it was THE GRANDMOTHER which introduced Lynch to soundman Alan Splet who was to become a major collaborator in turning the director's vision into cinematic reality.  When Lynch was making THE ALPHABET, he rented a little Uher tape recorder, which incidentally was broken and so produced certain peculiar sounds which he kept and used in the film.  But he did not know how to cut and mix a soundtrack himself.  He went to Calvin Productions in Philadelphia, an industrial film company.  A man there named Bob McDonald cut the sound effects for him, while another named Bob Collom did the mix.
When Lynch was ready to start working on the sound for THE GRANDMOTHER, he went back to Calvin.  He was already creating effects, but he wanted to work with Collom again to create more, and to use the company's library.  Collom told him, "Fine.  When you get your stuff together, come on by."  But when Lynch arrived at the door of the sound department, Collom met him and told him that he was not available, that Lynch would have to work with his assistant, Alan Splet.
"I thought," Lynch recalled, "'Oh brother, I'm being shunted off to this assistant.'  And so there's Alan; a strange looking guy.  He's very, very thin, and I remember he had a synthetic black suit and real short hair and a strange look to him.  I shook his hand and I felt all the bones shaking in his arm.  I thought, 'Oh brother, this guy is an oddball, the squarest guy I've ever seen in my life, and we're going to try to make some nifty sound effects.  This isn't going to work.'"
But Lynch talked to Splet, explaining what he wanted to do, to use the library as raw material to be played with and altered. That sounded good to Splet, who said he would gather some things together, and they made an appointment to start a couple of weeks later.  When that time came, according to Lynch, they began work at nine in the morning and finished at seven or eight that evening.  And continued to work straight through the next seven weeks, weekends included.
They created most of the sounds themselves, using the library to supplement their work.  Although there were only five tracks, by the time they were through the reels of white leader they began with had been completely transformed into reels of solid brown magnetic tape.  "And in a lot of cases," Lynch commented, "that was very intricate cutting.  Alan loves cutting little bits and taking just a half frame of this sound and cutting it in, just getting it to sync in and feel just right, all this painstaking stuff.  Way more than most people would even hear."  And all that work came at a bargain price; despite week after week of long hours, Calvin only charged Lynch the in-house rate of $250 per effects reel – even though a typical ten-minute reel might contain only a half-dozen effects, while Lynch's contained wall-to-wall sound.  "So that was an awful good deal," said Lynch.  "Otherwise it would have been thousands of dollars."
In creating the sounds, they would scour the company in search of useful materials; a plastic box to crush, a pencil sharpener, a staple gun.  But Calvin being an industrial film company, there was not a lot of equipment around for the sophisticated manipulation of sound; Splet and Lynch were left to their own ingenuity much of the time.  As in the case of the Grandmother's whistle: "We wanted a little reverb to it," said Splet, "and we didn't have a reverb device.  That was just beyond our means.  So we got the sound basically by re-recording the whistle through a piece of aluminum heat ducting which we just happened to find in the shop.  We re-recorded it maybe fifteen times through this piece of ducting to get the little bit of echo on it that we wanted."
Much of their work together on THE GRANDMOTHER and the two features which followed was essentially a matter of trial and error.  But it was not entirely a haphazard process; their roles were complementary.  Lynch would have an abstract idea of what was necessary to aid the picture in evoking the required mood.  "You have so many possibilities," he commented, "but really you only have one sound that's right for that scene.  And when you hear it, you really know it.  But before you hear it, you at least know that it's not this.  It's a sound that kind of does this, and it's low or it's like a whistle, or it's like something that starts off rough and then smooths out …"  Lynch would even do little drawings to indicate the "shape" of a sound.
Then Splet, the engineer, would have the task of locating something concrete to coincide with Lynch's concept.  "I have to start probing a little bit just to get it a little more concretized," he said.  "Then when I think I've got it, I'll try something on David.  He'll say, 'Ah no, no, no.  It should be such and such.'  Then I think back and I'll approach it again and try something different."  They would repeat this process until they finally narrowed it down to the sound that Lynch wanted – at which point they would start on the next effect.
For Lynch, sound is a vitally important part of the whole, not simply an enhancement of the picture.  As in his use of visual images, his approach to sound is essentially expressionistic.  Lynch's manipulation of sound transforms effects into a kind of music which serves the purpose usually fulfilled by the score, as a guide to the viewer's emotions, but without being abstractly detached from the visual image as music is.  Lynch himself sees it in terms of a spectrum, with music as "brittle" and sound effects as "liquid".  His use of sound lies somewhere in the centre, the area of plasticity where the liquid is beginning to solidify.
The collaboration between Lynch and Splet on THE GRANDMOTHER was so successful that the film went on to win prizes at the San Francisco, Belleview, and Atlanta film festivals, and the Critics' Choice Award of a panel voting on the twelve best filmmakers to be given grants by the AFI.  Also, George Stevens, Jr, and Tony Vellani were so impressed that they offered Splet the position of head of the sound department at the new AFI Centre in L.A.  Although he resisted for a while, Splet finally accepted.
So, in 1970, Lynch, his wife and baby daughter, Splet, and Jack Fisk all headed for California together.
***