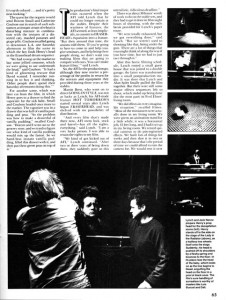 The production's final major crisis occurred when the AFI told Lynch that he could no longer remain at the stables.  Despite their wariness of features, the AFI had seemed, at least implicitly, to consent to ERASERHEAD's expansion into a feature.  "But then," Lynch asserted, "around that time, the unions told them, 'If you're going to have us come in and help you, give seminars and help bring these people along, we don't want you making films that are going to compete with our guys.  You can't make feature films.'"  So the AFI cut the production adrift, although they now receive a percentage of the profits in return for the services and equipment they provided during those years at the stables.  Martin Brest, who went on to direct GOING IN STYLE, was not so lucky; his AFI-made feature HOT TOMORROWS, started several years after Lynch began ERASERHEAD, was shelved with no possibility of distribution.  "And every film that's made there now," said Lynch, "AFI owns lock, stock, and barrel – has all the rights, everything.  I am a very lucky person," he added; he was able to retain the rights to his film.
"We kind of got kicked out of AFI," he recalled.  "After two or three years of being down there, they suddenly gave us this unrealistic, ridiculous deadline."  There was about thirty hours' worth of work left to do on the stable sets and they had to get it done in thirty straight hours of shooting, with the only break provided by Lynch's leaving to throw his paper route.  What was left were Henry's scenes in the elevator.  "We were totally exhausted," said Lynch, "but we got everything.  But we weren't used to shooting like that, being under the gun like that.  There are a lot of things that you might think of along the way if you have time, but we had to just race through that."
Lynch rented a little guest house joined to a double garage.  The latter was transformed into a small post-production studio.  It was there that he and Alan Splet would finally pull the film together.  But there were still some major effects sequences left to shoot.  These ended up being done for the most part in Fred Elmes' living room.  "We did effects in every imaginable situation," Elmes recalled.  "Most of the miniatures were actually done in my living room.  We were given an animation stand for a little while; it was a horizontal job, twelve feet long, and I had it set up in my living room.  We would rent special cameras to do pin-registered effects and things like that.  We would build lots of things for weeks, and then shoot it in two or three days because that's the period of time we could afford to rent the camera for.  We would rent it over the weekend because you could get two days for the price of one.
"What we would do," he continued, "is just build the effect, like the surface of the planet, bring it into the living room, mount a Mitchell camera – I think in that case it was sideways; it was actually shot sideways, trucking along this thing.  We did tests.  We tried it in real time and we tried it in slow motion, and it didn't work.  It wasn't what we were looking for, so we ended up doing it stop-frame.  Fortunately, the animation stand was rigged to time out things.  The shot actually took us about two hours to film."
For something like the little worm which crawls across the planet's surface, growing bigger all the while, "it probably took a day to build it," said Elmes, "another day to do the test on it, and another day to shoot it."
"I love doing stuff like that," said Lynch.  "Whatever you can think of, you can do.  It's fun to try to think of solutions to problems and to do those things yourself.  In every aspect of ERASERHEAD, it was just great fun."   Whether it was devising the explosion of the planet, or just rigging a simple drip tube with holes punched in it to create the rain on Henry's window.  "Then you find out that in Hollywood some of the fun is taken out of it because you're not the one doing it; there are people that specialize in this and people that specialize in that and it saves time," but a certain amount of control is lost, even when the technology filters through the director on its way into the film.  Lynch would prefer to keep as much control over all the elements of a project as he possibly can.
On THE ELEPHANT MAN, Lynch was initially to do Merrick's makeup himself but "what I did was a total flop.  I was making this sort of skin and in theory it was a nifty idea; this skin would float over something, move and look like real skin."  But the structure over which he placed this skin was too rigid .  It was as if John Hurt "was working inside of a helmet, a diving mask."  A large part of the film had been shot before Chris Tucker came to the rescue; it was another tense time for Lynch, but he still prefers to do as much as possible himself.
Elmes, like Lynch, sees effects in a purely functional light.  He enjoys effects work – "I find it intriguing," he said.  "You can make magic, you can make almost anything happen in movies."  But for himself, he does not like the idea of effects specialization.  He, like Lynch, does not want to become bound to any one particular approach to effects.  "I have a grasp of what's possible, what's involved in photographing effects, how opticals work, how the laboratory treats them."  But rather than approach a problem from a particular technical perspective, he feels most comfortable with just a general knowledge which permits him to look for whatever solution is the most straightforward and useful for that particular problem.  A feeling he shares with Lynch.
It was partly this attitude which resulted in the almost complete absence of opticals in ERASERHEAD.  The impracticality of opticals was partly due to the production's limited finances, partly due to a fear of the loss of control which would be involved in sending material to the lab.  But also the quality to be gotten from mechanical effects better suited their needs on the film, emphasizing the density, the solidity of the images.  "What we lacked in monetary resource," commented Elmes, "we had in time.  We could take the time to build something right, and we could shoot a test, and if it didn't look right we'd go back to the drawing board and build it again."
Coulson, working as a camera assistant on STAR TREK II in late 1981, found it interesting to watch the effects people photographing planet surfaces.  "I'm thinking," she said, "how we photographed our planet surface.  David just thought that all up, and Fred thought about how to light it.  And we made a big black star field.  That's the stuff that George Lucas and Industrial Light and Magic do now on a much more sophisticated scale, but in a way with the same kind of results."  It is arguable that the technical superiority of what ILM achieves is not proportional to the vastly greater amounts of money available to them as compared with the budget of ERASERHEAD.  The effects in Lynch's film are really remarkably good.
***