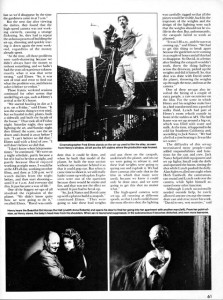 The only people not involved with the production who were allowed to see the dailies were two projectionists at the AFI who, said Coulson, "were quite wonderful guys, and David still has some contact with them."  But inevitably little rumours leaked out occasionally.  "I used to hear stories about David from the AFI people who didn't realize how close we were," Coulson continued, "kind of wondering what was going on down there at the stables.  But somebody must have known somewhere along the line that something good was going to come out of this.  They harassed David to a certain degree, but for the most part they were indirectly supportive and pretty much stayed out of his hair."  Although, recalled Small, "it was very difficult for me to get film out of them after a while," because officially the film was still not a full-length feature.
As the original grant ran low, the AFI did put more money into the project.  But towards the end of the first year, Lynch recalled, "because we needed more and they'd given quite a bit, they said that they didn't want to stop it; they just said, 'We can only help you now in terms of equipment.  You're going to have to get the money somewhere else.'"  And so in the Spring of 1973, the production came to a halt.
***
Lynch was used to temporary interruptions in the shooting.  Simultaneous with shooting, they would work on major props and "when the thing was actually needed, I would really concentrate on finishing it up.  A lot of things weren't finished until they were actually needed."  Sometimes shooting had to stop until the props were ready.
In the Fall of 1972, shooting stopped for a couple of months while the planet and the giant baby head were completed.  The planet was a major project; about ten feet in diameter, with enough room inside for someone to get in and move it for a shot (Jack Nance on at least one occasion), it was made from a combination of materials: plaster, fibreglass, polyester resin, wax.  And, as already mentioned, it was built with a breakaway section for the explosion sequence.
The giant baby head, used at the film's climax, was built in Lynch's back yard.  "Jack and I spent a lot of time that first Fall with David and Peggy," Coulson recalled, "while Jack and David built the giant baby head.  They lived in this little house right in the centre of the city and on either side were these three-story apartment buildings.  So people would look down into David's back yard where there was this giant thing – it was huge – which he had made out of a mold.  The neighbours called it 'that big egg'.  David and Jack would be sanding the head and little Jenny, who was four or five, learned how to mix cement and then give it to David, and they would put it on real fast.  We were always waiting for the head to dry.  That was the big thing.  We sat around David's house and drank coffee and ate sandwiches and watched TV and waited for the head to dry for months, it seemed like.   We were always waiting for something to dry.  When David was in England doing THE ELEPHANT MAN," she added, "I talked to him and he was waiting for the Elephant Man cast to dry at his house in England.  I couldn't believe he was still waiting for things to dry!"
The plaster used for the giant baby head was quite gravelly and required a great deal of sanding "and they would sand down all their fingerprints," Coulson recalled.  "So Jack and David were like criminals; they had no fingerprints left.  And the neighbours said to me, 'What is that big egg there?'  Then one day the big egg disappeared."  Shooting had resumed.
But in the Spring of 1973, with no money left, the situation was different.  Lynch began what was to become a very bad year.  The project, said Lynch, "was just like an animal dying in the desert; at first the birds stay very far away, and then little by little they come in and start taking bites.  And you're just too weak to get them off you.  I really thought it was the end.  They'd come down and take some piece of equipment, and it would be a horror.  I'd wait for them; they'd come down and take something else, and I'd say, 'You're going to bring it back?'  And they'd say, 'Sure, we're going to bring it back.'  They would never come back."  At what must have been one of the lowest points in his career, Lynch "even thought at one time of building a little dummy Henry and stop-motioning all the parts in between what we had shot.  Just to finish it.  Because I couldn't do anything else until this was finished.  I was caught in limbo."
Because the cast and crew had forged such close relationships during that first year, they remained in close touch now, even as they sought other work.  Coulson worked in the grant program at the AFI and acted in a few plays, but also washed windows and became a waitress.  "I worked in a restaurant," she recalled, "and David would come down in the afternoon and do some odd jobs for the people who owned the restaurant in exchange for a grilled cheese sandwich and fries.  He was always doing odd jobs; we found him lots of things to do to support himself."  Although shooting had stopped, Lynch and Splet cut together some of the material already filmed – in fact, the bulk of the film was already in the can, most of the principal photography completed.  Coulson helped out, learning some basic editing skills, how to file trims and so on.  Even Jack Nance found himself "running machines and matching up my own voice with my own lips and all of this stuff."
It was during this hiatus that Fred Elmes shot THE KILLING OF A CHINESE BOOKIE for John Cassavetes, taking Coulson along as his assistant.  But Elmes too remained in close contact with Lynch.  In fact, when production finally did resume, there was no problem in maintaining continuity because ERASERHEAD had managed to remain at the centre of their group life.  "We talked about it a lot," recalled Elmes.  "We didn't know quite how it was going to be possible – if we could get the right camera, if we could get all the lights we needed, if we could get the space if AFI needed us to move.  There were a lot of 'ifs', but we talked about it all the time; it was just kind of assumed that it would be finished.  One way or the other, the film was going to get finished.
"David and I used to live a block from each other," Elmes continued, "so we would go over and have coffee in the afternoon; even in the time we weren't shooting, we were planning.  We would have so many napkins and place mats that had block diagrams and little storyboards written on them as to how we were going to do effects and what we would have to build in order to do the effect, and where we were going to get all this equipment from for free, and how long it was going to take.  We really had that planned out and gone over so many times."